Feature F1 Unlocked
TREMAYNE: Remembering Senna's final win – and his reconciliation with his greatest rival – 30 years on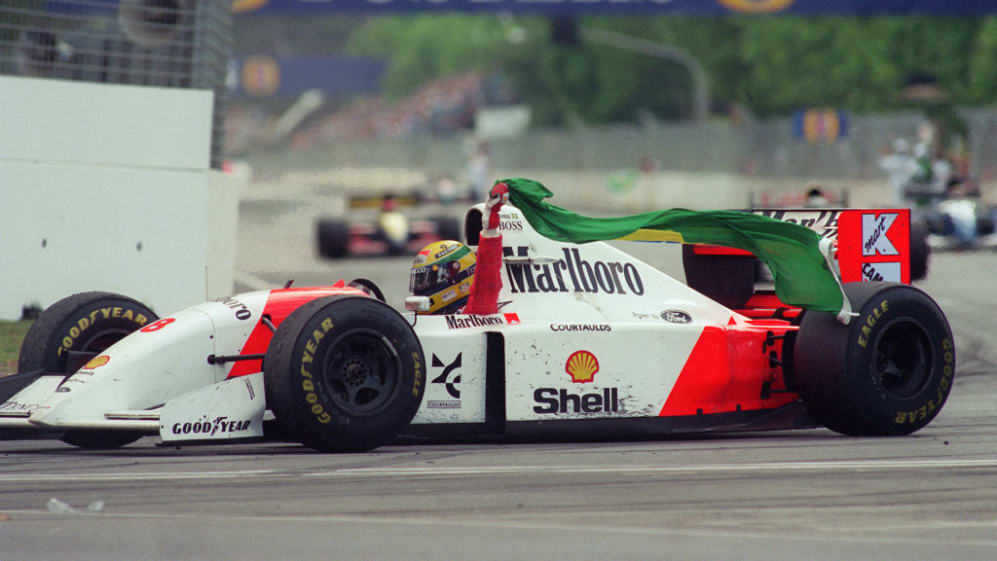 Of course it was always going to be a hugely emotional occasion. How could it not be? On this very day, November 7, 30 years ago, Ayrton Senna and McLaren were about to commence their final race together – the Australian Grand Prix in Adelaide.
After what would finally add up to three world championships, 35 Grand Prix victories, 47 pole positions and 447 championship points, these two great forces would separate. Ayrton, thus far in another season dominated by the Williams-Renaults, was off to take his arch-rival Alain Prost's drive in Frank Williams' team, and the Frenchman himself was preparing to drive his own last race.
READ MORE: 'He was walking on water' – Senna's magical Donington 'Lap of the Gods' remembered by his fellow drivers
As the grid lined up that far-gone day, we all knew that we were watching the curtain coming down on a tremendous era in F1.
There was so much at stake. Ayrton and the entire McLaren team did not just want to win in this poignant moment of parting. It went deeper than that.
Going into the race McLaren were equal with Ferrari, on 103 wins each. But McLaren had been racing in F1 only since 1966, Ferrari since the Formula 1 World Championship had been officially inaugurated in 1950. The British team desperately wanted to end a tough season with the win which would put them on top overall.
It seems off in retrospect that Ayrton's familiar red and white Marlboro McLaren MP4/8 was sitting on the pole for the first time that year, but either Prost (mainly), or promising new boy Damon Hill, had monopolised the premier position.
But his lap of 1m 13.371s had this time eclipsed the Frenchman's best of 1m 13.807s, with the Englishman heading the second row with 1m 13.826s and upcoming Michael Schumacher's Benetton taking fourth on 1m 14.098s.
Both Williams cars were bouncing badly all through qualifying, Damon voicing the opinion that the opposition had finally caught up in the last race in which all the Williams FW15's clever gizmos would be allowed to race.
UNDERDOG TALES: When Senna took the F1 paddock by storm with Toleman and made Monaco's streets his own
The media, however, were far more concerned about whether Prost and Senna would reconcile their numerous differences before the flag dropped. Alain had tried to extend a hand of friendship as he stood on the second place step on the podium in Suzuka, a fortnight earlier, but been spurned by the man on the top step. Now he wasn't interested.
"I tried to shake hands very often and it did not work," he told us. "So I have nothing more to say. I don't think it is the right moment to talk about that, anyway."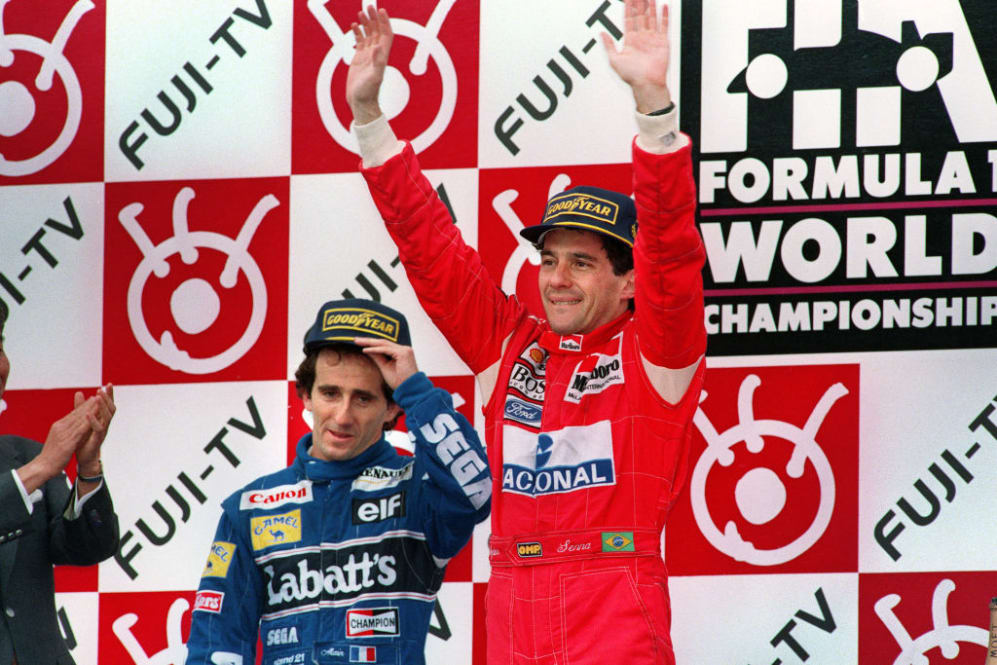 Nor was it the time to keep dwelling on the punch that Ayrton had thrown at an insouciant Eddie Irvine after the Japanese race, whom he accused him of blocking him while he was lapping the Jordan driver on his way to victory.
Among many things, he had told us, "You did not consider how many bad things went on because you didn't have an understanding. When the leader comes up you must give way. That is the rule."
PODCAST: When Senna punched Irvine – Listen to the full story, as told by those who were there
Ayrton always did have a streak of self-righteousness that stretched from Rio to Sao Paulo, and sometimes his lectures on race etiquette were hard to take in light of his own tactics, but he was right. Eddie had been in the wrong, and knew it. But the punch probably hadn't been the right response.
Right now, though, all that mattered was the race. In the cockpit, Ayrton was feeling emotional, and it got worse when his friend Jo Ramirez approached him. Ayrton had some great relationships with many people at McLaren, but the one with Jo always had a special edge. They were both Latins, both emotional men who thought things through deeply.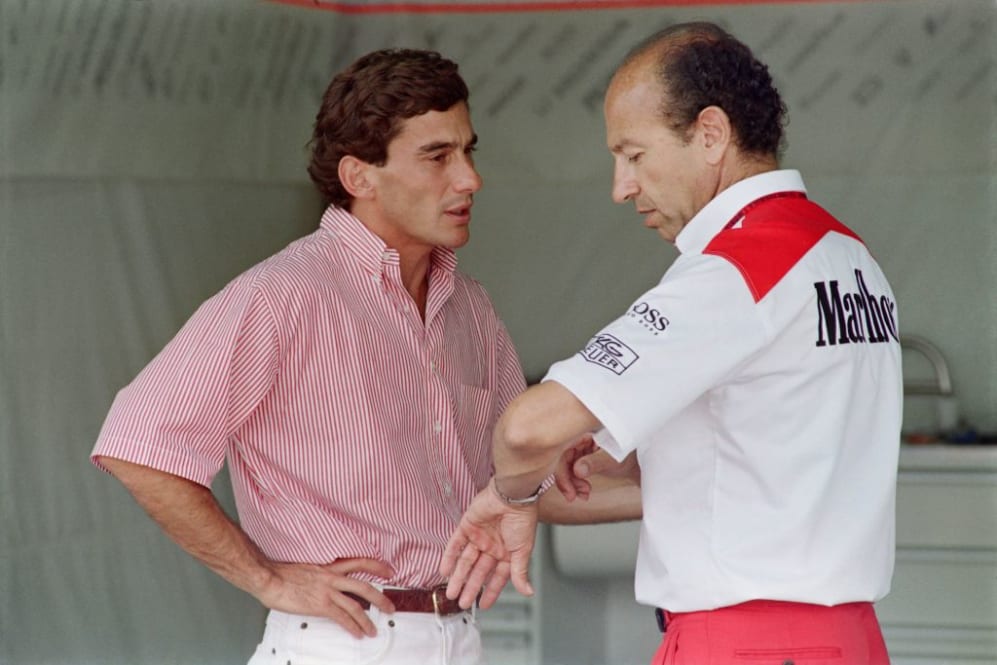 "I tried to keep my emotions very much under control, but it was very difficult," Ayrton later admitted of that moment. "One of the team members, Jo, who is a good friend, and I suppose a little bit emotional too, he came near to me, two, three times in these last 15 minutes before the start and I couldn't cope.
"Five minutes before the start it was also difficult to clear my mind. Although I suppose after six years one could afford to make a mistake today because of feeling emotional, but in the end I managed to control it at the right moment."
READ MORE: Jo Ramirez on being in the middle of Senna and Prost at McLaren
Jo remembered it slightly differently.
"At the start line he called me over to the cockpit, apparently to do up his belts, which I thought was strange as he always did the last little pull himself using two hands. As I came close to him I realised this wasn't what he wanted.
"He said, 'It is a very strange feeling for me to do this for the last time in a McLaren.' And I replied: 'If it's strange for you, just imagine how hard it is for us. I don't need to tell you how important this win is. If you win this one for us, I'll love you forever.'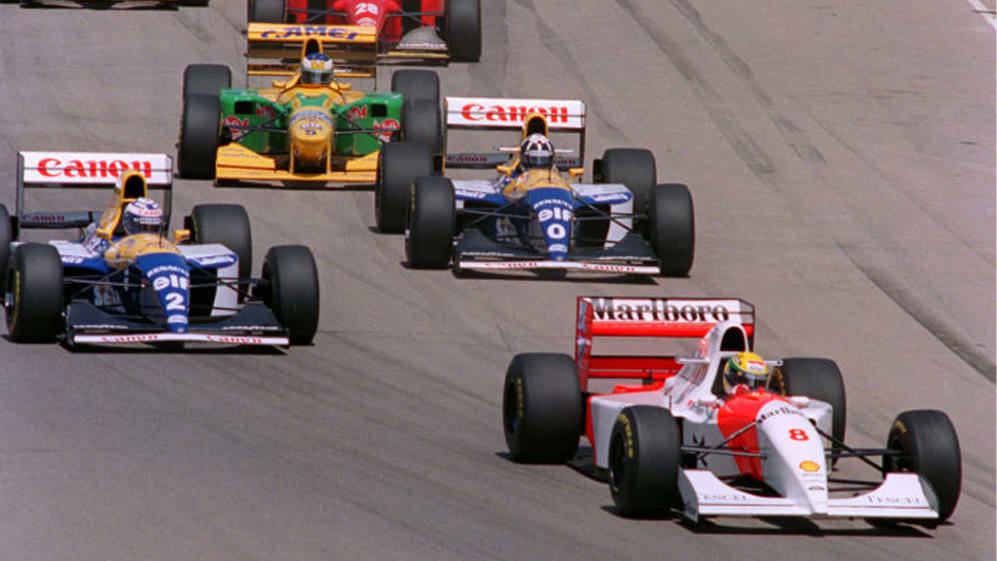 "Ayrton grabbed my arm very hard and I saw tears in his eyes! Damn it! I got so worried that I'd made him emotional before the start, but like a good Latin he was a very emotional man and always coped with it."
After two false starts, the first after Ukyo Katayama stalled his Tyrrell, the other when Eddie Irvine failed to line his Jordan up properly, Ayrton forgot the tears and went into full Senna race mode.
READ MORE: Brazil's lost champion? David Tremayne on Carlos Pace, the racer after whom the Sao Paulo circuit is named
Apart from Laps 24 to 28 when he'd made his first scheduled pit stop, he led from start to finish, giving McLaren that crucial extra victory and the bragging rights over Ferrari, and fulfilling his own desire for one last win for the team that had helped him to establish his greatness. But it had not been the cakewalk he had made it seem.
Prost, who had changed the set-up of his car prior to the race by stiffening its suspension, had hoped to get through with a single pit stop, but Schumacher's speed after his own had convinced him that wasn't going to be possible. Nevertheless, his Williams – and Hill's – was fast enough to keep the pressure on the McLaren.
And later Ayrton admitted that he'd been judging his tyre strategy by feel throughout, and that a misunderstanding over Williams' strategy had worried him.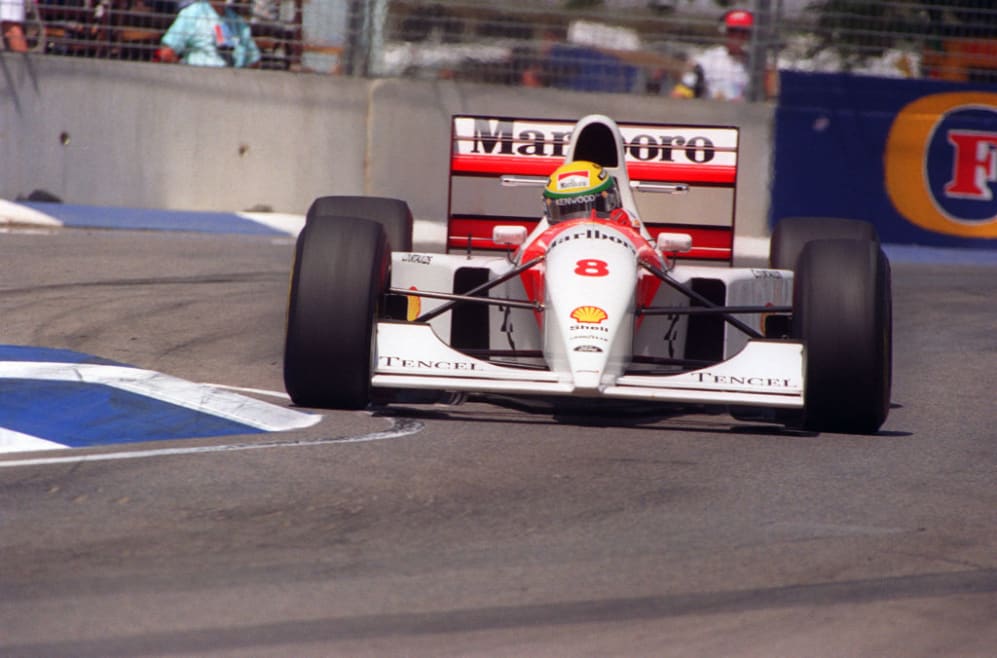 "They called me on the radio and said Schumacher had stopped, but I was more concerned with the two Williams at that stage. Then they said, 'Okay, Hill is stopping', and then 'Alain is stopping'. So I did another lap to make sure Alain would stop before me and then came in, thinking he had stopped – and he hadn't."
Ayrton stopped the first time on Lap 24, rejoining 7.6s down on the Frenchman, but when Alain did finally stop, on Lap 29, Ayrton had opened a lead of 15s by the time they resumed racing. The crisis was over thanks to some very fast laps on his own fresh Goodyears, and he would eventually win by just over nine seconds.
READ MORE: David Tremayne on Mexico '86 – the day Berger and Benetton became F1 winners
There was huge tension among onlookers as he, Prost and Hill gathered on the podium. Would Ayrton finally make some sort of conciliatory gesture to his old foe?
As Alain raised his trophy, Ayrton put an arm round him. And now that their war was over, he finally felt he could offer the hand of friendship to the only man he had feared, the one he knew could on his day be as good, or better, than him. Now, he could at last let himself relax and feel differently about him. For all of us, watching as the two great warriors celebrated their final encounter in such a manner, it was quite an emotional moment.
Later that night, Ayrton was serenaded by the great Tina Turner as she famously sang her huge hit The Best in his honour as he sat smiling shyly.
There had been a Honda book launch one night before the race in Suzuka, and I proffered my copy for him to sign. We'd had our usual up and down relationship that year because he didn't like being criticised for some of his more questionable on-track antics.
I told him he didn't need to sign it if he didn't want to. But he smiled graciously as he did so, and said quietly, "Time is the big thing, Dave." I hate being called Dave, but wasn't going to spoil the small moment of reconciliation that I now treasure.
READ MORE: Prost vs Senna, Mansell vs Piquet and more – F1's fiercest team mate rivalries
What none of us could possibly have known in Adelaide was that we had just witnessed Ayrton Senna's final victory. We all thought he was about to commence another period of domination in the Williams.
But in that moment at Suzuka, and again that bittersweet day in the sun Down Under, none of us could have foreseen just how quickly Ayrton's time was running out.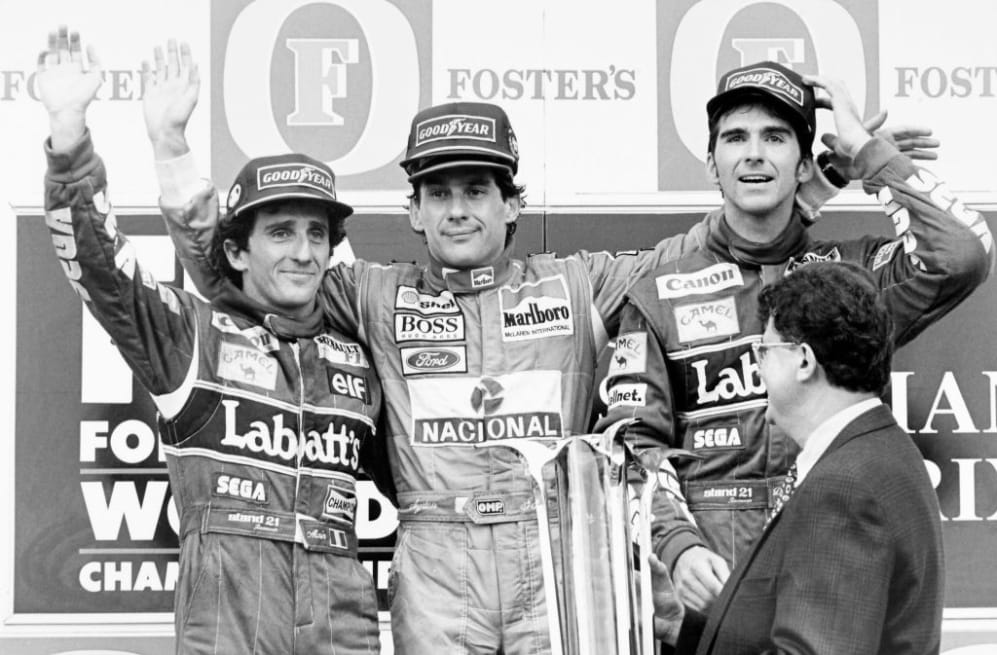 To read on, sign up to F1 Unlocked for free
You'll unlock this article and get access to:
Live leaderboard data
Epic experiences and rewards
Money-can't-buy competitions