Feature F1 Unlocked
UNDERDOG TALES: When Vettel and Toro Rosso splashed their way to a sensational maiden win at Monza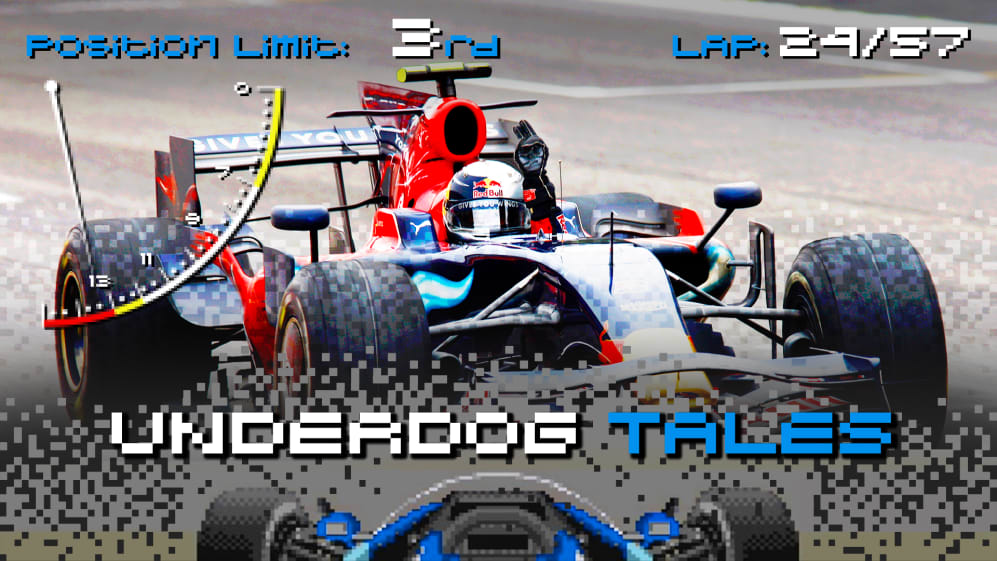 This week 15 years ago, Sebastian Vettel sent the F1 paddock wild with a remarkable maiden pole position and victory double at a rain-soaked Italian Grand Prix. To mark the anniversary, we caught up with both his Team Principal and his Race Engineer from that weekend, Franz Tost and Riccardo Adami, to remember one of the greatest underdog displays in recent F1 history.
Sebastian Vettel had form when it came to making an impression in F1. During his first-ever Grand Prix weekend appearance as BMW Sauber's test driver in Turkey back in 2006, the teenager raised eyebrows by going quickest during second practice and netting a pit lane speeding fine. The following year, he put together a composed point-scoring debut after being drafted in to replace the injured Robert Kubica at Indianapolis.
READ MORE: How should Sebastian Vettel be remembered – and how good was he really?
But rather than continue his fledgling career with the German manufacturer, Vettel's full-time chance came at Toro Rosso, the Red Bull-backed team – then co-owned by ex-F1 racer Gerhard Berger – who had only recently arrived on the grid and were being used by the energy drinks company to blood youngsters in a bid to deliver future world champions.
Taking the place of Scott Speed midway through 2007, the early signs were encouraging, with Vettel out-qualifying and out-racing more experienced team mate Vitantonio Liuzzi in the seven events they contested together, while bagging Toro Rosso's best result in F1 up to that point with a fine drive to fourth in wet conditions at the Chinese Grand Prix.
Vettel and Toro Rosso surge up the order
After a challenging start to the 2008 campaign that featured four retirements from the first four races, the majority due to collisions as he got used to racing in the top echelon and rounded off some rough edges, Vettel's season would take a sudden and dramatic turn for the better on the streets of Monaco.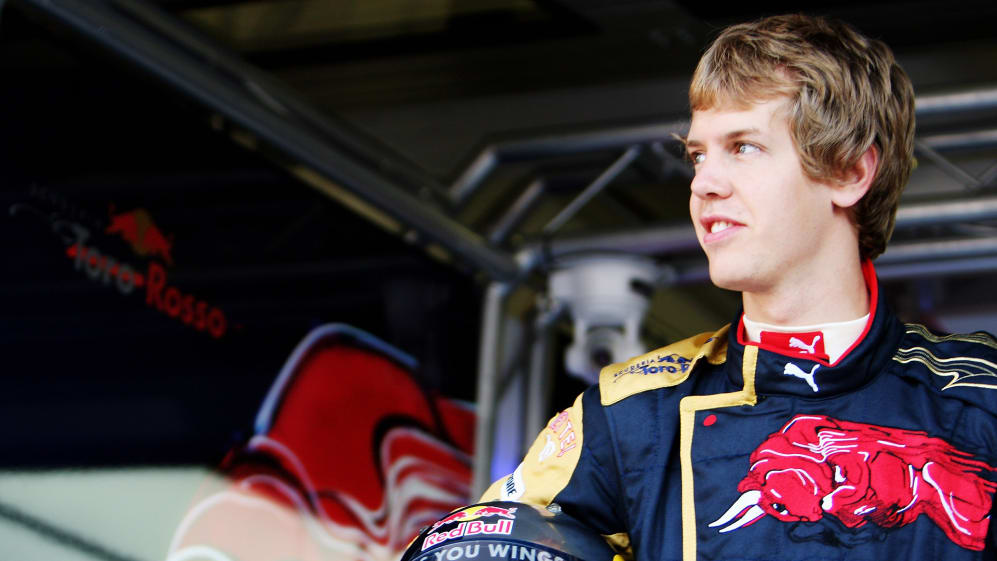 It's no coincidence that Toro Rosso brought a brand-new chassis to the Principality, having initially raced on with their old car due to development delays. Again impacted by rain, before gradually drying up, Vettel leapfrogged a host of rivals by going two-thirds of the way into the race on wet tyres before switching to slicks and coming home fifth.
The floodgates opened for driver and team from that point, with four more points finishes coming over the next seven races, including another run to fifth at Spa-Francorchamps. Nobody, though, could have predicted what was to follow at the team's home race at Monza.
READ MORE: Vettel to get behind wheel of title-winning Red Bull F1 car again at Nurburgring
"It was an unbelievable year together," reflects Adami. "The start of the season was quite difficult because we struggled a bit with the old car, making mistakes and crashing and so on. Then starting from Monaco, we introduced a new chassis, new car for that year, and since then he was getting on nicely with the car and improving race by race.
"Of course, for the public or the people outside, Monza was outstanding, but you could see that he was improving earlier. We actually had a test the week before that event and it was easy to see that we were performing also in the dry. I remember that year I said to all my family, 'Come [to the race], because I'm Italian, and because it could be a good one!'"
Laying the foundations for some Monza magic
A 'good one' it turned out to be, and the scene for Toro Rosso's weekend of all weekends was set during Friday's sodden practice sessions around the Temple of Speed, where Vettel and new-for-2008 team mate Sebastien Bourdais pumped in the laps in the wet conditions while many others opted for the sanctuary of their pit garages.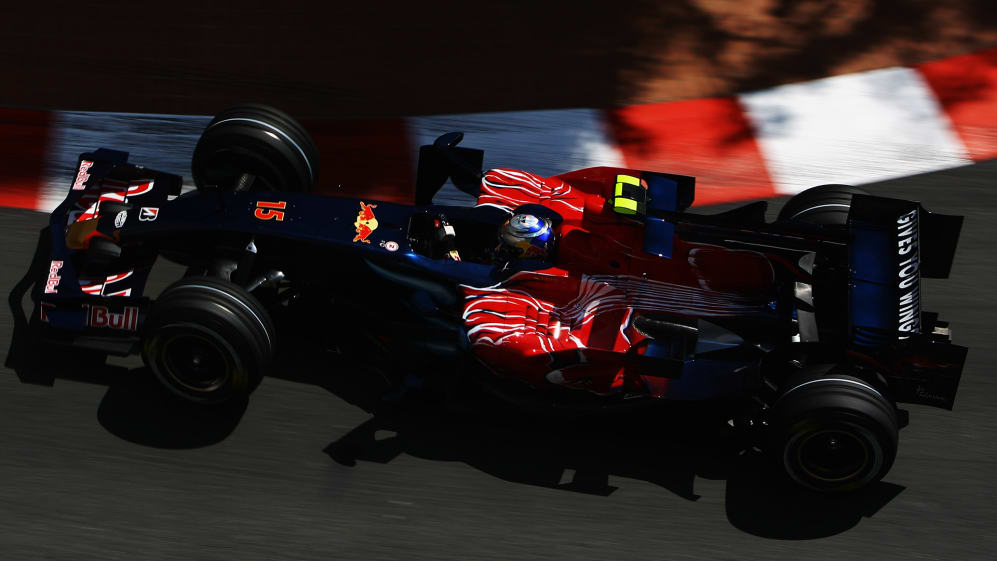 Indeed, Vettel racked up 48 laps over the course of FP1 and FP2, with Bourdais banking 59 – six more than a race distance around the track – as the likes of championship leader Lewis Hamilton and his McLaren team mate Heikki Kovalainen hit just 26 and 30 respectively.
"I must say, the basis for the victory started on Friday, because it was also wet there, and we were aware that there's a great chance of rain during the whole weekend," says long-time team boss Tost.
F1 ICONS: Rally legend Sebastien Ogier on four-time F1 champ Sebastian Vettel
"Therefore, we decided to send out the drivers many times on Friday to get familiar with the wet track. Monza is not easy, so if it's wet you really have to know where to go, you really have to know where is the asphalt providing you with some grip, and where it's slippery.
"In addition to this, especially Curva Grande up to Lesmo 1 and Lesmo 2, and also down to the Ascari chicane, there's woods out there, you know, which means that the water, the water spray is not going away. Behind the cars, the water is up [in the air] but it's not going away because there's the woods and it's coming back to the track, so it's also not drying up.
"Our drivers did most of the laps and therefore they got familiar A, to the wet conditions of the Monza racetrack and B, to the set-up of the car, because it's a completely different feeling with less downforce, the low-downforce configuration that you have in Monza, then they could also optimise the set-up for the race and for the qualifying."
I must say, the basis for the victory started on Friday, because it was also wet there. We decided to send out the drivers many times to get familiar with the track
Adami adds: "I remember we were discussing, how do we tackle the weekend, given we were a small team, an underdog team, as you say. We [talked about], how are we planning it and we saw the big guys, the big teams, were not running, just to save mileage on the engine.
"Normally when it's wet, this situation, you're always in doubt to run or not because maybe you're losing some tyres for later in the weekend, or not. Instead, we were just talking to each other, saying let's go out and see how the car is feeling in the wet, because we had a good feeling the previous week in testing.
ALL ACCESS: Go behind the scenes with Sebastian Vettel for his emotional F1 farewell in Abu Dhabi
"So this was one of the keys of that weekend, that we were performing straight away, because we were basically the only car running on the wet since the beginning, and that was helping. Plus, of course, some set-up work that we did through the weekend.
"Seb was quite keen to go out and see, given that he was a young driver. He wanted just to experience, feel the car. Actually, also in the previous races he was quite fast in the wet, so in those tricky conditions he was always right on it all the time. It was no fear and go!"
Vettel charges his way through qualifying
As touched on above, although Toro Rosso made changes to their cars to aid Vettel and Bourdais' efforts in the tricky, slippery conditions, Adami stressed that "it wasn't a full wet set-up" as the team "stayed on low downforce" to remain competitive on the many long straights.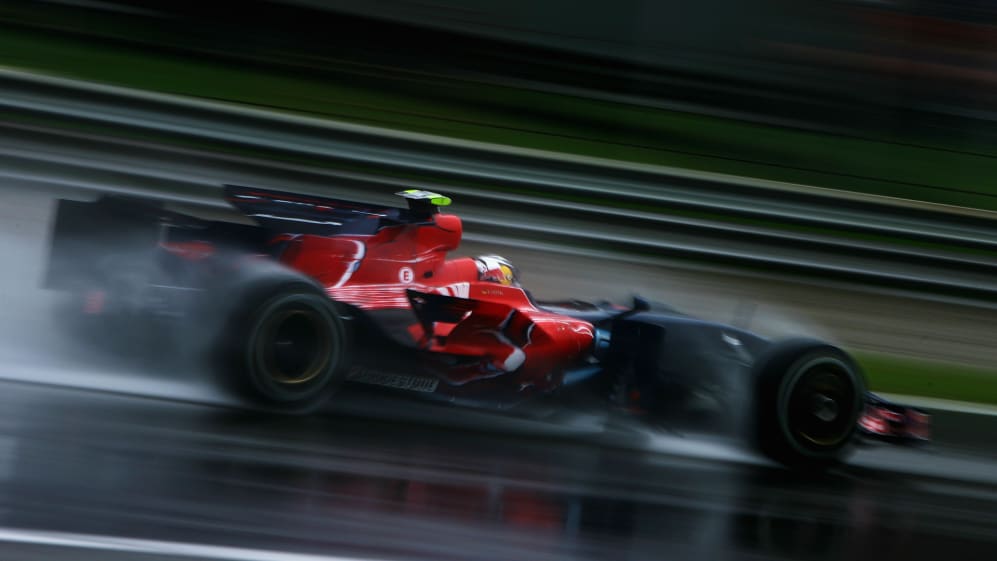 That made what followed all the more impressive, with Vettel building on an eye-catching P2 result in Saturday's third and final practice session to mix it with F1's established stars throughout qualifying, which required extreme wet tyres for Q1, Q2 and Q3.
While some big names got caught out, such as Ferrari's Kimi Raikkonen and the aforementioned Hamilton – whose attempts to get a lap in on intermediates backfired – falling at the Q2 hurdle in 14th and 15th respectively, Vettel and the Ferrari-powered STR3 were firing on all cylinders.
READ MORE: 'I was just so proud of him' – Norbert Vettel on his son Sebastian's journey from karts to world champion
After kicking off with a top-three showing in Q1, indicating that Toro Rosso's pace was genuine, Vettel charged his way to the top spot in Q2 and then kept his cool in the decisive Q3 phase to do the same again – edging out Kovalainen by just under a tenth and sealing a landmark pole for himself and the Italian squad.
A decade and a half on, Vettel remains the youngest F1 pole-sitter at just 21 years, two months and 11 days old.
"It was simply a few conditions that went together," explains Adami. "He was able to cope with the track conditions, cope with the tyre choices and so on, the run plan that we were deciding, each run how to perform it… He was simply getting the most out of it.
"As I said, to me the biggest thing [behind the performance] was starting early in the weekend to have the confidence to push in the right time, knowing the track and the conditions more than anything else, and the set-up."
From minnows Minardi to table-topping Toro Rosso
As the chequered flag dropped and Vettel's final lap delivered the goods, the Toro Rosso garage erupted with emotional celebrations, for the plucky Faenza-based operation that had been competing as backmarkers Minardi until Red Bull's takeover were now F1 pole-sitters.
When the dust settled on qualifying and attention turned to race day, Toro Rosso were left to ponder whether their stunning Saturday could lead to a similarly special Sunday, with Vettel starting in P1, team mate Bourdais lining up P4, and more rain on the way.
READ MORE: 'He's a great people person' – Team bosses back Vettel to return in F1 management role in the future
"Good points were the target at that stage, to be honest," adds Adami. "After quali we were very, very happy, because [it was the first] pole position for Toro Rosso at that time, with a Ferrari engine… Already the Saturday was an incredible feeling, it was just amazing.
"For the day after, it was just trying to get on with it and see what we could get. It was even better than expected, helped by the Safety Car start. It was a nice surprise to go out and see we were starting with the Safety Car!"
That weather-related Safety Car intervention meant Vettel – and the other 16 cars on the grid after Bourdais stalled and joined Williams' Kazuki Nakajima and Honda's Jenson Button in getting under way from the pit lane – avoided a perilous standing start and run down to the first chicane.
After a couple of laps running behind Bernd Maylander's Mercedes, the drivers were released and Vettel ticked the first box with aplomb by nailing the timing of his exit from the Parabolica to retain the lead over Kovalainen in the McLaren and Mark Webber's Red Bull.
From there, he never looked back, edging away from Kovalainen – who was struggling to get his brakes and wet tyres in the optimal window – across the opening stint, then dealing with another rain shower and successfully transitioning from wet to intermediate tyres as conditions improved.
READ MORE: From Monza magic to press conference laughs – Our writers pick their favourite Vettel moments
History for Vettel, Toro Rosso, Red Bull and Italy
Vettel's ultimate winning margin was 12.5 seconds over Kovalainen, with the BMW Sauber of Robert Kubica 20 seconds back in third, nobody able to get close to F1's newest star who had not only delivered Toro Rosso's maiden triumph, but the first for the Red Bull group as a whole.
The icing on the cake for those loyal, former Minardi employees who had waited so patiently for their day in the sun (or rain, on this occasion)? Vettel and Toro Rosso had also clinched the first win for an Italian team other than Ferrari since Juan Manuel Fangio's last victory with Maserati back in 1957.
"Sebastian drove a fantastic race without any mistakes," reflects Tost. "I must also say that the pit stops worked very well… It was a really good team performance overall, the driving side from Sebastian, from the engineering side, finding the correct set-up, from the strategy side, because all the decisions were correct in the right moment.
"I was very happy for the team, because the team did a fantastic job, they worked very hard. I was also happy for Red Bull, as this was the first car we got from [designer] Adrian Newey. The only difference to the Red Bull car was the engine; they had the Renault engine and we had the Ferrari engine. All in all, it was a really successful weekend for the complete Red Bull family.
"As usual, after the race I went to the [garage], said thank you [to everyone], and of course they were very emotional. As Italians, to win in Monza is always something special, and we celebrated it afterwards in Faenza with the complete team together.
READ MORE: Sebastian Vettel hints he might try his hand at rallying as he considers his post-F1 plans
"At the racetrack, I don't like such celebrations so much, because it's not only the race team, it's the team also in the factory which is working very hard. Therefore, we celebrated it I think a couple of days later, when we organised a party. Of course, the people who were working in those days for Toro Rosso were very happy to be part of it."
Recalling his own feelings as the Grand Prix drew to a close, Adami comments: "I think there were a couple of guys catching up, but not really able to make the difference. Probably on a drier situation, of course, the victory wasn't there, but it panned out quite nicely!
"After the race, it was just simply a feeling of big emotions and happiness for the whole team. I remember also in Faenza, at the factory, going back in the night there were flags around and people on the streets celebrating, which was quite impressive to see."
Just the start of Vettel's incredible F1 adventure
Leading those celebrations was the man at the wheel, Vettel, who had well and truly marked himself out as a driver to watch for the years to come, which would bring promotion to Red Bull as early as the 2009 season and a run of four successive titles from 2010 to 2013.
"Sebastian, like all the champions, was a driver who really took care for all the details and he was open to learn all the new challenges which are coming up for an F1 driver," Tost points out. "He improved his knowledge and experience of F1 in a very short period.
WATCH: From hilarious team radio messages to press conference shenanigans – Vettel's funniest F1 moments
"He had a very close relationship with his engineer [Adami], also with [Technical Director] Giorgio Scanelli. He had a very good understanding from the technical side, also how to set up the car. He brought the car with his engineers on the level to stay in front and to win the race. It was really a result of his hard and consistent work in the past months.
"He learned fast, because he was very interested in all this, and he was very passionate – nothing else than F1 was on his schedule. He was also very disciplined, he worked very hard on the physical side, he took care for nutrition, he studied what his rivals were doing, and these are the components where the absolutely top drivers gain their advantage."
Tost's sentiments regarding Vettel's on and off-track approach are echoed by Adami who, following Vettel's promotion to Red Bull and streak of world titles, would link up with his former driver again at Ferrari – bringing a hatful more victories and podiums.
Sebastian, like all the champions, was a driver who really took care for all the details. He improved his knowledge and experience of F1 in a very short period
"It was a very, very good relationship back then," he says. "In the previous year, in 2007, he had a different Race Engineer, so he was working with him, and I was with Tonio Liuzzi at the time, then the year after Seb was asking to work with me, so that was also good.
"The relationship was good straight away. We were just honest to each other, very open and very humble as an approach, as he is still now. He was a very good guy to work with. He was super young, but still quite mature in a way. He was tackling things in a professional way.
READ MORE: 'Dear Seb…' – Will Buxton's open letter to Vettel as the F1 paddock says goodbye to the four-time champ
"To be honest, he was coping quite nicely. I was surprised to see that he wasn't getting crazy about things, but coping with it. It developed with him then and I also worked with him later in his career, so I was quite pleased.
"[We still keep in touch with] some messages and phone calls, but of course now I'm fully committed on the job I'm doing [at Ferrari], so not much time. Also himself, he's taking some time, and he has a different ambition in his life."
For Adami, whose 2008 also featured the highlight of getting married, that first year with Vettel – and that specific race weekend at Monza – will always be a cherished time.
"Recently [I was given] a picture," he says. "In Hangar-7, the Red Bull museum, there is the car that we won with in Monza and it's still there with the plate and all the description and so on – Sebastian Vettel, driver, Riccardo Adami, Race Engineer. Good memories!"
To read on, sign up to F1 Unlocked for free
You'll unlock this article and get access to:
Live leaderboard data
Epic experiences and rewards
Money-can't-buy competitions