Report
Verstappen beats Alonso to Monaco GP victory despite rain causing late drama
Max Verstappen kept Red Bull's 2023 winning record intact by overcoming a rain shower – and the chaos that ensued – in the closing stages of the Monaco Grand Prix, leading home Aston Martin rival Fernando Alonso and the Alpine of Esteban Ocon.
Verstappen made a clean getaway when the race began to maintain his pole position advantage over Alonso into the first corner, with the Red Bull opting for medium starting tyres and the Aston Martin going for hards.
But as the race developed and their planned one-and-only stops approached, a rain shower hit the track to turn the encounter on its head, causing a flurry of off-track excursions, brushes with the barriers and pit lane activity.
Alonso pitted while only a portion of the track was damp and initially took on mediums, but intensifying rainfall meant he was forced back in for intermediates, which the rest of the field clambered for as well.
FORMULA 1 GRAND PRIX DE MONACO 2023
Monaco
2023
Race results
POSITION
TIME
POINTS

1

Max

Verstappen VER

Red Bull Racing

1:48:51.980

25

2

Fernando

Alonso ALO

Aston Martin

+27.921s

18

3

Esteban

Ocon OCO

Alpine

+36.990s

15

4

Lewis

Hamilton HAM

Mercedes

+39.062s

13

5

George

Russell RUS

Mercedes

+56.284s

10
Crucially, Verstappen went straight from his starting mediums to intermediates, surviving contact with the wall before pitting, getting back into a rhythm in the mixed conditions and controlling proceedings to the chequered flag.
Despite that extra stop, Alonso had enough in hand to retain second and score Aston Martin's best result of the season so far, with Ocon converting his eye-catching qualifying performance into the final podium spot.
Mercedes' updated W14s racked up a solid haul of points as Lewis Hamilton and George Russell took fourth and fifth respectively, the latter's five-second time penalty for clashing with Sergio Perez when he rejoined the track from an off in the slippery conditions not affecting his finishing position.
Home favourite Charles Leclerc crossed the line where he started in sixth, having been given a three-place grid penalty for impeding Lando Norris in qualifying, followed by the other Alpine of Pierre Gasly and Ferrari team mate Carlos Sainz, who lost out with a spin in the wet.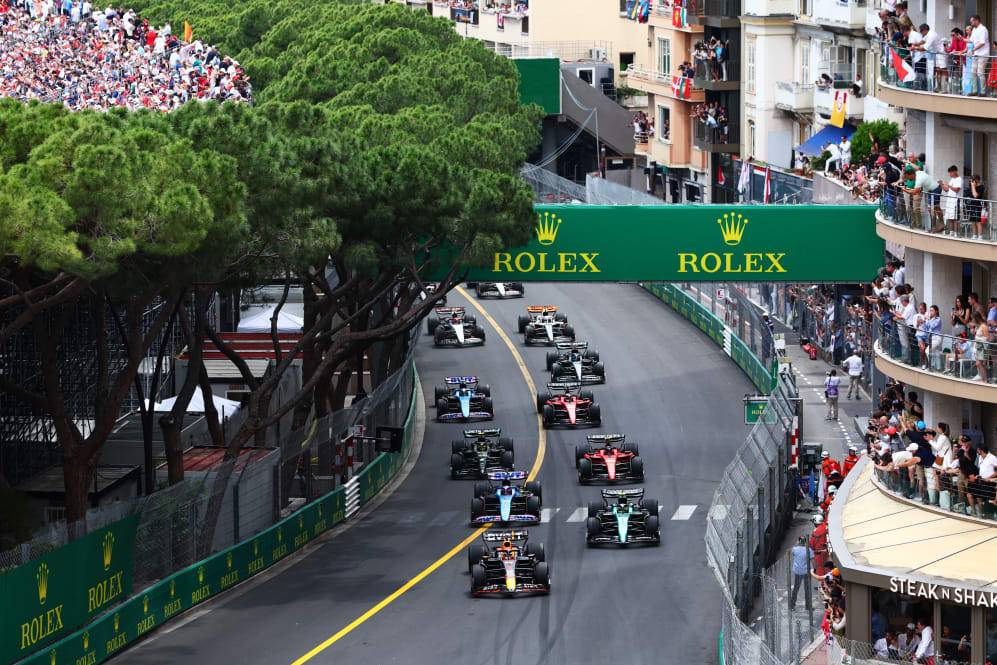 Norris and Oscar Piastri gave McLaren a double points finish in ninth and 10th, completing late moves on AlphaTauri rival Yuki Tsunoda, who then tumbled down the order to 15th amid a lock-up and brake complaints.
Alfa Romeo wound up 11th and 13th, with Valtteri Bottas and Zhou Guanyu sandwiching the other AlphaTauri of Nyck de Vries, followed by Williams' Alex Albon, Tsunoda and Perez, who could do no more than 16th after his qualifying crash.
Haas' Nico Hulkenberg endured a messy race en route to 17th, having been given a five-second penalty by the stewards – for hitting Logan Sargeant on Lap 1 – that was not served correctly, resulting in an additional, 10-second sanction.
Sargeant was the final finisher following an early-race puncture, with Kevin Magnussen retiring his Haas in the closing laps after being the last driver to ditch slick tyres and visiting the barriers, and Aston Martin's Lance Stroll the other to DNF after an array of incidents.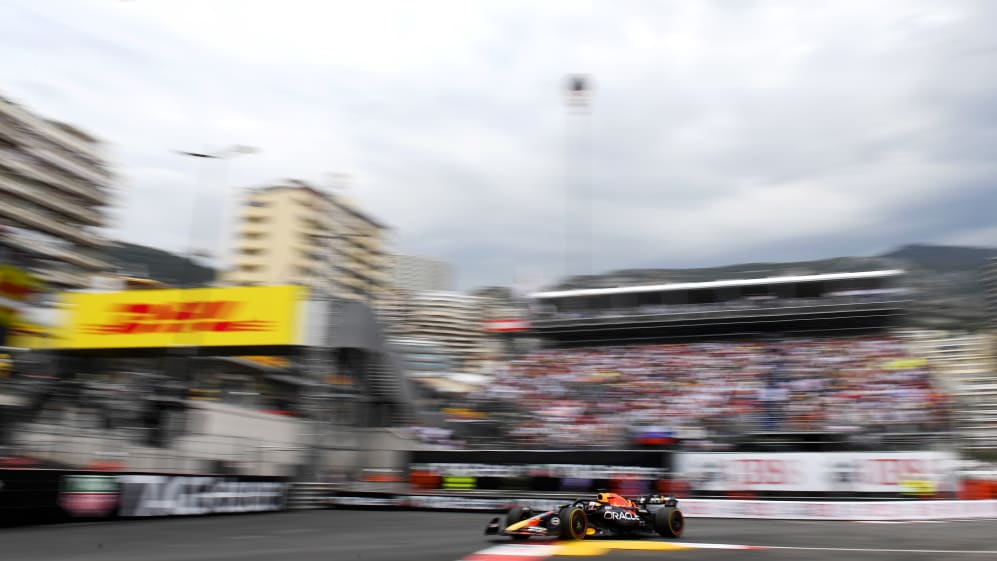 AS IT HAPPENED
Just as the dust was settling on a frenetic qualifying hour around Monaco's tight and twisty streets, the stewards dropped a communication that would see Leclerc fall from third on the grid to sixth position for his home race, having impeded Norris in the Q3 phase.
It marked yet another setback for the Monegasque, whose troubles on home soil over the years have left fans wondering whether he is 'cursed', as Ocon, team mate Sainz and Hamilton all gladly accepted a gained grid spot at a venue where track position is vital.
But all eyes were on the front row of the grid and whether Verstappen or Alonso would make the better start and win the dash to Sainte Devote, with the Aston Martin driver teasing after qualifying that his Red Bull rival's starts so far this season had been "inconsistent".
When the blankets came off, an intriguing mixture of starting tyres were revealed, with Verstappen, Ocon, Hamilton, Tsunoda and Norris the top 10 runners to opt for the medium compound, and Alonso, Sainz, Leclerc, Gasly and Russell picking hards.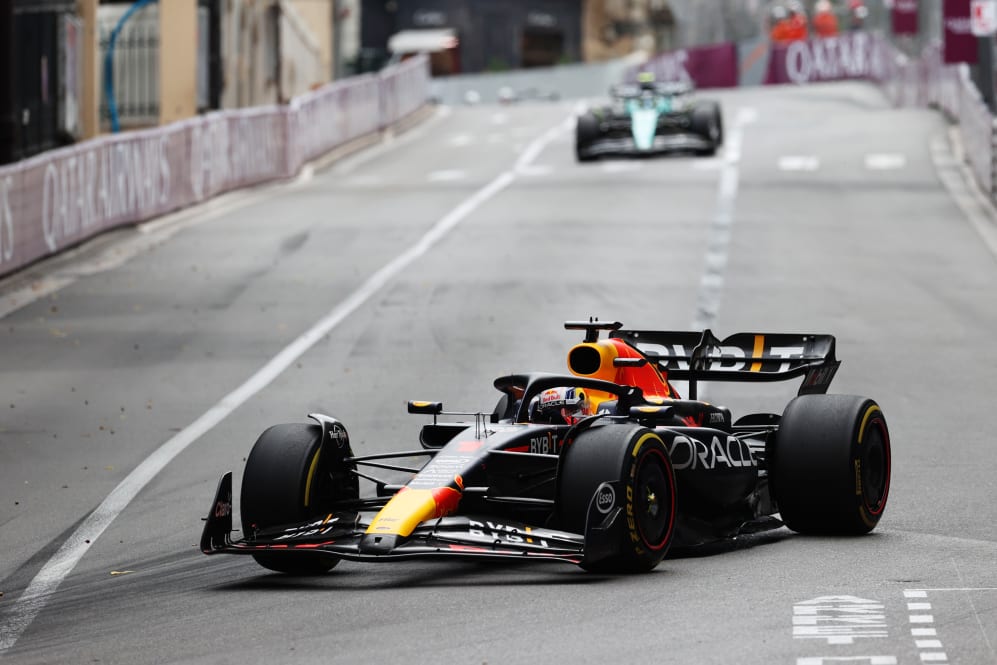 The rest of the runners were split between mediums and hards, with Zhou the only driver to go with softs as he looked to make up ground from 19th on the grid, which was completed by the out-of-position Perez after he dramatically crashed in qualifying.
As the lights went out, pole-sitter Verstappen put his softer tyres to good use by charging away from his grid spot and maintaining his advantage over Alonso into the first corner, with Ocon holding third from Sainz, Hamilton, Leclerc, Gasly, Russell, Tsunoda and Norris.
Further back, there was all sorts of drama as Hulkenberg locked up under braking for Mirabeau and thumped his way past Sargeant, before Stroll got caught between Albon and the right-hand side barrier at the hairpin, shedding some carbon fibre in the process.
Following further contact in the bottleneck effect, Hulkenberg and Zhou pitted at the end of the lap to move onto the hard tyres, with Perez also coming in for a set of the white-marked rubber, all three seemingly bidding to run all the way to the chequered flag.
Stewards acted quickly to give Hulkenberg a five-second time penalty for his over-ambitious move on Sargeant, while the panel also noted a potential incorrect starting position for Russell, though ultimately decided against taking any further action.
Up front, Verstappen got into a rhythm and edged away from Alonso, bringing his lead just over the two-second mark as Lap 10 of 78 approached, with Ocon some 10 seconds adrift, followed by Sainz, Hamilton and Leclerc – all circulating nose to tail.
Then came another incident as Sainz clipped the rear of Ocon's car exiting the tunnel, leaving him with a damaged front-left endplate that worked itself loose on the following lap and was subsequently run over by Hamilton and Leclerc, but with no punctures caused.
Moments later, Alonso expressed puncture concerns of his own as he slipped five seconds away from leader Verstappen, but the Aston Martin pit wall reassured him that all looked well in the data, and there was no need to pit for a new set of tyres.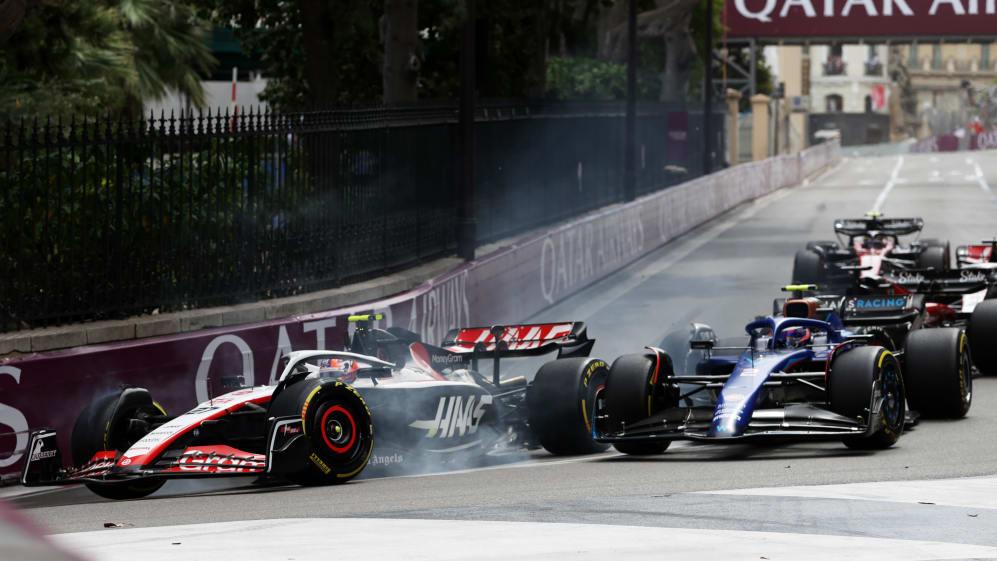 Although Ferrari mechanics emerged in the pit lane with a new front wing, Sainz stayed out on track between Ocon and Hamilton and regained his composure, with the stewards showing him a black and white flag – an official warning – for the aforementioned clash.
With the top 10 positions settling down, it was left to the midfield to provide the action as Magnussen cleared Sargeant into Mirabeau, before Stroll dived past the Williams rookie on the inside of La Rascasse and the recovering Perez also slipped ahead at the exit.
Indeed, Williams were the big losers in this phase of the race, with Sargeant giving away further spots to Hulkenberg and Zhou, as Albon fell behind Bottas – the Grove team bringing both drivers in for fresh tyres, but having to box Sargeant again (for softs, given that he had run out of hards) thanks to a puncture.
With the front-running pit stops approaching, Norris was told that 'Class 1' rain could arrive on Lap 35, as clouds began to replace the blue skies that had initially covered the Monaco harbour, adding another element of intrigue to proceedings.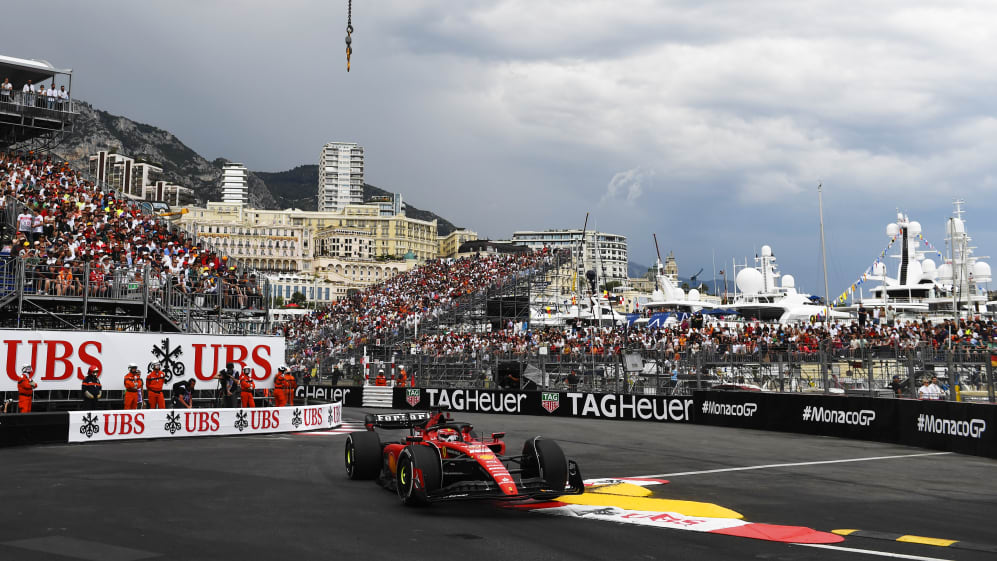 While the wait went on to see who would blink first, Verstappen radioed Red Bull to report that his front-left "really isn't pretty" and express concerns about a pack of backmarkers he had been fast approaching – team mate Perez the first on the list.
Hamilton dived into the pits on Lap 32, swapping his mediums for a set of hards, with Ocon doing the same one tour later, at which point Stroll and Perez banged wheels at the Nouvelle Chicane as they squabbled for position after giving way to Verstappen.
Sainz was the next to stop, moving from hards mediums, but having slotted back in between Ocon and Hamilton he lit up the airwaves amid frustration over Ferrari's strategy, saying the outcome was "exactly what I talked about".
With medium-shod Verstappen battling more traffic and tyre troubles, he urged Red Bull to consider their strategic options, but the response was clear. "If we pit now, we fall behind Fernando," said his engineer, with Alonso running the hard rubber.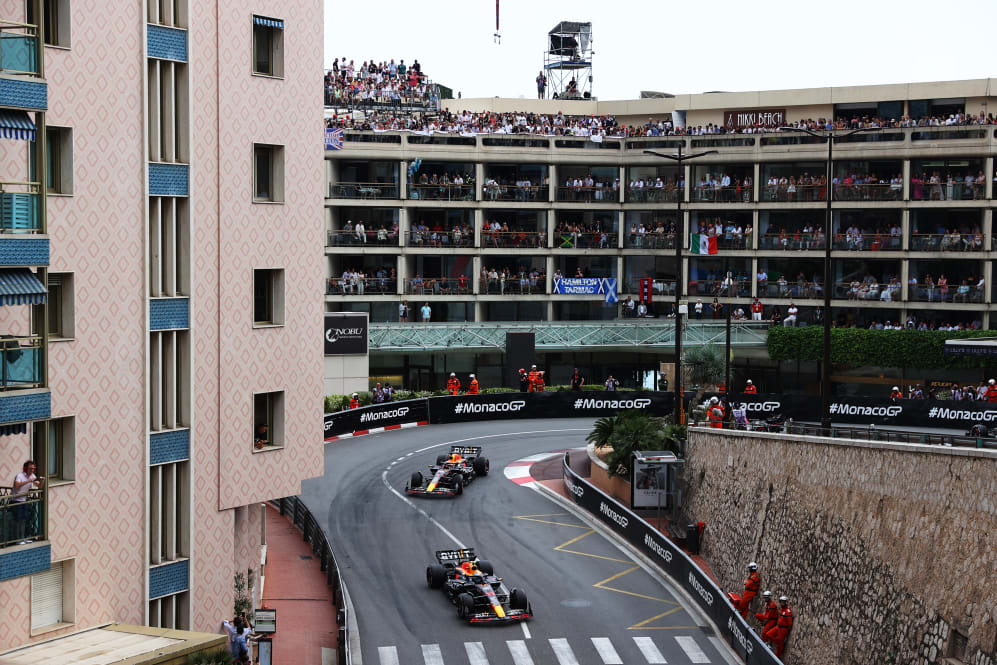 Perez's attempt to make the end of the race after his Lap 1 pit stop went out of the window when he clipped Magnussen in the middle sector, the #11 paying another visit to the Red Bull box for a new front wing, with Stroll fortunate not to follow him in after tagging the Dane at Anthony Noghes.
Despite his traffic and tyre worries, Verstappen's advantage over Alonso was up to almost 10 seconds by Lap 40, with Leclerc, Gasly and Russell also stretching out their first stints as more radio messages pointed to approaching rain.
But a few tours later, the reigning double world champion added "I don't see how long I can keep this up", swiftly followed by Leclerc and Gasly deciding enough was enough and swapping their starting hards for mediums – leaving Verstappen, Alonso and Russell as the only front-runners yet to pit.
"Maybe drops of rain around Turn 6 to Turn 8," came the next message from Red Bull to Verstappen, with Russell then reporting that it was indeed "spitting at Turn 3" before "raining more and more" – feet jiggling, and heart rates rising up and down the pit lane.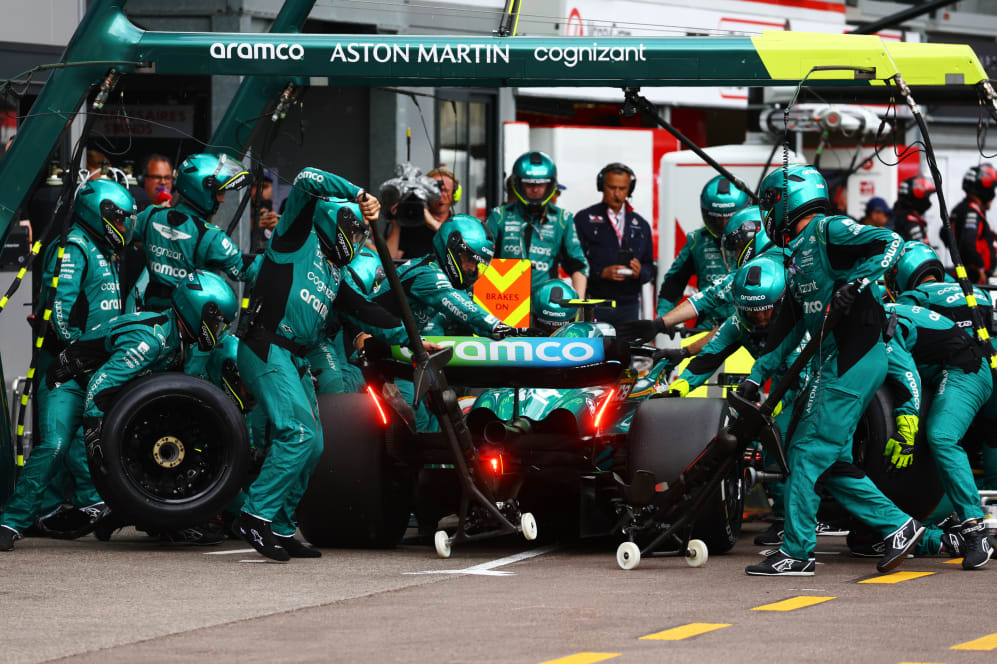 With the red and yellow flags waving, and the middle sector of the lap looking particularly slippery, Bottas and Stroll felt it was time for intermediates, but the remaining 18 cars stayed out for the time being and battled the conditions on slicks.
On Lap 54, Alonso came into the pits and, rather than switching to intermediates, he went from hards to mediums, a decision that looked set to lose him a hatful of positions when the rain intensified and spread to cover the entire circuit – forcing another stop.
A flurry of pit lane activity followed as most drivers gave in and took on the intermediates, with Verstappen tagging the wall at Portier en route to his pit stop but managing to make it around and emerge with his lead intact.
After the stops, Verstappen led Alonso by more than 15 seconds, with Ocon sitting third ahead of Mercedes pair Hamilton and Russell, Leclerc in sixth, Gasly seventh, Sainz eighth (having spun at Mirabeau before his move to intermediates), Tsunoda ninth and Norris rounding out the top 10 positions.
Magnussen was the only driver to stay out on slicks but that brave mission ended with a trip to the barriers at La Rascasse, followed by another off-track excursion at Sainte Devote despite pitting to put on the full wet rubber, which Hulkenberg and Perez also swapped to.
Amid all the tyre changes, Russell was given a five-second penalty for rejoining the track in an unsafe manner. TV replays showed him taking to the run-off at Mirabeau, backing out and then banging wheels with Perez as he resumed, losing spots he had gained over Ocon and Hamilton.
Stroll's race brought yet more drama when he lost his front wing at the exit of the hairpin, before parking up and retiring, while Perez – having just been hit by Russell – had a wild slide through the Swimming Pool chicane and tagged the wall at the exit.
Matters also got worse for Hulkenberg, who was hit with a 10-second time penalty due to his initial five-second sanction not being served correctly, something witnessed earlier this season with Ocon in Bahrain and Alonso in Saudi Arabia.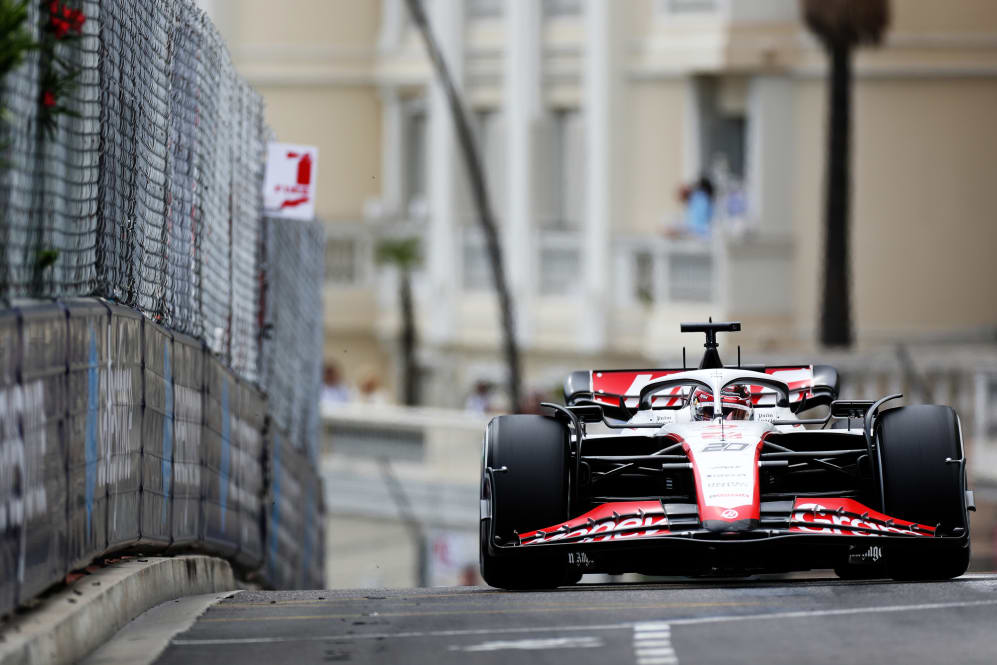 As the conditions stabilised, Verstappen continued to pull clear of Alonso, brushing away a question from his engineer about the conditions being "anything other than inter" and building up his margin to almost 30 seconds by the chequered flag.
It was a statement win from the championship leader, who is now 39 points clear of Perez in the drivers' standings, his team mate unable to climb higher than 16th after starting from the back as a result of his costly qualifying shunt.
Ocon held his ground in the challenging conditions to take a superb third for Alpine after their mixed start to the campaign, followed by Mercedes pair Hamilton and Russell, the latter having enough of a margin over Leclerc despite his penalty.
Gasly split the Ferraris in seventh, with Sainz, Norris and Piastri completing the points, the McLaren duo overtaking Tsunoda in the final laps before the AlphaTauri man ran off the road at Mirabeau and swore on the radio at the state of his brakes.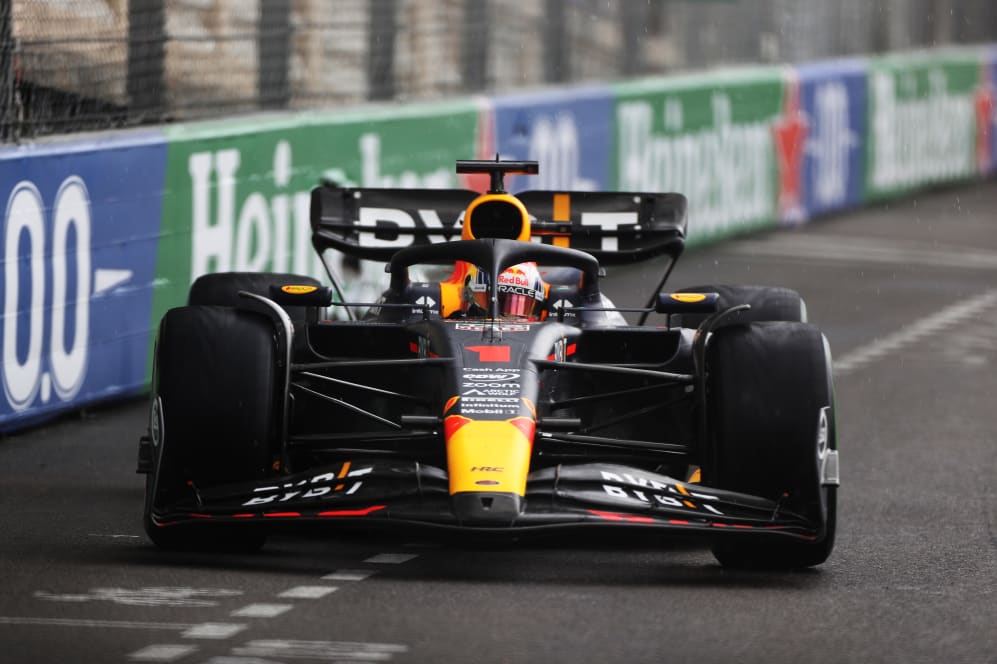 Bottas was the first of the Alfa Romeos to cross the line in 11th, followed by De Vries, who logged his best result with AlphaTauri so far, team mate Zhou, Albon and Tsunoda, with 16th-placed Perez left to rue what might have been after losing considerable ground to Verstappen in the title race.
Hulkenberg's miserable day ended in P17 when his second time penalty took effect, with team mate Magnussen pitting late on to retire after his failed wet-weather tyre gambles and Stroll propping up the rear as the second DNF of the day via his various collisions and trips to the barriers.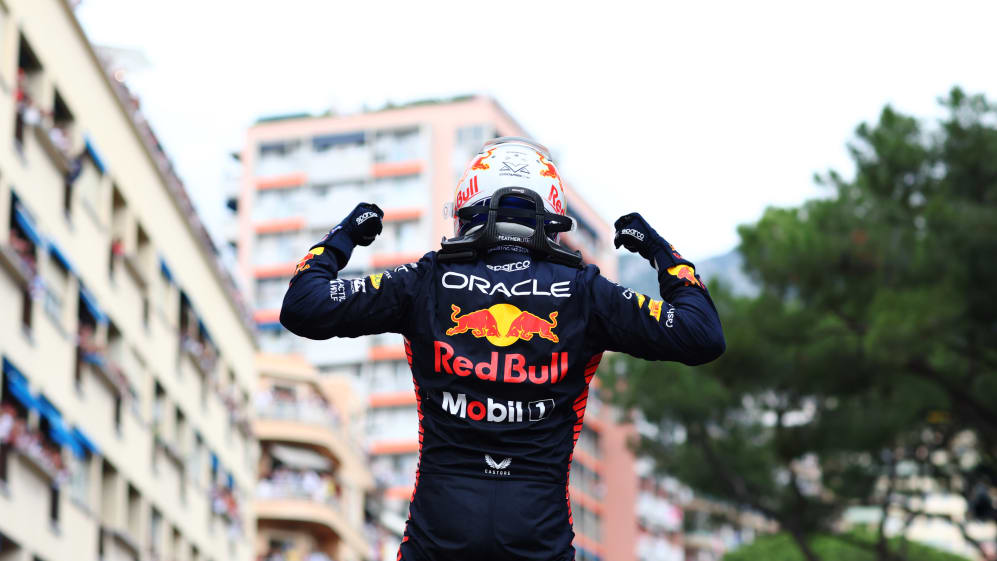 KEY QUOTE
"It was quite a difficult one because we were on the medium initially and Fernando was on the hard tyre," said race winner Verstappen. "We didn't want to go that long, but we had too. The rain was coming, and we didn't know really what was going on.
"The tyres were graining and then took a few laps to get through that graining phase and the pace picked up a little bit, but it was still very tricky to drive. Then it started to rain lap by lap, and then we had to make the call to go on to the inters.
"It was incredibly slippery. When you are that far in the lead you don't want to push too hard, but you don't want to lose too much time, so it's quite difficult in that scenario. I clipped the walls a few times, it was super difficult out there, but that's Monaco!"
WHAT'S NEXT?
After packing up in Monaco, the F1 paddock will head to the Circuit de Barcelona-Catalunya for the Spanish Grand Prix, which is scheduled to run from June 2-4.