Report
Verstappen dominates for Japanese GP victory as Red Bull secure back-to-back constructors' titles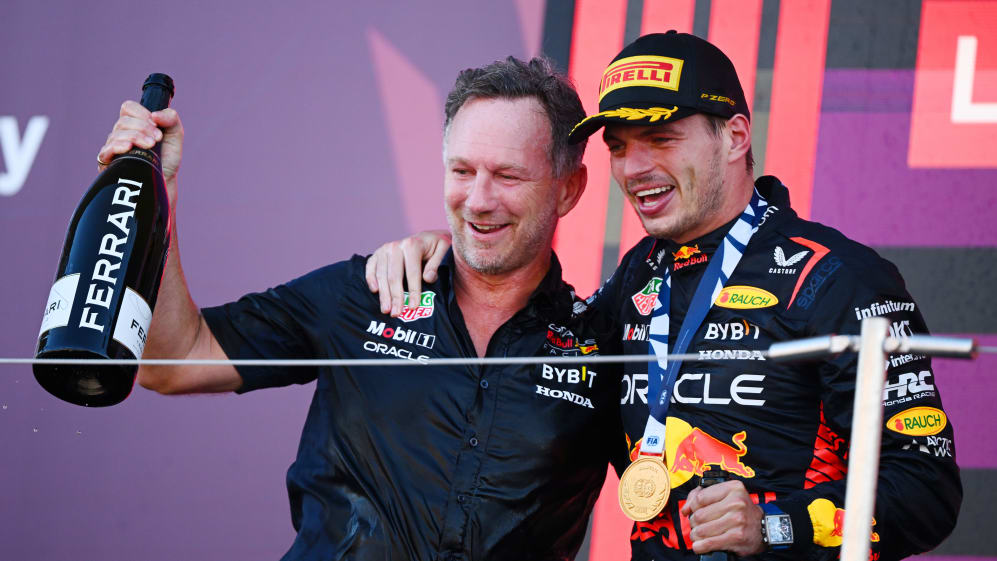 Max Verstappen and Red Bull returned to winning ways in Sunday's Japanese Grand Prix after surviving a dramatic first lap and pulling comfortably clear of McLaren pair Lando Norris and Oscar Piastri, confirming another constructors' title for the Milton Keynes team.
Verstappen was attacked by Piastri and Norris at the start but kept both of them at bay, navigated Safety Car and Virtual Safety Car periods and then romped into the distance, taking the chequered flag first for the 13th time this season.
As such, Red Bull mathematically put the constructors' championship out of their rivals' reach to back up their 2022 win and make it two triumphs on the bounce, underlining the outfit's superiority under F1's latest ground effect era so far, while adding to the teams' titles they achieved in 2010, 2011, 2012 and 2013.
A battle between the McLaren drivers was ultimately settled in Norris' favour, the Briton getting ahead at the start, dropping behind when Piastri pitted under a Virtual Safety Car but then displaying enough pace for the team to swap positions.
FORMULA 1 LENOVO JAPANESE GRAND PRIX 2023
Japan
2023
Race results
POSITION
TIME
POINTS

1

Max

Verstappen VER

Red Bull Racing

1:30:58.421

26

2

Lando

Norris NOR

McLaren

+19.387s

18

3

Oscar

Piastri PIA

McLaren

+36.494s

15

4

Charles

Leclerc LEC

Ferrari

+43.998s

12

5

Lewis

Hamilton HAM

Mercedes

+49.376s

10
Charles Leclerc led Ferrari's charge in fourth position, completing a bold, late move on Mercedes rival George Russell – the only front-runner to attempt a one-stop rather than two-stop strategy – around the outside of Turns 1 and 2.
Russell fell into the clutches of team mate Lewis Hamilton in the closing laps and was instructed to let him by, which he agreed to do, after the Mercedes drivers had gone wheel-to-wheel and almost collided earlier in the race.
Carlos Sainz also pounced on Russell's ageing tyres to take sixth behind Hamilton, with Aston Martin's Fernando Alonso and the Alpines of Esteban Ocon and Pierre Gasly – despite a first-lap incident for the former – scoring the final points of the day.
With their cars starting ninth and 11th, AlphaTauri had been points contenders in the opening exchanges, but faded as the various strategies played out – F1 newcomer Liam Lawson beating home favourite Yuki Tsunoda to the flag in 11th and 12th respectively.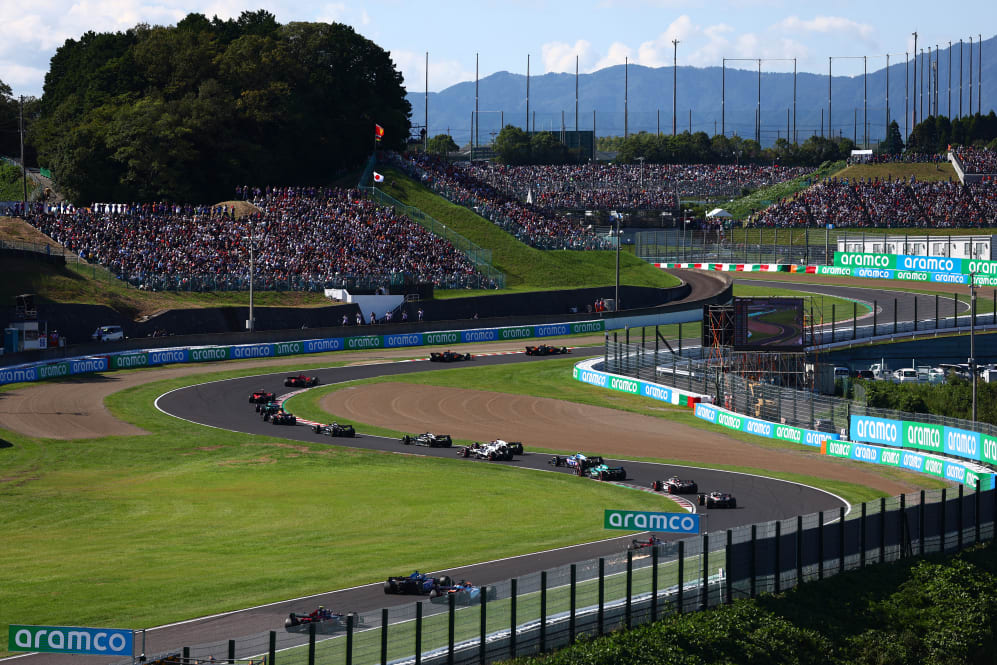 Zhou Guanyu was another to bounce back from Lap 1 drama as he crossed the line 13th, the only Alfa Romeo driver to finish after team mate Valtteri Bottas was punted into the gravel by Williams rival Logan Sargeant.
Haas pair Nico Hulkenberg and Kevin Magnussen were the final finishers in P14 and P15 respectively, a theme of their 2023 season amid tyre degradation struggles, with a gaggle of cars behind retiring at different stages.
Williams suffered a double DNF as Sargeant returned his car to the garage after clashing with Bottas, having been penalised pre-race and given a pit lane start for major car changes following his qualifying crash, while Albon retired with damage after his own Lap 1 incident involving the Alfa Romeo.
Another bottleneck moment at the start saw Red Bull's Sergio Perez bang wheels with Hamilton, before a separate incident with Magnussen forced him to pit for a second new front wing, leading to his retirement (albeit reappearing late on to serve time penalties). Lance Stroll was the other driver to retire with a rear wing issue on his Aston Martin.
AS IT HAPPENED
After an action-packed qualifying hour, in which Verstappen and Red Bull bounced back to their best, significant repair work at the other end of the order saw Sargeant sent from P20 to the pit lane and handed a 10-second time penalty, with Williams building up what the stewards determined to be a new car, and more than the two permitted per event, thanks to his Q1 crash.
As the hot conditions ramped up in the hours before the start, there was plenty of focus on race strategy and the tyre compounds each driver would choose for their opening stints, with F1 supplier Pirelli predicting at least two-stop approaches to be used amid the high degradation and high temperatures experienced over the weekend.
When the drivers lined up on the grid and the tyre blankets came off, it was revealed that the front-runners and majority of the field would be starting on medium tyres, with Tsunoda, Alonso, Lawson, Bottas, Stroll, Hulkenberg and Zhou going for softs.
As the lights went out, pole-sitter Verstappen immediately came under attack from Piastri on the inside and Norris on the outside during a particularly close run down to Turn 1, but the reigning double world champion did just enough to keep his advantage.
With Piastri boxed in, Norris took advantage to jump his team mate and briefly run alongside Verstappen, while drama ensued behind as Perez jinked to the left to avoid Sainz, made contact with Hamilton and sent the seven-time world champion onto the grass.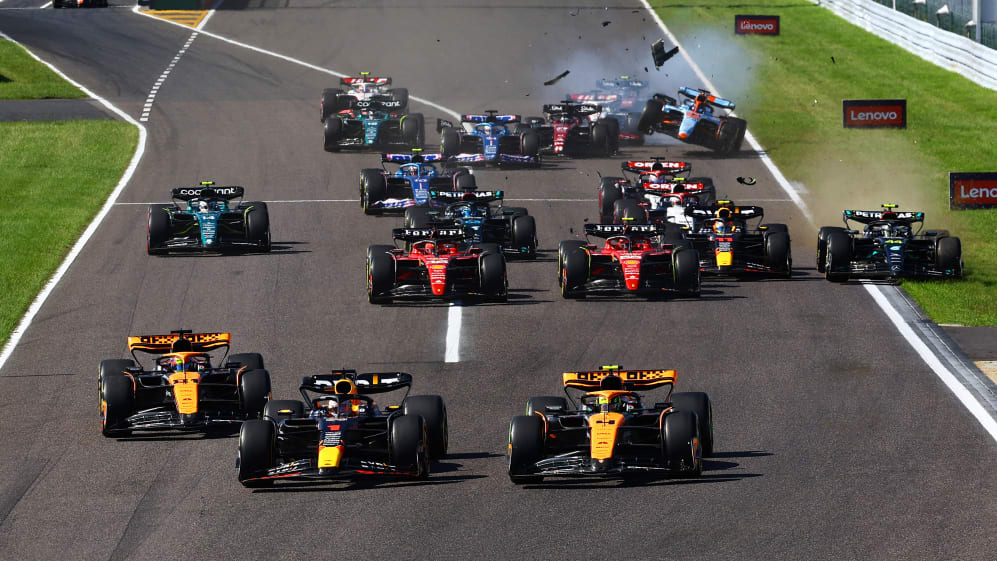 Another chain reaction towards the back of the pack involving Ocon, Zhou, Bottas and Albon – who went airborne – saw all four drivers pit for repairs at the end of the lap, with Sargeant also pitting to serve his time penalty, as the Safety Car headed out on track to neutralise proceedings and allow marshals to retrieve debris.
Perez was the next driver to visit the pit lane on Lap 3, with Red Bull determining that he needed a new front wing after that early contact, but the Mexican was subsequently noted for a Safety Car infringement, which turned into a five-second penalty.
With the debris cleared, the Safety Car came in at the end of Lap 4 and released Verstappen back into clear air, ahead of Norris, Piastri, Leclerc, Sainz, the fast-starting Alonso, Hamilton and Russell, as Lawson and Tsunoda held the final points-paying positions.
There was more drama involving Sargeant shortly after the restart as he ran into the back of Bottas under braking for the hairpin, prompting an angry radio message from the Finn and landing another five-second penalty from the stewards. Bottas would retire shortly afterwards.
Elsewhere, the Mercedes drivers embarked on an exciting wheel-to-wheel scrap, Russell getting ahead with a move into the chicane that brought back memories of the infamous Alain Prost/Ayrton Senna collision back in 1989, before Hamilton fought back around the outside of Turn 1.
Having picked off a few cars, Perez's recovery from his early stop took a turn for the worse when he locked up and tipped Magnussen into a spin at the hairpin. "I have front wing damage again!" Perez exclaimed over the radio, forcing him into the pits for a second time and earning another five-second penalty.
After Alonso kicked off the first round of stops on Lap 12, Piastri was the first of the front-runners to pit on Lap 14 and swapped from medium to hard tyres, just as a Virtual Safety Car came out for the debris, saving him some precious time in the process, with none of his close rivals able to take advantage before it ended.
With the damage picked up by his Red Bull seemingly too significant to continue, Perez was soon told to box his car and retire from the race, meaning victory for team mate Verstappen would put him in prime position to seal the world title next time out in Qatar.
Verstappen pitted from the lead on Lap 17, going for more mediums rather than hards, to hand Norris a temporary lead and also release Leclerc, Sainz and Russell – the latter experiencing another close call with Hamilton at Spoon, where he was forced onto the run-off. "Who do we want to fight here? Each other or the others?" Russell commented.
Norris pitted a lap later than Verstappen and, following the aforementioned VSC period, rejoined the track behind team mate Piastri, but the Briton proceeded to light up the timesheets and close back in on the top two runners.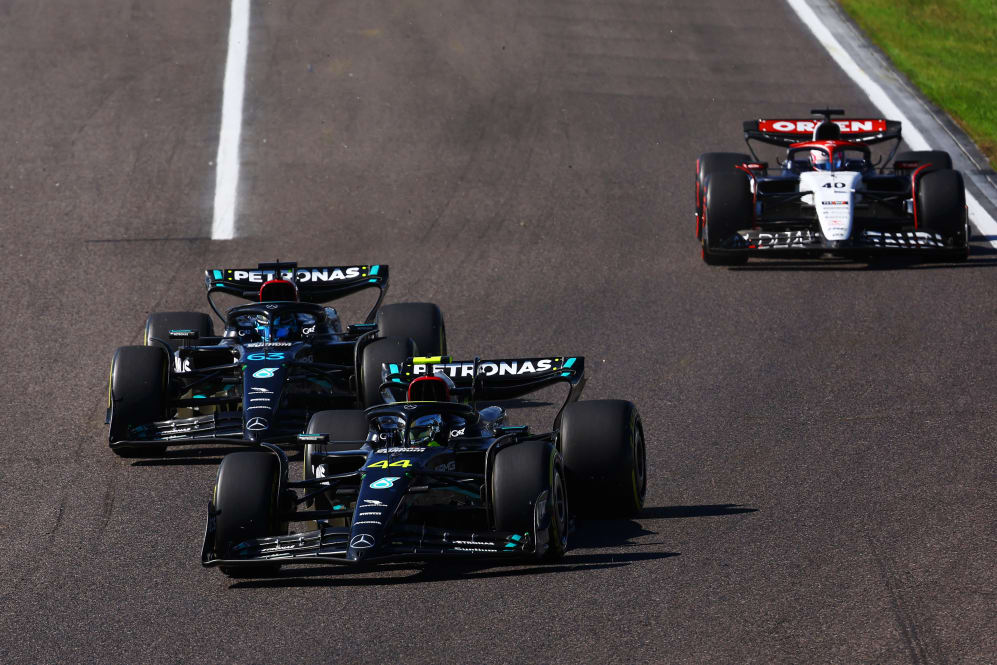 As the first pit stops and various strategies unfolded, Verstappen (mediums) remained in P1, with Russell (also mediums) up to second and the only driver yet to pit, followed by Piastri and Norris (both hards), Leclerc and Sainz (both mediums), Hamilton, Ocon and Alonso (all hards) and Tsunoda (mediums).
After losing places to Hamilton and Ocon – the latter rising up the order after his first-lap drama and change of tyres – Alonso took to the radio to express his frustration over Aston Martin's strategy, saying "you've thrown me to the lions by stopping that early." The Silverstone team's pain was compounded by Stroll boxing to retire his car.
With Russell ploughing on in second position, Norris was told that the Mercedes man could be going for a one-stop strategy, but that "he's only a threat if we abuse our tyres". Russell eventually pitted on Lap 25, taking on the hard tyres and coming back out in ninth, which promptly turned into eighth with a move on Alonso.
While Verstappen had built a lead of more than 10 seconds up front, Piastri and Norris were running within a few car lengths of each other in second and third, the latter taking to the radio and making clear that he was losing lap time – adding "it's just ruining the race now".
McLaren duly swapped positions along the start/finish straight on Lap 27, with Verstappen now 13 seconds clear, as Sargeant and Albon became the latest drivers to pit their cars and retire from proceedings, landing a double blow for the Williams team.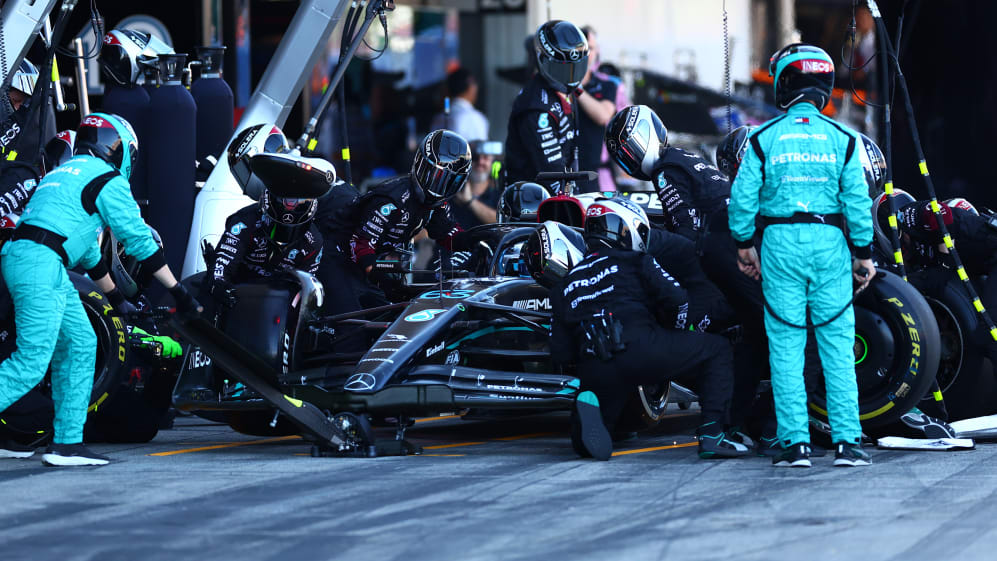 Verstappen remained in a league of his own as the race developed, while Norris gradually pulled away from Piastri, the Ferrari and Mercedes drivers ran line astern (Russell aiming to make a one-stop work) and Gasly, Alonso (after a second stop for hard tyres) and Tsunoda completed the top 10.
Shortly afterwards, a radio message to Alonso confirmed that team mate Stroll's retirement had been caused by a rear wing failure and, while there were no signs of any issues on his car, the Spaniard was asked to refrain from running over the kerbs for the rest of the race.
Further front-running stops came on Lap 35, with Leclerc and Hamilton taking on hard tyres, prompting Piastri to dive in for fresh rubber one tour later to defend from the undercut – the Australian rookie also running the white-marked compound to the finish.
Norris responded by pitting on Lap 37, with Verstappen making his final stop on Lap 38 (both drivers taking hards), as Sainz stretched out his medium tyre stint and Russell climbed into the podium positions but faced the challenge of keeping his ageing tyres competitive.
Russell's deficit was soon highlighted, though, with Norris blasting his way past for third place, before Sainz finally pitted from second on Lap 39, dropping him to seventh as rival drivers filtered through.
There was a late, retirement-related twist, with Red Bull sending Perez back out on track to complete a lap and then serve the time penalties he was given earlier in the race, meaning no risk of a sanction carrying over to the next round.
Russell continued to drop down the order as the final laps ticked by, with Piastri and Leclerc getting past in quick succession – both moves being initiated around the outside of the first corner and Leclerc's continuing through Turn 2 to raise some eyebrows.
With Russell starting to hold Hamilton up, and Sainz rapidly closing in on fresher tyres, the latter took to the radio to comment that "we're going to lose both of these positions", prompting Mercedes to swap their two cars into Turn 1 on Lap 49.
Russell asked if Hamilton could provide DRS to aid his defence against Sainz, which was duly granted, but Sainz nonetheless found a way through and then joked that "they're using my trick against me" after his tactics in Singapore.
As the final laps ticked by, Verstappen eased his way to the flag to finish almost 20 seconds clear of Norris, with Piastri some 17 seconds further back as his pace faded, but not enough to lose a maiden F1 podium result.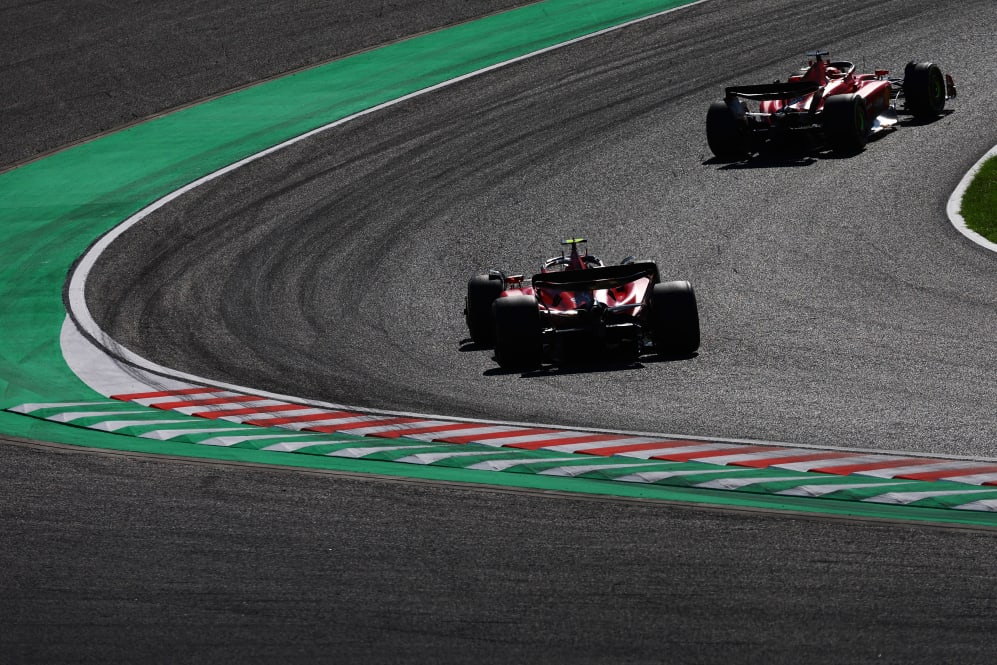 Positions four to seven went to the Ferrari and Mercedes machines of Leclerc, Hamilton, Sainz and Russell, with Alonso – following his earlier complaints – picking up some more points in eighth, and Ocon and Gasly giving Alpine a double top 10 finish, having swapped places on the final lap amid differing strategies.
Lawson and Tsunoda were unable to convert their qualifying pace into points, having to settle for 11th and 12th respectively, with Zhou, Hulkenberg and Magnussen the final drivers to cross the line and record a finish at the end of an attrition-filled race.
Indeed, five drivers watched from the sidelines as the action came to an end, with Williams losing both Albon and Sargeant amid their respective collisions, and Aston Martin losing Stroll's car due to that aforementioned rear wing problem.
Perez, whose messy afternoon involved multiple front wing changes and penalties, at least briefly made it back out on track to cancel out those sanctions before the Qatar Grand Prix, while Bottas was the other DNF after his incidents with the Williams pair.
Despite Perez's retirement, Red Bull embarked on wild and emotional celebrations in the Suzuka pit lane, with Verstappen's victory and the points that came with it enough to earn the team their sixth constructors' championship.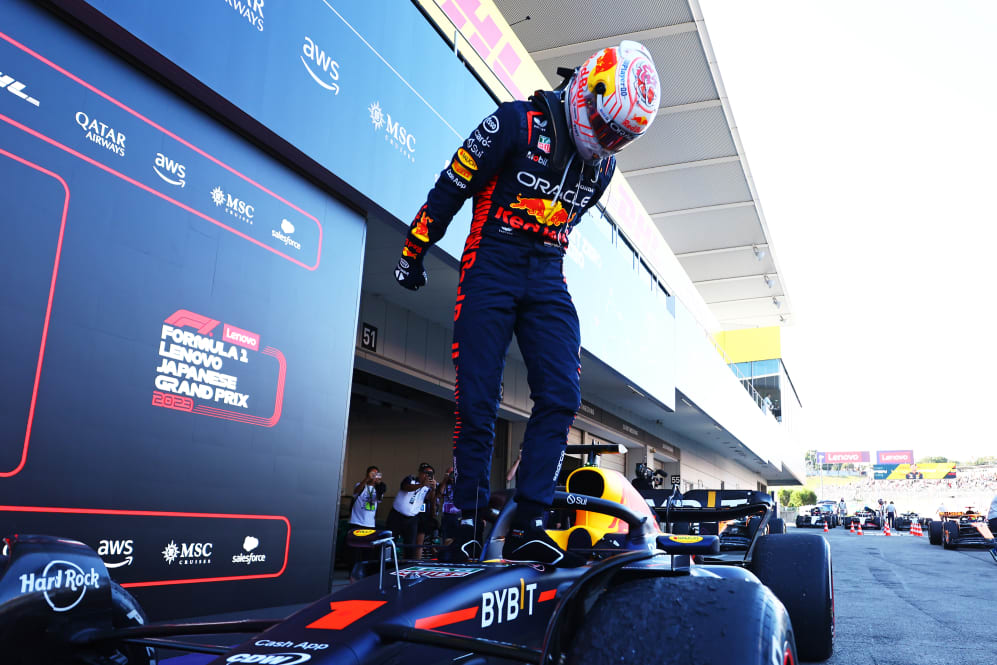 Key quote
"It's an unbelievable weekend," said race-winner Verstappen. "To win here was great. I think the car was working really well on every [tyre] compound. But of course, the most important was also to win the constructors'. So, I'm very proud of everyone working at the track but also back at the factory. We're having an incredible year."
What's next
The next stop on the 2023 F1 calendar will be Lusail for the Qatar Grand Prix weekend, which takes place from October 6-8.