Verstappen happy with P3 but 'confused' after struggling with grip in Portuguese GP qualifying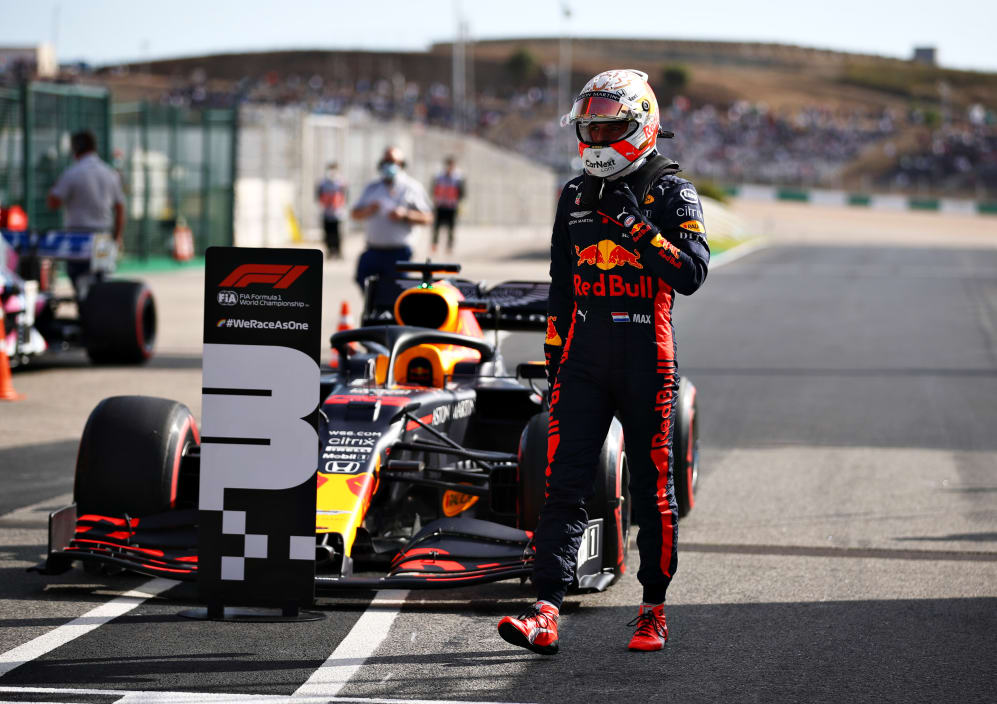 Far from being delighted at being so close to Mercedes, or frustrated by missing out on pole position, Max Verstappen was left confused by qualifying in Portugal.
Lewis Hamilton snatched pole position from team mate Valtteri Bottas on the final lap in qualifying as the Mercedes pair switched to medium tyres on a track that appeared to be getting progressively slower. Verstappen stuck with softs and says it was a simple choice for Red Bull, but after ending up 0.252s adrift of pole he was left perplexed by how the session played out.
QUALIFYING REPORT: Hamilton beats Bottas to Portuguese GP pole with final charging run at Portimao
"For us it was very straightforward, we just committed to softs for the whole of qualifying," Verstappen said. "But I think already the whole weekend has been really tricky with getting the tyres to work, and besides that I think it's not only tyres, the tarmac is very slippery and there's just one line you can take.
"Overall it's still good to be third but it was a bit confusing throughout qualifying. I did my fastest lap time in Q1, and after that I couldn't replicate it just because I didn't have the same grip. Of course the time runs down in Q2 and Q3, you have even less time to do your laps and it just seemed like it was a bit more difficult for us to get the tyres in a better window, even though I think in Q3 compared to Q2 it felt a bit better on the very first timed lap.
"So it was better, but for me personally not very enjoyable to drive at the moment with the tyres and grip on the track. I was here in January and I thought it was going to be amazing to drive a Formula 1 car. The scenery, everything is perfect, but the grip we have, for me personally you can't really push, you're just driving on ice. So it's a bit of a shame."
Although he was a threat for pole position throughout the session at the Algarve International Circuit, Verstappen believes the unfamiliar venue makes it hard to get a true picture of the competitive order.
"We were again very close, just a bit difficult to really judge the performance because of tyres and grip. I think we have to go to a track again where we have been driving before in the last few years and see where we are because we have a bit more knowledge there. These kind of events are sometimes hit and miss, sometimes you can do them a bit better than others, but still to be P3 and be quite close to them is a good achievement I think."
READ MORE: Horner says Albon needs 'strong races' in Portugal and Imola as Red Bull challenge him to 'claim' seat
The Mercedes drivers will start on the medium tyres on Sunday compared to Verstappen on softs, but the Red Bull driver is making no predictions.
"To be honest I have no clue [if it will help at the start] at the moment. I hope it does. All tyres of course will be quite tricky on the first lap, for sure the medium a bit more - it's normal, it's a harder tyre, harder to warm up. I guess we will have to find out tomorrow. That's nice right? Just build up a bit of the pressure tomorrow."