Report
Verstappen holds off charging Hamilton to claim 50th F1 victory at the United States GP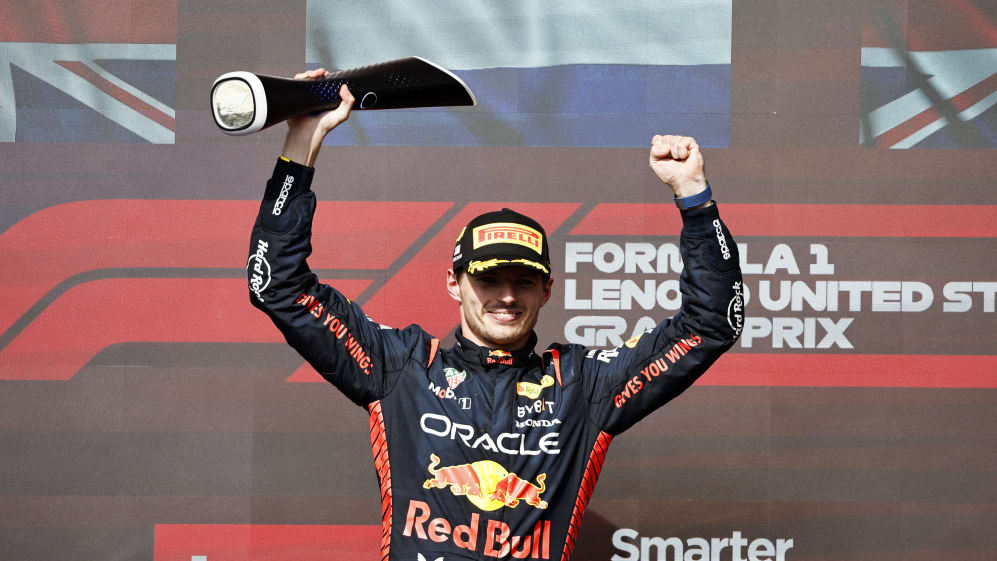 Max Verstappen recovered from sixth on the grid to take a nerve-wracking win at the United States Grand Prix, as the Red Bull man held off a fast-approaching Lewis Hamilton and the McLaren of Lando Norris to claim his 50th Formula 1 race win.
After a quiet start, Verstappen gradually picked off his rivals one by one in what was a tense Austin affair. He took the lead from Norris, who had earlier taken first place on the opening lap ahead of pole-sitter Charles Leclerc.
Hamilton, on new mediums, chased down Norris for second with a few laps to go and looked to close in on Verstappen for the win – in a reverse scenario of what happened in last year's race where Verstappen chased down Hamilton for the win – but to no avail as he settled for second.
Norris held off the late advances of Carlos Sainz to take his fourth podium in a row, ahead of the other Red Bull of Sergio Perez, who overtook a very frustrated Leclerc late in the event to finish fifth.
FORMULA 1 LENOVO UNITED STATES GRAND PRIX 2023
United States
2023
Race results
POSITION
TIME
POINTS

1

Max

Verstappen VER

Red Bull Racing

1:35:21.362

25

DQ

Lewis

Hamilton HAM

Mercedes

+2.225s

0

2

Lando

Norris NOR

McLaren

+10.730s

18

3

Carlos

Sainz SAI

Ferrari

+15.134s

15

4

Sergio

Perez PER

Red Bull Racing

+18.460s

12
Leclerc ended up sixth for Ferrari, with George Russell in seventh, as the Alpine of Pierre Gasly came home an impressive eighth. Lance Stroll recovered from a pit lane start to finish ninth for Aston Martin, as Yuki Tsunoda rounded out the top-10 – while also claiming a valuable point for AlphaTauri in the form of a fastest lap.
Alex Albon's five-second time penalty for exceeding track limits did not cost him a position as he finished 11th, although he will be investigated after the race for multiple breaches of the same offence. The Thai racer was followed by his Williams team mate, Logan Sargeant, in 12th.
Nico Hulkenberg was the lead Haas on the day as he finished 13th, ahead of the Alfa Romeos of Valtteri Bottas and Zhou Guanyu, with his team mate, Kevin Magnussen down in 16th. The returning Daniel Ricciardo was the last of the remaining runners for AlphaTauri.
There were three drivers who failed to see the chequered flag as Fernando Alonso, Oscar Piastri, and Esteban Ocon all retired from the race due to issues with their respective cars.
AS IT HAPPENED
After a frenetic Sprint weekend, it all came down to this, as the drivers lined up preparing to do battle in Austin. Verstappen claimed the victory in Saturday's 100KM dash but, starting sixth, could he translate his strong pace to race day to secure the win?
Before the race got started there would be a few changes to the starting grid with both Aston Martin and Haas drivers set to start from the pit lane after changes were made to their cars overnight.
As the tyre blankets were raised it showed all drivers starting on a set of the medium tyres, with the only exception being Stroll and Hulkenberg, who were looking to go long in the first stint on a set of hards.
As the lights went out, it was a brilliant start for Norris who got ahead of Leclerc on the run down to Turn 1, while Sainz made his way past Hamilton for third. Further back, Piastri had gone from 10th to sixth despite being tagged by Ocon.
On the charge, Piastri was now looking to get ahead of Verstappen into Turn 12, although the Dutch driver was able to keep the rookie behind, as Sainz also had a look down the inside of Leclerc further ahead, at the same corner.
As we approached the end of Lap 2, Norris had moved over two seconds ahead of Leclerc out at the front while Ocon was now complaining about having sidepod damage as he came under threat from Russell.
Russell, having dropped from fifth to eighth, was noted for leaving the track and gaining an advantage into Turn 1. He made his way past Ocon at Turn 11, with Perez following him through past the Alpine racer one corner later.
Further ahead, Hamilton was now right on the back of Sainz's gearbox, and despite the Spaniard's best efforts to keep him behind, the Mercedes driver overtook his rival at the very popular Turn 12.
Gasly, now in 10th, came on the radio to call for Ocon not to hold him up, although his damage-suffering team mate was powerless to resist his attack. Ocon was now visibly struggling for pace as he had dropped to the back of the field by end of Lap 5.
At the same time, Verstappen was now beginning to make his move as he overtook Sainz into Turn 12. Elsewhere, the stewards believed there was no need to further investigate Russell for leaving the track and gaining an advantage on Lap 1.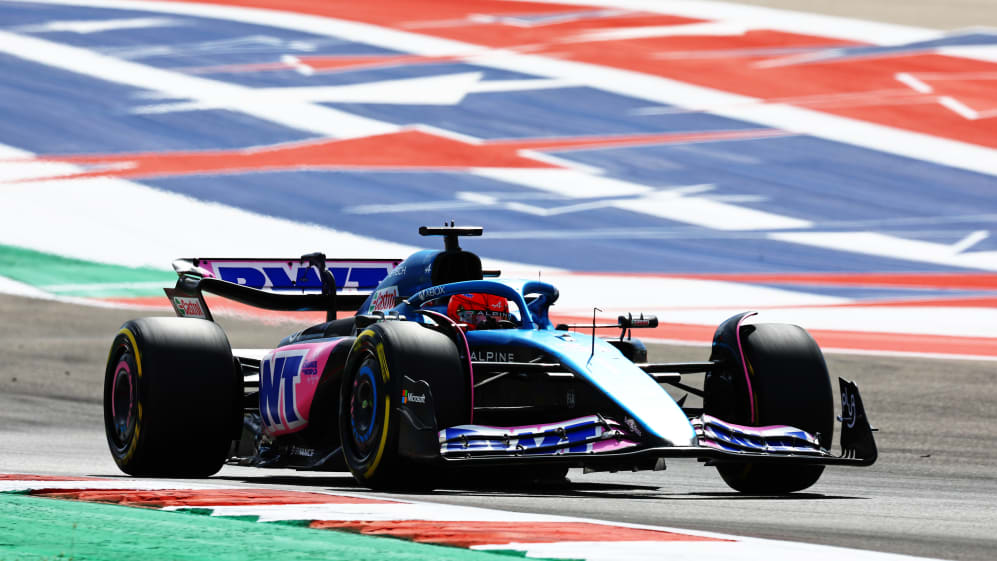 Hamilton was now showing the pace of his updated W14 as he got within Leclerc's DRS within the space of a couple of laps. The Mercedes driver breezed past the Monegasque at Turn 12, with his next target, Norris, three seconds up the road.
It was more bad news for Ocon as he was unable to continue with the sidepod damage he sustained from his collision with Piastri at the start, with Alpine opting to retire his car for the third time in five races. Piastri did not last much longer, as McLaren retired his car due to radiator damage sustained from his contact with Ocon.
As we approached the end of Lap 11, Verstappen was now closing in on Leclerc, and he made his DRS advantage count, as he eased his way past the Ferrari, once again into Turn 12.
Hamilton then set the fastest lap of the race on Lap 13, as he had now closed the gap to Norris to two and a half seconds. His team mate, Russell, however, was the brunt of Perez's frustrations, as he believed the Briton had exceeded track limits on multiple occasions.
By Lap 14 of 56, there was signs of life at Aston Martin as Alonso and Stroll were now running in 11th and 12th, behind the returning Ricciardo, in 10th. Back at the front, Hamilton was now just behind Norris.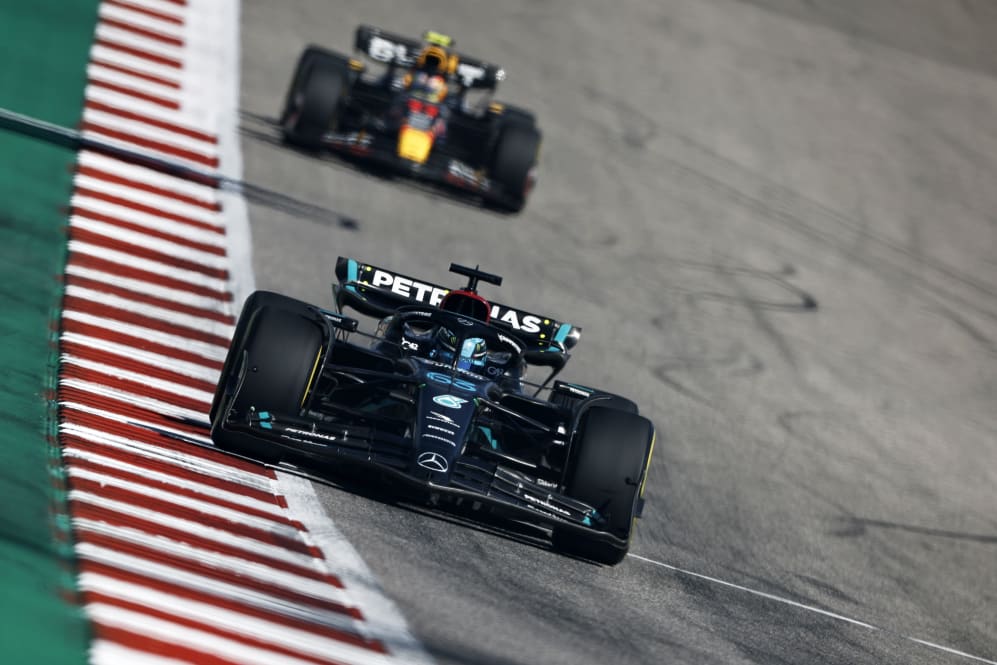 Verstappen was the first of the front-runners to make the call to swap tyres on Lap 17, the three-time champ bolting on a second set of new medium tyres. A lap later, Norris, Sainz, and Perez all followed suit – and while the latter two opted for the mediums, the former was on the hards.
On Lap 20, replays showed Hamilton was now struggling with his tyres as he locked up at Turn 11. His mood would not have been helped by being told that Verstappen was now within his pit window.
Mercedes then opted to bolt the hard tyres onto Hamilton's car, with the Dutch racer having now completed the undercut. Leclerc was the last of the front-runners to change his tyres. He came back out on the hards, but having gone long on the first stint, he had lost out to Sainz and Perez.
Track limits continued to be an issue during the race, with multiple drivers having times deleted. The latest was Magnussen, who was now being shown a black and white flag by the stewards, as Alonso overtook Zhou to make his way up into the top-10.
Norris was now being told his battle was with Verstappen, and with replays showing him locking up at Turn 11, the Red Bull man was now stalking the McLaren as he was just a second and a half behind as they crossed the line to start Lap 26.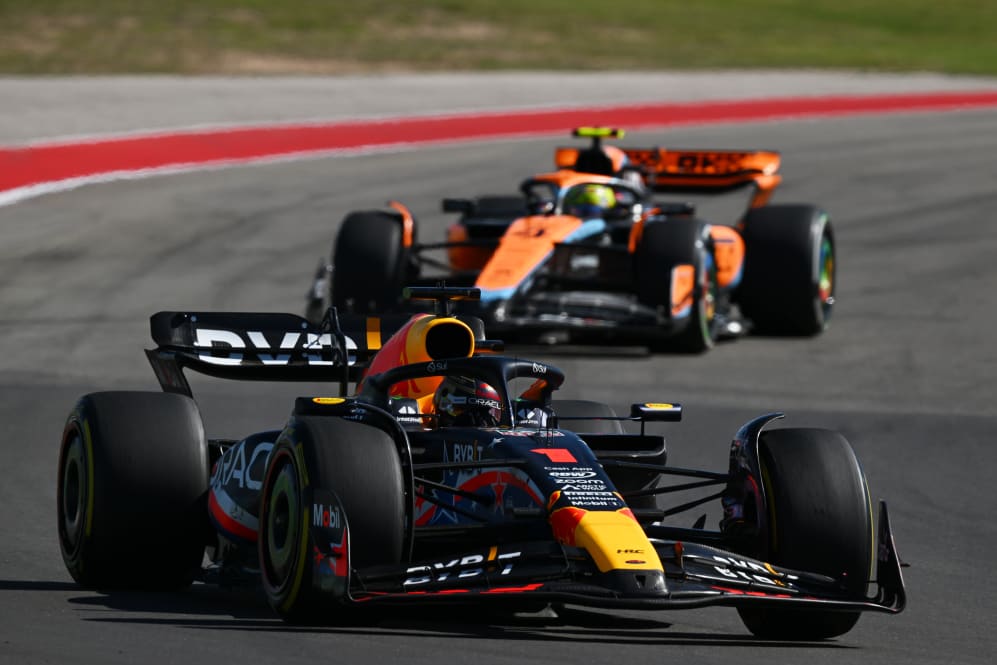 On Lap 29 of 56, Verstappen finally made his pace advantage count, capitalising on Norris locking up to dive down the inside at Turn 12. Norris produced a valiant defence to try to re-take the position, but it proved to be futile.
Hamilton had earlier been told by his engineer that they were looking to offset Verstappen by going on the hard tyre, and as we approached Lap 33, this was proving to be the case, as both he and Norris were now closing in on the Red Bull driver.
It was also worth noting the pace of Perez, in fifth, who was having a decent outing in COTA, having made his way up from ninth, and he was showing a good turn of pace as he closed in on Sainz for P4.
By Lap 35 of 56, Hamilton was now well within three seconds of Norris, with McLaren now opting to pit the Briton. This gave Red Bull food for thought as they planned their next move but they made the call to bring Verstappen in on the following lap. But the question now was what would Mercedes do with Hamilton?
Multiple drivers were now bolting the hard tyres onto their cars, including Perez and Sainz, but as the race reached a tipping point at the end of Lap 38, Mercedes brought Hamilton into the pit lane for some new medium tyres.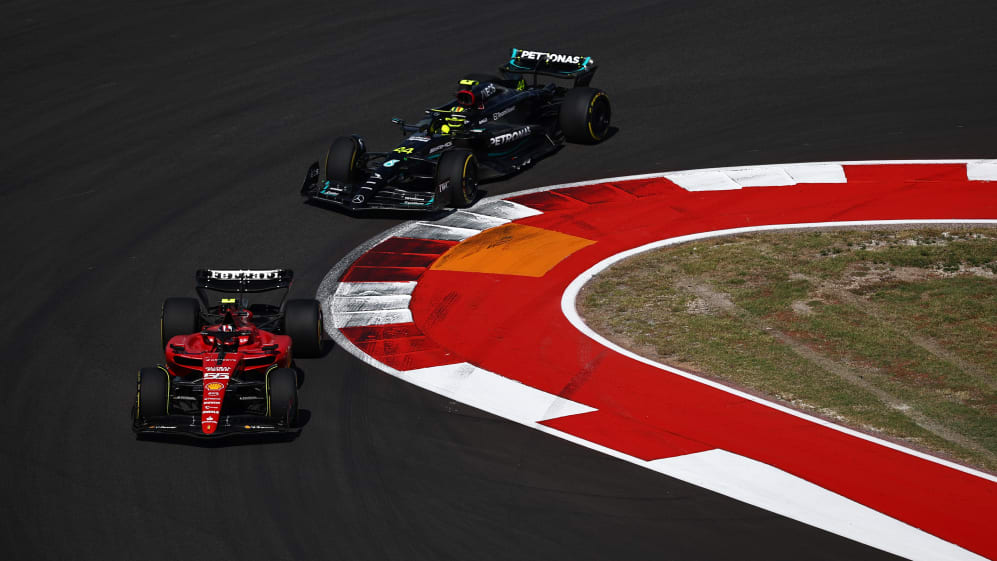 With 17 laps remaining, we were now set for an entertaining end of the race, as Verstappen breezed past Leclerc, swiftly followed by Norris. Important news for the pair, as Hamilton began setting some personal best sectors.
There was plenty going on at Williams on Lap 42, as while Sargeant was issued with a black and white flag for exceeding track limits, Albon, now on a new set of mediums, made his way past Ricciardo – although the AlphaTauri driver was on 19-lap old hards.
Like Albon, another medium-shod driver, Hamilton, was also on the move as he overtook Leclerc for third. With 12 laps left, did he have enough in the tank to overhaul Norris and Verstappen to get his first win in two years?
Elsewhere, it was proving to be an outstanding recovery drive from Alonso, who was now ninth after overtaking Tsunoda. Next in his sights for eighth, was the man who replaced him at Alpine, Gasly,
As the drivers set off on their 46th tour, Hamilton was now two and a half seconds behind Norris, in second. He would have to up his pace to catch Verstappen for the win, however, as the Red Bull pilot was matching his pace.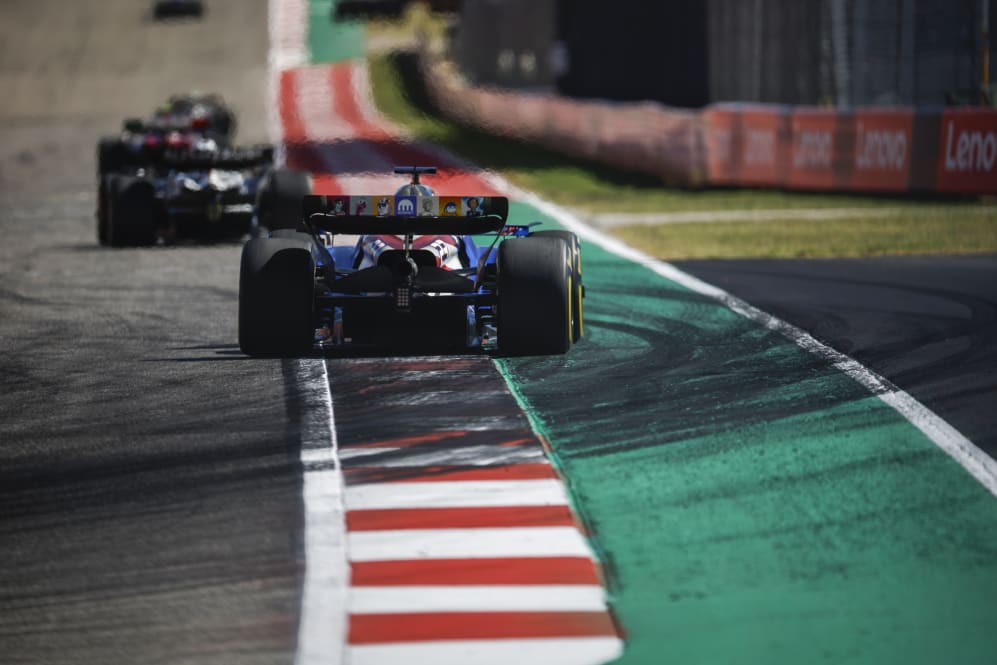 Stroll followed his team mate, Alonso, past Tsunoda, although he was less than impressed with the Japanese racer for what he felt was him moving too late under braking. But a good day quickly turned sour as Alonso complained of a rear suspension failure, as he was forced to retire the car a few laps later.
Hamilton was now within DRS range of Norris, and after a few attempts he made it past at Turn 1 despite the McLaren driver's stern defence. But with eight laps remaining and a five-second gap to Verstappen to overhaul, could he chase the Red Bull driver down?
Meanwhile, the two Ferrari drivers were now battling, and as Sainz made his way past on his fresher hard tyres, Perez was also now closing in. Leclerc was less than pleased with Ferrari's call to let Sainz through, with the Spaniard now closing on Norris for the final spot on the podium.
A little later, Albon was handed a five-second penalty for exceeding track limits one too many times. But with two laps to go, attentions turned to the front as Hamilton was well within two seconds of Verstappen, who was still complaining of brake issues.
But on the final lap, the gap proved too big for Hamilton to close as Verstappen crossed the line to take his third consecutive win at COTA – and his 50th win in Formula 1 – as the Briton took his second P2 finish of the weekend following the Sprint.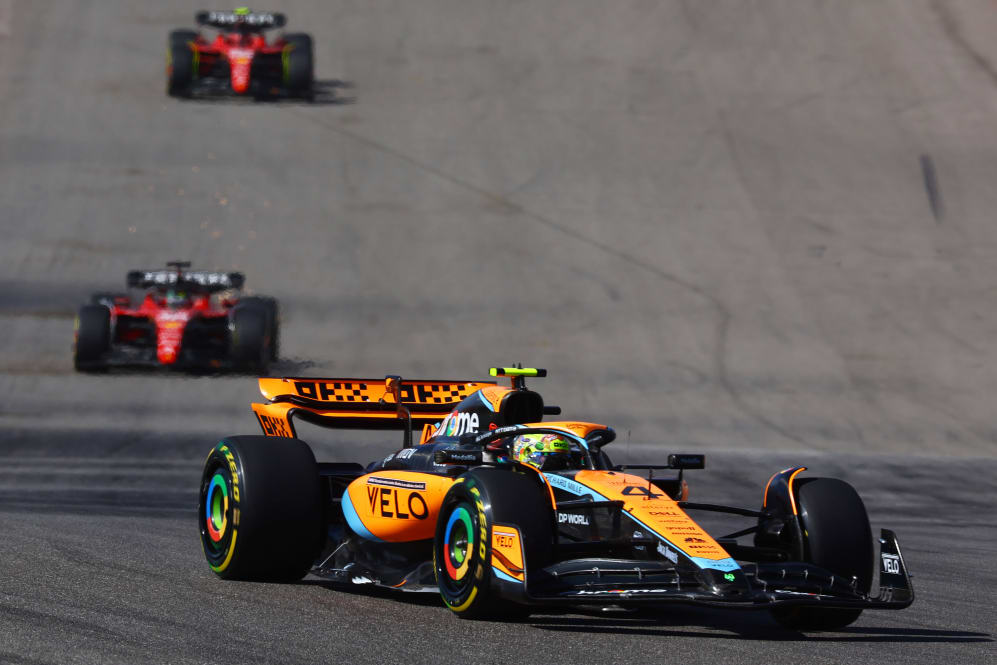 Norris took third place across the line, with Sainz unable to close the gap to his former team mate, instead finishing in a well-earned fourth. Perez did in the end overtake Leclerc for fifth, with the Ferrari calling for a debrief post-race, in sixth.
Russell was seventh, followed by Gasly, Stroll, and Tsunoda – who finished in 10th and also boxed late on for the soft tyre to take an extra point for the fastest lap. Albon and Sargeant finished 11th and 12th for Williams, with Hulkenberg in 13th for Haas.
Bottas was the lead driver for Alfa Romeo in 14th, with Zhou following his team mate across the line in 15th, as Magnussen took 16th ahead of the last of the remaining runners, Ricciardo.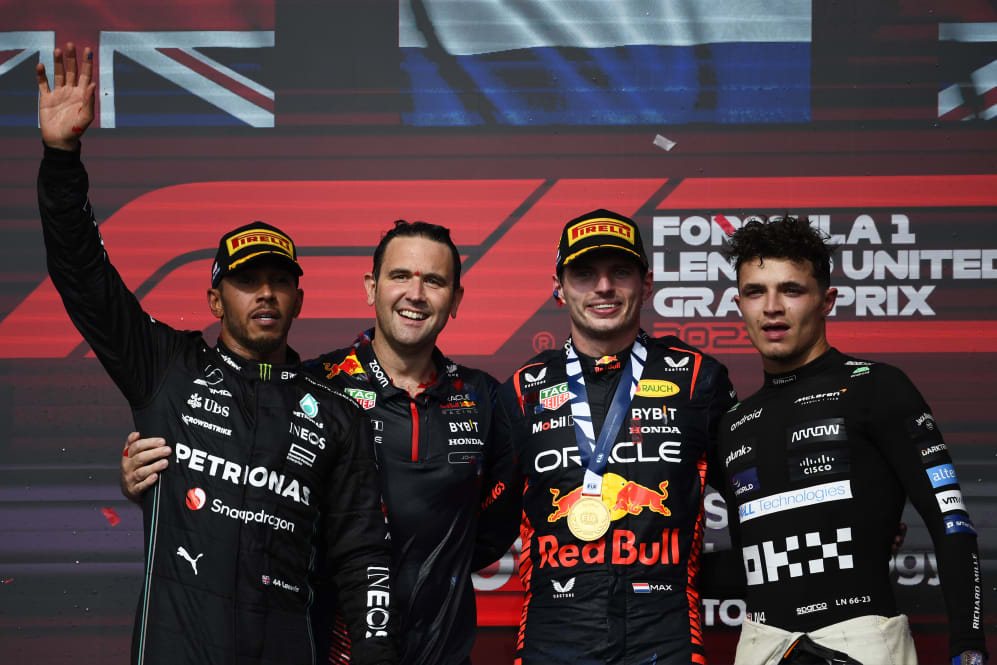 Key Quote
"I think the whole race I was struggling a lot with the brakes," said Verstappen. "Around here there are quite a few braking points so I couldn't really have the same feeling as yesterday. So, that made my race a bit tougher out there today.
"You could see it was very close in the end and there were also the backmarkers. When the tyres are already going it makes it a bit more difficult."
What next?
The drivers do not have to wait too long to get back in the car as we head to Mexico next weekend for the second race of the triple header. To find out more about how you can watch all the action head to the RACE HUB.