Verstappen: I knew we could take the fight to Ferrari
After pre-season, many predicted a straight fight between Mercedes and Ferrari for top honours in 2019. Clearly, however, Max Verstappen didn't read the memo. Heading into Spanish Grand Prix, the Red Bull driver had outscored at least one Ferrari in every race – and he did it again on Sunday, leading home both scarlet cars for his second podium of the year.
Given Ferrari's pre-season pace in Barcelona, Red Bull would have been forgiven for expecting to settle for third best this weekend. Not Verstappen though, who was quick to highlight after the race how confident he was heading to a circuit that he has enjoyed rich success at over the years.
"You're never sure, but I knew that we could take the fight to Ferrari", said the Dutchman, who scored a stunning maiden victory in Spain in 2016. "Even in qualifying we were already very close, so I think my race was also a bit decided in Lap 1, to overtake Seb around the outside in Turn 3, so that's good, and then from then on, I could just do my own pace."
Verstappen's third place is his second consecutive podium finish at the Circuit de Barcelona-Catalunya, the 21-year-old having also secured third last year.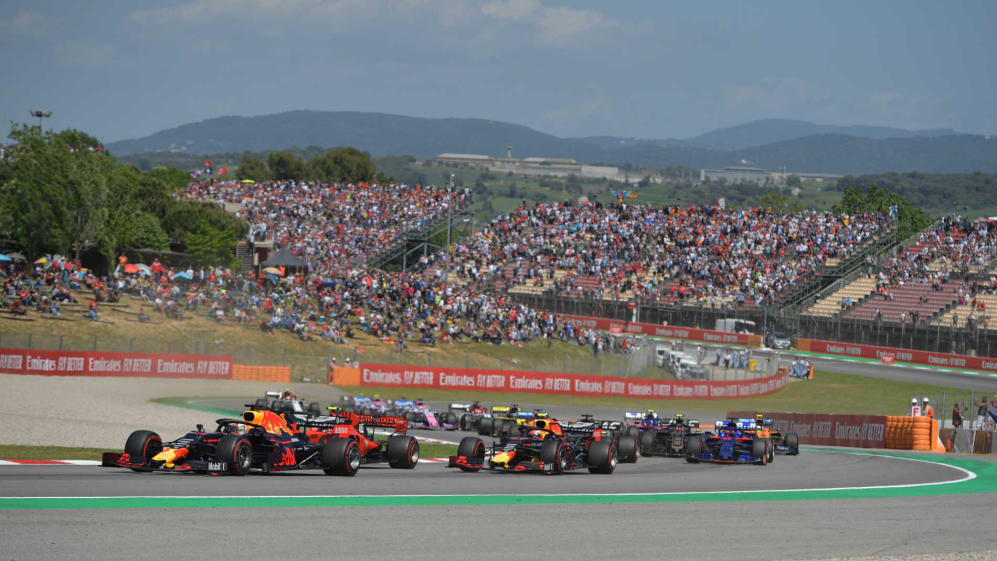 As is so often the case, Turn 1 proved crucial in securing Verstappen back-to-back Spanish podiums. With Vettel, Hamilton and Bottas going side-by-side for the lead, the Red Bull driver stayed back and neatly slipped around the outside of the Ferrari at Turn 3 to take third.
Red Bull brought 'subtle' changes to Spain for this weekend which appear to have helped them close the gap to Ferrari. Verstappen was just under one-tenth of a second slower than Vettel in qualifying, the closest the two have been separated on Saturday all season.
But despite the progress, Verstappen showed his disappointment that the team were still not as competitive as Mercedes.
After the race, he said: "It's good, but not as good as Mercedes did, so we clearly still need to work harder and bring better things to the car, but it's good to see that we, I think, closed the gap to Ferrari so I'm happy about that."
The podium moves Verstappen up to third in the drivers' standings with 66 points, just two points in front of Vettel on 64. With Red Bull traditionally faring well on the streets of Monaco, it's a championship position that the Dutchman has his eye on keeping hold of for a little bit longer yet.
Verstappen said: "P3, it's the best we can do at the moment. I'm happy about that, again [it's a] good amount of points, so let's keep it going like this."