Verstappen not happy with 'rallycross-like' handling at Suzuka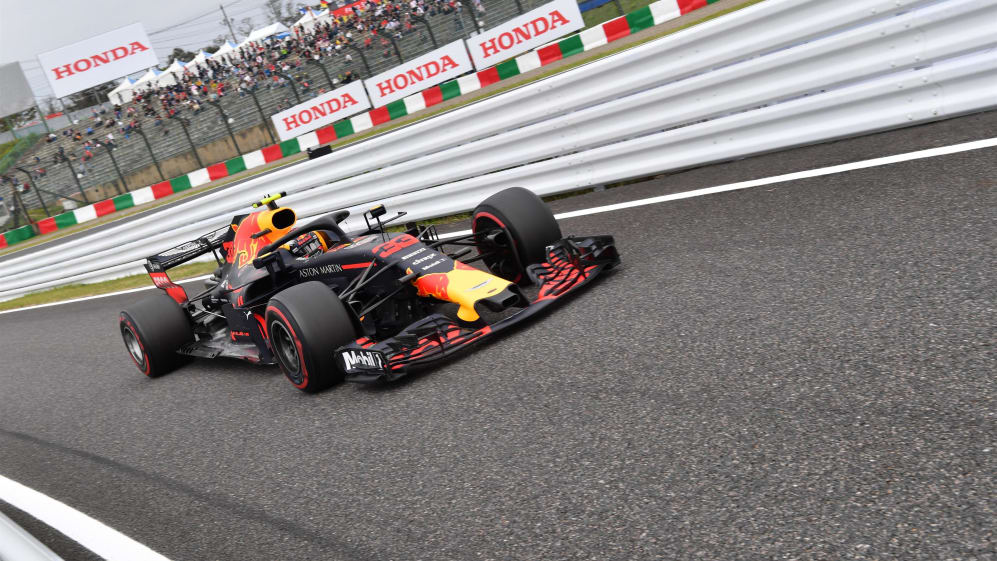 Suzuka is renowned as the ultimate drivers' track – at least it is when you have a decent car underneath you… On Friday at the Japanese circuit, Red Bull's Max Verstappen felt he had anything but that, at one point radioing to tell his team that he was sliding so much it felt more like rallycross than F1.
The 21-year-old finished the day's two sessions in sixth and fourth respectively, splitting the Ferraris in FP2, but lapping over a second slower than pacesetter Lewis Hamilton.
Having been all smiles before getting in the car in the morning, it was a more frustrated Verstappen who spoke to media in the afternoon…
"I was sliding around a lot, not at all, not one lap," he said when asked if he was happy with his day's work.
"We need to look into it. Round here confidence is really important through the first sector and I never really felt like we were on top of the car today."
Despite his displeasure, Verstappen – running a skinny rear wing for maximum top speed – finished ahead of team mate Ricciardo by two-tenths of a second. And, rather ironically, the Australian said he was reasonably pleased with how his day had gone.
"Pretty solid day I think - some promising signs," commented Ricciardo. "The low fuel we can improve, we can be better, and we didn't have the cleanest lap as well with a few slower cars.
"But generally I don't think we're looking too bad. The long runs seem more consistent so I'm happy with that. Qualifying is important here – or at least grid position is – but there could be rain tomorrow, so don't know what to think at the moment. But I think considering everything it was a pretty good Friday."
Red Bull have won four times previously at Suzuka – a circuit which has traditionally played to the strengths of the aerodynamically efficient cars they produce. However, the last of those wins came back in 2013, with Mercedes taking the last four victories in Japan.