Verstappen opens up on radio exchange with engineer in Belgian GP after dominant recovery drive to 8th straight win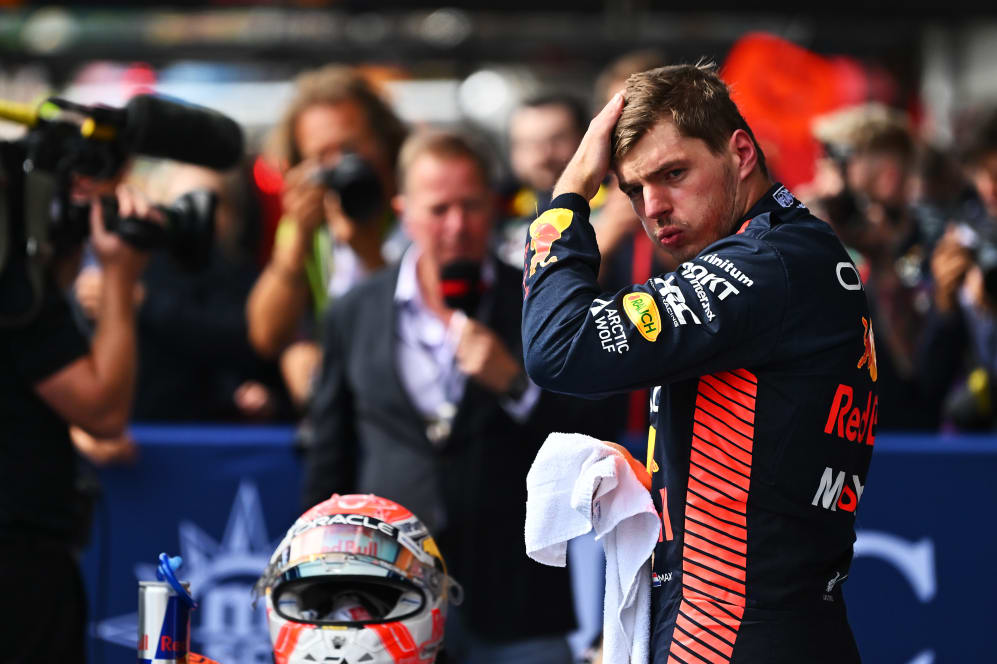 Max Verstappen was delighted to take his 10th win of the season at an "enjoyable" Belgian Grand Prix, as the championship leader navigated his way through the field to take his eighth win in a row.
Verstappen qualified fastest in Friday qualifying, but started sixth after being hit with a five-place grid penalty for exceeding the allocated number of gearbox components allowed. And after being helped by Oscar Piastri and Carlos Sainz colliding at the start, Verstappen found himself fourth on Lap 1.
READ MORE: Verstappen charges to Belgian GP win as Red Bull bag 1-2 finish
He bided his time after being caught up in a DRS train behind Charles Leclerc and Lewis Hamilton, before eventually make his way to second. And then on Lap 17, he overtook his Red Bull team mate, Sergio Perez, for the lead, as he came home with a 22-second advantage over the field.
Speaking immediately after jumping out of the cockpit of RB19, a jubilant Verstappen said: "I knew that we had a great car, it was just all about surviving Turn 1. I could see it was all getting pretty tight. I've been in that position before myself.
"So I was just like, 'I'm going to stay out of that' [and] it worked out. I think we all made the right overtakes, moves. I just got a little bit stuck in the beginning in a DRS train. Once that cleared, I could do my own pace. Again, really enjoyable."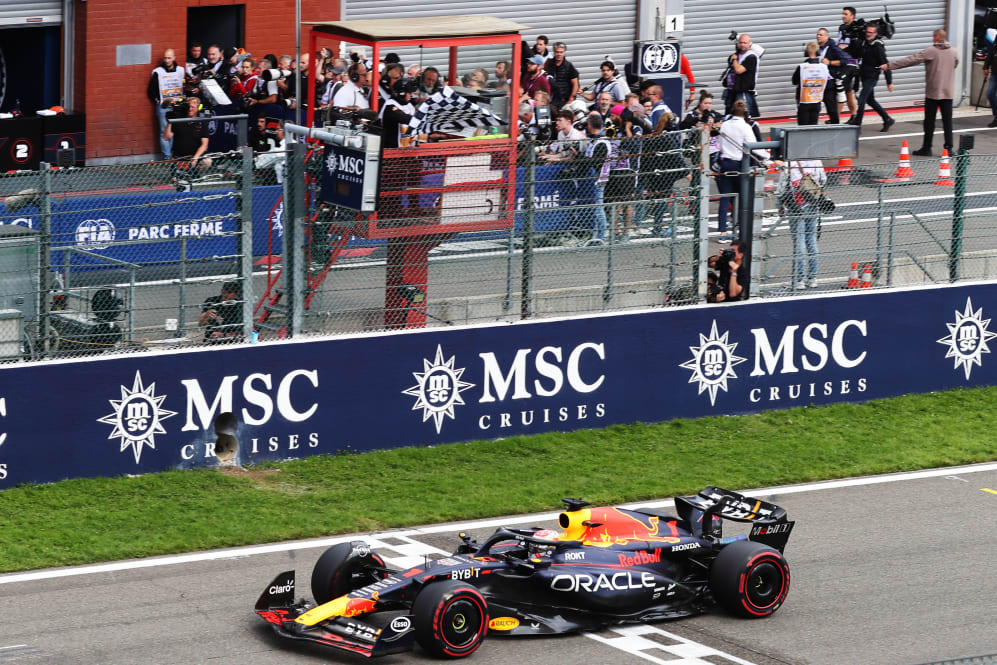 Verstappen's eighth consecutive victory was not without its issues, as not for the first time this weekend his race engineer Gianpiero Lambiase voiced his annoyances with the double world champion. On this occasion he wanted him to look after his tyres better, Lambiase at one point chiding his charge: "You used a lot of tyre on the out-lap, Max. Not sure that was sensible... I'd ask you to use your head a bit more."
AS IT HAPPENED: Follow all the action from the 2023 Belgian Grand Prix
When asked about the radio messages from Lambiase, Verstappen responded: "I did slow down. Of course, we all look at the numbers, we look at the wear of the tyre.
"This track is super hard on the tyres. You don't want to do super unnecessary things, so that's what we did until the end."
Another difficult moment came at the top of Eau Rouge, with replays showing the Dutch driver nearly losing his car as rain began to hit the track while the drivers were on slicks.
DRIVER OF THE DAY: Flawless Verstappen gets your vote after imperious Spa win
"Probably the worst corner to have a moment!" joked Verstappen. "It was tricky in those laps when it was raining. You could see that it was raining but not that much.
"I had a little sideways moment. Luckily nothing happened, but it's definitely a corner you don't want it to happen."
Verstappen will now head into the summer break with a 125-point gap over team mate Sergio Perez – who claimed P2 – Verstappen having now not been beaten in either a Grand Prix or a Sprint since Baku on April 30.