Verstappen says charge through the field for Las Vegas GP win was 'a lot of fun'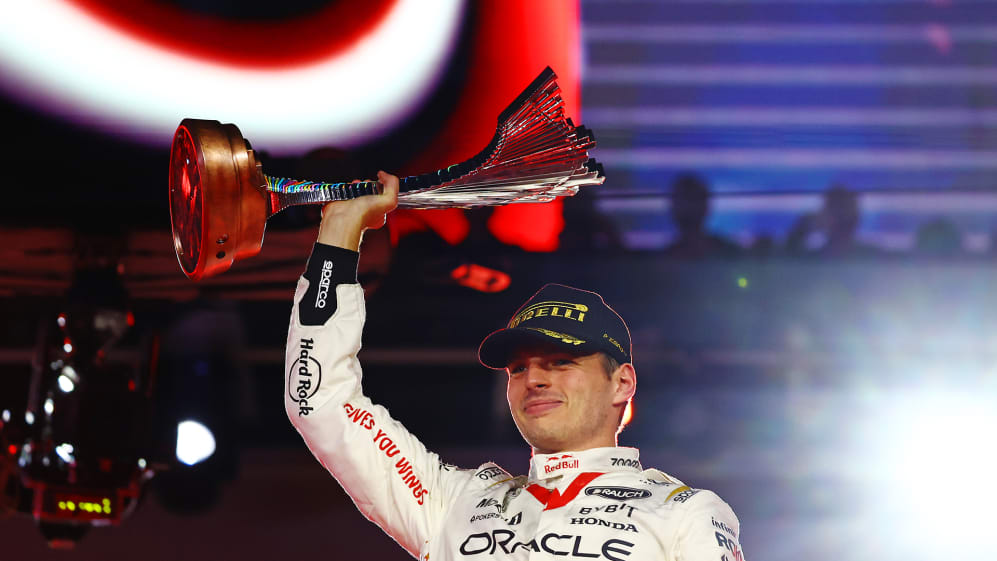 Red Bull's Max Verstappen was made to work hard for his 18th victory of the season as he survived a time penalty, a separate clash and multiple Safety Car periods to take the chequered flag first in the Las Vegas Grand Prix.
Verstappen's race started with a bold move on pole-sitter Charles Leclerc into Turn 1 but the stewards decided that he forced his Ferrari rival off the track in doing so, meaning five seconds would be added to his first pit stop.
READ MORE: Verstappen beats Leclerc and Perez to victory in action-packed Las Vegas Grand Prix
Having lost a few more positions after that stop as a result, Verstappen then had to fight his way back through the field and a collision with Mercedes' George Russell, which damaged his front wing, added another challenge to the mix.
However, following the Safety Car that was deployed in response and another visit to the pits for fresh tyres, Verstappen lit up the timing screen once more, passing both team mate Sergio Perez and Leclerc for the win at the end of a dramatic race in the City of Lights.
Reflecting on his race after hopping out of the car, Verstappen said: "It was a tough one. I tried to go for it [with Leclerc] at the start. I think we both braked quite late, then I just ran out of grip and we ended up a bit wide, so the stewards gave me a penalty for that.
"Of course, that put us a little bit on the backfoot, I had to pass quite a few cars, then the Safety Car [came out] again. At the point already there was a lot going on in the race. Once we had the message to the end we could go flat-out.
AS IT HAPPENED: Follow all the action from the 2023 Las Vegas Grand Prix
"You could clearly see with the DRS around here it was very powerful, so even when you would take the lead, if the guy behind would stay in the DRS, he would still have an opportunity to come back at you. I think it created quite a lot of good racing, so it was definitely a lot of fun."
Verstappen then took a moment to talk through the repercussions of his incident with Russell down at Turn 14 and why Red Bull opted against changing or tweaking his damaged front wing.
"I think we were happy not to touch it because it looked already quite broken," he explained. "Of course, the structure was fine, but it's never ideal, let's say it like that. There was always a bit more understeer, but luckily we could still win the race."
Signing off with a message to the American fans, Verstappen said: "A great crowd. I hope everyone enjoyed it – we definitely did. I'm already excited to come back here next year and hopefully try to do something similar."
WATCH: Heavy Norris crash brings out early Safety Car during Las Vegas GP
While Verstappen triumphed, Perez missed out on making it a Red Bull one-two as Leclerc recovered from his own mistake to pounce during the final lap, meaning his Ferrari split the reigning world champions' cars on the podium.