Verstappen says he 'never imagined' winning 41 Grands Prix after equalling Senna's victory tally in Montreal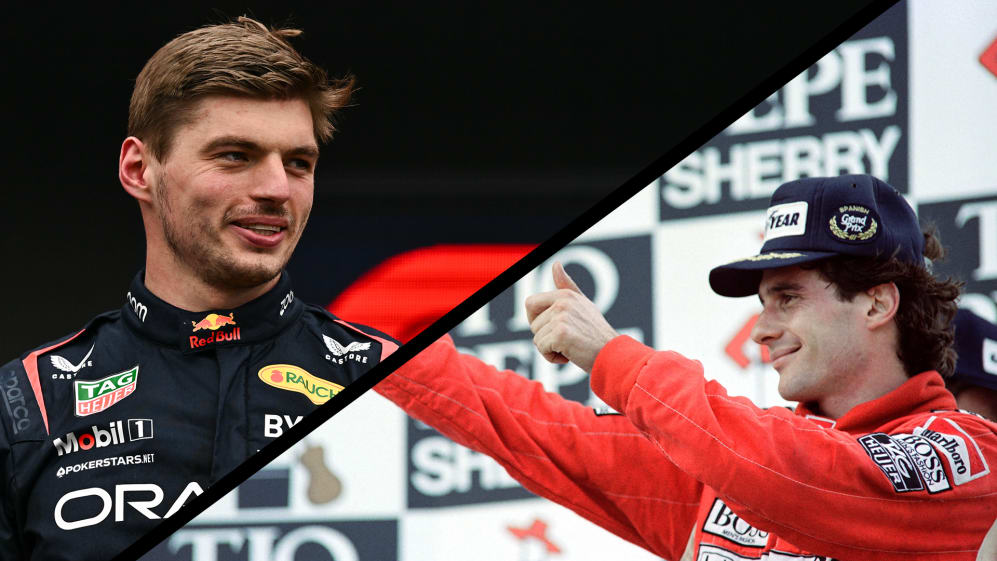 Max Verstappen has admitted that it is "something incredible" to draw level with Ayrton Senna on F1's all-time victory list – his triumph in Sunday's Canadian Grand Prix meaning the pair both have 41 wins to their names.
Verstappen led home Aston Martin's Fernando Alonso and the Mercedes of Lewis Hamilton at the Montreal venue to match the late three-time world champion's tally, while also securing a milestone 100th victory for his Red Bull team.
READ MORE: Verstappen hails 'incredible' milestone as he helps Red Bull hit a century of F1 wins
Reflecting on the historic moment, Verstappen said: "I mean, I hate to compare different generations. From my side, the only thing I can say is that when I was a little kid driving in go-karting, I was dreaming about being a Formula 1 driver and I would have never imagined to win 41 Grands Prix.
"Of course, to tie with Ayrton is something incredible. I'm proud of that, but of course, I hope it's not stopping here, you know – I hope that we can keep on winning more races."
Verstappen's victory came on Father's Day and the Dutchman also took a moment to pay tribute to his dad, Jos, who "invested all his time" to help him reach F1 – and set these records – after a Grand Prix career that included stints with the likes of Benetton, Tyrrell, Arrows and Minardi.
"He was preparing everything, go-karts, engines and then driving all the way to Italy with me, in between school, then back… So many stories we can share," said Verstappen Junior of his early days in karting. "Sometimes we still talk about it when we are together – it's crazy.
"I probably only will fully realise how much he has done to me once I get kids, then you start to understand this kind of relationship. But yeah, without him, I would not sit here today. He has taught me so much and prepared me so much from a very young age.
HIGHLIGHTS: Watch the action from a compelling Canadian GP as Verstappen seals his sixth win of the season
"Sometimes I thought, 'Why does it need to be so serious straightaway?', where you maybe want to play around a bit more and have fun, but he was working towards this goal. He had this goal set for me to first of all be better than him and then try to get to F1, and then I got to F1.
"We still call every day. Before the race I was talking to him about what we're going to do with the strategy and stuff like that. He likes to know even when he's not here and just like to have that kind of relationship with your dad… After go-karting, when you go into cars, it's a bit less personal what was happening here.
HINCH'S HEROES: Who made Hinch's list after a fascinating weekend of racing in Canada?
"Sometimes you miss these kinds of go-karting times when you're travelling together in a van all the way there. But yeah, to share these moments together, I think, is very special. Today was, of course, also Father's Day, so I don't need to buy him a present. I did this, so I think he's happy!"