Report
Verstappen seals pole ahead of Leclerc and Stroll as rain brings early end to Sao Paulo qualifying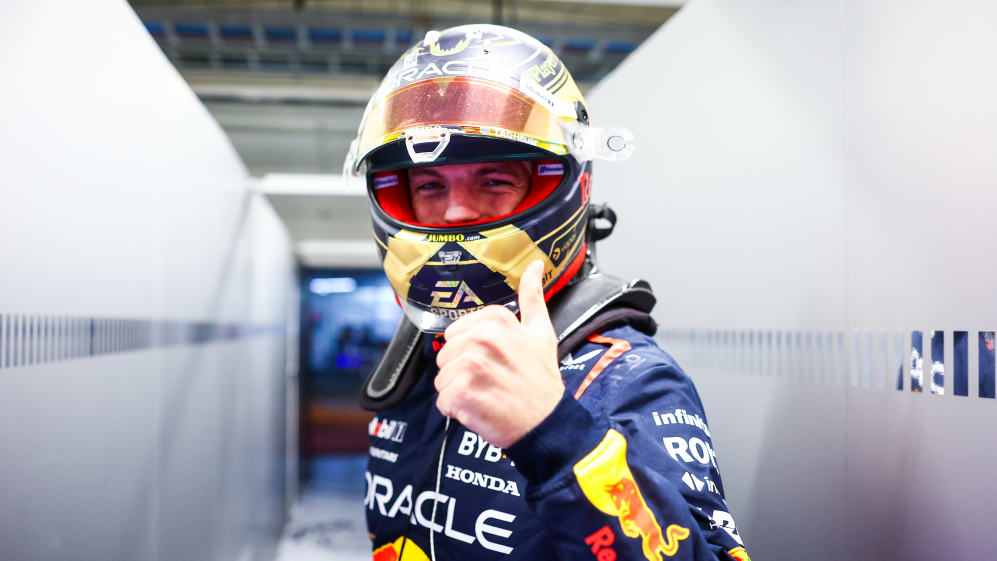 Max Verstappen has sealed pole position for the Sao Paulo Grand Prix, with the Red Bull driver coming out on top in a qualifying session that was red-flagged in the final stages due to rain.
The world champion had set provisional pole in the first runs of Q3, having put in a lap of 1m 10.727s. But with the weather rapidly changing as the clock ticked down, the session was brought to an early end, meaning that there was not the opportunity for drivers to improve on their only flying lap.
Charles Leclerc will join Verstappen on the front row, while Aston Martin benefitted from getting their drivers out on track early, with Lance Stroll and Fernando Alonso in P3 and P4 respectively.
The Mercedes duo of Lewis Hamilton and George Russell follow in fifth and sixth, and Lando Norris – who had looked impressively fast in Q2 – had to settle for seventh.
Carlos Sainz ended the session in P8, while Sergio Perez and Oscar Piastri round out the top 10.
FORMULA 1 ROLEX GRANDE PRÊMIO DE SÃO PAULO 2023
Brazil
2023
Qualifying results
POSITION
TIME

1

Max

Verstappen VER

Red Bull Racing

1:10.727

2

Charles

Leclerc LEC

Ferrari

1:11.021

3

Lance

Stroll STR

Aston Martin

1:11.344

4

Fernando

Alonso ALO

Aston Martin

1:11.387

5

Lewis

Hamilton HAM

Mercedes

1:11.469
Nico Hulkenberg was the lead Haas in 11th, with the Alpine pair of Esteban Ocon and Pierre Gasly following behind in 12th and 13th.
Kevin Magnussen ended the session in 14th and, despite his Williams showing good pace in Q1, Alex Albon couldn't reach the final segment of qualifying and will start from 15th.
There was a shock in Q1 when Daniel Ricciardo failed to get out of the elimination zone, marking a dramatic contrast from his P4 qualifying result at the Mexico City Grand Prix. The Australian will start in P17, with his AlphaTauri team mate Yuki Tsunoda one place ahead in P16.
It was also a difficult session for Alfa Romeo. Valtteri Bottas and Zhou Guanyu ended up in P18 and P20 respectively, with Logan Sargeant in-between them in P19.
AS IT HAPPENED
Q1 – Russell goes top as Ricciardo makes shock exit
Sao Paulo is hosting the sixth and final Sprint event of the season, meaning that the drivers had just one practice session to lock in their set-ups for the weekend earlier on Friday. And with many opting not to run the soft tyres in that hour, there were many unknowns heading into qualifying.
There was an initial 15-minute delay to proceedings getting underway at Interlagos due to debris on the track. When the session eventually kicked off in cloudy but dry conditions – with a 60% chance of rain predicted – many drivers queued up at the end of the pit lane awaiting the green light, perhaps keen to get a banker lap in should the rain arrive.
Most of the field opted to run new soft tyres, while Piastri strapped on a used set that he ran briefly in FP1. The McLaren driver put the first timed lap on the board with a 1m 11.494s before team mate Norris caught the eye by topping the timesheets, with a time three tenths quicker than Verstappen's. Hamilton then slotted in-between them in second.
There was trouble at the pit exit for Russell and Gasly, with the Mercedes driving slowly while Gasly appeared alongside and half overtook him, sparking a complaint from Gasly on team radio. The stewards confirmed that the alleged impeding incident would be investigated after the session.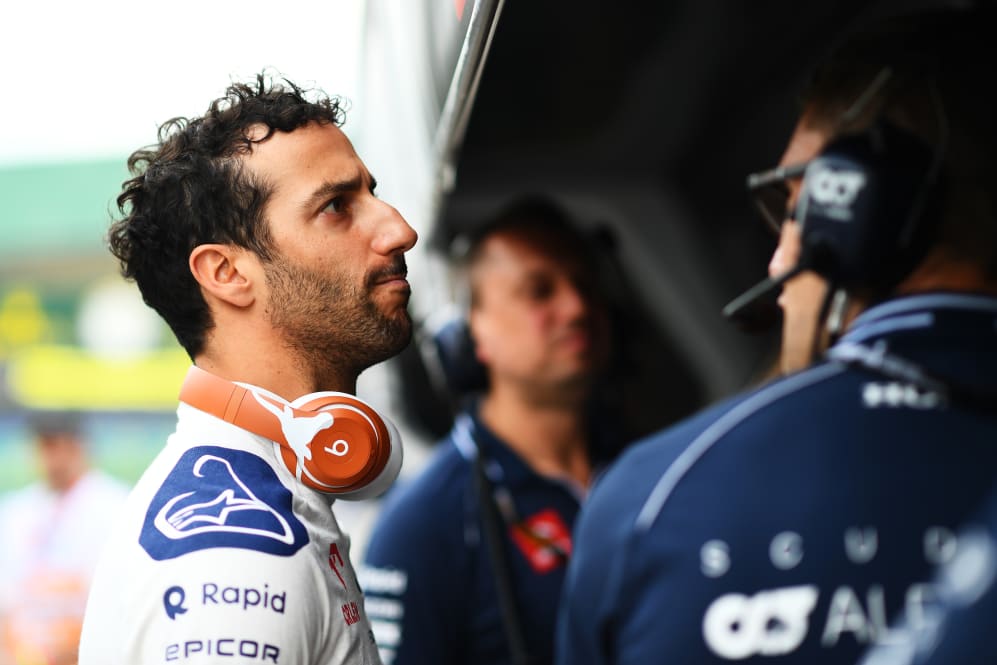 As the skies grew increasingly grey, Leclerc set the pace with eight minutes to go. Soon afterwards Piastri went up to P2 after putting some fresh tyres on, with his lap just 0.047s behind Leclerc's. The track continued to evolve as the laps came in, with some drivers seemingly at risk having kept their used tyres for their second runs, including the Mercedes duo.
With Hamilton's engineer Pete Bonnington explaining that they were "not confident" of getting through in P8, the team decided to strap some fresh rubber on for the final runs. Meanwhile Albon made quite a jump out of the elimination zone by slotting into P4.
There were reports of "drops of rain" from Stroll as the clock ticked down. Russell soon went fastest, while Hulkenberg surged up to an impressive third. But others weren't so lucky, with Ricciardo failing to get into Q2 after that memorable qualifying performance last time out in Mexico.
AlphaTauri teammate Tsunoda also exited in P16 – his first elimination in Q1 since Hungary – with Bottas, Sargeant and Zhou ending the session in 18th, 19th and 20th respectively.
Knocked out: Tsunoda, Ricciardo, Bottas, Sargeant, Zhou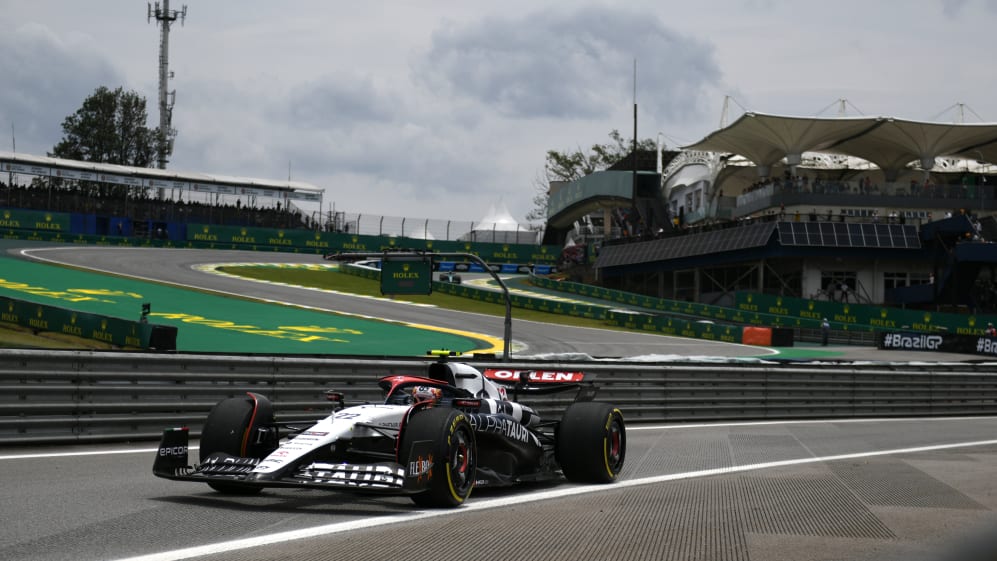 Q2 – Norris stars to set the pace from Verstappen and Perez
There was a sense of deja vu for Q2, with drivers lined up at the pit lane exit ahead of the green light showing. With further talk of rain drops falling, the Red Bull drivers headed out first on fresh soft tyres, while Albon was also keen to hit the track.
While Perez initially looked to be quicker than Verstappen in the first sector, he lost time in the middle sector and ended the lap two tenths away from his team mate, with Verstappen setting the pace on a 1m 10.162s.
Despite being on used tyres, Norris pumped in a lap good enough for P2, only 0.161s away from Verstappen. Piastri followed in third, just 0.007s back from his fellow McLaren driver. Meanwhile the Haas duo opted to stay in the garage during the early stages, seemingly confident that rain would not hit.
When they did join the action, Hulkenberg and Magnussen slotted into P8 and P9 respectively, pushing the likes of Albon and Alonso into the drop zone. Elsewhere Hamilton experienced quite a slide at Turn 4 as the track temperatures continued to fall, but managed to go fifth fastest.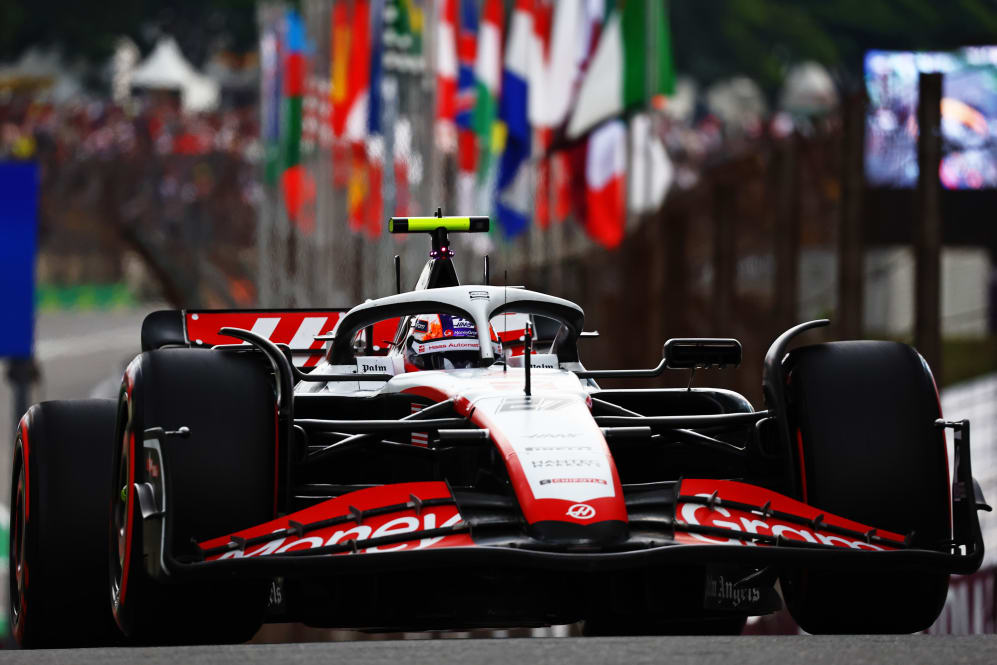 Sainz improved to go up to second behind Verstappen on new soft tyres, with Leclerc ahead of Hamilton in sixth. With the time ticking, Alonso got himself out of the elimination zone by going into P2, before Norris went fastest. Team mate Piastri was told to save his tyre, potentially putting him at risk in seventh.
Albon fell victim to track limits and had his lap deleted, dropping him down to P15. Stroll became the man at risk in P10 as the final laps came in, but nobody was able to improve to haul themselves out of the bottom five.
Both the Haas and Alpine cars exited the session, with Hulkenberg in P11 from Ocon, Gasly and Magnussen respectively. Albon rounded out the drivers in the elimination zone in P15.
Knocked out: Hulkenberg, Ocon, Gasly, Magnussen, Albon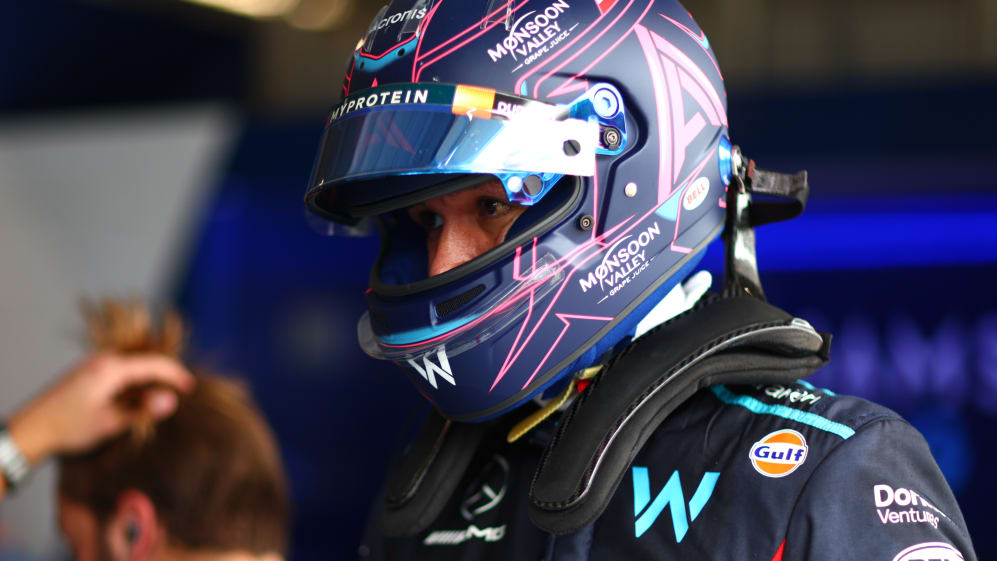 Q3 – Weather brings session to early end as Verstappen takes P1
As the drivers again formed an orderly queue to exit the pit lane for Q3, Leclerc was told on team radio that rain was expected seven minutes into the session. The skies looked dark as all 10 cars headed out onto the circuit.
With everyone opting for a fresh set of tyres, Verstappen set the provisional pole lap in the first runs with a 1m 10.727s. Norris went seventh before the yellow flags were waved following an off for Piastri at Turn 12, though the Australian was able to return to the track, but it did impact Perez on his push lap.
The rain started to fall, meaning that the drivers who had put their laps in early had benefited. With everybody returning to the pits, Verstappen remained on top from Leclerc, Stroll and Alonso.
It was then announced that the session had been stopped and would not be resumed, meaning that there was not an opportunity to improve on those initial flying laps.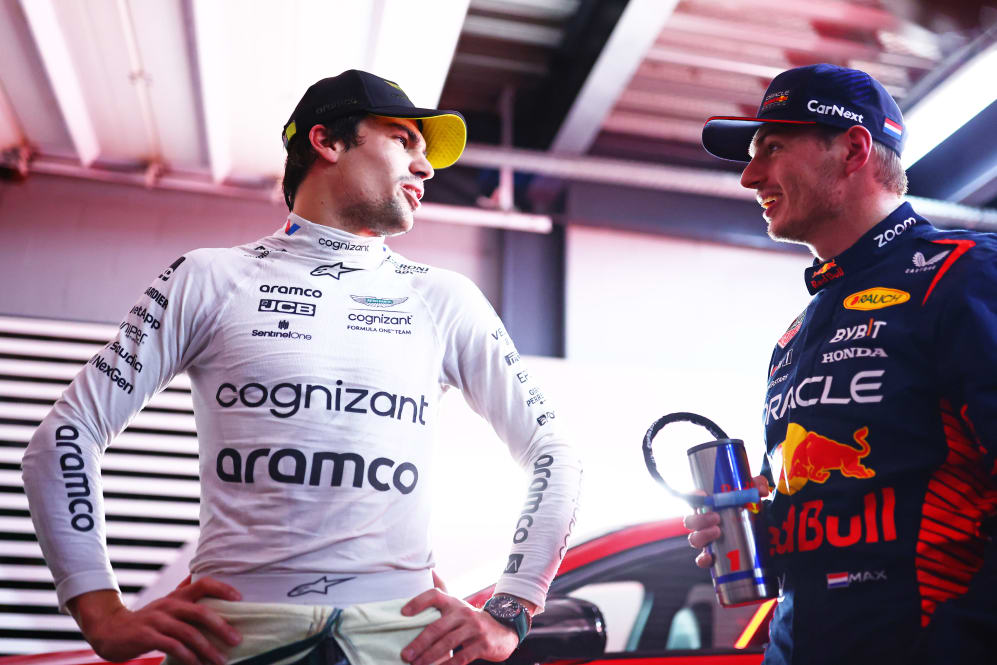 As such, Verstappen claimed pole position as he seeks what could be his 17th win of the season, with Leclerc in second while the Aston Martin duo held onto the second row. This will come as a boost for the squad, who have faced a downturn in form in recent races.
Hamilton and Russell took P5 and P6, which might dent their hopes of a repeat of Russell's victory in Brazil back in 2022.
Norris ended the session in P7, a disappointing outcome for the McLaren after a strong display earlier in qualifying, with his former team mate Sainz joining him on the fourth row in eighth.
Perez will start from ninth, though the Red Bull driver is amongst those summoned by the stewards for alleged impeding at the pit exit. It was also a tough result for Piastri, who took 10th place. The rookie driver was the last to get out on track and, with his mistake on his flying lap, did not set a timed lap.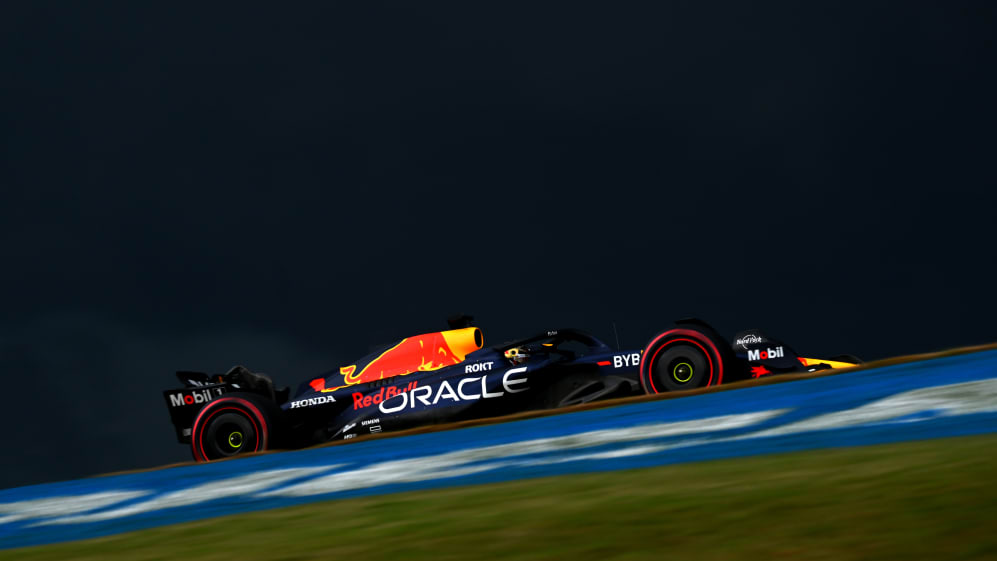 Key Quote
"We didn't know when it would hit in qualifying," said Verstappen. "We thought it would hit, but this is of course insane weather, and Charles and I were just discussing – our laps, they felt terrible, but I don't know, the wind started to change and started to be very strong, and we lost a lot of lap time because of it, but it was all quite hectic in the last lap.
"It seems that it's all very close, so you could see that already in qualifying, I expect all the same in the race. Around here there's always quite a lot of deg with the tyres, so it's all about that management. Last year of course we didn't get that right, but I think we're a bit better this year."
What's next
Before the 2023 Sao Paulo Grand Prix takes place on Sunday, the drivers will next hit the track for the Sprint Shootout on Saturday at 1100 local time ahead of the final Sprint of the season. Head to the RACE HUB for more information.