Report
Verstappen snatches pole position from Alonso in thrilling Monaco GP qualifying session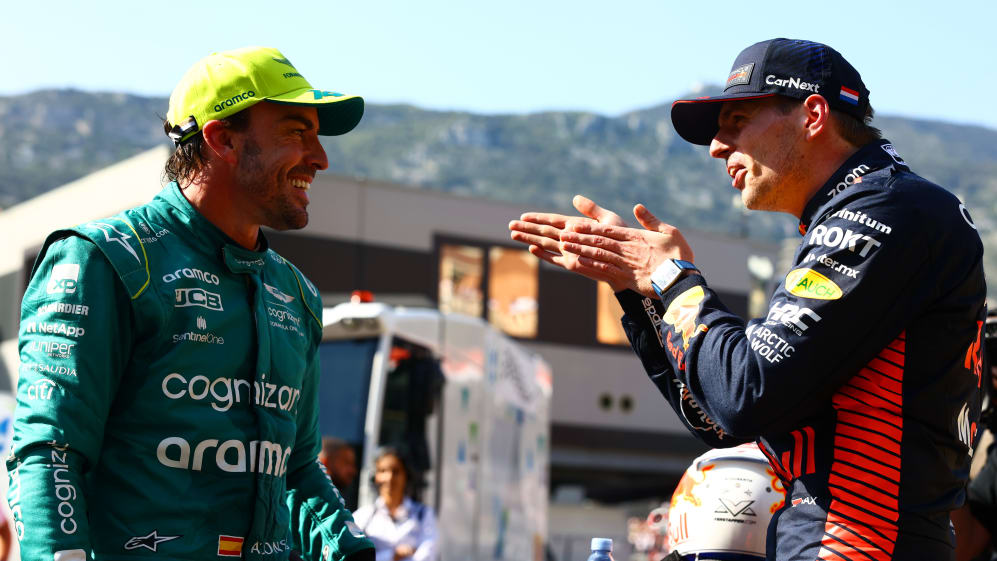 Red Bull driver Max Verstappen will start the Monaco Grand Prix from pole position after coming out on top in a breathless qualifying hour at the Monte Carlo circuit, pipping Aston Martin rival Fernando Alonso and Ferrari's Charles Leclerc.
In a pole shootout that did not feature Verstappen's team mate, Sergio Perez, who crashed out of Q1, several drivers enjoyed spells at the top of the timesheets amid a sequence of laps that had fans on the edge of their seats.
With Alonso on provisional pole, it took a mighty effort of 1m 11.365s from Verstappen to secure P1, denying the Spaniard what would have been his first pole since the 2012 season by just under a tenth of a second.
Alonso nonetheless took a spot on the front row, followed by home favourite Leclerc and the Alpine of Esteban Ocon, who posted a stunning lap of his own to get the better of Carlos Sainz in the other Ferrari.
Lewis Hamilton recovered from his accident in final practice and scruffy Q1 and Q2 phases to take sixth in the revised Mercedes W14, followed by the second Alpine of Pierre Gasly and team mate George Russell.
FORMULA 1 GRAND PRIX DE MONACO 2023
Monaco
2023
Qualifying results
POSITION
TIME

1

Max

Verstappen VER

Red Bull Racing

1:11.365

2

Fernando

Alonso ALO

Aston Martin

1:11.449

3

Charles

Leclerc LEC

Ferrari

1:11.471

4

Esteban

Ocon OCO

Alpine

1:11.553

5

Carlos

Sainz SAI

Ferrari

1:11.630
Yuki Tsunoda achieved his second Q3 appearance of the season en route to ninth position, with Lando Norris rounding out the top 10 places despite a meeting with the barriers in the Q2 segment.
While Norris progressed to Q3, Piastri just missed out in the other McLaren, taking 11th ahead of Nyck de Vries – who recorded the best qualifying result of his AlphaTauri stint to date in 12th – Williams' Alexander Albon, Aston Martin's Lance Stroll and Alfa Romeo's Valtteri Bottas.
Logan Sargeant lacked little more than half a tenth in his quest for Q2, with the American the first to miss the cut in 16th, followed by Kevin Magnussen – whose FP3 session was impacted by hydraulics trouble – and Nico Hulkenberg in a double Q1 exit for Haas.
Zhou Guanyu ended qualifying back in 19th, despite at one stage topping the timesheets during a busy opening phase, with Perez's early accident exiting Sainte Devote leaving him at the foot of the order and facing a massive challenge to score points on Sunday.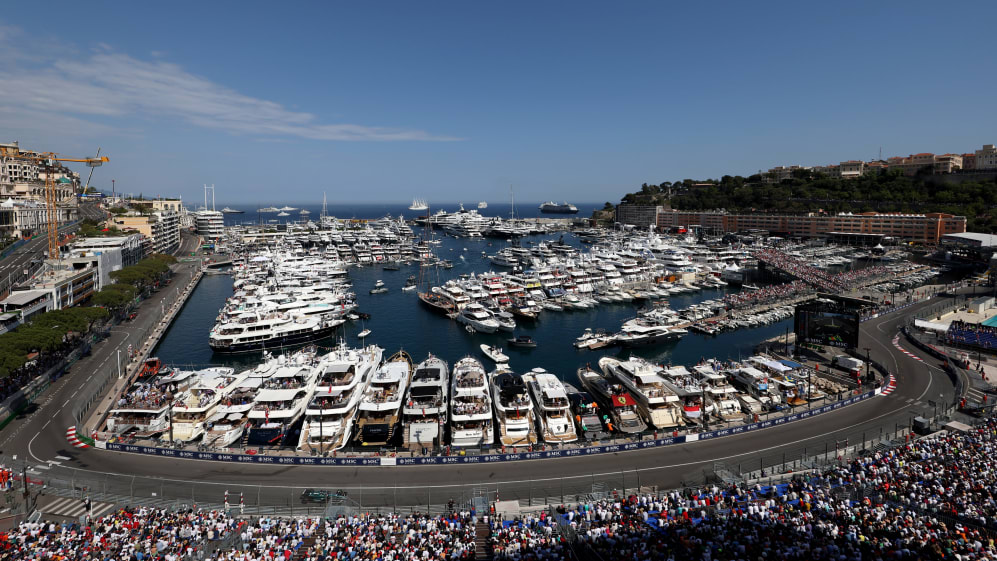 AS IT HAPPENED
Q1 – Disaster for Perez as he crashes out of the action
After three drama-filled practice sessions, it was Verstappen who set the early benchmark when qualifying got under way, pumping in a 1m 13.784s on the soft compound tyre to lead team mate Perez by just under a tenth, with Alonso and Stroll a few hundredths further back.
With cars pounding around and grip levels improving all the time, Zhou raised eyebrows up and down the pit lane by going P1 for Alfa Romeo, before the McLarens of Piastri and then Norris (1m 13.485s) slotted ahead to form an unexpected leading trio as Q1 reached its halfway mark.
But while others were enjoying plenty of grip, Perez lost control of his Red Bull through Sainte Devote, slammed into the barriers and littered debris all over the track, bringing out the red flags as the Mexican swore over the radio at his early qualifying bath.
After a short delay, drivers streamed back out onto the track to try and secure a place in Q2, with Verstappen promptly reclaiming top spot thanks to a low 1m 13s lap, before Alonso stated his and Aston Martin's intentions by moving the target to a 1m 12.886s.
It was a theme that continued as the field completed several hot laps on the soft rubber, Verstappen going faster still with a 1m 12.644s to slot back in front of Alonso, Leclerc and Stroll, while the Alpines of Ocon and Gasly sandwiched Russell's Mercedes.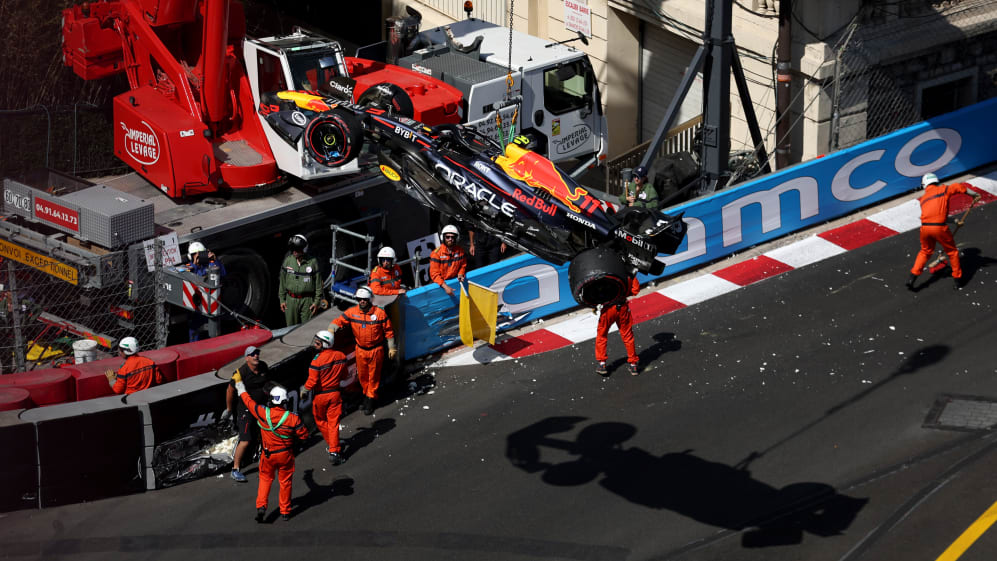 A frenetic conclusion to the session saw Tsunoda briefly lead the way, before Verstappen delivered yet another improvement on a 1m 12.386s, with the 18 drivers behind jostling for position and sending the timesheets into a blur of purple and green sector times.
Hamilton was under pressure after his FP3 crash and a low-key start to Q1 and, after pitting for a fresh set of tyres, he appeared to have blown his chances with a mistake at the Nouvelle Chicane, but a strong enough final lap got him into the top 10 and through to Q3.
In the end, Verstappen and Tsunoda set the pace from the high-flying Williams of Albon, Sainz, Stroll, the Mercedes machines of Russell and Hamilton, Norris, Alonso and Leclerc, who had to avoid his Ferrari team mate at the exit of La Rascasse late on.
Highlighting just how much the track had ramped up, Ocon and Gasly dropped to 11th and 13th in their Alpines, split by Piastri, with Bottas and De Vries the last drivers to make it through to Q2 at the expense of Sargeant, who missed the cut by just over half a tenth.
Haas pair Magnussen and Hulkenberg both dropped out in Q1 in 17th and 18th respectively, with one-time Q1 leader Zhou and Perez – who cut a depressed figure on his return to the pit lane – bringing up the rear.
Knocked out: Sargeant, Magnussen, Hulkenberg, Zhou, Perez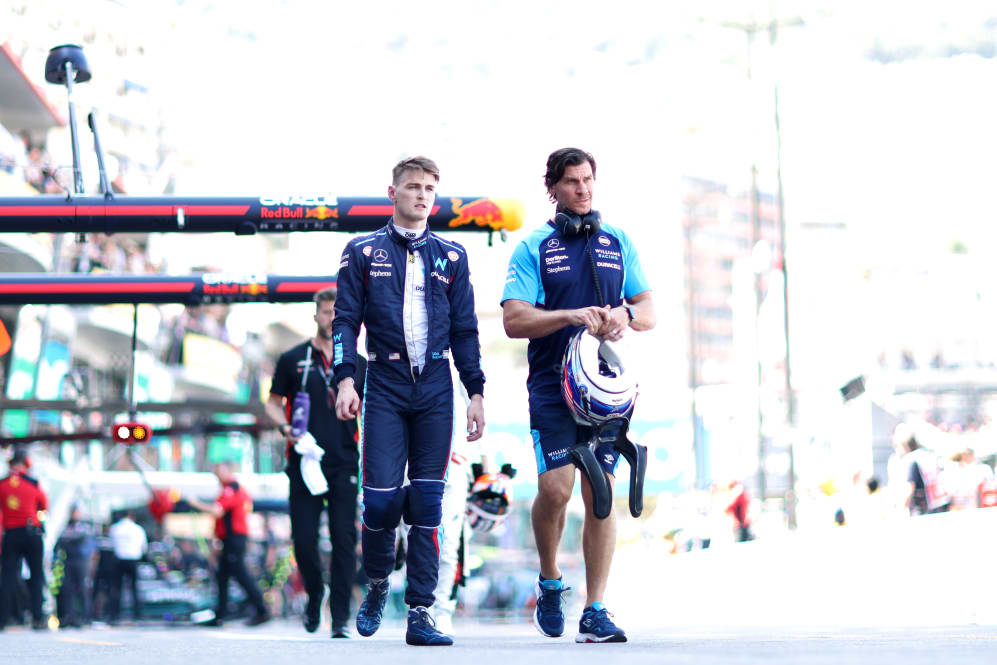 Q2 – Verstappen leads again but Leclerc and Alonso keep the pressure on
With five cars out of the way, drivers had slightly more track to play with as Q2 began, and Verstappen wasted no time in pumping in another eye-catching lap, working his way down to a 1m 12.038s to lead Alonso, the Alpines of Gasly and Ocon and the Ferraris of Sainz and Leclerc.
Norris and Piastri kept McLaren firmly inside the top 10 positions with their first runs of the second phase, followed by the sole remaining Alfa Romeo of Bottas and the Mercedes of Hamilton, who was doing his best to build up speed after his FP3 off and Q1 struggles.
Just after Russell leapt up the order, Hamilton reported concerns over his rear suspension as he battled to be on the right side of the Q3 cut-off, while there was further drama elsewhere when Norris ran wide at Tabac and clipped the wall, forcing him back to the pits for repairs.
Amid another flurry of lap times to the chequered flag, it was Verstappen who ended Q2 on top with a 1m 11.908s, just under two-tenths clear of Leclerc, with Alonso, Russell and Hamilton, who managed to pull off another late improvement, also for close company.
Gasly, Sainz, Ocon, Tsunoda and Norris, despite the latter's brush with the wall, were the final drivers to make it into Q3, with Piastri dropping out alongside De Vries, Albon, Stroll – whose early promise was undone by missed a call-up to the weighbridge and a mistake at La Rascasse on his final lap – and Bottas.
Knocked out: Piastri, De Vries, Albon, Stroll, Bottas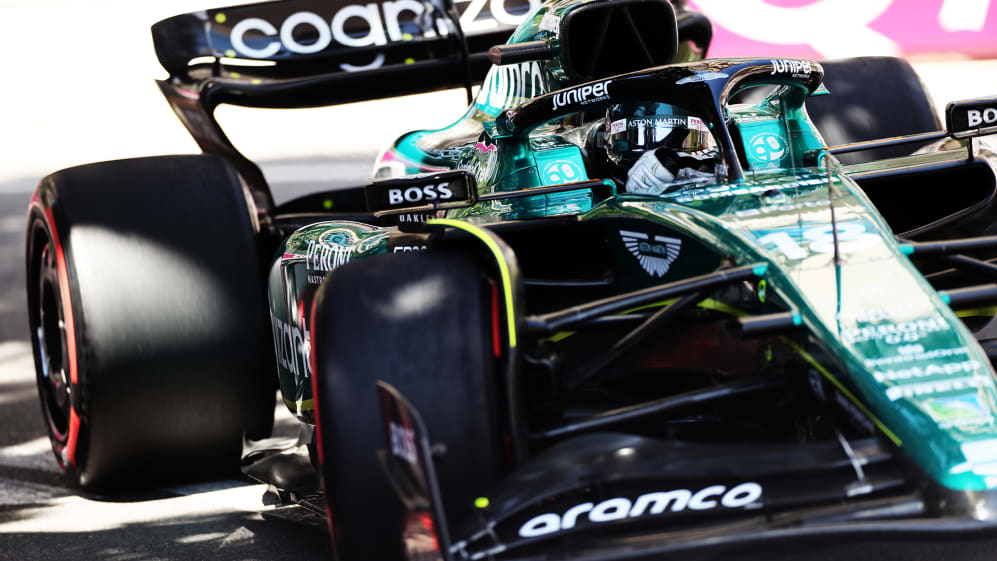 Q3 – An incredible battle for pole on Monte Carlo's streets
Verstappen continued where he left off when the green light came on at the end of the pit lane to signal the start of Q3, kicking off the decisive final phase with a 1m 12.102s, before waiting to see what Aston Martin and Ferrari had to offer.
Shortly afterwards, Alonso smashed Verstappen's marker on a 1m 11.706s, prompting him to declare that he was "pushing like an animal" over the radio, to which his engineer agreed, as Sainz and Leclerc also slotted ahead of the Red Bull.
Verstappen responded with a 1m 11.654s to restore his P1 status, until Ocon put together his lap of the season so far to go a tenth clear and threaten an upset, but there would be plenty more twists and turns in the closing minutes of the session.
Serving up a treat for those watching around the world, Leclerc's efforts to make it a hat-trick of Monaco poles saw him get down to a 1m 11.471s, followed by Alonso producing a 1m 11.449s and, finally, Verstappen putting both hands on his first pole in the Principality with a 1m 11.365s – which included a sublime final sector.
Ocon's charging attempt was good enough for fourth, splitting the Ferraris, while Gasly put his Alpine between the two Mercedes cars, Tsunoda wound up ninth and Norris took his repaired McLaren back out en route to 10th, having been held up by Leclerc through the tunnel in an incident the stewards will investigate post-session.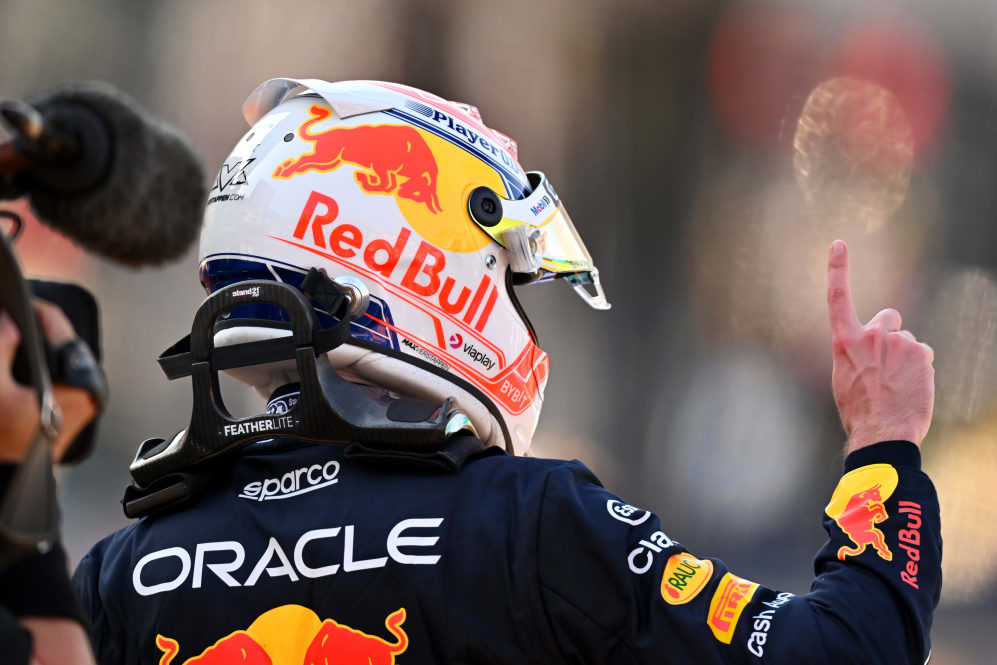 Key quote
"Yeah, I'm very happy," said pole-sitter Verstappen. "We knew that this was going to be a little bit of struggle for us this weekend, to get everything together. Yesterday wasn't the best start, but I think we kept on improving and kept on getting better.
"In qualifying, you need to go all out and risk it all. My first sector wasn't ideal on my final lap, I think Turn 1 was a bit cautious, but then I knew I was behind, so the last sector I gave it everything I had and clipped a few barriers…
"We need a clean start [to the race]. It's a short run to Turn 1. I mean, in Monaco, a lot of things can happen – Safety Car, rain, you name it, there is always a bit of chaos involved. I think race-pace wise the car is quick, so that's not the problem, but we just need to keep it clean and calm."
What's next
The 2023 Monaco Grand Prix is set to begin at 1500 local time on Sunday. Head to the RACE HUB to find out how you can catch the action from the Monte Carlo circuit.