Report
Verstappen wins dramatic Dutch GP as Russell and Leclerc complete podium after late Safety Car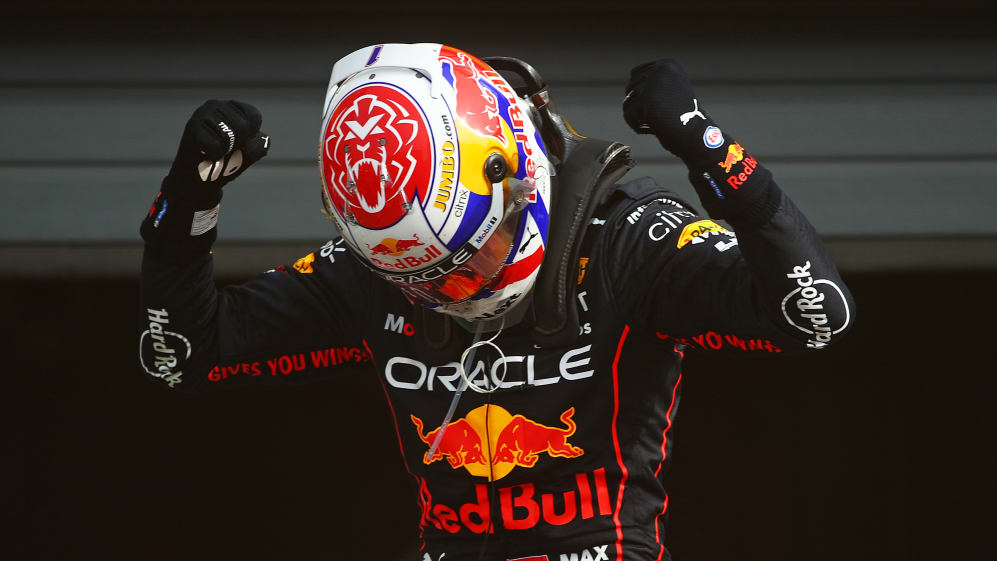 Max Verstappen held onto victory in a captivating 2022 Dutch Grand Prix amid a strong showing from the Mercedes and late Safety Car drama at Zandvoort, as George Russell and Charles Leclerc completed the podium.
Verstappen seemed to be assured of victory having taken a second pit stop during a Virtual Safety Car on Lap 48, with Hamilton second and Russell third as both had extended their opening stint on medium tyres (their rivals having started on softs) to pit for hards, on which they were rapid. The events after a Lap 55 Safety Car dashed any hopes of victory that Hamilton harboured, however.
The seven-time champion stayed out on mediums to inherit the lead while Verstappen came in for softs, followed by Russell and Leclerc, for the restart on Lap 61. In that restart, Verstappen swept past the Mercedes for the lead, with Russell and Leclerc following suit to pry Hamilton away from the podium.
Hamilton ended up fourth at the flag as Carlos Sainz and Sergio Perez – the former held back by a calamitous Ferrari pit stop earlier on, before a five-second penalty for an unsafe release in a later stop – battled late on for P5. That allowed Alonso and Norris to close in too, and when the penalty kicked in Sainz was dropped to eighth, promoting Perez to fifth, Alonso to sixth, and Norris to seventh.
FORMULA 1 HEINEKEN DUTCH GRAND PRIX 2022
Netherlands
2022
Race results
POSITION
TIME
POINTS

1

Max

Verstappen VER

Red Bull Racing

1:36:42.773

26

2

George

Russell RUS

Mercedes

+4.071s

18

3

Charles

Leclerc LEC

Ferrari

+10.929s

15

4

Lewis

Hamilton HAM

Mercedes

+13.016s

12

5

Sergio

Perez PER

Red Bull Racing

+18.168s

10
Esteban Ocon finished ninth, just ahead of Lance Stroll – who started and finished 10th for Aston Martin. Pierre Gasly missed out on the points in P11 for AlphaTauri while Alex Albon finished 12th from 15th on the grid.
Sebastian Vettel started 19th and finished 14th, losing out to Mick Schumacher – who lost out due to a pair of slow pit stops. The four-time champion was given a five-second penalty for ignoring blue flags earlier in the race.
Kevin Magnussen hit the barriers on Lap 2 but continued to finish 15th, behind his Haas team mate. Daniel Ricciardo pitted first out of the pack and couldn't make up ground, finishing 17th for McLaren behind Zhou Guanyu, who served a five-second penalty for speeding in the pit lane.
Valtteri Bottas was classified 19th for Alfa Romeo, his car stopping on track to bring out the late Safety Car.
Yuki Tsunoda stopped on track on Lap 48 after reporting a driveshaft issue, the AlphaTauri driver having previously reported that his tyres were incorrectly fitted before a lengthy pit stop.
AS IT HAPPENED
A stunning sea of orange set an electric atmosphere for the 2022 Dutch Grand Prix as the home fans welcomed their hero Max Verstappen as the reigning Formula 1 world champion. Music blared across the beach all weekend to soundtrack the Red Bull driver's recovery from a gearbox issue in FP1 to take pole position – which he snuck by just two-hundredths of a second over Charles Leclerc.
On the second row it would be Carlos Sainz and Lewis Hamilton ahead of Sergio Perez, who switched back to an engine from the existing pool after his qualifying spin, and George Russell. Crucially, Verstappen was the only driver to qualify in the top nine (Lance Stroll rounding out the top 10) with a brand-new set of softs reserved for the race.
The Mercedes, Lando Norris, Mick Schumacher, Alex Albon and Kevin Magnussen would all start the race on new medium compounds while a mix of used and new softs were donned by the rest of the field for the start of the 2022 Dutch Grand Prix.
A huge roar, and it was lights out for this 72-lap duel on the dunes. Verstappen enjoyed a good getaway and cut off Leclerc's equally strong launch, while Hamilton and Sainz made very slight contact – the seven-time champion attempting a risky pass on the Ferrari into Turn 1 – while Norris passed Russell around the outside of the opening corner and Stroll made two positions on the first lap.
Scrapping with Alex Albon at Turn 2, Kevin Magnussen suffered a snap of oversteer as he veered off the racing line, and hit the wall with the left-hand-side of the car. Almost miraculously, he continued on in last place and reported that the car was okay – and there was no Safety Car either.
As Russell retook P6 off Norris, the top six was unchanged by Lap 5 – but Hamilton was gaining on Sainz in the chase for P3. Meanwhile, Esteban Ocon had made it into the top 10, Mick Schumacher behind him and hanging on to the final points with the AlphaTauris giving chase as Pierre Gasly had fallen to 12th with a poor start.
Verstappen was leading, comfortably so, as the counter ticked over to Lap 10. He was 1.8 seconds ahead of Leclerc while Sainz was dropping back; he was over six seconds back in P3. The Scuderia would need to push to force Verstappen to use those soft compounds up if they were to take victory.
Fernando Alonso showed them how it was done with a pass on Gasly for P12 on Lap 10 and another on Tsunoda for P11 on Lap 12, while Sebastian Vettel attempted an early pit stop on Lap 10 from P18, the Aston Martin driver swapping his softs to mediums. Gasly and Daniel Ricciardo followed suit two laps later amid heavy soft-tyre degradation.
Alonso's rampage up the field was cut short on Lap 13 as he pitted for hard tyres, and once the first sequence of stops had been completed, the two-time champion was up to P9 – and ahead of his team mate Ocon thanks to a solid undercut.
Back towards the front, Sainz was still losing time to the leaders and still under pressure from Hamilton. The Spaniard seemed to be suffering from a genuine lack of pace, rather than playing his part in an elaborate Ferrari ruse, and pitted on Lap 15 – his disastrous stop lasting a full 12.7 seconds. Perez entered the pits after Sainz but emerged well in front of him, despite running over a Ferrari wheel gun in the process.
"Oh my god," exhaled Sainz after a baffling display in the Scuderia's pit lane – the rear-left tyre absent when the #55 driver entered his box. He was told that "Plan A" was still intact, while Ferrari's mechanics examined their ruined wheel gun.
Verstappen was still gaining over Leclerc, who was almost losing a second per lap before he pitted on Lap 18. The Monegasque's used softs were swapped for mediums without any issue this time around, Norris following suit with a stop from mediums to hards.
Verstappen responded to Leclerc's stop on Lap 19 – losing time as he was stationary for 3.4 seconds – and emerged around four seconds ahead of the Ferrari while Hamilton led Russell. The pole-sitter was catching up as the Silver Arrows continued, the only pair of drivers yet to pit (once Albon swapped his mediums for a new set on Lap 22). Was a one-stop strategy possible?
That realisation triggered messages of consternation over the Red Bull and Ferrari radios, their drivers picking up the pace, with Perez running fifth between Leclerc and Sainz. Verstappen needed no cue to close in as he was within DRS range of Russell and on Lap 28 he made the pass with ease around the outside of Turn 1.
Hamilton was then pulled in for a set of hards on Lap 30, releasing Verstappen back into the lead as the Mercedes driver emerged ahead of a now medium-shod Sainz. Russell followed his team mate on Lap 32 and swapped for hards, also emerging ahead of Sainz. And both drivers seemed to be enjoying those white-walled compounds as they began chipping away at the gap to Perez ahead.
At the start of Lap 36, Hamilton closed in on Perez and the Mexican locked up heavily in defence of P3 into Turn 1. Hamilton was forced to back off at the exit of that corner and had another go into Turn 11, again to no avail. The following lap saw Hamilton make the pass with ease at Turn 1 but the Briton nearly lost out as backmarker Vettel was right in front of them as he emerged from the pits – the Aston Martin driver crawling on the racing line as the battle for P3 raged behind him. He would later receive a five-second penalty for ignoring blue flags.
Russell made lighter work of the second Red Bull, prying P4 off him on Lap 39. With Mercedes putting on a show of pace on their hard tyres, both closing in on Leclerc, Verstappen was asked for his take on the strategy. Team mate Perez was sent into the pits for hard tyres on Lap 41, emerging P7 and right in front of Alonso, but the Mexican soon found his feet and began to turn up the pace, passing hard-shod Norris on Lap 44.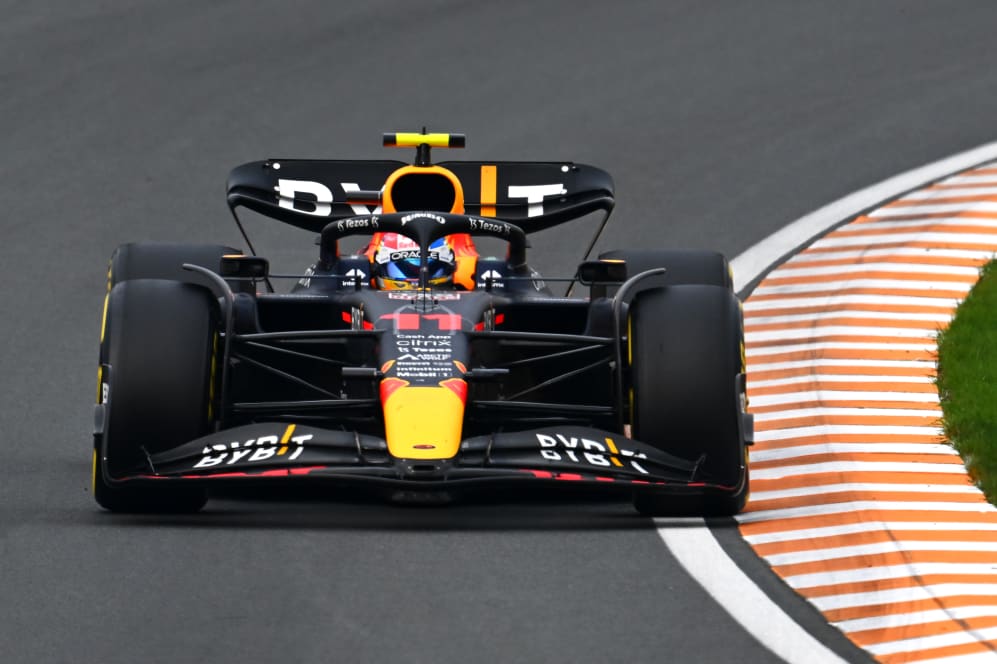 Sainz too was pulled into the pits on Lap 44 and this time it seemed Yuki Tsunoda was the victim of a poor pit stop as he stopped at the side of the track and complained that his tyres weren't fitted. Perhaps a Virtual Safety Car would be called – a reprieve for Leclerc and Verstappen in the face of two swift Mercedes.
The pit lane panic briefly dissolved as Tsunoda, bafflingly, continued on his way – the team reassuring him that the tyres were fine. Shortly afterwards, Leclerc was pulled in to emerge with a new set of hard tyres, and then Tsunoda was forced to enter the pits on Lap 47 for a new set of softs, and a fix for his troubles that kept him stationary for 31 seconds. He emerged from the pits in last and crawled out – this time complaining that the differential had broken.
Tsunoda pulled over on Lap 48 and this time a VSC was deployed, triggering Verstappen to pit and Mercedes to double-stack their drivers for mediums – with almost seamless execution, but for a second-long delay for Russell.
Leclerc had been jumped by the Mercedes, both of whom re-emerged in the podium places. The race resumed on Lap 50, hard-shod Verstappen leading Hamilton by over 12 seconds while Russell was in third, five seconds ahead of hard-tyred Leclerc. "That VSC has stuffed us," said Hamilton, despite his podium credentials looking all but assured.
The Mercedes drivers began to turn up the pace as they consolidated their podium places and chip into Verstappen's lead. On Lap 55, though, the sight of Valtteri Bottas's stationary Alfa Romeo on the start-finish straight brought out yellow flags, during which Sainz appeared to pass Ocon. One lap later, the Safety Car was deployed.
Verstappen took that chance to stop for used softs, emerging in P3 on Lap 57, while Russell followed suit to pit for his own used softs on Lap 58 – retaining his P3 place while Verstappen moved up to P2. The Ferraris also went in for softs, while Perez opted for mediums.
"It's going to be hard to keep that car behind me now," said Hamilton before a slight lock-up on his mediums, the Safety Car to end on Lap 60.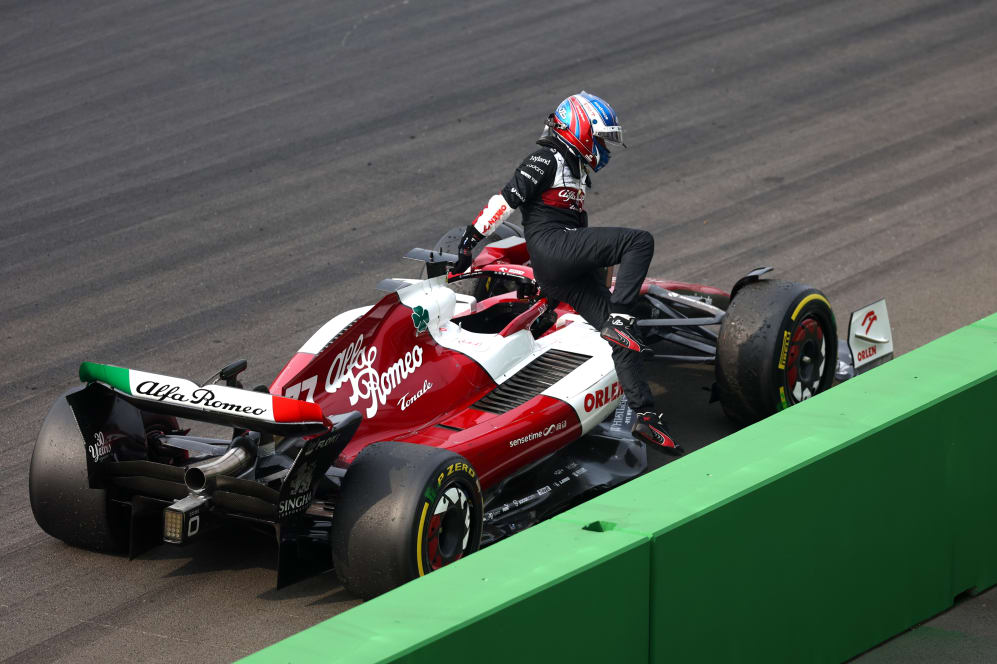 Verstappen used the might of his Red Bull on the start-finish straight and re-took the lead almost as soon as the green flag was waved, Hamilton unable to respond, while Sainz jumped medium-shod Perez for P5 with ease.
Hamilton was now leading a queue of cars, his team mate Russell passing him on Lap 64, after which an expletive-filled radio message from a furious Hamilton was played over the airwaves. Leclerc took P3 away from Hamilton soon after, while Sainz and Perez duelled for P5. Other battles that flared up after the Safety Car were between Alonso and Norris for P7, while Ocon was holding off Stroll and Gasly from P9 to P11.
Back to Perez vs Sainz, where the Mexican was right on the Spaniard's rear wing with just four laps left, despite the former being on the mediums and the latter on softs. While they fought for P5, Sainz was slapped with a five-second penalty for an unsafe release during his previous pit stop. They continued to go wheel-to-wheel and Perez went through the Turn 1 gravel in an attempt to pass the Ferrari, which allowed Alonso and Norris to close up.
In the end, Sainz finished P5 but was dropped to eighth, promoting Perez to fifth, Alonso to sixth and Norris to seventh. The Ferrari driver's battle with Perez allowed Hamilton to retain fourth – though this race may be characterised by some as a loss for Mercedes and their seven-time champion.
As for Verstappen, and to the delight of his home fans, he won by four seconds after passing Hamilton, with Russell taking P2 and continuing his run of top-five finishes. Completing the podium was Leclerc – who is now 109 points behind the Dutchman in the drivers' championship.
In ninth was Esteban Ocon, who couldn't keep up with the likes of Alonso and Norris ahead, despite the Frenchman enjoying a solid start that saw him climb swiftly into the top 10. Lance Stroll rounded out the top 10 having started there, the Aston Martin driver holding off Gasly in P11.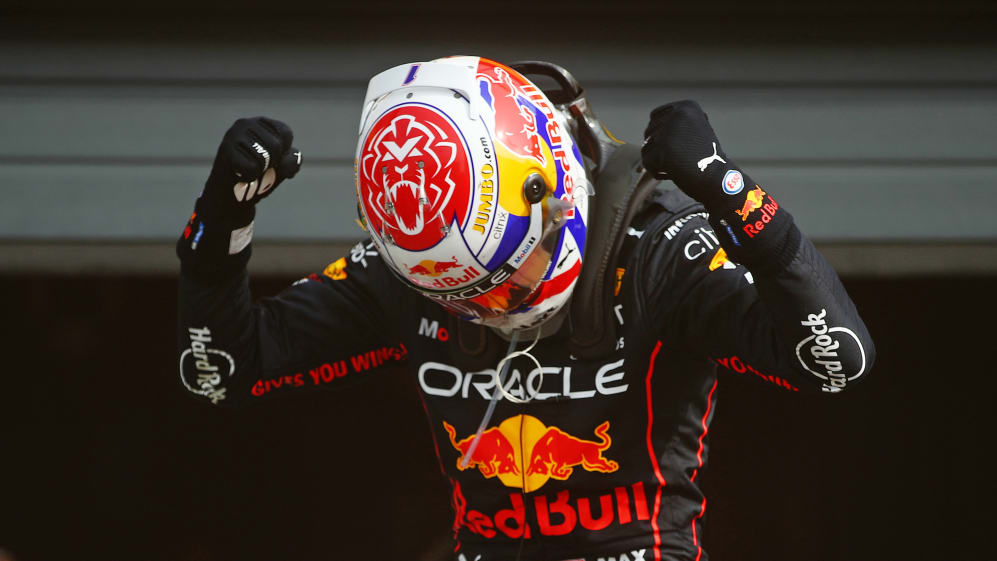 Alex Albon finished 12th ahead of Mick Schumacher, who was held back by two slow pit stops. The Haas driver finished ahead of Sebastian Vettel, on whom he pulled off a brilliant pass at Turn 13 early in the race. It was little consolation for the Haas racer, who seemed sure for points.
Kevin Magnussen settled for P15 after hitting the barriers early on, as the Danish driver couldn't make up any more places. He finished ahead of Zhou Guanyu, who took a five-second penalty for speeding in the pit lane but finished ahead of Ricciardo in 17th. Nicholas Latifi finished 18th for Williams, while Bottas was classified 19th despite his on-track stoppage.
Tsunoda was therefore the only retirement from this dramatic contest at Zandvoort.
Key quote
"It was not a straightforward race. We had to push the whole race. Of course, with Safety Car, the Virtual Safety Car making the right calls, it was always a bit of question mark but it worked out really well once we got back to the soft tyres, we had great pace again.
"It's always special to win your home Grand Prix, it was already last year. This year I have to say I had to work for it even more. So yeah, an incredible weekend and really happy we got the Dutch Grand Prix" – Max Verstappen, Red Bull
What's next?
The triple header concludes with the 2022 Italian Grand Prix at Monza on September 9-11. Can Ferrari score a famous home win – or will Red Bull spoil the Scuderia's homecoming party? Either way, Verstappen is cruising towards his second World Championship as he leads Leclerc by 109 points.