Vettel says Ferrari 'fired up even more' after French GP weekend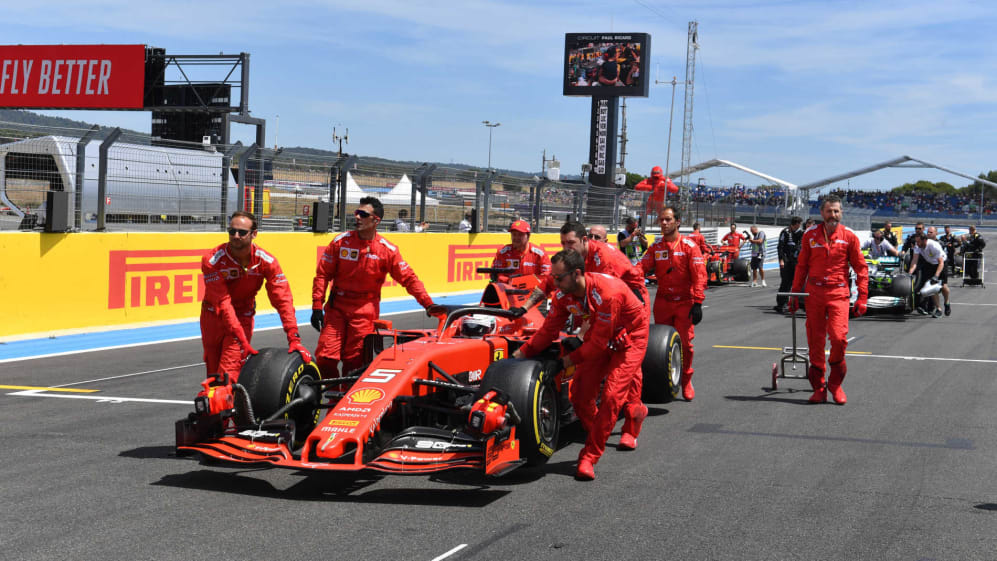 A podium for Charles Leclerc and some Mercedes-bothering race pace were all positives for Ferrari at the French Grand Prix weekend – but despite somewhat exceeding their own expectations coming into the race, Sebastian Vettel admitted the team failed in their main objective of significantly closing the gap to their silver rivals.
The Prancing Horse brought a raft of upgrades to Circuit Paul Ricard, and while Leclerc enjoyed one of his best races of the season, finishing P3 and less than a second adrift of Mercedes' Valtteri Bottas after a late surge to try and claim second place, he was six-tenths adrift of Hamilton in qualifying.
Vettel, meanwhile, could only manage P7 in qualifying and P5 in the race – though he did at least have enough margin in the final laps to pit for softs and try for the fastest lap bonus point. He duly got it, but only by a margin of 0.024s from Lewis Hamilton, despite running on fresh soft tyres compared to Hamilton's 29-lap old hards.
We are trying everything, we're throwing everything at it
When asked whether that narrow margin in the fastest lap battle, given the disparity of their respective rubber, had been discouraging, Vettel replied: "Not more or less discouraging than the lack of speed that we've seen now for some races, so obviously it's a huge challenge for us.
"We are trying everything, we're throwing everything at it," added Vettel of Ferrari's pursuit of Mercedes.
"If it was easy, we would do it overnight and we'd have done it already a lot of races ago, but it's not easy and obviously [Mercedes] are very strong, and currently showing the limits to all the other teams, so it's up to us to come up with solutions and make our car faster so we can put more pressure on them.
"This weekend the big objective was to close the gap [to Mercedes] by a significant amount which we didn't do, so in that regard we failed but that doesn't mean that we're giving up.
"I think everybody is fired up even more. We have to understand why some of the bits that we've brought in work and hopefully by next week we have some answers to try something again and maybe the track layout in Austria comes a little bit our way as well."
I cannot say a positive weekend, but I think not too bad as well considering initial expectations
Paul Ricard shares some similar characteristics to Barcelona, where Ferrari were comprehensively defeated by Mercedes a month ago, so could Ferrari at least take solace that they were more of a match for the Silver Arrows in France?
"We cannot be happy," said Binotto. "We can only be happy the time when we'll be faster than all the competitors. But we know that we were expecting a difficult race weekend here in Paul Ricard. We said it's a circuit that could be very similar to Barcelona in some respects, and if you look at last year, we were as poor in Paul Ricard as we were in Barcelona, so in that respect, we improved a bit. Not yet sufficiently, but we were not expecting to close the gap in Ricard.
"There's still much to do, and overall I cannot say a positive weekend, but not too bad as well considering initial expectations."
Hamilton's win in France saw him stretch his advantage over third-placed Vettel in the drivers' standings to 76 points – over three race wins – while the gap between Mercedes and Ferrari in the constructors' standings – with Mercedes having continued their streak of winning every race of the year so far – now stands at a daunting 140 points.