Report
WATCH: All the action from Round 3 of the 2021 F1 Esports Series Pro Championship
Reigning F1 Esports Series champion Jarno Opmeer took a dominant second consecutive win after a controlled drive at the Red Bull Ring. The Mercedes man fended off race-long pressure from his old rival Frede Rasmussen, leading the race from pole position. Here's what happened during race three of the 2021 F1 Esports Pro Championship, presented by Aramco...
Wednesday
After months of waiting, the first event kicked into action with a race around Sakhir International Circuit in Bahrain. Nicolas Longuet took the first pole position of the year, but was beaten to victory by a first-time winner in Lucas Blakeley, who helped Aston Martin overcome their tough 2020 season as Racing Point.
Meanwhile in the second race of the day in China, it was McLaren Shadow's new signing Bari Boroumand who slammed it on pole, in only his third F1 Esports Series race. He and many others struggled at the start, with a wet track adding an element of unpredictability.
Jarno Opmeer though played a masterstroke, putting on intermediate tyres at the start of the race and blowing away the competition when it dried up to take victory.
HIGHLIGHTS AND REPORT: Round 1 and 2 of the 2021 F1 Esports Pro Championship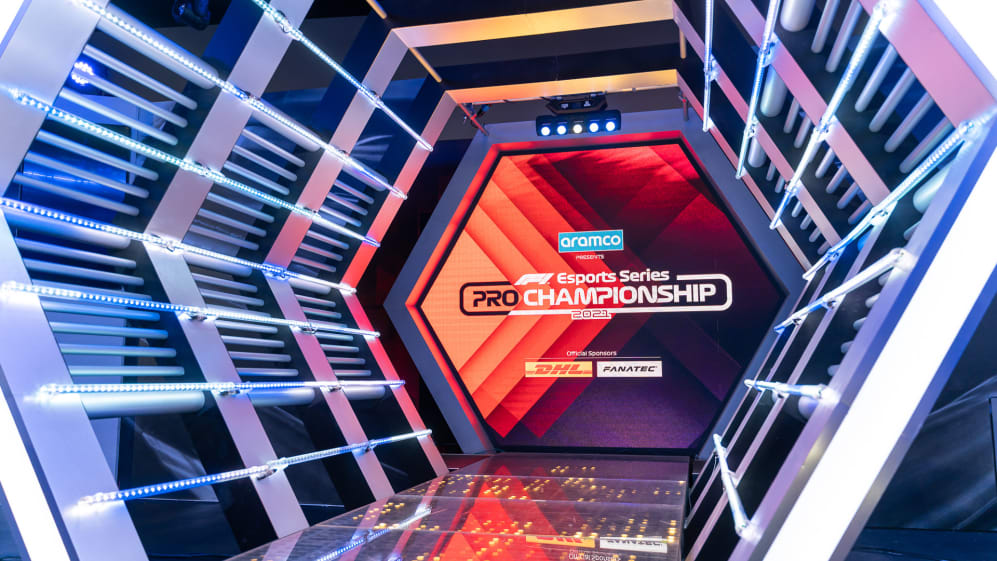 On to Austria
Opmeer picked up where he had left off on Wednesday, grabbing pole position during a frantic qualifying session at the Red Bull Ring.
At the start, he launched into the lead, tailed by 2020 Pro Series runner up Frede Rasmussen. Their race was very much a summary of last season, with the Red Bull Racing Esports man able to keep him within touching distance, but never quite close enough to try a move.
READ MORE: F1 2021 game adds Imola and Red Bull's Honda tribute livery in latest update
The other Red Bull of Marcel Kiefer had a more tumultuous race however. Starting eighth, he had to gain positions if he was to build on the momentum of his China podium. A bold move on the opening lap got him past Uralkali Haas F1 Esports' Simon Weigang, and up into seventh. However, a similar move on Lap 3 didn't go quite as smoothly. Braking into Turn 3, Kiefer sailed past Blakeley ahead, but tagged the side of Bari Boroumand in fourth, undoing the move and damaging his wing.
The German was quick to apologise, and didn't inflict any damage on Boroumand, but the crushed front wing effectively ruined his chance of scoring points.
Oops! Error retrieving Twitter post
Dani Moreno soon took the lead from his team mate on Lap 5, giving the Mercedes duo a shot at a 1-2, but two laps later, the pair switched back. A further two laps later, things took another turn, as rain began to fall. Lap 11 was the pivotal lap to stop, with Opmeer coming in and re-taking the net lead on Lap 12. However, team mate Moreno had to wait an extra lap, and it cost him dearly, dropping the Spaniard well down the order.
READ MORE: Everything You Need To Know About F1 Esports
As the drizzly weather persisted, the shuffling of the pack settled, and Jarno Opmeer came over the line to take his second win in a row, with Rasmussen and Boroumand completing the podium, a first trip to the rostrum for the Iranian racer.
Then came Blakeley, David Tonizza, Alvaro Carreton and Simon Weigang, who got his first points of the season, with Brendon Leigh, Longuet, and Moreno filling in the top 10 positions.
Standings
The results from the first three races leave Jarno Opmeer out in front in the driver standings, with his new team Mercedes-AMG Petronas F1 Esports also leading the way for the teams. Second place in both tables goes to the green team, with Lucas Blakeley and Aston Martin Cognizant F1 Esports Team far exceeding their 2020 totals.
Oops! Error retrieving Twitter post
It's a quick turnaround to next time out, with just two weeks until our next event gets under way. Join us from 1530 BST on Wednesday October 27, when we'll find our polesitter for the first two races in Britain and Italy. We can't wait to race again.
For more details of the Pro Championship – and all things F1 Esports – check out the official F1 Esports site.