'We can do better than this' says Verstappen after rocky start to home weekend at Zandvoort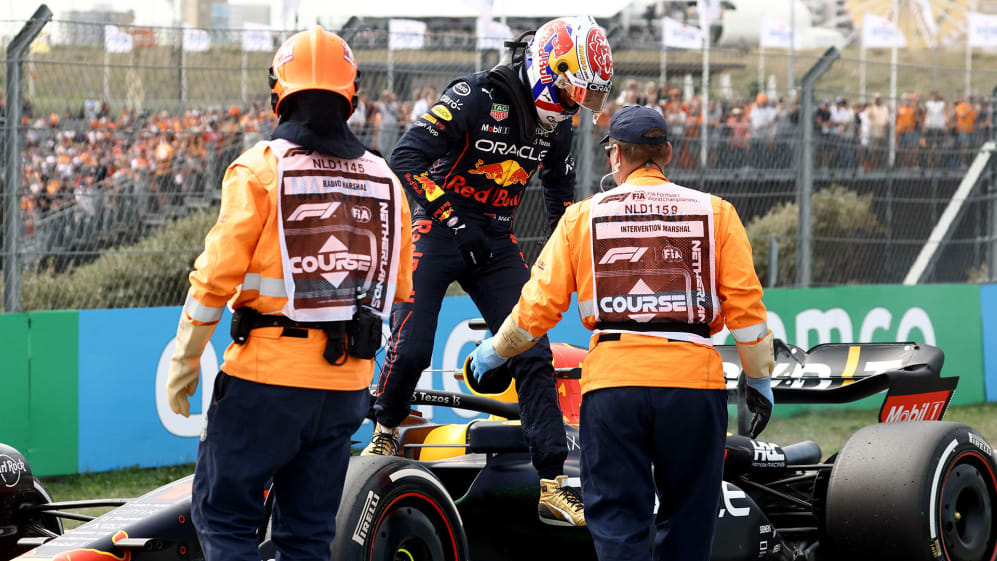 Max Verstappen faced a tough start to his home weekend as gearbox issues cut short his first practice session, before Ferrari topped the timesheets in FP2, which left the reigning champion asking for much more from the Red Bull RB18.
Verstappen dominated last weekend's Belgian Grand Prix and admitted that this weekend might not go as smoothly. And he may have been proved right, given that he finished eighth-fastest in FP2 – where Charles Leclerc led Ferrari team mate Carlos Sainz – after that transmission issue truncated his FP1 session.
FP1: Russell heads Mercedes 1-2 as Verstappen suffers issue in Dutch GP first practice
"Yeah, just missing out in FP1 on the soft tyre, I think on that hard tyre [in FP2] we couldn't really tell the balance because we had such little grip in the tyre and then you are a session behind. We went into FP2 and the balance wasn't great, but in an hour's session you can't really change the car a lot, so we tried to deal with what we had, and that wasn't great today so we'll have the night to deal with things. For sure we can do better than this."
Asked if he was surprised by the lap time gap to Ferrari, he replied: "To be honest, while driving it I was not really surprised when I saw the lap time difference, so there is a lot of things we can improve on.
"We have the whole night to look at things and of course FP3 as well. I will try of course to be more competitive."
Team mate Sergio Perez, who finished 12th in FP2 after taking seventh in FP1, said he avoided a "massive shunt" after going wide at Turn 9 in the first session before echoing Verstappen's comments on the car's pace.
"I got a lot of traffic [in FP1] – I got one of the Ferraris for my fast lap and I couldn't get a proper read on my soft tyre unfortunately. It was going to be a massive shunt there, and then the long runs, degradation seems to be pretty high, so it will be interesting to see what we are able to do with the strategy – and we certainly need to improve for qualifying tomorrow," said Perez.
FP2: Leclerc leads the way as Ferrari take charge in Zandvoort
"I think generally we haven't been as happy as we were in Belgium so there are some things we need to look at and try to pick up everything right to be in the mix for quali.
"They [Ferrari and Mercedes] really look strong today so it will be interesting to see what we are able to do."