'We've definitely made an improvement' says Hamilton after crowd-pleasing P2 in Silverstone second practice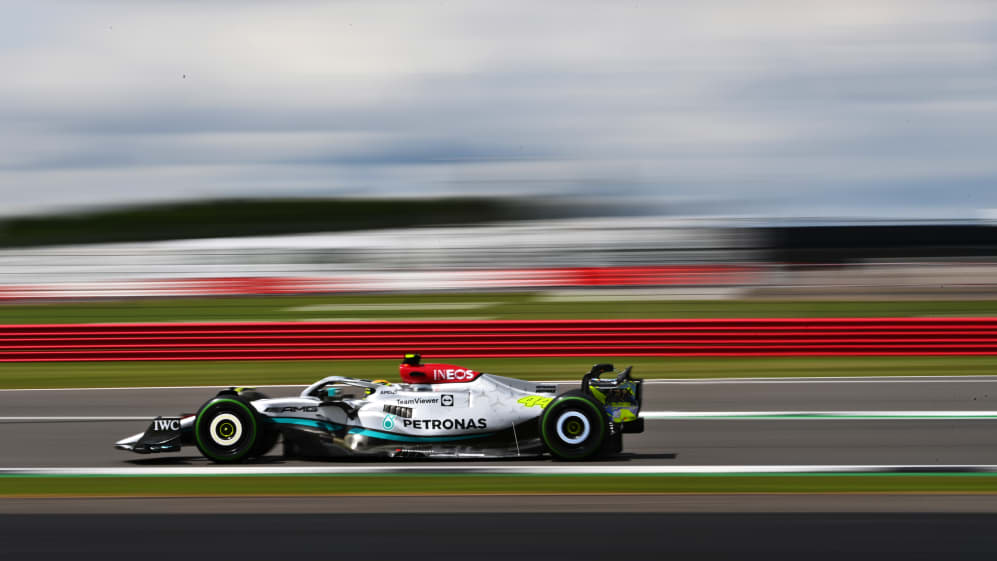 Lewis Hamilton, George Russell and Mercedes enjoyed the opening day of the British Grand Prix weekend, with the seven-time champion going second in FP2 – as Russell finished eighth – in the upgraded W13. Both drivers, plus Trackside Engineering Director Andrew Shovlin, gave their first verdicts on the package at Silverstone.
Hamilton in particular was elated, despite having had to sit out much of a rainy FP1 session along with the rest of the field. The Briton finished second to Alfa Romeo's Valtteri Bottas – a familiar pairing at the top of the charts – in that compromised first session before going 0.160s off leader Carlos Sainz in the second session.
READ MORE: Red Bull 'miles off' around Silverstone says Perez – while Verstappen says it's 'not a surprise' to see Ferrari lead FP2
"It has been a good day. I wish that we all had more running in P1, but that beautiful weather that we normally get here in Silverstone is what makes it so special! It can be raining in one corner, or half the track and dry elsewhere, so it was just wet through [Turns] 6 and 7 and a little bit down to 9, and then it was dry everywhere else. So, that made it difficult.
"I think [the car is] bouncing still quite a bit; not in a straight line, but through the corners it's pretty harsh – not physically harsh, just like in the car, on the tyres and everything… The upgrades [weren't] anything to do with ride, it was just literally downforce and difficult to feel it because we are in two massively different tracks.
"You are coming from a low-wing, low-speed circuit [in Montreal], to an all medium and high-speed circuit. So, I didn't get to feel the car like this last week. But it's much smoother, this track, which is much better. Our long-run pace isn't as good as the other guys but it's not miles off. So, we've definitely made an improvement, and I'm sure overnight we can work and improve the car even more," said the eight-time British GP winner.
Russell wasn't quite as convinced by the upgrades' efficacy, having not set a time in FP1 – before taking P8 in FP2 amid heavy traffic on track.
"I'm not too sure to be honest, we need to look into it," he began. "I struggled on the low fuel much more compared to Lewis; he put in a really strong lap. The high fuel was definitely more promising, comparing to the McLarens on the hards, the same [tyres] as us.
HIGHLIGHTS: Watch how the rainy opening practice session unfolded at Silverstone
"We were a lot quicker than them at the end when we got the tyres warmed up. The Ferraris, by the end, they were [facing tyre degradation]; we were just improving lap after lap. There are some positive signs there… but there is definitely room to improve for sure.
"The car is sort of bouncing around, so we need to try and understand that, but there is no porpoising down the straights, which is at least one positive sign. As I said, there are positives there – we just need to dial into it, and truly maximise it."
As for Trackside Engineering Director Shovlin, he said to Sky Sports F1: "It does look like we've made a step forward, because we're not normally up near the top on a Friday. Now, I suspect there'll be a bit more to come from Ferrari and a bit more to come from Red Bull, but the long-run work was quite encouraging as well, and again, those are overlaying quite nicely.
READ MORE: How to stream the 2022 British Grand Prix on F1 TV
"Normally we see the sort of gap – half a second, maybe even seven, eight-tenths to the faster teams on a long run – and that didn't look like it was there. So, probably a bit it's the circuit, the circuit suiting the car.
"There's definitely a lot to work on, there's a lot of bouncing around and it's tricky in the high-speed at the moment, but hopefully the updates sort of pushed us in the right direction."