Feature
What the teams said - Qualifying in Germany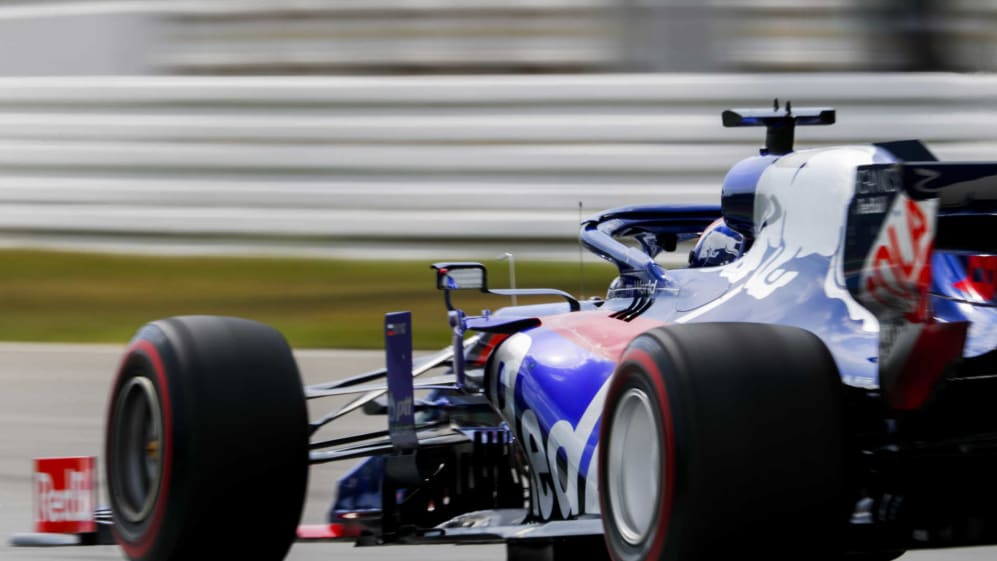 Mercedes
After a scruffy Friday, Mercedes didn't look much better under cloudy skies. Off the pace of Ferrari in final practice, and lagging behind Verstappen as well, they looked to have a fight on their hands come qualifying. But as issues befell their rivals, Hamilton and Bottas both managed clean, fast laps to grab first and third on the grid respectively. For the reigning world champion, it is a fourth pole of the season and he goes into tomorrow with a great chance of extending his championship lead.
Lewis Hamilton, 1:11.767
"I'm super happy to be on pole, it's such a special race for all of us. The whole team is dressed up this weekend to celebrate 125 years of motorsport and our 200th race which is really cool. We've got Ola, our new CEO here from Daimler, so I hope that I can deliver on a weekend where everyone is here. It's not just unfortunate what happened to Ferrari today, but unfortunate for the sport too because it was building up to be a really exciting qualifying session. I don't know how close it would have been in the end, but they were quick all weekend. I was really happy with my first lap in Q3; I just lost a little bit of time in Turn 8. Position on the grid is really important here, so I'm grateful to be starting from pole and hopefully I can try to stay out in front tomorrow."
Valtteri Bottas, 3rd, 1:12.129
"It was not an easy qualifying session for me today, I struggled with the consistency in the braking zones in Turn 2, 6 and 8 - all of the heavy braking events. I just didn't have a consistent feeling under braking, so I couldn't really put a good lap together. It certainly wasn't the best session, but starting from P3 tomorrow is not a disaster either. It's a shame what happened to Ferrari, but I'm sure they will be quick tomorrow. There's also a chance of rain for tomorrow which would certainly make things interesting. It's still all to play for and I'm looking forward to the race."
Toto Wolff, Head of Mercedes-Benz Motorsport
"It's a real shame for Ferrari and a shame for Sebastian at his home Grand Prix. We really need him here for the crowd, and you can see that it's a bit subdued at the moment. We need Ferrari for a strong Championship too. I'm happy because the session started poorly for us, we didn't quite know why we were lacking pace. Over the course of the session it just slowly came towards us. Lewis put in an incredible lap in Q3 and deserves to be on pole. Valtteri was not feeling comfortable in the car, he was struggling a bit more, but he is starting third on the grid and has every chance in the race tomorrow."
Andrew Shovlin, Trackside Engineering Director
"It's not been a straightforward day and our pace has been a bit up and down. On our final runs on low fuel in the morning it was clear we'd not made the progress we had hoped for overnight. The track warmed up a bit for qualifying, our initial runs weren't great in the first session and we decided to go again with both cars to cover off track ramp although in the end it wasn't needed. Qualifying two was a bit better, the pace was closer to where we'd expected to be, and we managed to get both cars through on the medium which was our preferred start tyre. Obviously, Ferrari dropping out took a bit of pressure off us in the final session although Max had good pace, so we didn't expect it to be easy. Lewis did a great lap on run one; Valtteri struggled a bit with the consistency on braking and couldn't quite match Max's time in the end. It should be an interesting day tomorrow, especially when you consider the risk of rain. We also have much cooler conditions than we saw on Friday which means we don't really know what the tyres will be capable of."
Ferrari
When Leclerc topped final practice in serene fashion, it looked like Ferrari were favourites for pole. But disaster struck early on in qualifying, with Vettel pulling back into the pits without setting a time. A turbo issue meant he played no further part and the German lines up last at his home race. Leclerc was left to carry the flag for the team, which he did all the way up until the start of Q3 when a fuel system issue was detected and he also headed for an early bath. A shocking session - how far can those two recover tomorrow?
Sebastian Vettel, No time set in Q1
"I was looking forward to having fun this afternoon, as the car has been really competitive all weekend. So what happened is definitely a great shame. I had a good feeling from the car yesterday and it was even better this morning. We had a chance to start from first place, but now we start from last. Of course it is bitterly disappointing, especially that this should happen here at my home race, in front of such a large crowd of fans. It could not have happened at a worse time. As for the problem itself, I had no warning that anything was wrong and as I exited the pits, I just lost power. But I am still looking forward to the race and I will try my best to make up as many places as possible, in the hope of at least bringing home some points."
Charles Leclerc, 10th, No time set in Q3
"It's a shame for us to have finished qualifying this way. The weekend was going well up to that point and the car felt really good throughout. Sometimes, these things just happen. It is difficult for a team to miss an opportunity with one car, but when it happens with both it is even harder to take. I will start the race with a positive mindset tomorrow and will fight to gain as many positions as possible, especially in the beginning. I have confidence in our pace and nothing is over until we see the chequered flag."
Mattia Binotto, Team Principal
"At the moment the entire team is bitterly disappointed. We feel especially sorry for our drivers who were in with the chance of doing something special for the people back in the factory who are working so hard and for all our fans.
"We are now carrying out an in-depth analysis of what happened. What we do know is that they were two completely different problems, neither of which had ever occurred before. The first indications from Sebastian's car lead us to believe it could be related to a component on the intercooler. The component is to the same specification as those used previously and it was fitted new. Charles had a problem with the fuel pump control unit.
"We have shown this weekend that our race pace is good, which makes it even more frustrating that we were not able to show what we could do in qualifying.
"We are angry with ourselves and I myself feel responsible for what has happened. But I am also aware that we must react calmly and do our best tomorrow. That's what we're here to do."
Red Bull
Verstappen briefly looked to be another front runner with issues when he pulled back into the pits in Q2 with an intermittent loss of power. The team managed to get him back out, but with only time for one flying run, Red Bull made the call to run the soft tyres rather than the mediums and thus he starts on a different tyre to Mercedes. Come Q3, the Dutchman split the Silver Arrows in an assured display, while Gasly was solid rather than spectacular and lines up fourth.
Max Verstappen, 2nd, 1:12.113
"The front row of the grid is a good achievement for us and Honda on this track. It's been a good day and we definitely found a bit more performance overnight. This morning I was quite happy with the car and also in Q1. I had a little issue in Q2 with a mode setting and it was a shame not to qualify on the medium tyre but once we changed a setting in the pits everything was fine. Of course, we have to take into account that Ferrari had a problem with both cars and they would also have been fighting for pole, but you have to be there when it counts and we maximized everything to be on the front row. I'm on a different race strategy to Mercedes which is not exactly what we planned but we are in the fight and we will see how much difference the softer tyre makes at the start. We're close and we have a good shot tomorrow as we have a good race car. At the moment we cannot judge how the weather will be but we will give it everything and a bit of rain could spice things up."
Pierre Gasly, 4th, 1:12.522
"It was a good qualifying and I managed to do some decent laps so I'm happy with P4. The mechanics had a really long night and it's never nice to see them working flat out to repair the car, so it's great to qualify on the second row and thank them in this way. Yesterday, I was pushing and just went over the limit. These things happen but it was good to recover today and tomorrow should be exciting with the chance of rain. There are still some areas for me to improve and things I could have done better, but things are coming together and I'm happy. Now we need to focus on tomorrow and the race where my aim is to move forwards. The weather forecast looks very unpredictable but I'm from the North of France where it rains a lot so I'm used to this. Looking at Max's race pace, we should be pretty good tomorrow but anything can happen as we saw with last year's race. Clearly, the Team is pushing massively, we have had good development and it was a big boost with Max's race win in Austria. I think in terms of development, things are going really well, we're still a bit behind, but we're closing in on those in front."
Christian Horner, Team Principal
"That was a strong qualifying for both our drivers and to line up on the front row with Max in P2 and Pierre in P4 marks Honda's best starting position since San Marino in 2006. In Q2, we had a slight issue with Max which was quickly rectified, but it meant he needed to change tyres so both drivers will start tomorrow's race on the softer compound. It was good to see Pierre make a strong recovery after yesterday's incident and fourth is his best Formula One qualifying result to date. With unpredictable weather on the way it is shaping up to be another really exciting race tomorrow."
Haas
Grosjean cut his final practice short with power loss issues, but fortunately these were resolved before qualifying. The Frenchman put in an assured show under some pressure to grab sixth on the grid, matching his season-best from Australia. Magnussen missed out on Q3 after locking up on his final run, but with free tyre choice, still has a chance of getting involved in the race for points - but that does require Haas to have gotton on top of their race-pace issues.
Romain Grosjean, 6th, 1:12.851
"I think from yesterday to this morning, Kevin (Magnussen) was very happy with the new package, there's some good understanding of the upgrades here. Obviously, with track temperatures coming up a bit in qualifying, I was happier with my car. You always want to be on top of the midfield, but today the Alfa Romeo was just too strong for us – it's super tight in the midfield, which is exciting. Who knows what will happen tomorrow, we'll do our best. Sometimes this year we've had good qualifying sessions followed by tough races. Hopefully this isn't one of those and we can hang in there with some good race pace. Yesterday we were happy, and the cooler temperatures should help us in the race."
Kevin Magnussen, 12th, 1:12.789
"I had a very good car this morning in FP3, yesterday it was really tricky, we just had no balance at all. With the cooler track temperatures this morning it just seemed to be working. The track temperatures picked up again for qualifying and it seems like we lost a little bit again. I missed out on Q3, I locked up on my second set of tyres. There might have been a bit of lap time in there, but the first lap wasn't bad. It's still a good comeback from where we were yesterday. It might rain tomorrow, so anything can happen. If not, and it's dry, at least we've got a free choice of tyres – so there are some positives."
Guenther Steiner, Team Principal
"Finishing sixth and 12th in qualifying, after a challenging period over the last few races, is pretty good. Unfortunately, Kevin (Magnussen) locked up on his last lap in Q2, so he didn't make it, but it was very tight between eighth and 13th – I think it was about two-hundredths of a second. But, starting 12th, that may be a different strategy. Romain (Grosjean) did a great job to be starting sixth. Now we have to see how the weather will be tomorrow, and how we get ready for rain, as that's what's being predicted as of now. It's been a good job from the whole team to get us back where we want to be."
McLaren
McLaren have been the pick of the midfield teams of late, but Norris hasn't seemed quite on song all weekend and was the surprise faller in Q1. Sainz at least saved the team's blushes by making Q3, and from seventh should be confident of a good haul of points to keep hold of his 'best of the rest' spot in the drivers' championship.
Carlos Sainz, 7th, 1:12.897
"Obviously very happy with this qualifying. Especially because today I think our competitors had a bit of an edge over us. However, we managed to react very well throughout the session and I put together some solid laps to progress and put ourselves into Q3.
"We are in a good starting position for tomorrow. Everyone is speculating about the weather conditions for the race, but no matter what comes we'll be ready to fight for another points finish."
Lando Norris, 16th, 1:13.333
"I'm obviously disappointed. It's the first time I've missed out on Q2 – frustrated because of that and annoyed because it's not giving me a very good starting position for tomorrow.
"There was more potential in the car as Carlos showed by getting into Q3. I just didn't hook the lap up today when it mattered. I'll just have to make up for it tomorrow."
Andreas Seidl, Team Principal
"Friday's sessions were tricky for us in the heat but we did our homework overnight and, in cooler conditions today, we were able to extract more performance from our car. After FP3 we knew it would be a another very close battle in the midfield, where progress through qualifying would depend on maximising every single detail.
"Qualifying P7 and P16 obviously leaves us with mixed feelings. In all fairness to Lando, we had an issue with the battery pack which compromised his ability to get through to Q2 and his quali result overall. With Carlos, we got everything out of the car and he did a great job putting the laps together to secure a good starting position. We're still aiming to fight for points with both cars tomorrow and we've also seen the weather forecast, so we can expect an exciting race for the fans here in Germany."
Alfa Romeo
Raikkonen used every ounce of experience to make Q3, with his team mate unlucky to miss out by just 0.010s. But with free tyre choice, Giovinazzi might be one to watch in the race. As for the Finn, he ran just the once in the top 10 shootout, and finished fifth to be 'best of the rest'. In his top qualifying performance this season, can Raikkonen finish where he started, or will he struggle to keep out-of-place cars behind?
Kimi Raikkonen, 5th, 1:12.538
"Qualifying in fifth makes me happy but it's only qualifying, the race is tomorrow. We made a few gains through other people's misfortunes, but in the end we still had to put in the laps when it counted and we did. The car has been pretty good today and I think we could have been a bit faster in Q3: maybe fourth place was within reach, but that's racing. It's very difficult to read into our race pace from yesterday as the conditions have changed a lot and could be even different tomorrow. We have to see if the rain comes and figure out the weather the best we can. It will be hard to race against the big teams; we'll just take today's result as it is, give everything tomorrow and see where we end up."
Antonio Giovinazzi, 11th, 1:12.786
"It was a bit frustrating to miss out on Q3 for just a hundredth of a second. We start from just outside the top ten, but tomorrow is the important day and I am confident we can get to the points. We wanted more but if we have a good start and a good strategy we can be in that fight. Nobody can predict what weather we'll have tomorrow and if it starts to rain anything can happen. Having both cars in the top ten is the objective but the key is to continue moving forward."
Frédéric Vasseur, Team Principal
"Placing a car on the third row is a positive result but points are not given on Saturday, so we still need to focus on our job. We have looked competitive all weekend so far and we are pleased with today's result. Kimi looked quick from Q1 and delivered a good lap in his only attempt in Q3. It was a pity Antonio missed out on the top ten for such a small margin, but he's still in a good position to have a strong race. The weather will be a big variable tomorrow: finding the right strategy will be crucial especially should the rain come."
Racing Point
Running an upgraded package, there were high hopes for Racing Point to make Q3 and so it proved. First though, Stroll defied expectations by making it out of Q1 for the first time since Japan last season. He couldn't escape Q2 but nonetheless will take heart from an improved showing. Perez made the top 10 shoot out, and only ran the once. Eighth on the grid is the Mexican's best performance since Baku back in April.
Sergio Perez, 8th, 1:13.065
"I'm happy with the result today. We've taken a step forward this weekend and the new parts have made a difference. Tomorrow we have a good opportunity to race well and score points. Reaching Q3 again is a big boost for everyone in the team after a few difficult races. All the way from Q1 to Q3 I gave it everything and the margins in the middle of the grid were so small. Today a tenth here and there made a big difference. We have a strong race car as well and I'm confident we can fight with the cars ahead of us. I want to come away with some points tomorrow."
Lance Stroll, 15th, 1:13.450
"My qualifying was far from ideal, and it's a shame because the car had the pace to make Q3 today. The car felt good in Q1 and we were competitive, but Q2 fell away from me. Yesterday we were looking really strong but we didn't really get the balance right in Q2 and if anything took a step backwards compared to where we were. I'm a little bit frustrated, but tomorrow is another day. We know we always race well and maybe we will get some wet weather. It won't be easy from P15, but I still think we can target some points."
Otmar Szafnauer, Team Principal & CEO
"We've improved the car this weekend and today's qualifying effort shows the hard work is beginning to pay off. Sergio is well placed starting from P8 and he delivered some clean and tidy laps across all three sessions. Lance progressed to Q2 and was much happier with the car in the lead up to qualifying. Some balance issues held him back in Q2, but I think he can move up the order tomorrow with the race pace we have in the car."
Renault
A mixed bag for Renault today - Hulkenberg made it all the way to Q3 at the expense of his team mate, with Ricciardo winding up 13th. The Australian was unlucky, with just 0.023s separating P10 from 13th. As for the German, he is something of a Hockenheim specialist and kept his record of making Q3 at his home race every year it has been held intact. But tomorrow, he will have his work cut out to keep the recovering Ferrari of Leclerc behind in the early stages.
Nico Hulkenberg, 9th, 1:13.126
"On a whole, we can be satisfied with that effort today. We knew it was going to be close to get into Q3 but we achieved that and that's pleasing. It was incredible how tight Q2 was with even Daniel and I only split by three hundredths and that was the difference in making the top ten or not. In Q3, I didn't quite get it together and it's only ninth in the end. We could have beaten at least two or three more cars. I'm open for anything tomorrow. Nothing is guaranteed in the wet and as we experienced last year, it is tricky in the rain here. We'll give it our best whatever happens."
Daniel Ricciardo, 13th, 1:12.799
"It's frustrating to be the wrong side in Q2, but it was incredibly tight out there. We were the last ones in the 12.7secs and less than half a tenth would have put me eighth and through. In that regard, the midfield is enjoyable as it's so close. On my side, I have to take accountability for that as I know I could have done a little bit more. We made a good improvement from the morning so it was pleasing to be so close to the top ten. Tomorrow could be nice if it rains. Even if it's dry, we'll be alright. It's a mixed field ahead of us, but for now, we'll take it on the chin and figure it out."
Alan Permane, Sporting Director
"Firstly, credit to Nico for getting into Q3, as it was extremely close out there. There were six or seven cars in the same tenth with Nico at the top end of it and Daniel at the bottom end. Daniel had a tiny wobble at Turn 12 on his second Q2 run and that cost him his Q3 place. Nico did a great job, although, admittedly, a clean Q3 lap would have seen him qualify even higher. We know we can score tomorrow, the forecast looks unsettled and there are chances for rain during the race. We're prepared for all situations."
Toro Rosso
Albon's final flying lap in Q1 was compromised by Norris ahead, and the Thai driver exited at the first time of asking after turning the airwaves blue in frustration. Kvyat did make Q2 but could go no further, with the team lagging behind some of their rivals who are carrying upgraded packages here. It might be a long race for the team, but with a threat of rain still present, anything could happen come race day...
Daniil Kvyat, 14th, 1:13.135
"It was quite close in the midfield today and honestly I don't think there was much more I could have done. I went a little bit wide in the last sector which cost me around a tenth, but the cars ahead were maybe three-tenths of a second down the road. However, in these conditions and on this track, we weren't as competitive compared to our direct opponents, so we need to analyse why and learn from it. Thinking of the race, which is what counts, the weather could play a part as it might be quite different to today. If it rains, I think it might mix up the cards a bit, I'll work hard to get into the points."
Alex Albon, 17th, 1:13.461
"Q2 was definitely on the cards today. Maybe we didn't have the outright pace, but we were definitely quicker than P17, so it's quite a frustrating result. I started my lap half a second behind Lando, he didn't block me but it's just how the track is as everyone was bunched up in the last sector, it was just chaos. I was right on Lando's gearbox and there was nothing we could do, it was just one of those things. There's more potential for the race tomorrow, so we will see what we can do."
Guillaume Dezoteux, Head of Vehicle Performance
"We had to break the curfew last night for Alex's car, but the mechanics did a fantastic job to get the car ready and reliable for FP3. Alex was a lot happier with the balance during this morning's session but, unfortunately, after a difficult first attempt during which Alex found a car which was more difficult to drive, Qualifying was compromised by traffic on his second run. He finished the qualifying session in 17th position, which is very disappointing.
"Regarding Daniil, FP3 was tricky and he worked well with his engineers to improve the balance and consistency of the car. The changes made were in the right direction and he was happier with the car at the start of Qualifying. During Q2, he was in the fight with the cars ahead to make it through but a mistake in the last sector meant he didn't improve and he ended up 14th. It was very tight today and we didn't have the car to get comfortably into the top 10.
"As for the race tomorrow, the weather looks very variable. It can create interesting opportunities and we will review all the scenarios tonight to come up with aggressive options and try to attack the cars ahead."
Toyoharu Tanabe, Honda F1 Technical Director
"We knew it would be the usual tough fight in the mid-field and at least Daniil made it to Q2. But Alex was unlucky to encounter traffic which meant he got no further than the first part of the session. We will have to see if they can move up the order tomorrow. There is a chance of rain for the race, so, on the PU side, we must now prepare for every eventuality."
Williams
Kubica's car required a chassis change overnight, but he was able to complete a full programme in final practice. Russell wasn't so lucky, sitting out much of FP3 while the team worked on some apparent floor damage. Come qualifying and the rookie once again had his nose in front, meaning he has won the overall qualifying battle against his team mate already this season.
Robert Kubica, 19th, 1:14.839
"It was a difficult day, track conditions were different to yesterday, but I think the team saw some improvements in the data. We did everything we could, especially the mechanics. They didn't have an easy time yesterday or indeed overnight with the chassis change, however they did a good job under difficult conditions. We extracted the maximum out of what we had today, and we must keep working hard to improve."
George Russell, 18th, 1:14.721
"It wasn't an ideal day for us, as we damaged the floor on the out-lap in FP3 on some debris. Essentially, we didn't have the updated package this morning because of that so our first go at it was in qualifying. It is definitely very different in terms of characteristics, but it is an improvement. We didn't really have an opportunity to dial it in but we made the most of it. It is clear we still have work to do so we have got to keep pushing."
Dave Robson, Senior Race Engineer
"Overnight analysis of the items we tested yesterday showed that they were behaving well and so they were adopted on both cars for FP3. As we neared the end of our car build last night, a small issue was found on Robert's chassis and so the decision was taken to swap it for the spare. The additional work meant that we had to break the curfew to get the spare car ready for FP3. The team worked extremely hard to make this happen and this helped Robert to enjoy a smooth day, enabling him to build on the background work he completed yesterday.
"For George, his experience of the new parts was cut a little short in FP3 as we opted to take some time to modify part of the floor ahead of qualifying. This limited his opportunities to understand the behaviour of the new components and to get a feel for the tyres in today's cooler conditions.
"In qualifying both drivers had a busy but effective session, and both did a good job of managing their tyres and avoiding traffic on this short track. The drivers and their engineers extracted decent laptimes and made the most of the car.
"The weather forecast for tomorrow remains uncertain and rain is quite possible. We will prepare as well as we can overnight and look forward to seeing how the new parts behave over the course of a race distance."
Pirelli
Mario Isola, Head of F1 and Car Racing
"Strategy is likely to be at the forefront of the German Grand Prix, especially if it rains, in which case it will mostly be a question of reacting to changing circumstances with no wet-weather running seen so far this weekend and nobody having properly used wet-weather tyres during a race weekend so far this season. Already, we've had plenty of variables heading into the race, with problems for a couple of the frontrunners and different strategies used in qualifying, which means that it's difficult to anticipate exactly how the race will pan out. The two Mercedes start on what is theoretically the optimal tyre, with the Red Bull of Max Verstappen on the soft between them, but last year in Hockenheim showed just unpredictable this race can be."