Feature
What the teams said - Qualifying in Japan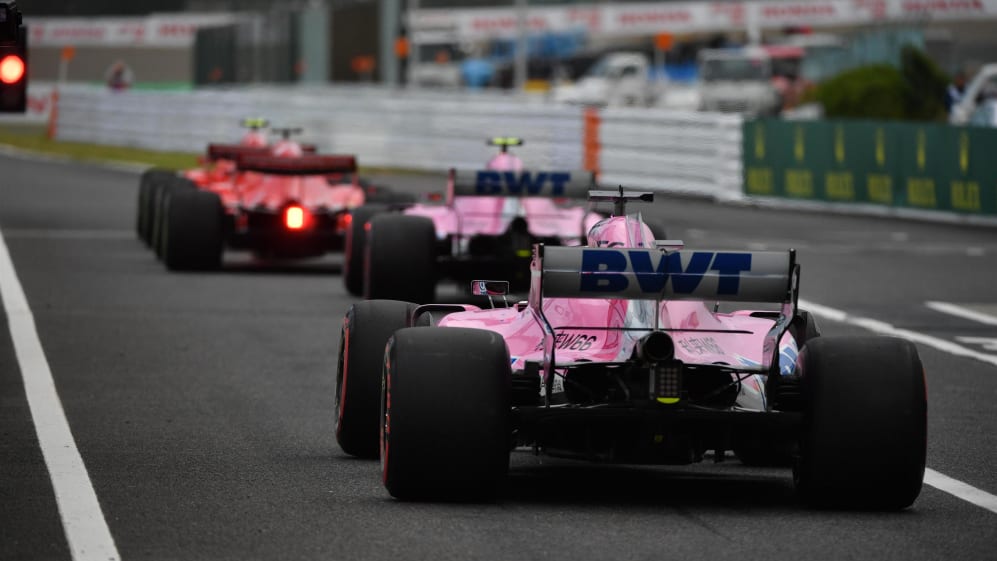 The drivers and teams report back on final practice and qualifying at the Formula 1 2018 Honda Japanese Grand Prix...
Mercedes
Hamilton topped FP3 and in truth, never looked likely to be on anything other than pole once the conditions deteriorated. The wet-weather master is just as good in inclement weather when the risk-reward line is so fine, and he managed a perfect flying lap on slicks to bag his 80th career pole. Bottas secured a one-two for the team, leaving them well placed to capitalise tomorrow, especially given they will be starting on the soft tyres.
Lewis Hamilton, 1st, 1:27.760
"The session started out ok, but then you look out the garage and you see it's raining, spitting, that it's very humid, I saw a couple of cars spin. It was very difficult to know whether the track was going to be dry or whether it was going to be wet. We obviously had not done any practice in the wet and it looked like it was going to be wet in Q3. We were waiting in the garage for someone else to go out first. I think we made the right decisions as a team today. It's been a bit of an anti-climax because we couldn't do that second lap. Today, they did such a great job in terms of the timings, there were no mistakes made even though there was a lot of pressure as there always is in Qualifying, yet still everyone was cool, calm and collected and did the job collectively as a team. It's really an amazing journey to be on with this team and I don't think 80 pole positions is the end - but it's a milestone and I'm very proud. The last six years with this team have been incredible and I'm so proud of everyone and so grateful for everyone's hard work which has enabled me to go out and exploit my own abilities."
Valtteri Bottas, 2nd, 1:28.059
"First of all I want to say congratulations to Lewis - 80 pole positions, that's a big number and he deserves a lot of respect for that. The cars have been so quick today as they have been all weekend and it was enjoyable to drive in qualifying. I struggled a lot in FP3, the car didn't feel stable at all and I was struggling to find confidence. It got better in Qualifying and by Q2 it felt pretty good. Everything came down to one lap in Q3, I missed a little bit in sector 2 and 3, but I enjoyed it. Everyone in our team should be really proud of what we achieved today, of the car that we have and of how the team worked today - every single decision was right, everyone was calm. It might have looked like a hectic session from the outside, but inside the team everything was so calm, we just stuck to our plan and made the right choices which ultimately produced this result."
Toto Wolff, Head of Mercedes-Benz Motorsport
"That was an intense qualifying session and, in the end, Q3 ran pretty smooth for us - and we probably got a little slice of good fortune, too. The drivers did the job when they had to, on that first run in Q3, and found the right balance between aggression and caution in tricky, greasy conditions. But today the plaudits go most of all to the team on the pit wall, in the garage and in our race support facilities in Brackley and Brixworth; on days like this, we always say it is much easier to get things wrong than right, and today we made the correct calls in the correct moments. However, the excitement at the result fades very quickly into focus on the race. Conditions are expected to be much warmer and we saw in Sochi that the competitive picture shifted significantly between Saturday and Sunday. So we will stay sceptical, keep our feet on the ground and prepare solidly for all the challenges that we will face tomorrow. The racing happens on Sunday, and that's the bit we need to get right. But today was a good first step in that direction."
Andrew Shovlin, Trackside Engineering Director
"We're absolutely delighted with the front row today, the car has been working well all weekend but strong winds and unpredictable rain made it a whole lot more difficult. The first session was fairly straight forward and we were able to get a good lap in with both drivers before the red flag. In the second session we ran as planned on the Soft tyre, having seen the compound work well yesterday. We were a bit surprised to see both Red Bull and Ferrari take the SuperSoft and were discussing whether we should cover it although a shower near the end of the session meant the track would not be quick enough which ended that particular conversation. Qualifying three was always going to be a bit of a gamble as it started with light rain and the radar was showing heavier rain towards the end of the session. We decided to go on the SuperSoft and both drivers did a great job getting good times on the board in tricky conditions. We came into the pits and took a second set with both cars but by then the heavier rain had started to fall and it was clear we were not going to be able to go quicker. We're expecting a hot and sunny day tomorrow which will make life tough on the tyres so it should be an interesting race from that point of view as no one knows quite how they are going to behave."
Ferrari
Ferrari miscalculated – they were the only team to go out on inters at the start of Q3. The track at that point was too dry, they pitted for slicks but knowing it was now or never with the rain worsening... and the pressure told, as Vettel made a mistake through Spoon and could only manage ninth. With his title rival on pole, it's a tough swallow - but stranger things have happened, especially at Suzuka...
Sebastian Vettel, 9th, 1:32.192
"At the beginning of Q3, I was asked if it was ok for me to go out on inters and I said yes. Obviously, it was the wrong decision and now it's easy to say, but it could have been the other way around. We thought there could have been more rain, but in the end it didn't come. If it had rained five minutes before, it would have been a different story. However, it wasn't our session in terms of timing and we've been through similar situations a couple of time so far. We are a team, so now we accept together the consequences. Tomorrow is another day, it won't be easy as we start from the back, but it's not impossible".
Kimi Raikkonen, 4th, 1:29.521
"It was a tricky qualifying with mixed conditions. In Q3 we thought that the rain would come earlier, so we decided to go out on intermediate tyres. Unfortunately it did not happen and then we were a bit off with the timing. We came in to fit the supersoft , but in Turn 14 I touched a wet kerb, ran a bit wide and lost some time. Obviously fourth place is not ideal, but at least we were able to put a lap together despite the mistake. Third position could have been easily possible. It's a pity we did not get it today; the feeling with the car was getting better and better in qualifying. For sure tomorrow is going to be tricky, but we will do our best".
Red Bull
Screams of frustration were the order of the day for Ricciardo after technical issues left him unable to set a time in Q2. It is safe to say the normally jovial Aussie was as angry as he was frustrated – can he deliver a second fightback drive in a row? Verstappen had the reliability luck and the fortuitous timing in Q3 to grab third behind the Mercedes duo and will hope to keep the Ferraris at bay come race day.
Daniel Ricciardo, 15th, No time set in Q2
"As soon as I came through the last chicane to start my fast lap I immediately felt that something was wrong. I just didn't have full power and I could hear the turbo or something wasn't healthy. I came to the pits and we tried to fix it but I think it's something terminal. Then it started raining, I think if we had got out again and it was raining and I couldn't get a lap in, then it could have been even more painful. I just can't catch a break at the moment and I'm pretty fed up with it. I'm doing everything I can and applying myself the best way that I know how to, but it's not working so hopefully it turns around soon. It makes me angry because if it was on me and I was slacking off then it would be different, but I still want to do the best I can for Red Bull until the end of the year and every race is important."
Max Verstappen, 3rd, 1:29.057
"Today as a team we made no mistakes, on or off the track. We managed to optimise the set-up and conditions in Q3 which resulted in a really good grid position to start from tomorrow. It was crucial that we swapped the intermediates to slicks at the beginning of Q3, this allowed us to get out ahead of Ferrari and set a strong lap time. I was a lot more satisfied with my feeling and performance in the car compared to yesterday. The hard work the guys put in overnight showed and meant I could have a good qualifying session. I think the Mercedes will be too quick for us to challenge come the race, but with a good start who knows. Sebastian will be looking to come through the pack quickly so I may have some defending to do at some point, I will of course do my best to hang onto my position. We need to concentrate on doing the best possible strategy from our side and then hopefully finish on the podium."
Christian Horner, Team Principal
"The positive from today is to qualify third with Max for the race tomorrow and he once again put in a fantastic performance in tricky conditions. The rain arrived at the start of Q3 and it was all about getting a good first lap, which Max did a great job of. As the rain intensified, nobody could improve which meant Max's lap was safe. For Daniel, it was extremely frustrating to lose him at the beginning of Q2 due to a throttle actuator issue. We are extremely keen for him to finish his final five races with Red Bull in a positive manner and unfortunately when issues like this happen which are beyond our control it's immensely frustrating for Daniel and the entire Team."
Force India
Ocon was called to the stewards and handed a three place-grid penalty for failing to slow sufficiently under red flags in FP3. Force India did at least get both drivers to Q3 in qualifying later on but the team didn't fuel their cars for the duration unlike others. After Perez made a mistake on his first run, the time lost in the pits cost him dearly as the weather deteriorated and he couldn't get a representative lap in.
Sergio Perez, 10th, 1:37.229
"I am not very happy with my qualifying result because I think I should have been in front of quite a few other cars. It was a difficult session from the beginning of Q1. I was completing my lap when the red flag for Ericsson's crash came out: I was just metres away from the line but I didn't get a lap and I had to go again. In Q3 I went wide and lost a lot of time on my first lap when the track was at its best so there is definitely the feeling I could have done a lot more today. We need to make up some ground tomorrow. We start in the top ten and we have good pace so good points are achievable."
Esteban Ocon, 8th, 1:30.126
"Eighth place is okay, but I'm not satisfied because we didn't maximise our potential today. Our approach to Q3 meant we fuelled up for a few laps because we felt the track would dry up and keep improving. In reality the track was already quite dry right from the start of Q3 and that's when the track was at its best, but we were heavy on fuel. Then, by the time we started our second run, the rain was getting heavier. Well done to the others who judged it better than us – that's what can happen in those wet sessions. So I think we had the potential for more and I know we can be strong in the race. Let's see what we can do tomorrow."
Otmar Szafnauer, Team Principal & CEO
"The weather made for quite a tricky qualifying session. In one sense it's good to have both cars in the top ten, but at the same time in Q3 we didn't show our true speed. We sent both cars out with enough fuel to complete a few laps, but the first lap was the only one that counted in the end. Esteban's lap was clean and tidy, but Checo made a mistake that cost him a few seconds. Our long run pace yesterday means we should be optimistic for the race, but overtaking here is very difficult and this will place even more importance on the timing of the pit stops."
Renault
Hulkenberg fell foul of the damp patches on track, spinning into the barriers at the end of FP3. Renault did well to fix his car ahead of qualifying, but the German was naturally cautious and exited in Q1 for just the second time in 71 races. Sainz at least made Q2 but with rain arriving, couldn't go any further. Renault have slipped back from their midfield rivals – can they repair the damage in the race and grab some much needed points?
Nico Hulkenberg, 16th, 1:30.361
"My crew worked hard to get the car ready for qualifying and it was bad timing on my behalf to crash at the end of FP3. The car felt fine straight away and I was actually surprised we didn't get through Q1 as both my laps felt pretty good. The improvement in my second lap simply wasn't enough to get me through so that's frustrating. It's going to be challenging and difficult tomorrow, but of course we will fight."
Carlos Sainz, 13th, 1:30.490
"We thought there was a possibility of the top 10 but we weren't able to make a big enough step in pace. In general, today was pretty tough. Qualifying could have been a bit better as the rain came sooner than we expected so I wasn't able to set a lap on new tyres in Q2. My first run in Q2 with a used set was just not enough and it's difficult to say how much faster I could have gone with that new set. But, points are given out tomorrow so let's see what happens."
Alan Permane, Sporting Director
"Nico's crew did a great job to get his car ready for qualifying but Nico was unlucky not to make it into Q2. Carlos did get the cut, but the combination of weather and traffic meant the pace of the car was insufficient to get him into the top 10. [For the race] We have work to do. The forecast says dry and it's going to be difficult to move up the order as it's very competitive here."
McLaren
McLaren have looked off the pace all weekend and qualifying was no different with both cars exiting in Q1 for the second race in a row. Can they pull anything back in the race? At a track where overtaking is difficult it looks unlikely – but surely Alonso will want to leave this legendary circuit with a bang rather than a whimper?
Fernando Alonso, 18th, 1:30.573
"It has been tough today. We are the last two cars so definitely not the best performance so far. This whole weekend we have been slow in every session, with any tyre, as this high-efficiency circuit seems to hurt us more than others. Aero efficiency is what we are lacking and especially here you need a car with lots of downforce and very low drag for the long straights.
"We know in what areas we need to improve, and it has been part of the job we've been doing in the last couple of races – trying to make sure next year's car is stronger than this year's.
"In qualifying the balance of the car was good, so it wasn't like we could have found any more time anywhere. Our pace is what it is, so it's going to be a difficult race for us tomorrow, trying to recover from the back."
Stoffel Vandoorne, 19th, 1:31.041
"It's been a tough weekend for us and I think in a way it's not been a surprise. We've been uncompetitive all weekend and our performance is similar to how we were in Russia.
"When it comes to qualifying, we don't seem to be able to make a small step forward. Hopefully in the race we should be a little bit better, but it's a circuit where it's difficult to overtake, so we'll see how tomorrow goes. "Hopefully a little bit more happens during the race and we can benefit from that. It shows we still have a big deficit to catch up. It will be good if tomorrow turns out to be a hot race, as it could introduce a bit of blistering on some of the tyres. We've been good when races have been like that, and tyre management is key. Strategy could make a difference."
Gil de Ferran, Sporting Director
"Obviously we're disappointed with our qualifying positions and our general pace.
"Operationally, it has been a smooth weekend and both our drivers extracted everything out of the car.
"Looking ahead to tomorrow, although on the face of it there doesn't seem to be a lot of strategic variants to take advantage of, we will keep our heads down and antennas up, to try and maximise our finishing position.
"It's great to be here in Japan. It's only Saturday and you can hear the crowd from the pit-wall, so I can't imagine what tomorrow's excitement will be like."
Haas
Magnussen struggled with traffic and exited in Q2 but Grosjean made the top 10 shoot out and wound up as the best of the rest in P5. His tenth Q3 in a row, the Frenchman is on a roll and needs to score some big points to keep up the pressure in the constructors' championship on Renault. Starting on softs, he has a great opportunity to take the fight to the Ferrari ahead.
Romain Grosjean, 5th, 1:29.761
"It's a great day. I'm very happy with the changes we made from FP3 to qualifying to get the feel back in the car. And with the way it behaved in qualifying, we had the courage to put the softs on in Q2 and try to go through on that, which we did. Q3, with one lap, I love it. You know the rain is coming and you've got to put everything together. That's the feeling that I prefer. I had a great lap. You always look afterwards and I was only two tenths from Kimi (Räikkönen). We're in a great spot to start the race. Starting on the soft will be a big advantage compared to the supersoft, especially with the high temperature tomorrow. We'll do our best on our side. We'll see at the end where we are."
Kevin Magnussen, 12th, 1:30.226
"I didn't get the lap time on the first run in Q2 on the softs. Gasly came out of the pit as I started my fast lap – he didn't do it on purpose, but in sector one it's just impossible to get out of the way. I was driving behind him, lost downforce, then I made a mistake which cost the lap. It was just bad luck and the nature of the track. It's frustrating, as I think I could've been in Q3 on the soft tyre. That was our plan, to go through to Q3 on the soft and start the race on softs. We tried to get out on supersofts to get us into Q3, but it didn't happen due to the rain. I'll probably start on the soft tomorrow with the free tyre choice. A few people around me won't, so I think we could have an advantage on them if the supersoft falls apart quickly. Perhaps they'll fall into traffic when they pit, then I can go along and hopefully get the jump."
Guenther Steiner, Team Principal
"It was obviously a good qualifying session for us, especially for Romain. P5 on softs puts us in a good position for tomorrow. We still have to get the points, but we're starting in a good position. Magnussen, in Q2, had a little bit of traffic. He lost some time there and didn't make it into Q3. That was his day done. For him – starting 12th with a free tyre choice – we still have a good chance to get him into the points, as well."
Toro Rosso
Q3 was the aim... and Q3 was achieved. But Toro Rosso exceeded expectations by getting both cars into the top 10 shoot out. Better was to come, with Hartley managing a career-best 6th, just ahead of his team mate Gasly. The first time in the team's history that they have such high starting slots in Suzuka, can they deliver a double points finish for the first time this year?
Pierre Gasly, 7th, 1:30.093
"It's a fantastic result today, sixth and seventh for Honda in Suzuka is clearly a really good job compared with some of the others we had this year - I'm really happy for the team! It's probably the best Qualifying for the team since the beginning of the year, and to do it in Japan is really special. Suzuka is difficult to overtake, so we really need to focus on the start. Both Brendon and I have felt good in the car all weekend so we'll keep pushing as we have some fast cars around us. We'll have to fight hard, but hopefully we can have a good start and give Romain a hard time in P5. Since the beginning of the season we managed to make it work and catch the opportunities we have had, so once more we need to stay focussed and really try to get the best result possible."
Brendon Hartley, 6th, 1:30.023
"I was so happy with that! I was actually a bit emotional on the in-lap. I wouldn't normally get emotional, but it was just the build-up of all of the effort we've put in and the struggles I've been having at times during the season. It was nice that today everything worked and went my way and I delivered when I needed to. It was a tricky Qualifying session with the weather, but the team played the strategy perfectly as we were on the track at the right time. To get sixth position on the grid in front of all the Honda and Japanese fans feels fantastic. Now I need to consolidate the points, but I'll enjoy the feeling for the moment."
Jonathan Eddolls, Chief Race Engineer
"It was a fantastic end to what's been a challenging and tough day for us. Brendon had a pretty smooth FP3, his performance was very good even though the lap time didn't necessarily show it. He knew there was a lot more in him and the car. The wind had a big effect as the strength was high, it made the balance inconsistent and different lap to lap, so he knew there was more to come from his side for Qualifying. Pierre had some calibration issues on his PU in FP3, which meant he didn't get a clean lap in with maximum performance. So we weren't able to give Pierre the best preparation for Qualifying, which was compounded with the issue we had yesterday. It was a challenging set of sessions in Qualifying due to the weather, but the team reacted well in each session to the conditions at the time and looking at the incoming weather. It's fair to say throughout Qualifying, the drivers were on the right tyres at the right time and were on the track when it counted, the teamwork between the engineers, Honda, and the mechanics worked well today, and that's a big part in the end result. Both drivers did a fantastic lap when it counted in Q3, then the rain came and locked the positions in, so overall it was a good afternoon."
Toyoharu Tanabe, Honda F1 Technical Director
"A fantastic performance from Brendon and Pierre and the whole team. To do it at Honda's home race in front of all our fans makes it particularly special. We were able to fix the PU issue we encountered in Russia. I would like to thank everyone who has worked so hard to solve it. The team produced a very competitive car for Suzuka and ran a very good strategy in difficult weather conditions in qualifying, so that our cars will start from sixth and seventh on the grid. Today's result is down to the efforts of everyone here at the track and all those who have worked so hard back in our facilities in Japan, the UK and Italy. However, the settings on Pierre's PU are not ideal, so now we must study the data to see if we can do anything for the race. While we are very pleased with this result, it's only tomorrow that we can score points, so we are staying focussed in the hope of rewarding our home fans with a strong showing in tomorrow's Japanese Grand Prix."
Williams
Williams looked off the pace and a dead cert to exit in Q1, but Stroll pulled a lap out of the bag when it mattered to sneak into Q2. From there, he was always going to struggle to go further. Can Williams make the points? It looks unlikely from 14th and 17th but they have finished in the points here for the last four years...
Sergey Sirotkin, 17th, 1:30.372
"I think it was a good session. We weren't the luckiest with the traffic we had on our out-lap, so when I started my lap, the tyres weren't the best prepared but apart from that I think I should be very happy with the lap I did. It was one hundred percent from my side and the same for how we optimised the car and how we put everything together operationally. We got the car at its best for the last run so, I'm not too happy with the fact that we're not through, but I'm happy with how it felt and the job that we did."
Lance Stroll, 14th, 1:30.714
"Although the rain came at the wrong moment in Q2, I am still very happy and really satisfied to get through and into it, as we didn't expect that today. The car felt like it was working beneath me and I knew it was going to be a big step from my first run to my second run. I tidied up my mistakes from that first run in Q1, and then it was a combination of everything. I had a good engineer to set-up the car well, used every bit of the road, committed to every corner, the lap was pretty good, and the car felt alive beneath me. All those key points came together, but we didn't expect to be able to compete with the other teams. I know we have got some quicker cars behind us, Ricciardo for example is going to fly through the field, and I am not going to spend too much time trying to keep him behind. I am going to do my race and hopefully we can pick up some positions at the start and go from there."
Paddy Lowe, Chief Technical Officer
"It was a tricky session because dry-wet mixed conditions in qualifying sessions are the biggest test of team operations in Formula One as we indeed saw today. Some difficult choices had to be made but we're very pleased to get the best we could from the car today on both sides of the garage. It was very close, and Sergey was unfortunate to narrowly miss out on Q2 but congratulations to Lance on getting out of Q1 with a brilliant lap. We were a little bit down on power by the time we got to his final run, otherwise we could have potentially secured one more place on the grid than we have, but we're very happy to be starting this race 14th and 17th. Our race pace is good enough to fight from those places, so we'll look forward to doing our very best tomorrow."
Pirelli
Mario Isola, Head of Car Racing
"In this mixed wet and dry session, it was never easy to make the right calls: in the end the times early in Q3 on the supersoft turned out to be the decisive ones. For the race tomorrow, the forecast is for conditions that are quite different. This throws a few question marks on the strategy, with the teams always looking to get through the race with just one stop if they can. However, the track and weather conditions may not make this possible. With three cars in the top 10 of the grid starting on the soft tyre – including first and second – we should see an interesting mix of strategies, with all three slick compounds having a potential role to play in the race. It was a complicated qualifying session today, but at least the teams obtained plenty of dry running data yesterday."