Feature
What the teams said – Race day in Canada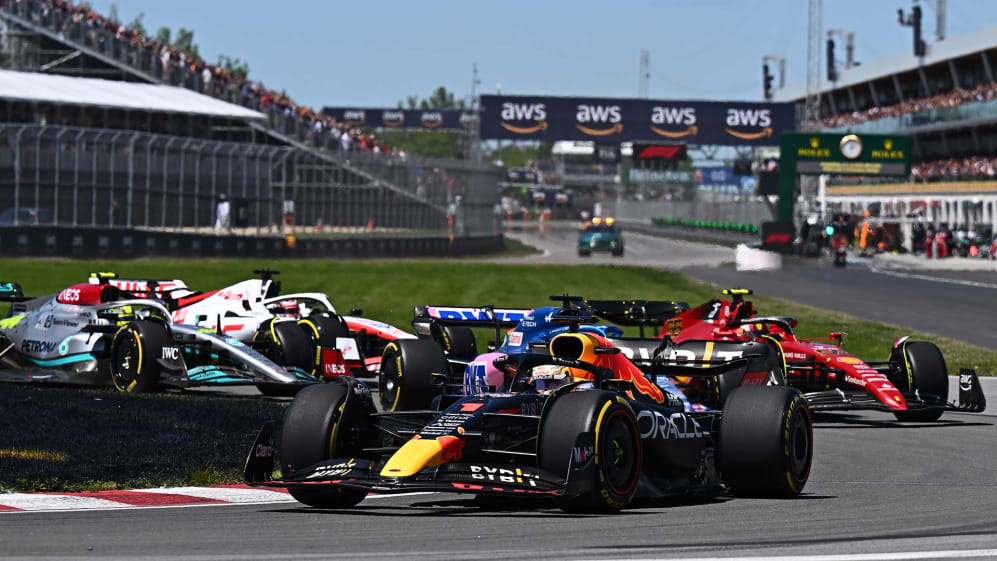 Red Bull
Verstappen led from pretty much start to finish. He briefly dropped behind Sainz after opting to pit earlier than the Spaniard but soon regained the lead when the Ferrari man pitted. He did come under pressure late on after the Safety Car bunched the pack up, but drove a mistake-free last 10 laps to claim a brilliant victory. It was a complete contrast to his team mate's afternoon, Perez parking up down at Turn 8 with gearbox problem for his second DNF of the season.
Max Verstappen, 1st
"The weekend went pretty smoothly for me, and we can be happy with that. Overall the Ferraris were very quick and strong in the race. It was really exciting at the end; the last two laps were a lot of fun, I was flat-out racing and I was giving it everything I had. The safety car towards the end of the race of course didn't help, Carlos had fresher tyres so that made it difficult, I would have preferred to attack than defend, but luckily it worked out. Also, this year we seem to be quick on the straights so that helps a lot. The next race is Silverstone, I'm looking forward to going back to the more traditional tracks. We have to keep focused as a team and find improvements wherever we can."
Sergio Perez, DNF
"We think it was a gearbox issue and I got stuck in gear unfortunately. Things were looking good, I had a good start, I was on the hard tyre and making progress. I had finally got Daniel in the McLaren out of the DRS zone and it should have been a race where I could have worked my way through the field, so it's a big shame. I felt I had plenty of potential in my race to make up a lot of places and recover good points. We need to keep on top of the reliability because a zero, when you are fighting for the Championship, is very painful and costly. You go into new regulations and there is always going to be new problems to face. Today hurts a lot, it has been a weekend to forget for me, so I want to forget about today and move onto Silverstone."
Christian Horner, Team Principal
"Max was amazing today, he was under so much pressure, particularly a the end of the race, he's been superb all weekend – every session through practice, qualifying and then the race. The Ferrari was very quick today, with the DRS zones the way they are here he couldn't break it and Carlos was cruising up to the back of him and you could see them recharging their battery to have another go time-after-time, but Max kept his concentration really well and it was an absolutely amazing performance. It was a frustrating weekend for Checo and we think he had a suspected gearbox issue, so we'll need to get the car back and have a look at what happened. It's exciting to now head towards Silverstone."
Ferrari
Sainz managed to make his way past Alonso early on, and was running second on merit. But a dive into the pits for fresh rubber under the late Safety Car proved a masterstroke, and left him right on Verstappen's tail in the closing stages. He harried the Dutchman lap after lap, never letting him escape up the road but to no avail – he still came home second. As for Leclerc, he had a frustrating afternoon as he recovered from that P19 starting slot. He lost plenty of time behind Ocon and then in a slow pit stop, but some good late overtakes saw him climb to fifth at the flag.
READ MORE: Sainz proud to be 'fastest on track for first time this year' despite missing out on first victory in Canada
Charles Leclerc, 5th
"I gave it my all. It never feels good to finish in P5, but considering where we started and the way that the race unfolded, it was the best result we could bring home today.
"The first part of the race was quite frustrating, as we were stuck behind a DRS train, so it was all about practicing patience. After our pit stop, we came back out behind another DRS train and started fighting our way back up. This part was much more fun, because I had to be quite aggressive to make it work. It was just one of those races where you had to maximize the points and that's exactly what we did today.
"I'm looking forward to Silverstone now. It's one of my favourite circuits on the calendar and hopefully we can score some big points there."
Carlos Sainz, 2nd
"That was a solid race and an intense battle with Max (Verstappen) to the line. The pace was very good during the entire race, but unfortunately we lost the lead after the last Safety Car. From there, I gave it my all to pass the Red Bull, but to overtake here you need a bit more than two or three extra tenths.
"Even though I'm disappointed at not getting the win, there are many positives to take from Canada. We were the fastest on track today and I felt much better in the car, being able to push constantly throughout the race. Now we need to build momentum and carry this feeling onto the next race. Next stop, Silverstone."
Mattia Binotto, Team Principal and Managing Director
"We came into this weekend knowing it would be a case of damage limitation, given we would have one car at the back of the grid and we came away from it having closed the gap slightly in the Constructors' classification, after a race that demonstrated that reliability problems can affect everyone in the current Formula 1. We have some of these issues and, back in Maranello, we are working flat out to fix them definitively. Charles did his very best, making up 14 places from the back row to finish fifth.
"Carlos drove a great race, which demonstrated just how much confidence he now has in the car. Now we head to Silverstone, where we expect our rivals to introduce some updates, but we certainly intend to be competitive there."
Mercedes
Mercedes seemed to find a sweet spot on car set-up, despite both drivers going for slightly different rear wing packages. Both were quick from word go, with Russell climbing back through the field from P8 and Hamilton overtaking Alonso for third. It briefly looked like their differing strategies would see the two team mates fighting on track, but the team opted for an extra pit stop for Russell to be safe. So, in the end Hamilton grabbed the final podium spot, and Russell was a very credible fourth.
READ MORE: Hamilton says there's 'more to come' after claiming first podium since Bahrain in Canada
Lewis Hamilton, 3rd
"It's quite overwhelming honestly, to get this third place. It's been such a battle this year with the car as a Team, but we continue to stay vigilant, focussed and never giving up. That's something I'm so proud of and I remain inspired by my crew so thank you, to everyone who's here in Montreal and back at the factory. The guys are the front are a little bit quick for us at the moment, I was giving it everything, but we're getting closer. We've just got to keep pushing and keep pushing and hopefully we'll be in the fight with these guys. I could just about see them in the end thanks to the Safety Car! Honestly, our pace was quite good, particularly in the second phase of the stint. We did a lot of work, back in the simulator but also here to get the set up right. So honestly, I'm ecstatic. I think, as I said, I didn't expect this coming into the weekend. This is my second podium of the year, and it was really special. Especially where I got my first Grand Prix win! I love it here in Montreal so big thank you to all the Canadians!"
George Russell, 4th
"I had total confidence we'd have been able to carve our way past the Haases and the Alpines. We were certainly concerned that Leclerc and Checo would be able to come through and we were fortunate enough to keep them behind us. Ultimately our race pace was closer to Ferrari and Red Bull than we've seen all season, but we've had performance issues and they haven't. Everything is easier in hindsight and I probably would have liked to have pitted under the first VSC but at the end of the day, I don't think it would have changed my finishing result. The pace was really strong in the first stint, on the second stint it was strong, and the final stint after the restart, I don't know why but I just couldn't get my tyres working. So that was a bit of a shame, to drop back slightly and not be in the fight. Nevertheless, P4, good points for the Team and it's great to be back on the podium as Mercedes."
Toto Wolff, Head of Mercedes-Benz Motorsport
"Montreal has always been a happy place for Lewis and today he was really good, with a car that was a handful so we can be quietly satisfied. The race pace was good, particularly when the tyres started to degrade – Max and Carlos actually came towards us and that was nice to see. After a bold gamble yesterday which left him further down the grid, George made smart overtakes at the start and then showed good pace to bring the result home behind Lewis. The past two weekends have showed the collective spirit of the team to extract a solid haul of points, even if we lack the pace to be challenging the guys at the front."
Andrew Shovlin, Trackside Engineering Director
"It's a good result for the team to come away with another third and fourth place and encouraging that the underlying pace looked a better than in Baku. Both drivers had a good race. Lewis had a very solid drive to the podium; we didn't quite have the pace of Max or Carlos but most of the time, it felt that we were just missing two or three tenths which will spur us all on to work to close that gap. George also surprised us with his ability to pick cars off in the first stint. We'd opted for a big wing on his car going into qualifying to see what we could do in the wet conditions yesterday but expected it to be a liability in the race. However, he was able to use it to attack into the corners and made good progress through the field back to fourth. It's really hard to know what to expect coming to each track with this car but we certainly maximised the opportunity today and we've learnt a bit more about the car. The team in Brackley and Brixworth will continue to push hard, there's lots to improve on the car but that can be translated into potential and the race today has given us more encouragement to keep pushing to close that gap."
Alpine
Alonso wasn't able to pip Verstappen into the first corner – and from there his day slowly unravelled. Second became third then fourth, the team opting to run a long first stint and not pit the Spaniard under either of the two VSC periods, so when he eventually came in he dropped down the field. Ocon was proving an obdurate thorn in Leclerc's side further back, holding the Ferrari at bay for a number of laps. After picking up a free stop under the Safety Car, the Frenchman found himself ahead of his team mate, who was starting to struggle with a clipping problem. They both lost out to Leclerc but Ocon dropped back to ensure Alonso had DRS in his fight with the Alfa pair, ensuring what was still a strong result for the team. But Alonso was then handed a five-second penalty for moving under braking, which dropped him from seventh to ninth.
Esteban Ocon, 6th
"I'm very happy with the result today to score eight points. The team did a great job with the car and the strategy and it was all well managed overall. We leave Canada with some good points for the team and a big step up in the Constructors' Championship. I'm glad I was able to help Fernando at the end there with DRS to keep Valtteri [Bottas] behind. There is still a lot to discuss and learn with regards to how the weekend unfolded, but the important thing is to keep this momentum going and keep delivering good performances in the next races."
Fernando Alonso, 9th
"I think this weekend we deserved better than ninth position, but it's still good for both cars to score points in the end. We ultimately lost a big opportunity to fight for a potential podium as I felt like I had the pace to do so. We were hit with a badly timed VSC just before our first stop. I was on the main straight when it was deployed, and then missed a pit-stop opportunity before it ended. We then had an engine problem from lap 20, which we were trying to manage. We didn't retire the car and used the DRS to defend, as we were losing a lot of time on the straights. It's disappointing especially after yesterday's performance, but we'll head to Silverstone, try to get on top of our reliability issues and score more points."
Otmar Szafnauer, Team Principal
"The team leaves Canada feeling proud after scoring good points in today's race with Esteban sixth and Fernando ninth after a post-race penalty. Even after such a strong Saturday, we entered the race today with a realistic mindset and we knew scoring multiple points with both cars and swinging the momentum in the championship was the absolute goal. Fernando was certainly very unfortunate with the deployment timing of both VSCs early in the race and he also had a small issue on his car, which held him back from making further progress. Esteban benefitted from a bright start to the race and executed his plan well to progress to sixth at the end, with his clever, team-minded driving to allow Fernando DRS in the closing stages, the key to cementing our final positions. We've demonstrated our ability this weekend and we look forward to the next string of car updates for the next round with the objective of fighting further up the grid."
Alfa Romeo
Bottas started on the hard compound tyre and made it last long enough to stop under the Safety Car, which made his race today. Zhou was working harder, having to complete some overtakes on track under a more conventional strategy, and lost out to his team mate as a result of that Safety Car. But to bring both cars home in the points is a decent result, and they pushed the Alpines hard in the fight to be 'best of the rest' behind the top three teams. They then both inherited an extra place thanks to Alonso's post-race time penalty, earned for moving under braking when defending from Bottas.
Valtteri Bottas, 7th
"We can be pleased with today's race, especially with the pace we have shown throughout the afternoon. It's always good to get double points, particularly after a couple of difficult races, but the most important thing was to see that we could fight the cars around us and that we are back at the level we had at the start of the season. My race was quite straightforward: I started on the hard tyre and then everything went perfectly for me. The timing of the Safety Car was ideal, I was like 'happy days!' It felt really good to be out there, and I'm happy for Zhou as well. He had strong pace and he can take a lot of confidence from this weekend."
Zhou Guanyu, 8th
"It's been a pretty good weekend for me and for the team, and I am really happy with P8 as it's my best finish in F1 so far. Today we did everything correctly on track and with the strategy: we got stuck behind Lance for a while, but nevertheless we had clean, fast progress over the weekend. We extracted everything we could and got the full potential out of the car, and finishing in the Top 10 after a sequence of frustrating races is a nice reward. I obviously didn't have much experience on this track, but we got the job done in tricky conditions yesterday and today we had strong pace: I knew that we would be able to fight for points, and we did. I am super happy for the everyone here and back at the factory, we really deserved this result for the work done and the progress achieved over the past few weeks. I'm really looking forward to continuing in this vein in the next races."
Frédéric Vasseur, Team Principal
"We achieved a really good result as a team and we can be really pleased with our performance. Both Valtteri and Zhou executed their races well and were able to bring home their cars in the points, which is a nice reward after a few tough weekends. It shows the spirit of this team, we didn't let our heads drop and we came back fighting here in Canada. I can't fault either of the drivers for their races, they were solid and didn't do mistakes: Valtteri was able to make the most of the timing of the Safety Car and Zhou delivered a very mature performance to get back in the points. The crew performed when they were called to the fore, such as with the double-stacked pit-stop – this is a true team result and it gives us a lot of confidence as we continue our fight in the midfield."
Aston Martin
Vettel was struggling with tyre wear, stopping very early on for fresh rubber. He stopped a second time in racing conditions, before managing to make his second set of hard tyres last 51 laps. Stroll was on a different strategy, he went long in his opening stint and just missed pitting under the Safety Car. But in the end it all worked out for the Canadian, who one-stopped his way to P10 and a point on home soil.
Sebastian Vettel, 12th
"It just was not our day. We made an early stop to find some clear air, but then the Virtual Safety Cars came along at the wrong time. That really compromised my race. At the end, I was on very old rubber and I tried to hang on, but it did not work out. Lance was on fresher tyres, and the team asked me to let him past to attack Daniel, which I was happy to do. The result was frustrating – we had shown good pace this weekend and could have had a better result, but sometimes things do not go your way. Today felt like one of those days. Well done to the team for all their hard work and to Lance for scoring a point today."
Lance Stroll, 10th
"We had a great strategy for this race and I am super-pleased to have been able to score a point. We did a great job deciding to go long on the first set of tyres to make a one-stop race work, managing to keep a string of cars behind me. The overtake on Daniel [Ricciardo] was a nice bonus – we were on fresher tyres so it was a pretty easy move. Things are certainly a lot more challenging this year, but I am pleased to have had a successful race today. Finally, a big thank you to all the fans for giving me such a fantastic reception all weekend – it has been incredible to race at home after such a long time away."
Mike Krack, Team Principal
"On paper, 10th position for Lance feels like scant reward for a long, hard weekend and a race that was tricky to manage from start to finish. But that point does not tell the whole story: Lance drove patiently, managing an extremely long first stint on the Hard tyre to keep a train of cars behind him. He was unleashed at the end and deserved that final point – helped in part by Sebastian, who graciously moved aside to let him attack Daniel. Sebastian also drove a fine, measured race. Starting towards the back stacks things against you, and his strategy was not helped by the pair of VSCs in the early laps, but, ultimately, I think we worked well as a team today. We got the best out of a tricky set of strategic options, executed some solid pit-stops and we go home encouraged by the burgeoning pace of our car."
McLaren
Not to be for McLaren today. Norris had to have an older spec PU fitted after his issue in qualifying, and lacked pace as a result. Ricciardo was unlucky with a slow pit stop dropping him out of the points, and a second stop under the Safety Car couldn't help him recover through the field. As for Norris, he was double-stacked behind his team mate and then had a slow stop himself. The combination of all that time lost dropped him to the back of the field.
FACTS AND STATS: Verstappen's Montreal triumph moves Red Bull above Lotus in wins list
Lando Norris, 15th
"We were unlucky today in many places, and also just didn't have the pace to race and overtake the people we wanted to race against. It was very difficult to overtake in general and that hurt our pace. We simply couldn't get into the positions we wanted to be in. I think the pace wasn't too bad, still not good enough, but not too bad, just the fact we couldn't overtake, hurt us badly today. We've got work to do. There were mistakes from my side, mistakes from the team's behalf and we'll just need to step back, refresh, go again and do a much better job in the next one."
Daniel Ricciardo, 11th
"Unfortunately, not the best Sunday for us. We simply didn't have the pace, and then had to manage a few other things as well. That was tough, it just put us too far out of contention. So, otherwise, we've got to have a look, see where we can go better, and then just clean a few things up."
Andreas Seidl, Team Principal
"A very disappointing Sunday afternoon for us here in Montréal. It's been a tough weekend in general, with the car lacking pace, having reliability issues and suffering an operational issue in the double-shuffle pitstop during the Virtual Safety Car period. We have to acknowledge our competitors did a better job and therefore we didn't deserve points today.
"We didn't give Lando or Daniel the package they deserved today, so we have to offer them an apology. My thanks to our team here at the track, back in the factory and our colleagues at HPP for their efforts over the whole of this long-haul double-header. We also have to use this as an opportunity to learn, and come back stronger in two weeks for our home race at Silverstone."
Williams
Albon was running 10th midway through the race, and looked in the mix for points. But once one car made its way past, he soon tumbled down the order, unable to keep quicker cars at bay as he struggled with rear grip. Latifi likewise was struggling, his day not helped by a slow pit stop. Not a maiden home race to remember for the Canadian, who spent much of his afternoon being lapped.
Nicholas Latifi, 16th
"The overall experience of the weekend has been pretty special. It's great to finally have my first home race and the support I felt from my family, friends and all the fans in the grandstands was amazing. "In terms of on track, we were lacking a lot of pace and we need to try to understand why in both high and low fuel. We have two weeks now to try and do a bit of analysis before heading to Silverstone. Regardless of the result, this weekend has been one to remember."
Alex Albon, 13th
"Going into this weekend, we knew this track was going to be difficult and despite our good qualifying, in the first 3-4 laps I could tell it was going to be a struggle. I think P13 was all we could have achieved today so at face value; I am quite happy with it. Going into the next stint of races, hopefully, we can make these upgrades and continue to improve on this."
Dave Robson, Head of Vehicle Performance
"It was always going to be difficult to hang on to what we earned yesterday, and we didn't have the pace to hold off the quicker cars that started behind us. However, we did have a good race with Gasly and Norris and we were close to Vettel and Ricciardo at the end too. Like last weekend, the timing of the virtual safety car was not good for Alex, but he kept his head down and made the best of it.
"Similar to Alex, Nicholas struggled to find pace during the race despite his best efforts. As a team, it was great to be a part of Nicholas' first home race and experience the support from the fans.
"We needed a little more basic car pace to be able to really race for points and everyone in Grove is working very hard to deliver that to the track as soon as possible."
AlphaTauri
Gasly was told to lift-and-coast pretty much from the first lap as the team detected an issue with his car. He tried an aggressive early pit stop but instead found himself missing out on stopping in the VSC period and as a result was down the back of the field, from where he just couldn't recover. Tsunoda at least was running higher up, but he managed to go straight on into the barriers at Turn 2 on his way out of the pits, pushing too hard on cold tyres.
Pierre Gasly, 14th
"Starting the race out of position we thought we'd go for a different strategy, so we pitted a bit earlier, but it didn't really make much of a difference. We were struggling a lot with grip, sliding around a lot in these conditions, and we just didn't have the pace to fight in the top 10. We will have to analyse everything, but objectively we were just too slow in the race. Likewise, we didn't get lucky with the Virtual Safety Car, but at the end of the day it wouldn't have changed our end result that much. We need to use the gap now to work out what we could've done better, so we can arrive in Silverstone as best prepared as possible."
Yuki Tsunoda, DNF
"I've already been to the garage to apologise to all the team, I just pushed too much on pit exit and unfortunately I went into the wall. The pace was good today, and we'd made a strong recovery up until that point, even if it was hard to overtake, so I'm disappointed with that ending."
Jody Egginton, Technical Director
"Quite simply, it was a disappointing race for us. Starting from last on the grid due to the PU change, Yuki put in a strong stint for the first half of the race and managed his tyres well. He was able to get into a position within a shout of scoring points but unfortunately, he went off soon after exiting the pits, following his second stop, and ended his race on the spot. We opted for a very early first stop with Pierre, to try and give him some free air, this put him out of phase with some cars around him and additionally the VSC's did not fall well for him. This made his progress more challenging and, with the balance on his first set of hard tyres not being great, it was not possible to make enough progress to get into a point scoring position today. This result means we have lost some ground in the midfield battle and we need to come back strong in the next race to recover."
Haas
Magnussen damaged his front wing running side-by-side with Hamilton on the opening lap, and was shown a black and orange flag and ordered back to the pits for a new nose. Being in the pits that early and a slow stop to boot, dropped him to the back of the field and ended his quest for points. Schumacher had lost a couple of places off the line but still looked in a strong position until he parked up down at Turn 8 with a mechanical issue.
Kevin Magnussen, 17th
"We were forced to pit with the damage we had but it was nothing. The car was perfect to drive, there was no effect on the car. This is normal, you've got to be able to finish the race with some scratches on your car. We could've got back in, but we were forced to pit and then there was a Virtual Safety Car and then everyone else pitted. It's frustrating – it's now four races or something where we haven't scored points, so we want to get into the points again."
Mick Schumacher, DNF
"We had a PU issue which is obviously very unfortunate as I think we were having a good race up until that point – the feeling of the car was great and the pace was not too bad either. We can take away that the pace yesterday and even today was strong, so it's all to play for in Silverstone. I feel like we built the cake but we just didn't get to put the frosting on it."
Guenther Steiner, Team Principal
"Not what we wanted today. Kevin's race was over when he had to change front wing. Mick was fighting really hard and was getting into the groove but something on the PU let go and that was his day done. Obviously, when you're dead last it's just very hard to recover, so we ended up where we ended up."
Pirelli
Mario Isola, Motorsport Director
"It was nice to see our new 18-inch tyres providing close competition in Canada all the way down the grid, delivering some hard-fought battles. The same strategy but slightly different timings for Max Verstappen and Carlos Sainz set up a thrilling fight to the finish, in which they were able to follow each other right to the flag. The P Zero medium and hard tyres allowed all the drivers to push to the maximum from start to finish, enabling a duel for victory and a brilliant fightback from the bottom of the grid for Charles Leclerc."
HIGHLIGHTS: Watch the action from an exciting race in Montreal, as Verstappen holds off Sainz to seal victory