Feature
What the teams said - Race day in Monaco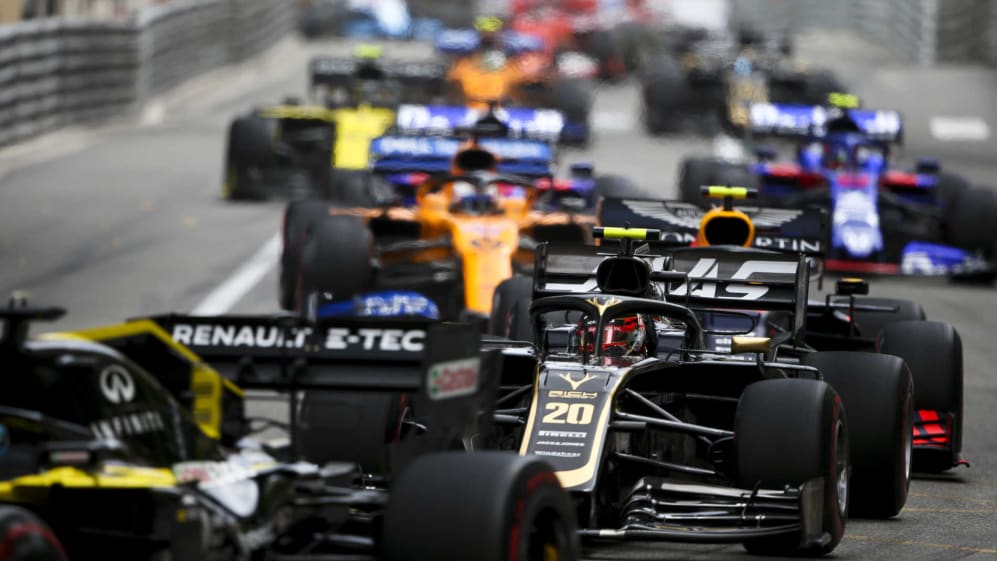 The drivers and teams report back on all the action from an exciting and chaotic Formula 1 Grand Prix de Monaco 2019...
Mercedes
Hamilton led off the line and with Bottas holding station behind, it looked like an easy afternoon for the Silver Arrows. It proved anything but - Bottas had to pit twice after contact with Verstappen in the pit lane first time around resulted in a suspected puncture. That dropped him to fourth, leaving Hamilton vulnerable to the charging Dutchman. With worn tyres, the reigning world champion defended hard again and again as the laps rolled by and just managed to cling on for his fourth victory of the year. Bottas was promoted to third after Verstappen had a time penalty.
Lewis Hamilton, 1st
"Today was one of the hardest races of my career, it was so intense. With 20 laps left I thought there was no way I was going to make it to the end. I thought I was going to crash, I was battling so much with the car. There was absolutely nothing left in the tyres and it was so tough to keep the car on the track. I thought to myself, 'what would Niki do'. I was trying my hardest - giving everything I had. I just tried to stay focused and make no mistakes. I know he was watching me today, but with Niki by my side we managed to do it. I wore his helmet colours today and I didn't want to let him down. He was close to my heart, I really wanted to deliver for him this weekend and I was determined not to crack under the pressure. Today belongs to Niki."
Valtteri Bottas, 3rd
"My race was decided in the pits. We did a double-stacked pit stop under the Safety Car, Lewis first, then me. Vettel and Verstappen came in as well and when I left the pits, Max was released at the same time and was side-by-side with me. We touched, I hit the wall because there's no space to go and I got a right-front puncture. So I had to do another pit stop the following lap. At that point, I thought I'd be at the end of the field, but I only lost a couple of places, so I guess I was unlucky but lucky at the same time. It's always disappointing if you finish the race lower than you qualified; however, my pace was really good all weekend long and I still scored valuable points for me and the team. One of my first thoughts this morning was that I wanted to drive well for Niki, I wanted to win for him. Ultimately, I didn't, but Lewis did, so I'm sure Niki would be proud right now."
Toto Wolff, Head of Mercedes-Benz Motorsport
"That result means a lot. It was a World Champions' drive for a World Champion that isn't among us anymore. It couldn't have been a more dramatic race, so I am relieved it is over. Lewis did an incredible job out there, it was a really hard-fought race with Max. We know the tyre choice, in hindsight, was wrong with Lewis and we should've taken the Hard tyre at his stop. But, these things happen and at the time we thought the Medium was the right call. It was the driver who made the difference and managed the race. Valtteri had a tougher time, losing ground with the pit stops and the clash with Verstappen in the pit lane, but he did a great job and will be determined to fight back. This one was a really hard-fought victory and now we have a couple of days that are going to be difficult with Niki's funeral in Vienna before we set sail for Canada."
Andrew Shovlin, Trackside Engineering Director
"We wanted to win this race for Niki but winning in Monaco is always much easier said than done. There was a bit of a risk of rain early in the race and while it didn't really turn into much, it meant that we were pushing a bit harder than we'd planned to build a bit of a gap to the midfield. The Safety Car was earlier than we would have liked and with hindsight, we should have fitted the Hard tyre, but we were concerned about the warm-up on the restart, which was why we took the medium. That obviously made life difficult for Lewis and we'll review our decision making and the information that we had at the time. We're grateful that Lewis was able to manage it so well to the end as he really had to work for the victory today.
"Valtteri's race was also compromised at the Safety Car. We felt the release from Red Bull was ok, but Max had room on the left to give Valtteri more space rather than putting him into the wall. That broke the front right wheel rim and caused a puncture, so we had to pit for a new set. From there his opportunities were rather limited. The car had good pace, but you simply can't pass here and Valtteri had a frustrating race stuck behind Vettel. It was some consolation that Valtteri was able to get back on the podium after Max had the time penalty applied.
"Well done to Lewis, we made life more difficult than we needed to for him today, but our thoughts are now with Niki and his family. He has been such a big part of this team over the last few years, we have benefited so much from his wisdom and straight talking, and he is simply someone who cannot ever be replaced. All he would have asked of us is to give it 100% and race hard and that's what we will do."
Ferrari
All eyes were on Leclerc, who made good on his promise to take risks as he tried to recover from a lowly grid slot. The Monegasque driver made a few successful moves before he came a cropper trying to overtake Hulkenberg down the inside into Rascasse, spinning and puncturing his tyre. Limping back to the pits, he suffered floor damage and retired a few laps later in front of a disappointed home crowd. Vettel had a much quieter race, inheriting a position from Bottas when the Finn was forced into a second pit stop. Suffering from overheating, the German was never in the fight for the win, but gained a useful second place when Verstappen was demoted.
Sebastian Vettel, 2nd
"It was a tough race today but, in the end, second is a great result and I am happy for the team that we got a podium finish on such an iconic track as Monaco. We were also able to benefit from mistakes of other people today, but that's part of this game. When I was following Lewis, who was struggling with his tyres, and Max chasing him very closely, I saw that they touched and for a brief moment I even kidded myself I might win it! We know we have a lot of work to do so today we are happy, but not entirely happy".
Charles Leclerc, DNF
"Our performance was there but unfortunately the result wasn't. I gave it my all today, knowing that I had to do something different and take a lot of risks to fight my way forward after starting in 15th position. I enjoyed the beginning of the race and it was going quite well. While overtaking Nico on lap 9, I clipped the rear on the wall and our cars touched which damaged my rear tyre and the floor. We tried to continue racing on a new set of tyres but we were just lacking too much downforce after the incident and had to retire. A difficult weekend overall, but I am already fully focused on the next race in Canada and will do my best to bounce back there".
Mattia Binotto, Team Principal
"Given that he started fourth, Seb's second place is definitely a good result on a track where it's well known that overtaking is very difficult. He ran at a good pace throughout the race and did an excellent job of managing the tyres, which wasn't an easy task today.
"Charles had a strong start, knowing that he'd have to fight his way up the order after his race was compromised by what happened in yesterday's qualifying. It was a good getaway, but being aggressive always carries a risk. He pulled off some nice passing moves, but on his last one, maybe he tried just a bit too hard. But that's the right attitude. He proved that he is not the sort to ever give up or surrender. So it was a race of mixed fortunes and now we are already preparing for Canada".
Red Bull
Verstappen pitted the same time as the other front runners, but was released into the path of Bottas. The two had contact in the pit lane, for which the Dutchman was given a five-second time penalty. That defined his race as he went about chasing down Hamilton. On a more suitable tyre compound, he was within a second of the Mercedes for lap after lap but only tried one real move into the chicane after the tunnel which he couldn't make stick. Once his penalty was applied, Verstappen dropped from second across the line to fourth. Gasly had a quiet race, off the pace of the front four but well ahead of the midfield. He managed his best finish for Red Bull with a P5 and got the bonus point for fastest lap.
Max Verstappen, 4th
"I gave it my all today and I had a fun race. I think we were very competitive and I enjoyed putting the pressure on and trying to go for the win. You know when you're up against Lewis it's going to be very hard but I kept pushing him and I tried to force him into a mistake. I made him use his tyres a bit more than he wanted which meant I could attack. At one point I could see his tyres really dropping off and there were a few corners on the track where he was really slow which meant I could line up a move, but we just couldn't get close enough.
"With a few laps to go, I thought I'm going to try it now and see what happens. We touched but luckily nothing came of it. The penalty from the pit stop is unfortunate, but I don't think the Team did anything wrong and it is impossible to see in that tight pit lane. When you look at our pace we were very strong and that's the most important thing. Of course, I would have liked to be on the podium but I enjoyed the race and you win some, you lose some. It's easy to say with a few more laps I would have got him but I tried my very best and that was all I could do. The Team did a mega job all weekend and we tried everything we could to get that win today."
Pierre Gasly, 5th
"It was a really positive day and we can be very pleased with fifth position after starting eighth in Monaco which is a difficult track to recover positions on. We had a very good strategy and a really great car to race. I enjoyed driving such a fast car on a track like this and to be able to push so hard at the end and put in some very quick laps and to finish within ten seconds of the leader after starting eighth. I'm really happy and now we need to keep working so we can deliver similar performances in the coming weekends."
Christian Horner, Team Principal
"Max drove the wheels off the car today. He got away in grid position and had a look at passing Bottas into turn 1 but wasn't quite far enough alongside. The mechanics did a great job with the pit stop and Max left the box before Bottas which, as per the rules, is fine. Unfortunately, it all got a bit too tight resulting in the Mercedes making contact with the barrier and the stewards issuing Max a five second penalty.
"Max drove like a lion for the rest of the race and tried everything he could to pass Lewis. We had a better tyre strategy and there was only really one lap where he got close to making a move into the chicane. Finishing second on the road, but with the top four so close, he was denied a podium. Finishing fourth is tough for Max today after a drive like that but as always, he didn't give up until the checkered flag.
"Pierre really made a great recovery having got the penalty yesterday and starting in P8. He kept his head, was quick when he had clear track and managed to move up the order. With the benefit of the second pit stop, he smashed the fastest lap for that extra point which is important for the Team and was able to progress up to P5. A great job by him and the Team and also congratulations to Honda for having four Honda powered cars in the top eight."
McLaren
Sainz managed to keep out of trouble, ran a long first stint and by nailing his out-lap, was able to leapfrog Kvyat to grab the best-of-the-rest sixth place, for his best finish in a McLaren. Norris was unlucky - starting slightly further back he struggled with traffic and chased Ricciardo hard in the closing laps without finding an opportunity to overtake.
Carlos Sainz, 6th
"Yes! P6 today is a very good result and my third points finish in a row. An amazing first lap after passing both Toro Rossos around the outside at Turn Three. Definitely one of my best overtakes! After that, a good pit call to stay out under the Safety Car and some solid laps to earn P6.
"Another fast pit-stop by our mechanics, a great lap to defend from the Kvyat stop and then it was just about managing the tyres and bringing it home. Important points on another track that really didn't suit us much. We need to keep pushing to improve, but congrats to all the team for today."
Lando Norris, 11th
"A long race and not a lot more I could've done. A couple of cars got past me in the opening laps – but both of those guys got punctures so it didn't affect me too much. It was a fairly straightforward race from then on. I had to manage my tyres in the middle of the race which restricted my pace and actually helped out Carlos.
"It was a good result at the end of the day for the team and that's the positive thing. For myself maybe not great and perhaps I could've got a point, but I'm still happy."
Andreas Seidl, Team Principal
"Thanks to the entire team for a clean and well-executed race. This result strengthens our fourth place in the Constructors' Championship, which is a good reward for all of the hard work by everyone trackside and back at the factory.
"Carlos gained a position on the first lap and the right call from the strategy team to stay out during the Safety Car period gained him another two places. This, plus the overall fastest pit-lane time of the entire field and Carlos producing a strong drive and managing to stay in front of Kyvat, all combined to earn him a well-deserved sixth place.
"Lando lost two positions in the opening laps. Thereafter he was into a strategy to help him manage his Medium compound tyres and go for a long first stint. While this compromised his own race it in turn helped Carlos' race. Everyone stays ultra-focussed for Canada where our aim is to have both cars in the points after Lando missed out by one place on his Monaco Grand Prix debut."
Toro Rosso
Toro Rosso managed their first double points finish of the season thanks to an assured display from both their drivers. Albon was bottled up behind Kvyat and within a second at times, but sensibly held station to make sure both cars came home in one piece. Interestingly, it is Kvyat's first top-eight finish for Toro Rosso, and Albon's best finish to date as well.
Daniil Kvyat, 7th
"We had a very strong Qualifying yesterday and capped it off with a strong race today, so it's a nice feeling. I was a sitting duck at the start of the race: Gasly had a clean braking move on the outside, while I was on the inside line and I couldn't change it - someone must have taken it easy into the corner and it caused a chain reaction. However, I'm very happy because I think it was a really strong race for us. We can be satisfied with the amount of points we brought home today and with how we managed the race - the teamwork was fantastic, the support I got from everyone was great! P7 is a great result in Monaco. We have been working hard over the past few weeks to see where we need to improve and what I need to go faster, and we found it. Now we just need to find it every weekend, so we can continue to score a good amount of points. The car is performing well so we have to keep developing it in the same direction."
Alex Albon, 8th
"I've got to say a big thanks to the team because the strategy was fantastic! We knew there was the chance to get into the points today, and we did a good job to make it happen. It was tricky out there because you spend the whole race close behind other cars, you have to make sure you don't brake late or lock up otherwise your race is over. The most difficult part of the day was managing the tyres, as the Softs don't really like to last that long, so they begin to degrade and vibrate. Still, it was good fun out there and great to have both cars finish in the points!"
Jody Egginton, Technical Director
"Following a positive Saturday with both cars qualifying inside the top ten, we have been able to finish the job today and secure points with both drivers finishing P7 and P8 today, which is fantastic. With the threat of rain looming in the background, we have decided to manage the first stint tyres to keep open as many strategy options as possible. There was a risk of rain, which did not arrive, but we were ready and everything worked out, with the drivers doing a fantastic job to manage the tyres and then push when requested. On the operational side the team did a good job today, with solid pit stops and good pitwall communication – we have been rewarded with the points we deserved. The season is long but the STR14 is responding well to development, so we are confident we can make further gains."
Franz Tost, Team Principal
"From the beginning of the weekend onwards, Toro Rosso showed a strong performance here in Monaco. We qualified in P8 and P10 and ended the race in seventh and eighth position. I must say we are very satisfied to finish such an important and difficult race inside the top 10. The start of the race was ok, the drivers had a good first lap. After that, the main goal was to save the tyres, not to overshoot and suffer from graining. Both Dany and Alex managed to do this in a very professional way. The strategy was good, first because we stayed out when the SC was deployed, then to call both drivers in at the perfect time and keep Grosjean behind us. These are 10 important points for us, so congratulations to the drivers and to the team for a good and competitive weekend, I am really satisfied to see four Honda-powered cars within the first eight at the end of the race. Now let's get ready for Canada, where we hope to continue scoring points."
Toyoharu Tanabe, Honda F1 Technical Director
"A strong performance resulting in all four cars finishing in the points, in the top eight. Both teams performed strongly all weekend and managed the race strategy very well. Now, we take a break from Europe and head to Montreal. The track there is very different to this one, so we will be working hard on our PU development before going to Canada."
Renault
Ricciardo might feel hard done by - he made a great move on the first lap to steal fifth from the Haas of Magnussen and held onto that position ahead of a train of midfield cars. Opting to pit under the safety car proved the wrong call and he lost out when those around pitted later. Nonetheless, he did well to close a gap to Grosjean late on and steal ninth from the Frenchman. Hulkenberg was blameless when Leclerc spun trying to pass him, before being held up by the Rascasse road block a few laps later and he came home outside the points.
Nico Hulkenberg, 13th
"Nothing went our way today. We made a decent start, kept it clean off the line and then we suffered a puncture after Charles [Leclerc] sliced my tyre open. Luckily, I didn't hit the wall, but the Safety Car meant everyone gained on me and from then, I was at the back of the train and it was difficult to recover from there. It's hard to take as the results today don't reflect the competitiveness level of Renault at the moment. With a clear track at the end, we showed very good pace. The car had more performance and potential than what the result showed. But, that's racing sometimes and we need to make the most of the opportunities in Canada."
Daniel Ricciardo, 9th
"It was a very frustrating race, to be honest. We had a great start, jumped Kevin [Magnussen] on the outside for fifth and had a strong Turn 1. Then we pitted under the safety car, which is where we missed out. We definitely could have done better and got a great result as we had all the cards in our hand. Although we missed some points, the car was very good even though we couldn't always use the speed we had. We'll look at what happened and address it for future races."
Cyril Abiteboul, Team Principal
"After the good qualifying yesterday, we thought a big part of the job had been done. Unfortunately, the single most important decision of the day was to stop Daniel under the safety car. It turned out to be the wrong one, on the basis that it gave McLaren the opportunity to execute a smart team strategy with Norris and Sainz. A small positive is that we return into the points, but the bigger positive is that the car has demonstrated its potential, not just on the short runs yesterday, but on the longer runs today. It's clearly a missed opportunity that does not reward the hard work of the team and the drivers to improve the competitiveness of the package."
Alfa Romeo
Starting so far back, it was always a tough ask for Alfa to get in the mix. Giovinazzi didn't help his cause when he tipped Kubica into a spin and was awarded a 10-second time penalty and two penalty points on his licence. Raikkonen was battling hard to get past Stroll and was frustrated when first they collided coming out of the hairpin, before Stroll ran straight on and gained an advantage at the Swimming Pool. The bad news for the Finn was that after all that, he pitted and ended up... behind the man who the team called "your friend Stroll" over the radio.
Kimi Raikkonen, 17th
"We didn't expect this to be an easy weekend and unfortunately it turned out to be the case. It was quite a boring race and there was nowhere to pass: we finished where we were on lap one. Even though I had front wing damage, some issues before and after the stop and I was hit by Stroll, none of these things ultimately had any impact on our finishing position. Once you're behind a car, you're stuck there unless they have a massive issue – it's just how it is in Monaco. We tried something different with the strategy as it made no sense to copy what those in front of us did, but in the end it didn't make us move forward. The only thing that could have given us a chance was rain, but it didn't come."
Antonio Giovinazzi, 19th
"It was not a very entertaining race for us. I lost a position to a Williams in the first corner and, even though my pace was faster, I couldn't find a way through. I tried a move at Rascasse but there was not enough space for two cars, we touched and I got stuck. It was really frustrating to stay behind slower cars, it ended up to be a fairly boring race for me."
Frédéric Vasseur, Team Principal
"It was a difficult weekend for us and our race was effectively compromised on Saturday. At some stages, our cars were among the fastest on track, but Monaco being Monaco it meant there was no way to make up any ground. Despite the difference in pace, overtaking here was nearly impossible and even with a different strategy we finished the race close to where we started. Leaving with no points after the promise we had shown in practice is disappointing, but hopefully we can get back to scoring ways next time around in Canada."
Haas
Differing strategies, very differing results. Magnussen was pitted under the safety car from a solid top 10 position, came out in traffic and never recovered to the points. He was also penalised post-race for leaving the track and gaining an advantage. Grosjean, starting much further back, drove well to keep his soft tyres going for 49 laps and pitting later proved the better call as he came back out in ninth. That became tenth when he drove over the pit lane line on exit, a rookie error that cost him a point once a time penalty was applied.
Romain Grosjean, 10th
"It's a better result than we were expecting – that's for sure. It's been a good race. We tried a different strategy. I think the Toro Rosso of Albon stayed out a bit too long in front of us, and by the time we cleared, our tires were well worn. We did our best, we tried. It's a shame I couldn't end up in front of Sainz, because I think I'd have had much more pace at that time of the race. Then I got the penalty at the end. I'll look at the footage. It's close, I still think there's a piece of my wheel touching the line, but I got the penalty. All-in-all though, it was yesterday that cost us good points today."
Kevin Magnussen, 14th
"I don't really know what happened, it wasn't the race we were hoping for today. We've done a very good job together this weekend. It was a perfect weekend until the race. It's a big shame but we'll see what went wrong today and why it happened."
Guenther Steiner, Team Principal
"It was a challenging race for us, almost everything that could go wrong, did go wrong for us. It's Monaco though, I think there were just circumstances that led us to only score one point here. I don't even want to go into all that happened, otherwise you'd have to write a book about it. Obviously, we're not happy about it, but a lot of people would have been happy getting away with one point. We're pretty upset about that. What we're not upset about is the performance of our car, the team and our drivers. Today we got into circumstances we didn't want to be in, but we know the car is faster than it showed. That's a good thing to look forward to, and I'm sure we'll make up for it. Hopefully one day we won't be unlucky, I'm not even demanding to be lucky – just not unlucky."
Racing Point
Both cars had contact and finished out of the points in a difficult race for the team. Perez wasn't deemed at fault in a tough battle with Magnussen, who cut the chicane after the Mexican had his nose in front and refused to give up the position. Stroll, though, was clumsy at best at the hairpin when defending from Raikkonen, before earning himself a penalty after he too ran over the chicane and gained an advantage in a bid to keep the obdurate Finn behind.
Sergio Perez, 12th
"It wasn't an easy race but we tried our best today. I am pleased we finished the race, but we couldn't fight for the points in the end. We really needed the rain to come and mix things up, but there were a few lights spots and that was it. When the safety car came out we chose to pit, but I was in a lot of traffic and lost quite a bit of time in the traffic jam at Rascasse. Later in the race I made a move on Magnussen, which I felt was a fair move, but he cut the chicane and kept the position. In the end getting ahead of Magnussen may have changed our result, so I think he should have given me the position back."
Lance Stroll, 16th
"It has been a challenging weekend for the team as a whole and unfortunately the race was just as tough. I made a good start and then we rolled the dice in terms of strategy by staying out under the safety car to get track position. After that it was a quiet race really. We suffered with graining on the tyres in the first stint and then during the second we were stuck in a bit of traffic. It wasn't the weekend we wanted but we will regroup and comeback stronger for Canada in two weeks' time."
Otmar Szafnauer, Team Principal & CEO
"We raced well today considering our grid positions and got both cars home safely, but points were out of reach. We knew we faced an uphill task after yesterday's qualifying session, but hoped we could make the most of the unpredictability of Monaco. The early safety car allowed us to roll the dice by splitting the strategies - pitting Sergio and leaving Lance out - but as the race unfolded there were few opportunities to jump up the field or use the strategy to our advantage. We couldn't get track position and were caught up in the midfield train at various moments throughout the afternoon. It's not been an easy weekend, but we will take this one on the chin and learn what we can in order to come back stronger in Montreal."
Williams
Kubica gained places at the start - arguably helped by running straight on and missing the first corner - but was later tipped into a spin by Giovinazzi which turned his Williams into a road block, and he did well to get restarted without collecting anyone else. Other than that it was an uneventful race for the Pole towards the back of the field. Russell used the tight circuit to his advantage, holding off Stroll to finish a career-best P15.
Robert Kubica, 18th
"It was quite a long Grand Prix to manage the tyres and it was an unlucky race for me, but that's just Monaco. The race started pretty well for us, when the Safety Car was deployed I thought that I was coming in, but that was not the case. Giovinazzi hit me at Rascasse so I lost a lot of time there, but that's just how it is."
George Russell, 15th
"It was a really enjoyable race and I pushed myself to the limit. Our pace was very strong, I got into the rhythm and my engineer came on the radio and said you are lapping the same pace as the leaders. We put in some good laps at the end and I was pleased with my performance."
Dave Robson, Senior Race Engineer
"We had a busy race today, but it made for some enjoyable racing as we were able to compete genuinely with both Alfa Romeo and Racing Point. It was a rare Monaco Grand Prix with little incident or retirement and we were unable to score any points. However, both drivers were very good and produced measured and controlled races to make the one-stop strategy work. The tyres were a challenge, especially as the light rain fell, but Robert and George were able to keep the tyres in a sensible window. Once again, the team in Monaco and Grove worked well together and delivered two strong strategies in difficult circumstances. It was a shame that Robert's race was spoilt by the contact with Giovinazzi but unfortunately that is the nature of racing on the streets of Monte Carlo."
Pirelli
Mario Isola, Head of F1 and Car Racing
"We saw a thrilling grand prix in uncertain weather conditions with a great duel between Hamilton and Verstappen throughout most of it: so close that there was even some contact between them just a few laps from the finish. Hamilton very effectively managed a softer tyre compound than his rivals, completing 66 laps on the medium after making his only stop under the safety car, which proved to be a pivotal moment in the race. The decision from Ferrari to fit the hard tyre to Vettel ensured their podium, while Hamilton's ability to look after his tyres led to a victory that Niki Lauda would have been proud of."