Feature
What the teams said – Sprint day in Austria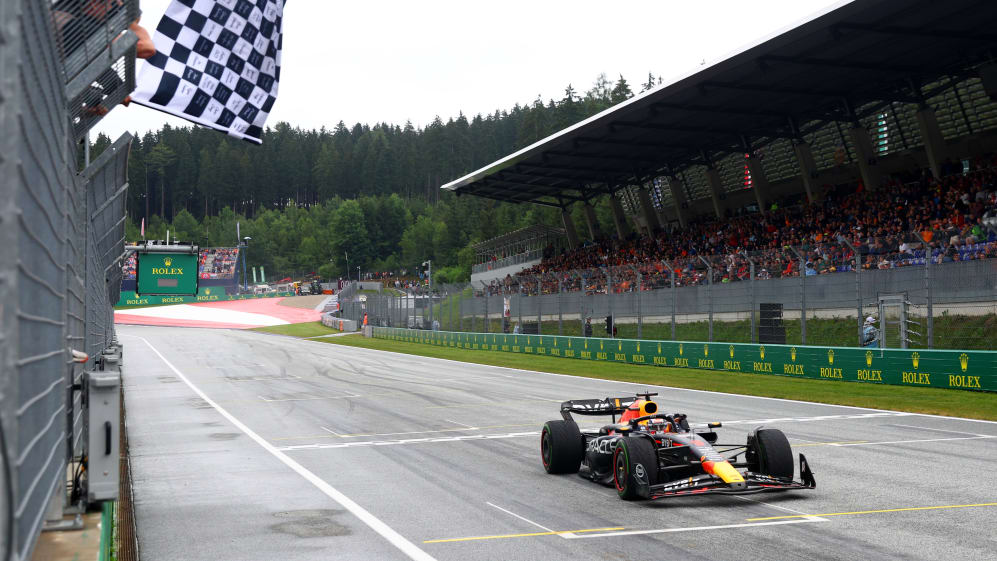 Red Bull
It was a Red Bull one-two in the Shootout and in the Sprint, as Verstappen led the way ahead of Perez. There was a little controversy between the two, after a 'hairy' moment on the first lap, but they put it all behind them to take maximum points for the team ahead of Sunday's race.
Max Verstappen, 1st
"I had a bit of a slow start today, it could have been spicy between Checo and I but he said that he couldn't see me, and I trust his word. We're all good, we had a chat after the race and all is cleared up, there's no need to make a big deal about it. After we settled into the race, we knew that 24 laps on the intermediate tyres would be quite long, so it was all about managing the tyres whilst trying to drive fast, which is not always easy. I was able to extend the gap and then towards the end of the race I had a few cars around me on slicks. Of course, we had to stay alert, but I think the race went pretty well today. It's of course incredibly sad about what happened to Dilano today, he had the same dreams that we had when we were at that age. It's sad for everyone, his family, the Team and the world of motorsport. There's a lot more that can be done to protect drivers."
Sergio Perez, 2nd
"It was a great Team result for all of us. At the beginning, Max and I got a bit closer than we should have, there was a bit of misjudgement from both sides, but we have spoken about it and it is all good. Later in the race, after passing Nico in the Haas, it was all about making sure that we made it until the end as the tyres were getting too hot as the circuit dried, but we got the result we wanted. Tomorrow, starting from P15, although overtaking will be difficult, we will give it a go and see what we are able to do and try our best to recover as many positions as possible. I think yesterday we showed very good pace and we are comfortable with the car. I am still feeling unwell and unfortunately far from one hundred percent but I am looking forward to tomorrow to see what we can do. I also want to take a moment to remember Bob Fernley, who was a massive person in my life – a guy that I shared so many years and so many good moments with. I want to wish Audrey and his family the very best. It is really sad and we had a lot of happy memories."
Christian Horner, Team Principal
"This is a fantastic result for us, a one-two finish at our home in Austria, with both drivers having a strong race. The golden rule we have as a team is race hard and give each other space and there was without doubt some good, hard racing on the first few corners, it was tight but fair, and both drivers settled into the race and had very good pace. It's a solid 15 points for the team and hopefully we can carry the momentum into tomorrow's race. It's been very sad today to hear of the losses of two members of our motorsports community, Bob Fernley and young Dilano van 't Hoff, our thoughts are with their families and loved ones."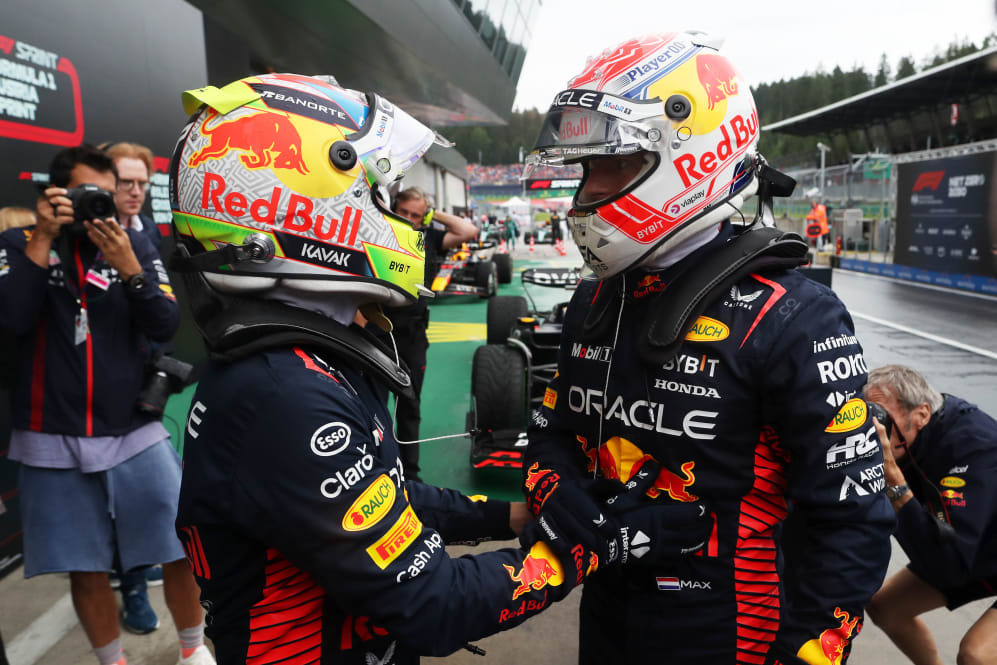 Mercedes
Lewis Hamilton and George Russell made strong starts in the Sprint after starting in 18th and 15th, respectively. They then made the bold decision to swap the intermediates for the softs, and it was Russell who was able to make his way through the field in the end to take a solitary point from the Sprint. But a lot of positives for them heading into the race.
Lewis Hamilton, 10th
"The car felt relatively quick this morning and I think we could've made it to Top 5 in the shootout and the sprint with the pace we had today, but it wasn't meant to be. Very difficult conditions out there and I didn't want to gamble so the transition to slicks unfortunately happened one lap too late for me. We tried to just have fun in the race and enjoy ourselves. We lost a few points today so we'll focus on the race tomorrow, where we will be in a much better place to start from. We've also got a lot of learnings today, which we can take into tomorrow."
George Russell, 8th
"Conditions today were tricky, so I'm glad we made it from P15 to P8, almost P7. I feel confident driving in these conditions, so all things considered a solid result for us. We're still far from where we want to be, but I definitely take the positives from today's sprint. The shootout didn't really go our way, we were faced with hydraulics issues, which meant we couldn't run in Q2 and had to start the sprint from the back of the grid. There isn't much to lose in a sprint race but there's obviously a high risk of damaging the car in these wet conditions we've seen today. Tomorrow should be warmer and drier and I'm confident that we'll be able to move forward during the race. We had a good car and good pace today so we'll see what we can achieve on Sunday."
Toto Wolff, Head of Mercedes-Benz Motorsport
"We had a very unlucky shootout session with Lewis in P18 and George in P15, although both drivers said the car felt better today with the setup changes that happened overnight. The focus for us was then to make up ground during the sprint and the team made a perfect call by putting George on slicks at the right time. We didn't have anything to lose really at this point, so a brilliant choice by the team to change tyres early. George fought his way back to P8 and finished just thousandths behind Ocon, so our gamble paid off. Lewis was struggling a bit more to get the tyres warmed up, pitting one lap later. But again, this could've gone either way. There's lots we learned today and the car pace looked decent, so we're looking forward to the race tomorrow."
Andrew Shovlin, Trackside Engineering Director
"The qualifying session this morning was frustrating; the car was in a much better place in the cooler conditions and both drivers were able to set good times. Lewis unfortunately got bumped after his time was deleted due to track limits. George made it through to the second session, but we had a hydraulic issue as we came back into the pits. We need to do better than that as we missed an opportunity to have both cars firmly in the top ten.
"Both drivers did a good job in the sprint race today; the conditions were difficult, we knew that we had to take risks on the cross over to gain positions, but ultimately you can't start a sprint race in 15th and 18th and expect great things. To get into the points with George was a good result, the car seemed to be working well on intermediates and the soft tyres but tomorrow is likely very different, currently it looks dry and hotter so degradation could be a big factor. We've not had a great weekend so far, but hopefully we can move forward in the race tomorrow and leave here with a decent result."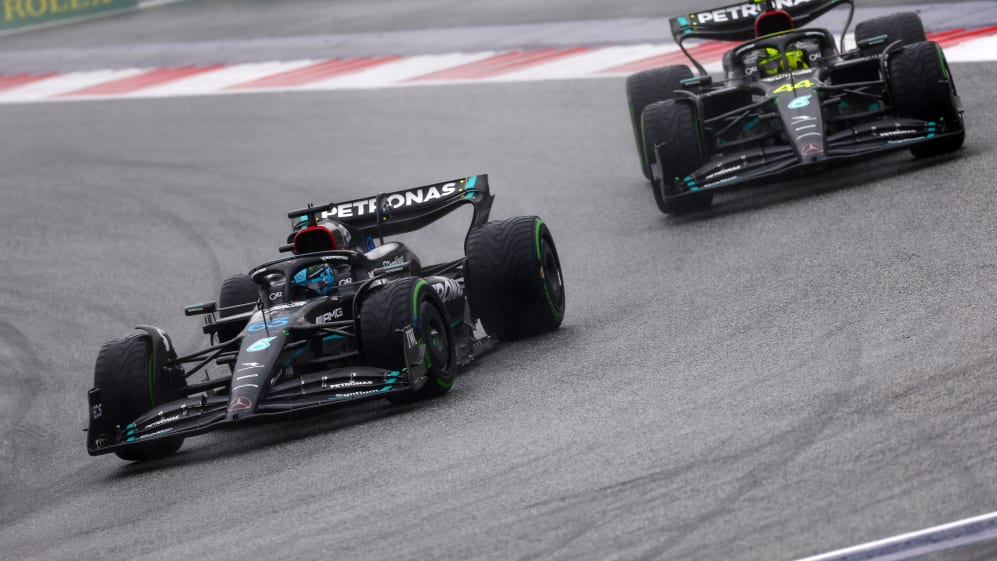 Aston Martin
A strong outing for Aston Martin, which saw both drivers finish the Sprint in the top five. After a quiet start to the weekend, there were signs of some good pace from the pair, as they even found time to squabble over position in the closing stages of the Sprint.
Fernando Alonso, 5th
"It was very sad to hear the news from Spa and my thoughts are with Dilano's loved ones. The visibility is very poor in certain circuits at high-speed in wet conditions and we can't afford for something like this to happen again.
"I am happy with the overall points from today for Aston Martin. In the end we scored three more than Ferrari and eight over Mercedes so it's a good Saturday Sprint for the team. It was a fun but fair fight with Lance, and it was only the last lap where we were very close into Turn Eight. We considered going onto the slicks, but we had seven laps to the end, and we felt like we had enough margin to those behind. The fact that Nico [Hulkenberg] stopped one second in front of me and finished one second behind showed it was very close, but it was the correct decision. Hopefully we can score more tomorrow. The weather should be better, but we start seventh so we'll see what we can manage and aim for a top-five finish."
Lance Stroll, 4th
"Today is about Dilano van 't Hoff, the young Dutch driver who we lost in an accident at Spa this morning. Dilano was a member of the motorsport family, and my thoughts are very much with him, his loved ones, and the MP Motorsport team. I feel very strongly that change needs to be made to make Eau Rouge safer; we've lost two young talents in junior motorsport over the last few years and that needs to be spoken about.
"We had a strong race today in Austria and I was pleased with my opening lap. The focus was on managing our tyres through the drying track conditions; the team made a good call with the strategy and judged that well. Fourth and fifth is a strong result and we'll race hard again tomorrow."
Tom McCullough, Aston Martin Performance Director
"We had pretty challenging weather for the Sprint events today, but both Lance and Fernando drove faultlessly, and the team managed the conditions well to score nine important points – gaining eight on Mercedes and three on Ferrari. The rain showers made for dramatic racing, especially when the track started to dry out, and we had to weigh up the tricky decision of whether to switch to slick tyres. We held our nerve and judged that we could see out the race on Intermediates. It was a decision we got just right as Nico was catching us on dry tyres on the final lap. It was a Sprint race full of drama, plenty of overtakes, and fair racing. A real treat for the fans."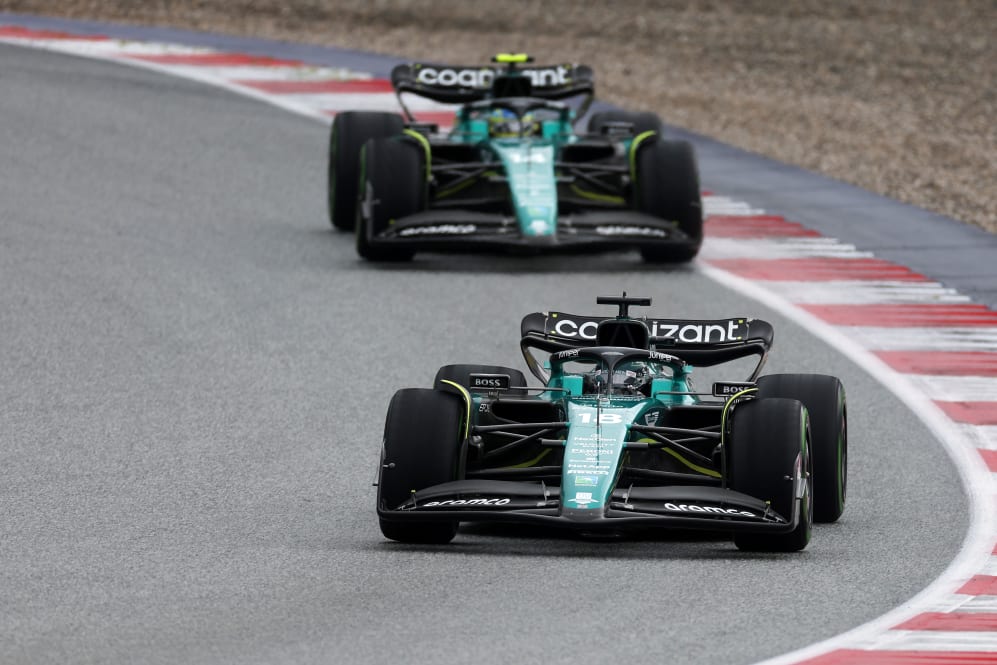 Ferrari
A tale of two different Sprints down at Ferrari, with Sainz able to finish in the top three behind the Red Bulls. Leclerc, however, started ninth after receiving a three-place grid drop for impeding Piastri. Unfortunately, he could not make his way into the points, with his decision to put on the mediums not yielding the success he would have hoped.
Charles Leclerc, 12th
"There is a lot of work I need to do to be better in these conditions. At least, that is the case on my side of the garage, as Carlos did well. We were on slicks but the track was only partly dry and I couldn't get a feel for it, I can't get the car in the right window and I am so far off the pace. I really struggle to drive the car and don't feel confident with it and that is reflected in my performance. We need to focus on this from my side, for me to understand why it's not working in these conditions. It's not a question of strategy, it's just down to my pace. It might have seemed like a good fight with Ocon, but honestly, fighting down there is not what interests me. I need to make a step forward in these conditions. For tomorrow, I believe we can be strong if it's dry, maybe not as strong as Red Bull, but we can still do something good."
Carlos Sainz, 3rd
"It wasn't an easy Saturday but I'm happy to be P3 today after how hectic the start of the day had been, with a brake issue in SQ1 and having only one lap to progress to SQ2! I would have loved to have that set of new Softs in SQ3 but, considering everything, qualifying P5 wasn't too bad. Then the wet Sprint race was also very challenging. The car was tricky in the high speed sections, but we managed to bring home this third place, which I think was the maximum today. Now all our focus is on tomorrow, where I hope we can confirm the good step forward we have made as a team and bring home a good result."
Fred Vasseur, Team Principal
"Carlos drove a perfect race, especially as this morning he had been a bit on the back foot after a brake issue in SQ1. In these conditions, Charles struggled, it was more complicated for him as he was starting from further back, he was in traffic but I'm not concerned, as we should have a dry race tomorrow, starting from the first and second row. We need to be able to repeat the pace we showed on Friday and aim for a good result. It will be challenging as this weekend format and the changing weather means we have not been able to get a clear idea of our pace and have hardly been able to do two laps in the same conditions, or on the same tyres. It's particularly difficult on this track, where we saw that all the drivers were very close on this short lap. But that is the same for all the teams. Tomorrow, from the starting positions we have, there's a great opportunity to bring home a lot of points."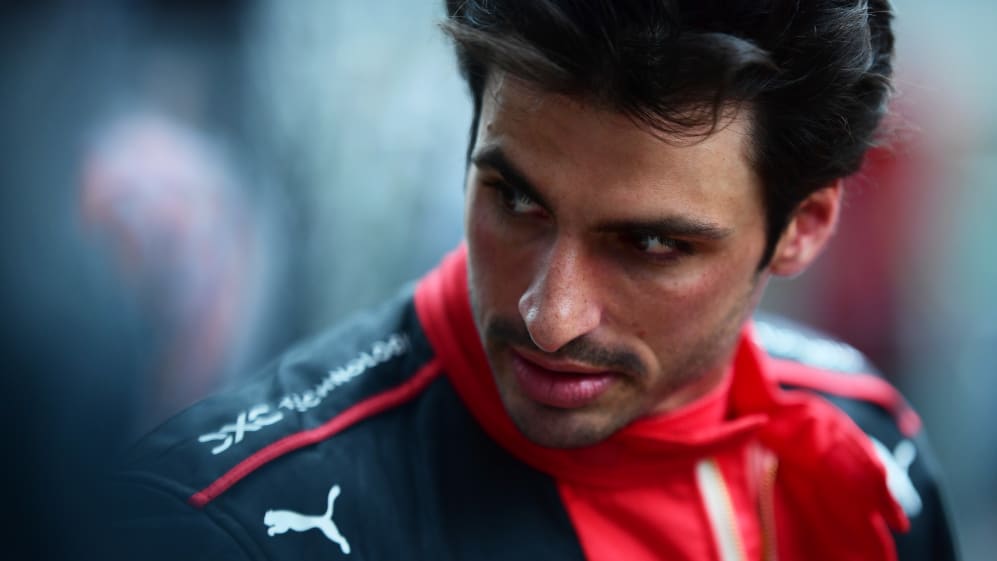 Alpine
Esteban Ocon was stubborn in defence throughout the Sprint allowing him to keep the likes of Leclerc and Lando Norris behind. He finished seventh, after narrowly pipping Russell on the line, in what is a welcomed couple of points for Alpine.
Gasly, on the other hand, struggled to make an impression on the cars ahead after starting 12th. However, he will hope a better starting position tomorrow will put him in a better position to score points.
Esteban Ocon, 7th
"Today we raced with Dilano in our thoughts. It's a real tragedy what happened in Spa-Francorchamps this morning and our heartfelt condolences are with his loved ones and all those who knew him. On my side, in today's race, it was good to have some battles with Charles [Leclerc], Lando [Norris], and George [Russel] right until the end. The team managed the conditions well and we are pleased to bag a couple of points on a Saturday. Our focus now shifts to tomorrow's Grand Prix when we have some ground to make up but I'm sure we can have a good race."
Pierre Gasly, 15th
"Firstly, my thoughts are with the family and friends of Dilano van 't Hoff following the tragic incident at Spa Francorchamps earlier today. The news is desperately sad, difficult for everyone involved in the motorsport community to take, and we will race with Dilano firmly in our minds. In terms of today's Sprint, it was a challenging one for me especially after some wheel spin off the line, which put us back a couple of positions. I'm staying focused for tomorrow's race where we begin in ninth place and have a much better opportunity to score points."
Otmar Szafnauer, Alpine Team Principal
"Today we raced with Dilano van 't Hoff firmly in our thoughts after the devastating incident in the Formula Regional European Championship by Alpine in Spa-Francorchamps. Our thoughts are with his family, loved ones and friends, as well as the entire MP Motorsport team during this extremely difficult time. For us today in Spielberg, it was not a straightforward Sprint Race with Esteban scoring two points in seventh place. He did a magnificent job, racing firmly and defending smartly throughout. Pierre endured some wheel spin off the line, which put him back in the midfield and out of contention to reach the top eight. Tomorrow's Grand Prix is when bigger points are on offer and I'm confident we can come away with both our cars inside the top ten to ensure we come away from Austria with good points."
McLaren
It was heartbreak for Norris, as he narrowly missed out on a point on the last lap when Russell came racing past. He started third but revealed that anti-stall at Turn 3 saw him lose position. Piastri, on the other hand, showed off his impressive overtaking skills on his way to finishing 11th. He will hope to do the same tomorrow.
Lando Norris, 9th
"It was a tough race. I had an issue in Turn 3 where I went into anti-stall and unfortunately lost seven positions. It was difficult to make it back up from there, but we did a good job from then on out. I was happy with the decision to stay out and the pace seemed good, it's just a shame that the issue in the beginning cost me. We're starting in a good position tomorrow, so we will do what we can then."
Oscar Piastri, 11th
"P11 in the Sprint. It was a good call for the slicks, and I had a bit of fun out there, with a fair few overtakes. We were super-strong in the mixed conditions again, which is nice, but it was a tricky one out there. I think we got the strategy right, so well done to everyone. It's a shame to miss out on points but it still felt good."
Andrea Stella, Team Principal
"The Sprint Shootout earlier this afternoon was much the same as yesterday with Oscar being unlucky, while on Lando's side of the garage, we managed to make good progress and start P3.
"In the Sprint, Oscar was able to fight his way from P17 to P11, thanks to a combination of good strategy, brilliant overtaking and strong pace on the dry tyres. Lando lost a lot of places on the first lap because of the issue we had in Turn 3, when anti-stall was triggered. Later in the race, we decided to stay on intermediate tyres as we thought his overall race time would have been similar, and we just missed out on the final point. We'll have a good look at what happened today, learn what we can, and go again tomorrow when there is a chance to score good points."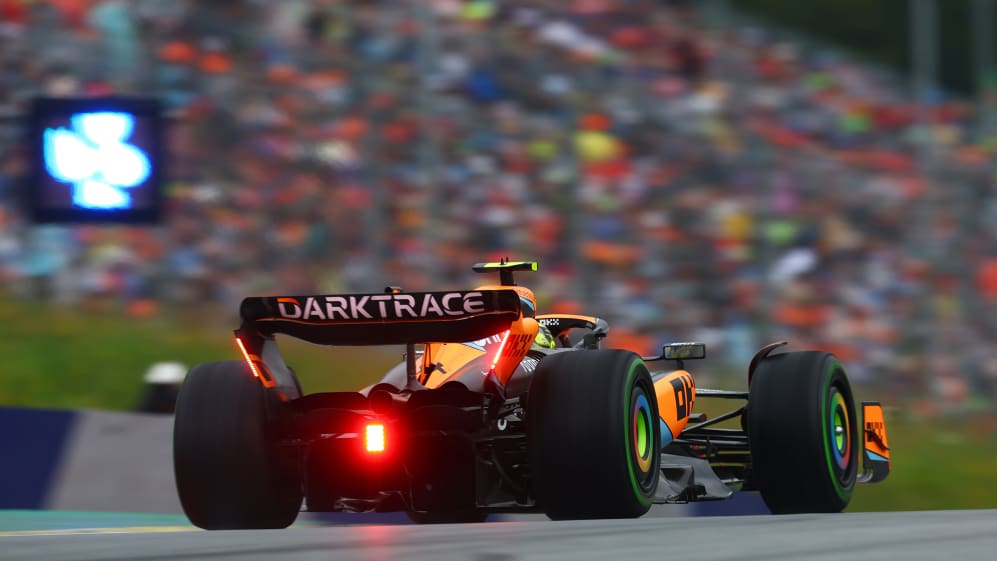 Alfa Romeo
Not the day Alfa Romeo would have had in mind as they finished at the back of the field in the Sprint. Bottas was the lone driver to fit the dry tyres on his car at the start but made the switch at the end of the formation lap. Both Zhou and Bottas will look to finish higher in tomorrow's race.
Valtteri Bottas, 20th
"We decided to take a gamble with the tyres today; it didn't work out in the end, but I still think it was worth trying, as we had nothing to lose from where I was starting. Towards the final laps, we opted to stay out as everyone else pitted, in case anything happened. I found myself at the back of a train for a while, and in terms of pace, we have seen it was pretty close. Today has been quite tough, but tomorrow is a new day, and our starting position will be slightly better; we have managed to progress through the grid from there already, and that will be the goal again, hopefully putting up some good battles on track and getting back into the points."
Zhou Guanyu, 19th
"Today hasn't been our day; conditions have been quite tricky in all the sessions, and that didn't help our cause. I struggled with a lack of grip for the first part of the sprint; it then slightly improved when I changed for the slick tyres, but ultimately didn't make a major difference as my race was already quite compromised. As a team, we'll need to regroup and analyse all details to put the focus on handling such weather conditions better. Tomorrow should be slightly drier, and could help us in improving our position at the start. I think the pace we showed today wasn't our real one, and there's more to be extracted from our package: we'll need to execute a good race, in order to maximise every opportunity and hopefully get back into the top ten."
Alessandro Alunni Bravi, Team Representative
"First of all, our thoughts today go to Dilano van 't Hoff. We want to send our deepest condolences to his family and his friends; motorsport is more than a community, it's a family, one where we share passion and sacrifices, and when we lose a member of our family, a young driver who still had so much to achieve, we lose a part of ourselves. As per our performance, today was a disappointing one for the team, one that doesn't reflect where we really stand. We struggled in these weather conditions, and a lack of grip and of tyre temperature didn't allow us to extract the maximum from our package. We tried everything in today's sprint to get any possible opportunity that could have arisen, but unfortunately, it didn't quite work out our way. What is important, now, is to understand what we are missing compared to the other teams and improve ourselves in order to close the gap. We must not lose our focus, as an important race awaits us tomorrow: there are always several opportunities to be taken, and points to be scored. We are determined to change the story of this weekend, and we are ready to give it all, working hard to try and maximise every chance."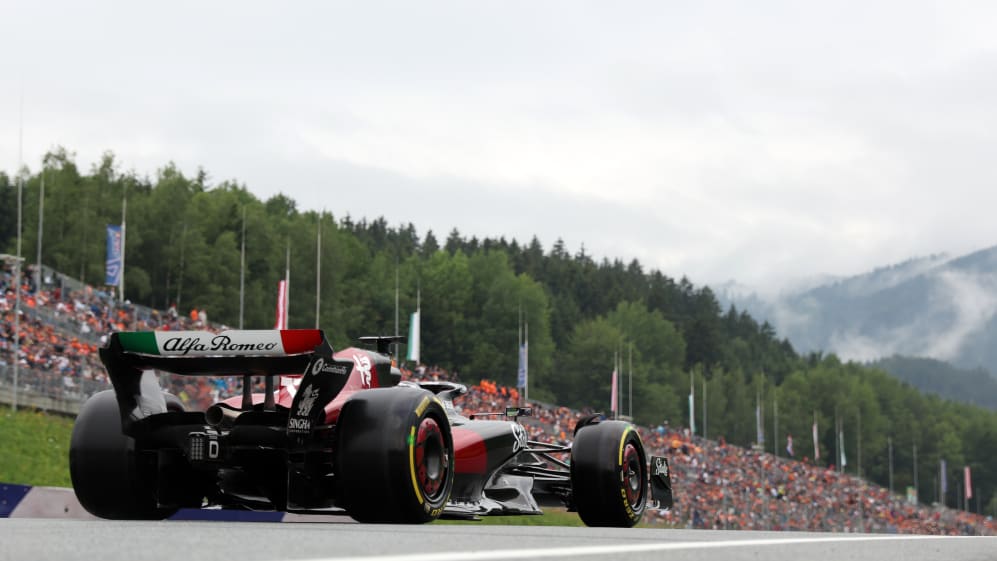 Haas
It was a good day for Haas, as Hulkenberg turned a fourth-place start in the Sprint into sixth, bringing home good points for the American team. Unfortunately, Magnussen could not make gains after starting 10th, but will look for more on Sunday.
Nico Hulkenberg, 6th
"I'm happy first and foremost now. Three points on the board in the Sprint wasn't really expected for us, so that's pretty positive. My inters were going away from me, I was going backwards more than others and the track was kind of ready for slicks, so we opted for that decision, and it was the right call for us."
Kevin Magnussen, 14th
"It was a disappointing Sprint race for me. There were tricky conditions out there, especially going onto dry tires in damp conditions – the pace wasn't there. Those are usually conditions that I like, but I didn't really get anything out of it today. I just didn't really have great pace on either the intermediates or the dry tires. It's disappointing. I need to see how we can understand it and of course, I'll look at my teammate and see where he was, he was faster than me, so I need to see how I can improve."
Guenther Steiner, Team Principal
"It's been a good day for us today. Firstly, in Sprint qualifying, having two cars in SQ3 was fantastic, and then in the race with Nico getting some points was very important, and very good for the team. Under these difficult conditions we're normally doing a very good job. We've got some work to do on the car but we'll get there as well. Bagging three points in a Sprint is good for us. Tomorrow, we start with one car in the top 10, and hopefully we'll do some more tomorrow."
Williams
Albon made a wonderful start from 11th on the grid, making it all the way up to sixth. He held the position before pitting for the medium tyre, which caused him to lose out on some points. Similarly, Sargeant also struggled to make an impression on the cars ahead, but Williams will get another chance tomorrow.
Logan Sargeant, 18th
"It was honestly a decent race. The first lap was tricky with the amount of spray from starting at the back but I managed it. I made a few good overtakes and felt comfortable in the wet. I think we boxed a little bit too late for the slick tyre at the end to really make it count. It was good learning and I have reference for next time of when I can switch off that tyre. Nevertheless, a good fight with the AlphaTauri guys towards the end of the race. Starting from P20 was always going to be tough but it was a fun race. I think we have a good race car going into tomorrow, so we'll do our best to make something work with the strategy. I'll also do my best to make some good moves, and hopefully we can get as far forward as possible."
Alex Albon, 13th
"It's a frustrating way to finish what started as a good sprint race, with a great start. I was comfortable, managing quite a lot with Ocon behind me as he was fighting with Charles, so I had margin to save my tyres with a nice buffer. With tyres left on the inters, whilst obviously not being as quick as the cars behind us, I felt comfortable enough to stay there. I think with the Mercedes' performing well on the slicks, we thought it was the right choice to pit but it didn't work. At the end of the day, Ocon finished P7 so we could've had two P7's in a row and 2 points is a big deal for us but it didn't work, so we'll look ahead to tomorrow and try refocus."
Dave Robson, Head of Vehicle Performance
"Despite a reasonably good day, the result in the end was very frustrating. Alex qualified well in the shootout and had an excellent opening lap in the damp conditions. We should've left him out on the inters but we were expecting more degradation than there actually was. We could've got a point or two today, so we need to have a look at what we did. With Russell finishing so close to Ocon, it would've been a very tight finish, but we should've had more confidence in our ability to manage the intermediate tyre.
"Logan had a frustrating formation lap, stuck behind Bottas who was on the slick tyre, and this prevented him from getting a good sense of the conditions. Nonetheless, he had a good race and showed some strong pace. Crucially, it gave some more valuable experience on running the Pirelli slicks in damp conditions, which build on his experience in Canada, and will serve him well in the future.
"We now return our attention to the Grand Prix, which looks likely to be held in dry conditions. Alex qualified well on Friday and we now have another chance of a strong result."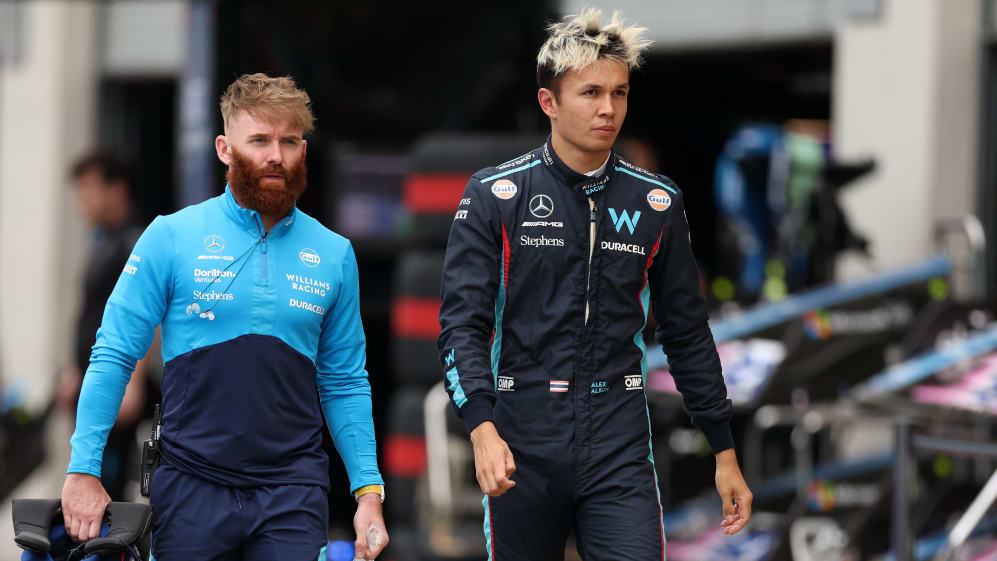 AlphaTauri
Another team that struggled to make an impression on the cars ahead after an improved showing in the Shootout, where both drivers made it into SQ2. Tsunoda was P10 when everybody pitted but struggled to keep the cars behind, when they came back past in the faster tyres.
Nyck de Vries, 17th
"The beginning of the Sprint Qualifying was good; the car felt better than yesterday, but the end of SQ2 was very unfortunate. There was lots of traffic towards the last turn, which turned out to be slight chaos, so we lost our final attempt at getting through to SQ3.
"Then, talking about this afternoon's race, no one had the chance to run the wet compound tyres this weekend, so it was tricky for everyone out there, experiencing new circumstances. I had a poor start, lots of wheelspin and then faced high and early degradation on the intermediate tyre. Given our high degradation we maybe could've boxed one lap earlier, but I think we made the right call in the end. I felt my pace was strong but got stuck behind Logan (Sargeant), who had a strong straight-line performance. As a team, we are united and trying to extract the maximum, but this weekend we have been lacking overall performance, and it just doesn't seem like it's enough."
Yuki Tsunoda, 16th
"I don't know what to say about today's Shootout, in the end, we just didn't have enough pace. I tried to maximise our opportunity, but our lap time was deleted for the second time by millimetres, so there was definitely frustration.
"As for the Sprint Race, we finished only P16. It was tricky out there, and there wasn't much we could do today. I wasn't able to maximise my performance and extract the maximum out of our car, as we are especially lacking straight-line speed. The pace on the intermediate tyre was ok, but we are quite slow when it's between dry and wet conditions. We've found similar limitations from other tracks, so we take the knowledge from past experiences, reset ourselves, and shift our focus to tomorrow. The pack is still tight, so you always have to be perfect, and you never know what can happen."
Jonathan Eddolls, Chief Race Engineer
"The weather made for quite an exciting day of Sprint action. Heavy overnight rain continued through the morning but then stopped. The track was wet but quickly drying, so we were able to start the Sprint Shootout on slick tyres. With each of our drivers having two brand new sets of the soft tyre remaining from Friday, we had the free choice, which helped us progress to SQ2. We weren't sure if we would need one or two new sets in SQ1, but with good feedback, it was clear that stopping for a second set was the better option. It left us with no new soft tyres for SQ2, so it was hard to compete with the others. Both drivers pushed to the maximum, but in doing so, exceeded track limits on their fastest laps, which cost Yuki a potential P11.
"This afternoon, consistent rain just before the laps to the grid for the Sprint meant the intermediate tyre was the correct choice to start the race on. But no DRS in those conditions, meant it was hard to make up positions. The track dried and we were struggling on the intermediate tyres, so we pitted both drivers for the soft tyre. However, we weren't able to gain on those who either did the same or stayed out on intermediate tyres. With points for the top eight only, it was always going to be a challenge to score today. Now our focus moves to tomorrow's race, where dry conditions are expected."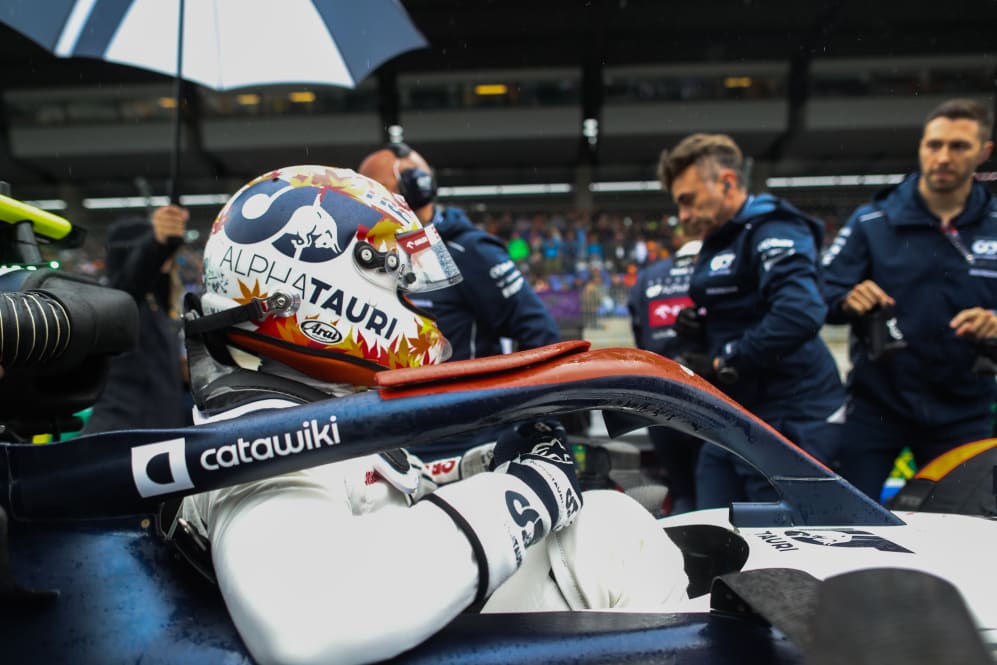 Pirelli
Mario Isola, Motorsport Director
"It was a very interesting day, with the weather creating a mix of different situations and available options that often make Formula 1 racing more uncertain and spectacular. We had already seen this in the Sprint Shootout, but it was even more evident in the Sprint Race, in which so many positions changed in the closing stages. For example, if we look at the two Aston Martins that did all 24 laps on the Intermediates and Hulkenberg, who having started on Intermediates, switched to Mediums for the last seven laps, they finished only a second apart, showing that both choices were valid. To sum up, I think we can say that the Sprint format is really adding even more of a show to Formula 1.
"From a tyre point of view, today has allowed us to carry out an even deeper analysis into the very important topic of the crossover point from wet weather tyres to dry ones. This afternoon that crossover point was at 112% of the reference time. Eleven drivers went for this strategy, while not all choosing the same compound, with five opting for the Medium and six the Soft. We have acquired a lot of data that will be very useful for us and also for the teams.
"As predicted, the rain played its part today, but tomorrow is expected to be dry with temperatures considerably higher than today, although not to the level we saw in FP1. With just one free practice session, there is not that much data available with which to produce an extensive analysis of tyre behaviour over a long run, but we think the Soft will not really be used, thus the choice comes down to the Medium and the Hard. On paper, the fastest strategy seems to be a two-stop, starting on the Medium, switching to Hard and then back to Medium. Or for those who have two sets of C3 available, another stint on the hardest tyre. The one-stop (Medium-Hard) could also be competitive, but looking at how last year's race played out, it is a less attractive option than making two pit-stops.
"Finally, on behalf of Pirelli, I would like to offer our condolences on the death of Dilano Van 't Hoff, who passed away this afternoon, following an accident in the European Championship Formula Regional race at Spa-Francorchamps. It is a tragedy, which once again reminds us that racing can sometimes be a cruel sport and the extent to which safety must always be an imperative for all those involved in motorsport."