Feature
What the teams said - Sprint day in Qatar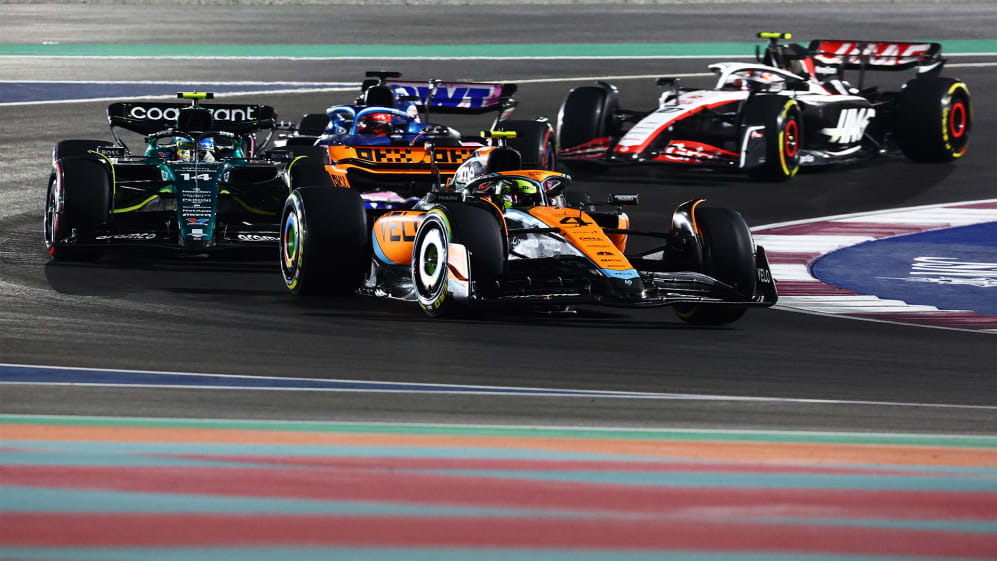 McLaren
Both McLaren drivers were left frustrated with their qualifying performance yesterday. Both immediately atoned in the Sprint Shootout, with Piastri grabbing a brilliant P1 and Norris settling for second. But then better was to come, with Piastri managing to secure his first win in McLaren colours. He lost out to Russell early on but kept his head, waited for his tyres to come up to temperature before picking off the Mercedes and building enough of a gap to hold a charging Verstappen at bay. As for Norris, a poor start hampered his progress but he made some late moves to climb back through the field.
READ MORE: Piastri thrilled after overcoming 'very stressful' Qatar Sprint race to score first F1 win
Oscar Piastri, 1st
"Very happy. A very stressful race. When I saw all the Soft tyre guys come through at the start, I thought we were in a bit of trouble and then their tyres fell off pretty quickly, so that was good. Safety Cars were my friend today, definitely once Max [Verstappen] got behind me. But the pace was reasonable and I think, in a race where you had to manage the tyres, cars on other compounds, we did a really good job, so very happy.
"Anything we can try to learn for tomorrow is going to be important as well. I thought once Max got through into second, I was going to have my work cut out – but the pace was good, I managed the tyres well and a first Sprint win sounds pretty cool. Finally, congratulations to Max on his third Championship, it's a remarkable achievement."
Lando Norris, 3rd
"First of all, congrats to Oscar on his Sprint win and congrats to Max [Verstappen] on his third Championship. It was a tough race for me, a bad start made everything much trickier, but we fought back well. Some fun racing, good overtakes, all the way to the last lap on George. It was tough but another podium for our team is great.
"Oscar's done a mega job this weekend. I've made a lot of mistakes, he hasn't and he's capitalised. He's done a better job, so hats-off to him."
Andrea Stella, Team Principal
"An excellent Saturday for the entire team, with Oscar landing his first Sprint win, and a third place finish for Lando. We were strong and had good outright pace, so it's a well-deserved result. For Oscar, this is a historical moment in his career, as was his first podium in Suzuka in a Grand Prix.
"Once again, I would like to thank the entire team for their hard work, which allowed us to add another signpost in our journey.
"Looking ahead to tomorrow, starting from P6 and P10, we have a lot of work ahead of us. However, we are encouraged by the performance of the car and we hope to score some good points in the race. Finally, congratulations to Max [Verstappen] and Red Bull on their Drivers' Championship victory."
Red Bull
Verstappen had a very cautious start, seemingly content to back out and play the long game, which he did superbly, picking off the soft shod runners as soon as their tyres started to go off. He ran out of laps to close down Piastri for the win, but still did more than enough to seal his third straight drivers' crown and start the celebrations a day early. Perez had a much more difficult Sprint. He dropped places off the start, and when he battled back spotted an opportunistic move as Ocon and Hulkenberg squabbled ahead. But as he tried to sneak down the inside, the space dwindled and the three cars collided, meaning the Mexican ended his night in the gravel.
READ MORE: Verstappen calls winning third title 'a fantastic feeling' as he joins elite club after Qatar Sprint
Max Verstappen, 2nd
"It's a fantastic feeling, to be three time World Champion is incredible. It's brilliant for the Team, my family and my friends too. From day one my family have contributed so much of their lives to make me the person I am today. Luckily, I got to FaceTime my mum after the race, she was already on the champagne! It's beautiful because my mum understands, she is a racer too.
"My dad was here at the track also so it's nice to have them close. We talk about performance of the car but I think that the most important thing is the atmosphere and the people working in the Team. We've had a lot of great results in tough conditions, but we did an incredible job. It's been a fantastic year and the Team have been working tirelessly throughout the whole year. It's been so enjoyable to be part of this group of people. For now, I'm just enjoying the moment and hopefully we can keep this momentum going for a while, you know we'll keep on pushing and trying to do the best we can."
Sergio Perez, DNF
"Firstly, very well done to Max, he has done a tremendous job and he worked really hard for this, together with all the Team, I am very happy for them. The way Max has driven this year has to be one of the best Championship seasons in the history of the sport, he has driven at a different level. He has been outstanding, and he deserves all the success and credit he gets. It was a shame for me today, I was in the wrong place, at the wrong time and there was nothing I could really do unfortunately, I ended up taking a lot of damage to my car. It was a frustrating afternoon because I believe we had the pace to go all the way to good points. I need to recover for tomorrow, do as best as possible and come back strong."
Christian Horner, Team Principal
"And there it is. Max's third World Championship. He now joins some of the great names - Brabham, Piquet, Lauda, Senna and Sir Jackie Stewart. It is fitting company and very well deserved. Max is the most competitive driver that I have ever met. The passion, the heart and the abundance of skill puts him up there with the very best. The confidence we have seen to continually deliver no matter what is something that sets him apart. We have seen it in the wet, on out laps, in variable conditions.
"The ability to be at one with the car and the belief in himself behind the wheel is absolutely stand out. It surpasses everything we have ever seen. But responsibility for this victory extends beyond one person. It would not be possible without the wider team. The way they have galvanised has been phenomenal, all season, not just here but all the unsung heroes back at the factory have had a hand in this Championship. It is a culmination of all the efforts and endeavors to ensure Max has had all the tools he has needed to accomplish a third straight title. We will take this evening to reflect and celebrate but there is a race tomorrow where we will be right back at it. In the meantime, congratulations Max."
Mercedes
Russell opted for soft tyres at the start, Hamilton the mediums. Softs seemed the good choice when Russell elbowed his way into the lead after a handful of laps and built a three second advantage, but after a handful of laps, the softs started to degrade and Russell soon found himself falling backwards. He asked to pit but was told to stay out, which was the right call as he still brought home decent points. Hamilton had started a lowly P12 but chose the right compound and thus was able to pick off plenty of soft shod runners and climb up to a credible fifth.
Lewis Hamilton, 5th
"I was quite slow at the beginning on the Medium tyre. I knew that the degradation would be high though and that the race would come back to us. Did I know that I was going to be able to get back up to fifth? No, but I was hoping I could the whole time. I tried to position my car the best I could, stay out of trouble and progress one step at a time. The car is still tricky to drive but our pace overall was good. I know I've got the race craft on lock. I just need to work on my qualifying!
"That said, tomorrow we start third. That is obviously a much better place to be lining up than we were today. We should be looking to fight to hold that position. We know it will be difficult to hold the McLarens behind. They are a little further back though, so we will be doing our best to do that. We will be giving it everything we've got as always. Congratulations to Max too on his third world championship, he has driven a great season and it is a well-deserved achievement. It would be great if we could be in a fight with him tomorrow."
George Russell, 4th
"I really enjoyed that! The first lap was a little bit wild. I had turn six in my mind as the overtaking opportunity on the Medium runners. I knew I would have the advantage at the beginning, so I was pleased to pull off the move on Piastri. I was surprised by how quickly the Soft tyre dropped off and we were fortunate that there were a number of safety car interventions. Without that, we may have finished outside the points. That is what can happen during a sprint weekend though where you have limited practice and limited knowledge on the tyres. Having said that, if we were on the Medium we would have still finished P4. Nothing gained, nothing lost.
"It was positive to see our pace advantage over Ferrari today. We were on the same tyres as them and we were faster. We are in a great place tomorrow to fight against the McLarens too. It's going to be interesting from a strategy perspective so let's see what we can do. Finally, Max winning the world championship is fully deserved. It's an incredible achievement so congratulations to him. We need to raise our game to give him more of a challenge next year."
Andrew Shovlin, Trackside Engineering Director
"The issues with the high frequency oscillation gave us the opportunity to gain an extra 10 minutes of running. That was useful before heading into the Sprint Shootout. The balance we'd found with the car yesterday however deserted Lewis in that session. P12 left him out of position on the grid for the sprint; George was happier and a solid lap left him P4. We opted to split the tyre strategies across our cars this evening. That enabled us to gain data across both the Soft and the Medium compounds. George was able to put the extra grip of the Soft to good use in the early stages. Degradation was higher than we anticipated, though, and it was inevitable that he would drop back. He did a stellar job to hang on to P4. For Lewis, it was the opposite story. He waited for the race to come to him then used the tyre offset to maximise our result. We can be pleased with our pace today and starting P2 and P3 tomorrow provides us with a good opportunity to extend our advantage over Ferrari in the Constructors' Championship.
"Congratulations must also go to Max Verstappen. He has been superb this year and his title is fully deserved. We are all working as hard as possible to make his life much tougher next year."
Ferrari
Ferrari gambled with soft tyres for both drivers. It worked off the line, Sainz getting the better start on the clean side of the track to climb up to third and with Leclerc just behind his team mate. But once those tyres began to overheat and lose grip, trouble followed. Had there not been three Safety Cars, the Ferrari boys might have fallen further down the order but, in the end, both just about came home in the points. However, afterwards the stewards handed Leclerc a five-second penalty for track limit infringements, which dropped him down the order.
Charles Leclerc, 13th
"It was an interesting Sprint. I didn't have any new Soft tyres left after Qualifying and the Shootout, so we went out on a used set, which was a bit more challenging in terms of management. This could give us an advantage in tomorrow's race as the Medium compound seemed strong today and we have an extra set compared to our competitors who already used theirs in the Sprint. If we take care of the Softs, they can be good too, so it should be an interesting race."
Carlos Sainz, 6th
"It was a very hard Sprint today. We didn't have any data on long runs so we decided to start on the Softs to try and gain some places at the start and then manage the tyres to defend our position. I managed to get a very good start and for the first few laps it looked like we could fight at the front. Unfortunately, we started losing too much due to graining compared to our rivals who were on Mediums and sixth was the best we could hold on to.
"We've learned important things for tomorrow and, even though it's going to be a very challenging race for us, we'll push until the end to get some more points."
Fred Vasseur, Team Principal
"First of all, we offer our congratulations to Max (Verstappen) and to Red Bull on winning the Drivers' title today. As for ourselves, the decision to go with the Soft tyre clearly did not pay off. The fact there were several Safety Car periods helped a bit, otherwise we would have been in even worse shape. So it was a case of damage limitation and we picked up a few points, so now we are already focusing on tomorrow's Grand Prix when the main points are allocated and to aim to do better than today. For all the teams, today's 19 laps have been useful in terms of providing long run information regarding tyre wear and tomorrow we will apply those lessons learned."
Williams
Sargeant spun off into the gravel after the first Safety Car came in, perhaps struggling with unexpectedly cooler tyres. As he trudged off into the night, Albon started making hay. From a car that wouldn't turn yesterday, the Thai driver climbed through the field, picked his battles and made it past a combative Alonso on the penultimate lap to pick up eighth place and the final point on offer. That later became an even better P7 thanks to Leclerc's penalty.
Logan Sargeant, DNF
"I asked for too much when I turned in off the entry curb and the rear went super light. A silly mistake but the positive is that I've been driving well all weekend. The pace has been good, and we'll carry that into tomorrow and try to have a good Grand Prix. So, that's the plan and I'm looking forward to having another go in a better starting position on the grid."
Alex Albon, 7th
"We capitalised on everyone's difficulties today and this resulted in a point, which is now two points following Charles' penalty, so I'm very happy! We took a gamble with set-up, and we made it work, so I think it came down to good strategy and some good fortune. We're going to be in a good place for tomorrow, as long as the wind is low like it was in the Sprint, which it looks to be."
Dave Robson, Head of Vehicle Performance
"Conditions were completely different between today's two sessions. In the afternoon shootout session, we struggled to find grip and balance from the tyres and chassis. Consequently, we qualified poorly for the sprint race. However, in the cooler and calmer evening session, the car was considerably better, and Alex was able to make very good progress, helped by his choice of the more robust Medium tyre compound. Logan was on the more delicate Soft tyre and may have struggled more towards the end of the race, however, his race ended early when he left the track and ended in the gravel trap.
"Incredibly, it's only Saturday evening and there is a lot more of this Qatar event still to unfold. With some concerns over the tyre behaviour on the kerbs, there may yet be some additional restrictions that we will need to follow tomorrow. We have a good compliment of tyres available to both drivers and we are expecting benign conditions like we enjoyed this evening. Both drivers will be looking to make places and fight for points.
"The whole team performed well today; it would've been easy for heads to drop after our performance in the shootout, but everyone continued to work diligently and prepare thoroughly for the sprint race. Today that work payed off and we scored our first points at a sprint event.
"Finally, congratulations to Max and the whole team at Red Bull Racing for securing the Drivers' Championship today. They have set the benchmark this season and they continue to provide a very high bar for us to aim for."
Aston Martin
Stroll was left disappointed with another early exit, this time in the Shootout. But he managed to climb up through the field in the Sprint and at least made it to the chequered flag although he was handed a five-second time penalty for track limits, which probably didn't go down well. Alonso had also gambled on soft tyres which had gone off late on, seeing him picked off by Albon on the penultimate lap to come home a disappointing P9. But fortunately for the Spaniard, post-race penalties might have hampered his team mate but they also promoted him one place to P8.
Fernando Alonso, 8th
"We prioritised tomorrow's race with our tyre choice in tonight's Sprint and we managed eighth after the penalty for Charles [Leclerc]. It was quite exciting with all the on-track battles, but the Soft tyres were not ideal towards the final few laps with high degradation. We don't know how many pitstops there will be tomorrow, so we need to keep our strategy open. We've saved a few sets so hopefully we can maximise this and target the top five positions. Congratulations to Max [Verstappen] for his third Drivers' Championship; he's dominated the season and deserves it."
Lance Stroll, 15th
"It was a tough Sprint race today. The temperatures were extremely hot and we had really high tyre degradation out on track. The opening few laps were fairly good and I managed to pass Valtteri [Bottas] during that phase, but I was losing the grip quickly after that so we couldn't make much more progress. We chose to box during the third Safety Car and put on a set of used Softs, but we were running out of laps and Yuki [Tsunoda] was defending hard. We're taking a lot more data into tomorrow's race, so we'll review that tonight and see what's possible."
Mike Krack, Team Principal
"There was a mix of tyre choices across the field, which created plenty of action and drama in tonight's Sprint. Both drivers delivered solid races and we managed to score a point with Fernando in P8. Sunday is the priority, though, and the work we have done today leaves us well placed to score more points tomorrow."
Alpine
Gasly was one of those on the softs who made early progress only to fall backwards in the latter stages of the race. As for Ocon, he found his race ended in a three-car shunt along with Perez and Hulkenberg. He was duelling with the German, and found himself on the outside defending his position. He started to squeeze the Haas across the track, not realising there was a Red Bull making a late appearance on the inside, and the resultant collision left him with a very broken car parked in the gravel trap.
MUST-SEE: Perez, Ocon and Hulkenberg crash out in Qatar Sprint to hand Verstappen his third title
Esteban Ocon, DNF
"Firstly, I want to congratulate Max [Verstappen] on his title today. He has been more than impressive this season and it is thoroughly deserved. What he has achieved is an inspiration for all of us and it is an honour to race alongside him for all these years now. On our side, we had a good start to the race, moving up three positions with some good battles in the first few laps. We slowly started dropping back with the heavy degradation on the Softs and our race ended prematurely when we found ourselves side by side with Sergio [Perez] and Nico [Hulkenberg] into Turn 2. I felt contact on my rear right tyre and ended up in the gravel. An unfortunate racing incident. We now look ahead to tomorrow where we'll look to collect some valuable points in the Grand Prix."
Pierre Gasly, 9th
"First of all, congratulations to Max Verstappen on winning the Championship. He deserves it, he has had a very impressive season, so credit to him on this achievement. In terms of today, it's been a busy one for all of us. We opted for the Soft tyres in the Sprint and unfortunately it did not work out. It was a tough choice, it seems most of the grid were split on whether to go for Softs or Mediums, and in the end, I thought we did a good job to finish close to the top eight, just behind Fernando [Alonso] and the Ferraris who were in a similar position to us. Tomorrow is going to be a challenging race with what we have learnt so far this weekend. We need to carefully assess ours and others' tyre choice and find the best strategy for the race. I feel there could be big opportunities tomorrow and we will give it our all to be in the mix for a strong result."
Alfa Romeo
Bottas couldn't repeat his qualifying heroics of yesterday, so both he and his team mate started down the order. As such, they were always likely to be limited in what they could do in the Sprint. Neither gambled on softs, but they didn't have enough race pace to make much headway – which could be a cause of concern heading into the Grand Prix.
Valtteri Bottas, 10th
"Today has been an interesting day: we learnt that we have decent race pace, which allowed us to fight with those around us and, although we didn't get into the top eight, we gained a couple of positions on track, giving us confidence ahead of tomorrow's main race. I was happy to be on the medium tyres, as the softs seemed to be dropping off quite a lot; unfortunately, I think the last Safety Car lasted a couple of laps too long, and therefore we couldn't try and build something up in the final stages of the Sprint. Still, tomorrow we'll be starting from a more favourable position, within the top ten, so we'll hopefully get to build on today's pace and get a more realistic shot at a points finish."
Zhou Guanyu, 14th
"It's been a busy race for us and we were in a lot of the action. There was very little grip out there, but our pace on mediums was quite good and we were doing pretty well, closing in on Lance [Stroll]. When the last Safety Car came out, we tried to roll the dice with the softs and split the strategy compared to Valtteri, but that didn't really work – the degradation on soft was just too much. All in all, we learnt a lot for tomorrow: starting from P20 will be challenging but we can only go forward. I know what we need to do: overtaking won't be easy, especially if DRS trains form, but if we can get some clean air we can use our good pace to make up some ground."
Alessandro Alunni Bravi, Team Representative
"Points were a reasonable target tonight, and we had a realistic chance to bring home at least one. Unfortunately, losing a position to Albon right after the final Safety Car restart meant Valtteri was never in a position to attack Gasly and Alonso, who were ahead of him on soft tyres. It is a result that leaves a bitter taste in our mouth, as the performance of the car was good. The choice to be on medium tyres was the right one, as we saw throughout the race: we knew we'd be a bit vulnerable at the restarts, but overall it was the best compound to be on. With Zhou, we tried to put him on softs at the end of the race to get him to overtake the drivers ahead of him: our crew did a very good job at the pit-stop, but this choice ultimately didn't help him get closer to Valtteri and overtake Magnussen and Stroll. We couldn't convert our pace into points tonight, but we can be confident for tomorrow. Our race execution will need to be perfect and we'll need to be aggressive from the very start, especially with Valtteri fighting for points within the top ten. We know tyre degradation will be a big factor in the race: we will need to see what FIA and Pirelli decide in terms of tyre usage and stops, as this will have a huge impact on our strategy, especially as we attempt a comeback with Zhou and to maximise Valtteri's chances."
AlphaTauri
Lawson was the first driver out of the Sprint, losing the rear and spinning off into the gravel on the opening lap for his first DNF of his fledging career. It was left to Tsunoda to fly the flag for AlphaTauri, but he couldn't quite make enough headway and ran out of time to chase down some soft shod runners ahead. He has a much better starting slot for the Grand Prix though, so should have an easier time of it tomorrow.
Liam Lawson, DNF
"Today, the speed in SQ1 was there, but unfortunately, I made a mistake during my last lap, took too much kerb, and my lap time got deleted. My apologies to the team, because they did a really good job and worked hard overnight to make a big step forward from yesterday. On lap 1 of the Sprint race, the biggest thing was the sand offline. I had a bad start on the dirty side of the track, but then I went into Turn 1 on the racing line, had a strong corner, and made up a few places. In Turn 2, I went offline and lost the rear very quickly. I'm massively sorry to the team, because with everything that happened in the race, we maybe could've scored some points today, but my mistake cost us. The car seems okay, and going into tomorrow, I'll learn from what happened today. The tyre degradation was quite high so it will be a tough, long race, but I'll look at the data tonight and apply it tomorrow."
Yuki Tsunoda, 11th
"Today wasn't the easiest day, but that seems to be the case on Sprint Saturdays. I apologise to the team for the track limit violation and my radio communication in SQ1. We didn't maximise the performance during the Sprint Shootout, so I'm pretty frustrated. As for the Sprint race, the first lap was difficult, especially with the wind, but we focused on collecting data, taking care of the car, and bringing it home. We learned a lot of things for tomorrow, and we're starting close to the points, so we'll refocus and try to extract the most out of the car. Track limits seem difficult, and tyre management will be tricky, but we have a couple of things in our back pocket, so hopefully, we can maximise on that and score points tomorrow."
Guillaume Dezoteux, Head of Vehicle Performance
"We started the day in a pretty unusual way with an additional 10-minute "familiarisation session" aimed at learning the track layout changes. The circuit was changed in turns 12 and 13, getting narrower to reduce the amount of kerb riding, which was damaging the tyres. Both drivers had a chance to get familiar with this change, and it appeared clear that staying within track limits would be the main challenge today.
"The first Sprint Shootout was intense, with a lot of traffic and many cars having lap times deleted due to exceeding track limits. Unfortunately, Yuki got his second lap deleted, which brought his session to an end. On Liam's side, he made it to the second Sprint Shootout. He was improving on this second lap but went wide in Turn 15, and the time which would have put him ahead of Bottas in P13 was deleted, leaving him on the 14th spot on the grid for the Sprint race.
"The Sprint race didn't last long for Liam. His initial getaway wasn't great, but he recovered very well in Turn 1, keeping the inside line, and gaining positions. Going into Turn 2, he was on the outside, which was very dirty, and together with the tailwind, he lost the car. Yuki's race was looking positive on the medium tyre, which was holding on better than the soft compound. The two Safety Car periods helped the soft tyre runners get to the end, and we couldn't really make progress. Obviously, we're disappointed with the Sprint result, but we gathered very useful data for the race tomorrow. Now we're reviewing the various strategies and we're looking forward to seeing an eventful race on this slippery track."
Haas
Hulkenberg put in a brilliant performance to start in seventh place for the Sprint, with high hopes of some points. But he fell backwards as he struggled to switch his medium tyres on after the first couple of Safety Cars. He soon found himself battling Ocon, and was the unfortunate filling in an Alpine – Red Bull sandwich, left with nowhere to go as he got squashed from both sides. Although his race didn't end in the gravel, all he could do was limp back to the pits to retire. As for Magnussen, he went for an ambitious mid-Sprint pit stop, but to no avail.
Nico Hulkenberg, DNF
"It was a pity as on the medium tyre, I think the race would've come to us. As you could see towards the end, all the soft runners were very ambitious and struggling a lot, and we were in a good position. Ocon was starting to struggle and that's how I was able to attack him. Perez was coming from the back and was so quick, and somehow got in the mix and I saw him really late as I was focused on Ocon, and Ocon probably didn't know or couldn't see that I had a car on my other side and there was no more room. It's bad for us as today was the day where we could've scored something and I'm very disappointed with that, today was the opportunity."
Kevin Magnussen, 13th
"I think we took a chance during the third Safety Car to stop for a set of soft tyres, which was a good choice actually. They had a lot more grip and I was happy, looking forward to it, and two other cars in front of me did it. I wasn't too worried about that as I could feel the grip and thought they're going to move up and I'll go with them, but they didn't, and I had to fight and overtake them. I got stuck there, but we gave it a go and the fact we got to overtake people, I'll take that."
Guenther Steiner, Team Principal
"Nico had a very good day until he ended up in a sandwich between two desperate guys. None of it was his fault, between the two of them, what can you do. Everyone was fighting and Nico ended up in the middle. We were in a good way as we were on the medium tyres, we could've scored some points today. Unfortunately, lady luck is not with us."
Pirelli
Mario Isola, Motorsport Director
"First and foremost, we wish to congratulate Max Verstappen on his third world title, in a season in which he has been well and truly dominant.
"It was a particularly busy day for Pirelli. As previously mentioned, during our usual analysis last night after free practice, we discovered that some tyres that had done 20 or more laps were showing signs of micro lacerations in the sidewall, between the topping compound and the carcass cords, most likely caused by the impact generated by repeatedly going over the kerbs at some corners, especially turns 12 and 13. We immediately informed the FIA, who proceeded to take action, by revising the track limits at these corners and instigating an additional free practice session prior to the Sprint Shootout, to allow the drivers to check out the new lines through this part of the track. Now, as is the case at every race weekend, we are analysing the sets returned to us at the end of the day. Once this procedure is completed, we will pass on the results of our findings to the FIA and, if necessary, further measures will be put in place for tomorrow night's Grand Prix.
"In terms of how the tyres behaved today on track, it was clear to see that the Medium was best suited for a long stint, as in the Sprint. The Soft provided extra performance at the start and at the three restarts, but over a distance it suffered from graining and heavy thermal degradation. In fact, on a track which was particularly slippery because of the sand blown across it by the wind, this was a predictable phenomenon.
"Looking ahead to tomorrow, it is not worth speculating about strategies, given that we must wait for the outcome of our on-going analysis and then see if this has any regulatory effect on how the race will be run."
HIGHLIGHTS: Catch the action from an absorbing Qatar Sprint as Verstappen seals the title while Piastri takes the victory