What tyres will the teams and drivers have for the 2023 Austrian Grand Prix?
Pirelli have announced which tyres they will be bringing to the teams and their drivers at this weekend's Austrian Grand Prix – the second Sprint weekend of the season.
F1's Official tyre supplier have once again nominated the softest compounds in their range, with the drivers able to call upon the C3 (hard tyre), the C4 (medium tyre), and the C5 (soft tyre) – as seen last time out in Montreal and at the first Sprint of the year in Baku.
IT'S RACE WEEK: 5 storylines we're excited about ahead of the 2023 Austrian Grand Prix
However, due to the revised Sprint format, there will be a change in the number of sets of tyres given to the teams. Pirelli will once again bring two sets of the hard tyre, but they will also nominate four sets of the mediums, and just six sets of the softs.
The amount of medium compound tyres will be increased because of Saturday's Sprint shootout, which will require the teams to run the mediums in both SQ1 and SQ2, with the softs only being used in SQ3.
"The Red Bull Ring is a circuit where tyres get no rest. The cars race through the track's 10 corners in a lap time of just over a minute, and the few straights mean that there is little reprieve for the tyres," said Pirelli Motorsport Director Mario Isola.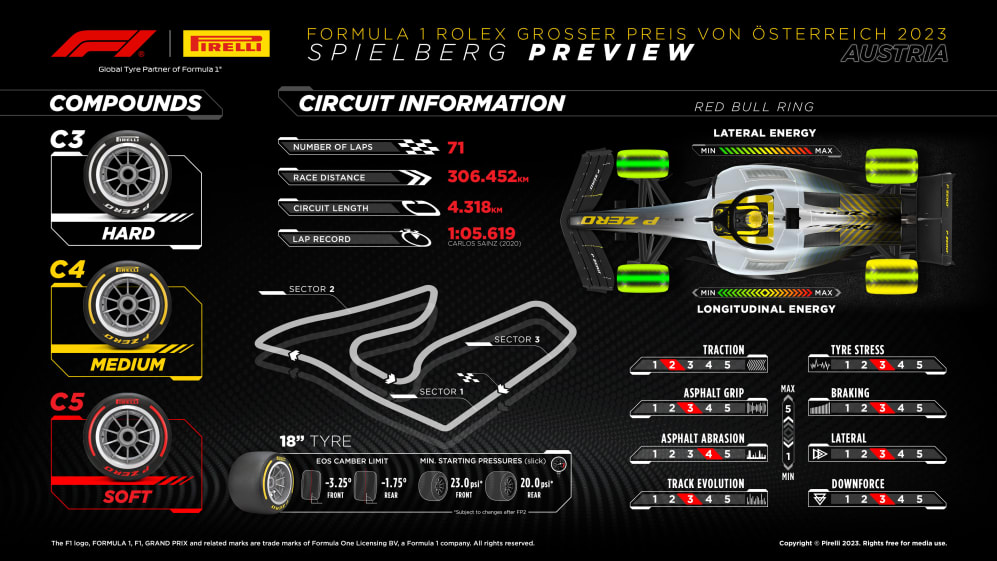 "The asphalt has a fairly high micro and macro roughness, due to the age of the surface, while grip is high at the start of the lap. Traction and braking are key elements, while particular attention will have to be paid to managing tyre overheating.
TECH TUESDAY: What's behind Red Bull's DRS speed gain and are their rivals showing signs of catching up?
"Drivers who manage not to cool their tyres properly may find it difficult to defend against attacks from rivals, especially in the first and last sectors. An important factor in this will be ambient temperature, with weather conditions traditionally somewhat variable.
"Last year's race was largely a two-stopper using the medium and hard compounds, but a one-stopper could also be an option this year if degradation is not too high."
For more information about Pirelli's Formula 1 tyres, visit pirelli.com.