Williams drivers enjoy 'fun' wheel-to-wheel battle, despite marker board incident
The Williams cars may have finished the 2019 French Grand Prix at the back of the field – but an enjoyable squabble between their pair helped to hold their attention at the Circuit Paul Ricard, while both George Russell and Robert Kubica hoped that the experience of going wheel-to-wheel with another car would help them in the heat of battle if and when Williams see a performance improvement.
Things briefly looked none-too-friendly between the two Williams drivers when Russell tried to run around the outside of Kubica through the sweeping Signes corner on Lap 6, only to be dumped slightly unceremoniously off the track by his team mate.
Russell's car required a new front wing after he clattered into a marker board. But fortunately for Williams, it was only that bodywork, and not their drivers' relationship, that was hurt in the incident.
READ MORE: Hamilton takes commanding win in France as Bottas holds off Leclerc for second
"I had a bit of fun out there battling with Robert," said Russell when asked to sum up the positives from his day after finishing P19.
"The fact is, the race was as expected. I've been saying the same thing for a number of races now; we don't have anything major coming to the car in the coming races, so we just need to be patient, get through these weekends, try and learn as much as we can, and then hopefully in a number of races time, we can start the battle. So not satisfied, not disappointed. Just normal."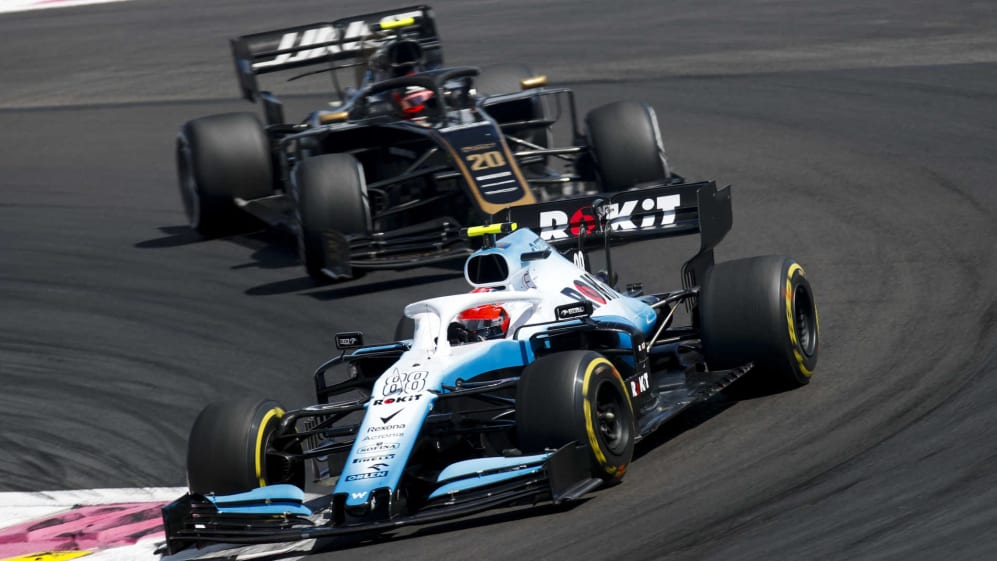 It's always better to stay in touch with at least someone – the race passed by quicker!
That extra pit stop for Russell helped Kubica to finish ahead of his rookie team mate on track for the first time in 2019, while the Pole also enjoyed a brief battle with the Haas of Romain Grosjean after beating the Frenchman at the start. But while celebrating a P18 finish can only hold so much appeal for a Grand Prix-winning driver, Kubica also hoped the experience of battling on track would prove useful if Williams begin to climb up the order.
"Fighting for last and before last… let's say I've been racing in Formula 1 much higher!" said Kubica. "It's always better to stay in touch with at least someone – the race passed by quicker! And it's good for experience. Hopefully when the car will get better, this will pay off, bit of fight, bit of following, you know what the car is doing, you know how much you are losing downforce in the corners. So bit of experience that hopefully I gain and hopefully it will pay off in the future."
Williams currently sit 10th in the constructors' standings, as the only team yet to score a point in 2019.