Feature
WINNERS AND LOSERS - Azerbaijan GP edition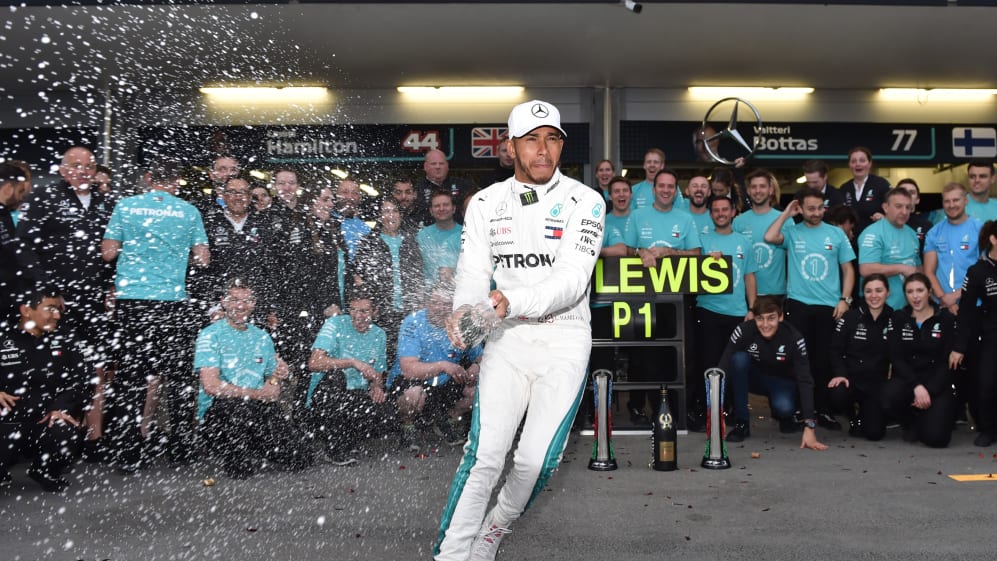 Team mates colliding, a heart-breaking puncture and a crash behind the Safety Car. The Azerbaijan Grand Prix was a chaotic, incident-packed thriller that will long live in the memory. But who were the big winners and losers?
THE WINNERS
Lewis lucks in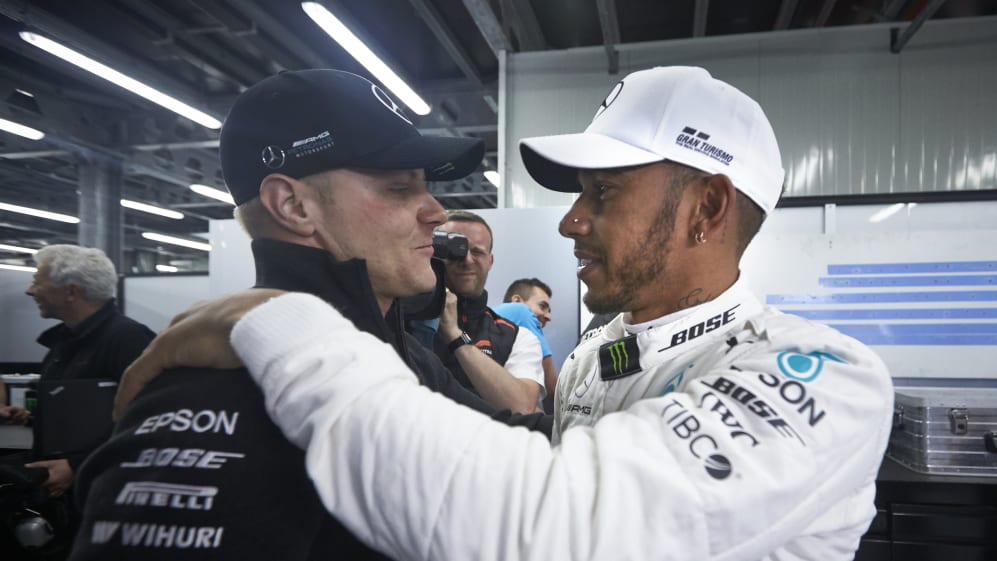 Lewis Hamilton looked almost embarrassed to claim the winner's trophy on Sunday. He knew the victory belonged to Mercedes team mate Valtteri Bottas - but a piece of debris thought otherwise.
It was, however, a win Hamilton so desperately needed. The reigning world champion had not won in 2018, prior to Baku. In fact, his last win came back in Austin last October – a run of six races without a triumph.
Hamilton was reminded of his father's advice when he was a kid – never give up. He did just that at the Baku City Circuit, despite admitting he was struggling to get the best out of himself and the car.
It is wins like this that can count for so much further down the line. He now leads the championship for the first time this year, despite not having been the best driver for most of that period.
Champions dig deep when they're down – and Hamilton was shovelling at a relentless rate in Baku.
Baku - the track that keeps giving
The jury was out on Baku to some extent after two editions of the event. The first was a snoozefest, the second a thriller. Fortunately, for the organisers and F1 fans, the third (which you can watch above) matched the second.
The circuit has the perfect blend of challenging corners that weave their way through Baku's beautiful Old Town and high-speed blasts reminiscent of Monza's long straights.
Throw in the wind and its ever-changing direction, a challenge to get the tyres into the right operating window and walls that are unforgiving – just ask Nico Hulkenberg – and you have a recipe for a cracker of a Grand Prix.
Baku had the slogan "streetfighters" for 2018. It couldn't have been more apt. Next year's race can't come round soon enough. Well done Baku.
Force India - the Baku specialists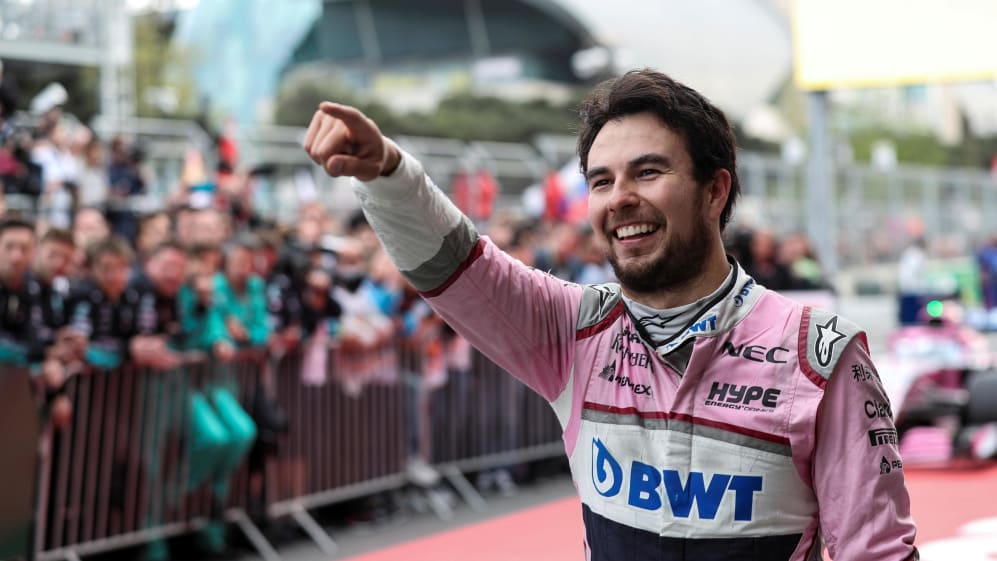 There's just something about Baku and Force India. It's as if they were made for each other. Sergio Perez scored a podium on his first visit to the venue in 2016.
This year, he repeated the trick by finishing third, masterfully negotiating the chaos having found himself in the pits after just one lap with damage having been in the wars.
The Mexican was brilliant, seizing his opportunity when Sebastian Vettel flat-spotted his front-left tyre when trying to pass Bottas to snatch a podium - and in doing so become the first driver in the history of the event to stand on the rostrum twice.
It's also the first circuit on which Force India have scored two podiums in their F1 history and is rich reward for a team who had just one point from three races this season, having finished fourth in the standings last year.
Perez also wrote himself into the record books with his eighth podium - a new all-time Mexican record – to end Pedro Rodriguez's reign at the top since the 1971 Dutch GP.
It wasn't all good, mind. Esteban Ocon's race lasted just one lap, after he collided with Kimi Raikkonen.
Interestingly, his last four single-seater retirements – Azerbaijan this year, Brazil last year, and in Macau and the Nurburgring in 2014 during his F3 days - have all come on the first lap.
Hats off to Leclerc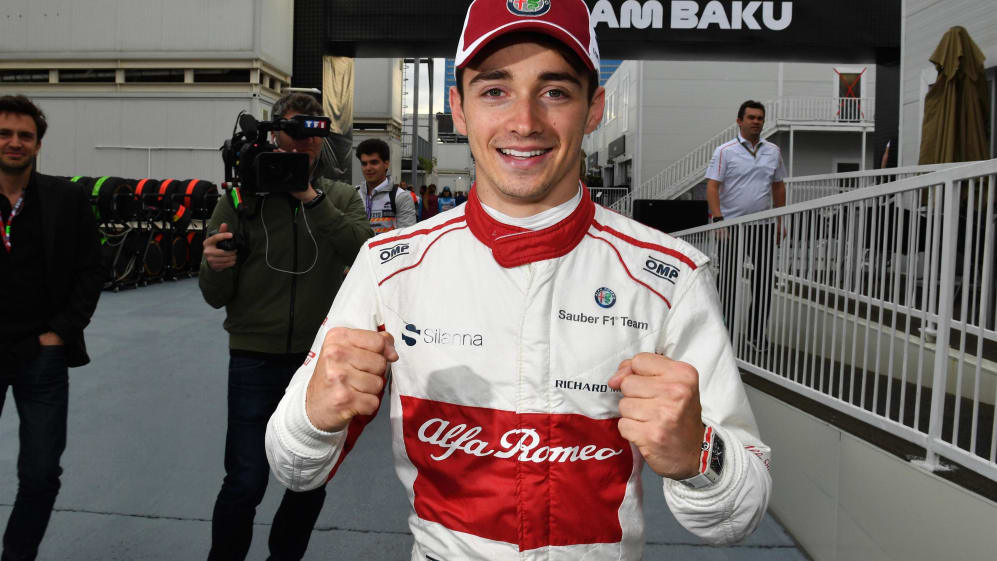 Big things were expected of Charles Leclerc when it was announced he would make his F1 debut this season with Sauber, having arrived as the reigning F2 champion.
However, the Ferrari protege endured an error-strewn opening three races as his, admittedly more experienced, team mate Marcus Ericsson outshone him.
But arriving on a track where he was brilliant last year in F2, winning the feature race and taking second in the sprint, Leclerc looked immediately more comfortable.
Having learned his lessons, the 20-year-old was brave enough to move out of his comfort zone of a car with more oversteer to a balance giving more understeer – and that helped the car feel more predictable.
Most impressively, Leclerc didn't just luck into sixth in Baku - he earned it. His pace was there throughout, initially keeping up with the Red Bulls and later passing Fernando Alonso.
It was a real confidence booster both for him and Sauber, who took their best finish in exactly 50 races – Felipe Nasr was sixth in the 2015 Japanese Grand Prix.
Leclerc, who earned the fan-voted Driver of the Day award, also made history as the first driver from Monaco since Louis Chiron came third in the 1950 Monaco Grand Prix - 978 races ago - to score points. Chapeau Charles.
Safety Car turns the race on its head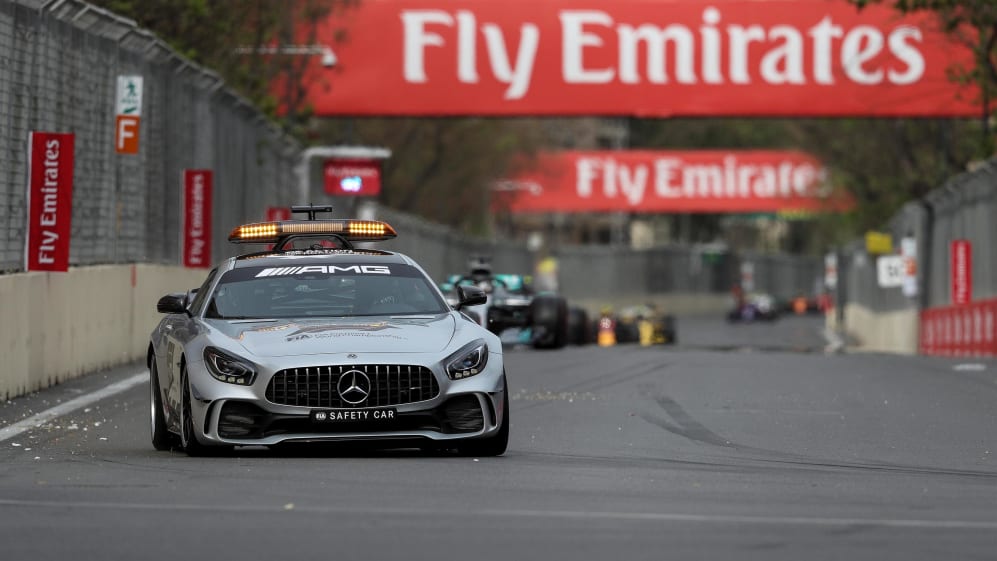 The Safety Car gets a fair bit of flak. The drivers always want it to go faster as they struggle to keep temperature in their tyres while following it.
But that silver Mercedes has been responsible for turning two successive Grands Prix on their head and creating a spectacle that will get people talking about F1.
Its introduction in Baku brought heartache for Vettel and Romain Grosjean, who crashed when following it (more on that later) - but joy temporarily for Bottas and ultimately for Hamilton.
It is that kind of curveball that has created the circumstances whereby we've had three brilliantly exciting races, with three different winners, from three different teams.
The relatively lacklustre season-opening race in Australia (from an action point of view anyway) suddenly seems a long time ago. F1 has got its mojo back – and the Safety Car has played a key part in that.
THE LOSERS
Red Bull pair commit F1's cardinal sin
Never crash into your team mate. It's a simple and well-known rule. Yet Daniel Ricciardo and Max Verstappen broke it when they collided spectacularly at high speed in Baku.
It had been coming. The two had pushed the boundaries as to what is acceptable, getting up close and personal on several occasions - and at one point even 'kissing' when Verstappen locked up and slid into Ricciardo.
Red Bull Team Principal Christian Horner said the drivers were equally to blame. Mercedes Non-Executive Chairman Niki Lauda was less diplomatic. "For me, it's 70% Verstappen, 30% Ricciardo. He was moving on him all the time, where can the poor guy go?"
Laying blame won't get the solid points-haul they threw away back. It won't make the hundreds of people working at Red Bull on the two cars feel any better. It won't pay for the massive damage bill.
A double DNF is not Red Bull's style. This was the second time in the last three races, admittedly. But before that, the last time both cars failed to make the finish was the 2010 Korean Grand Prix.
Both drivers have been told to report to Red Bull HQ this week and apologise to the staff. For now, Horner says Red Bull's policy remains the same – they can continue to race each other.
But in a season that is looking increasingly open, Red Bull cannot afford another calamity like this.
Bad luck (again) for Sebastian Vettel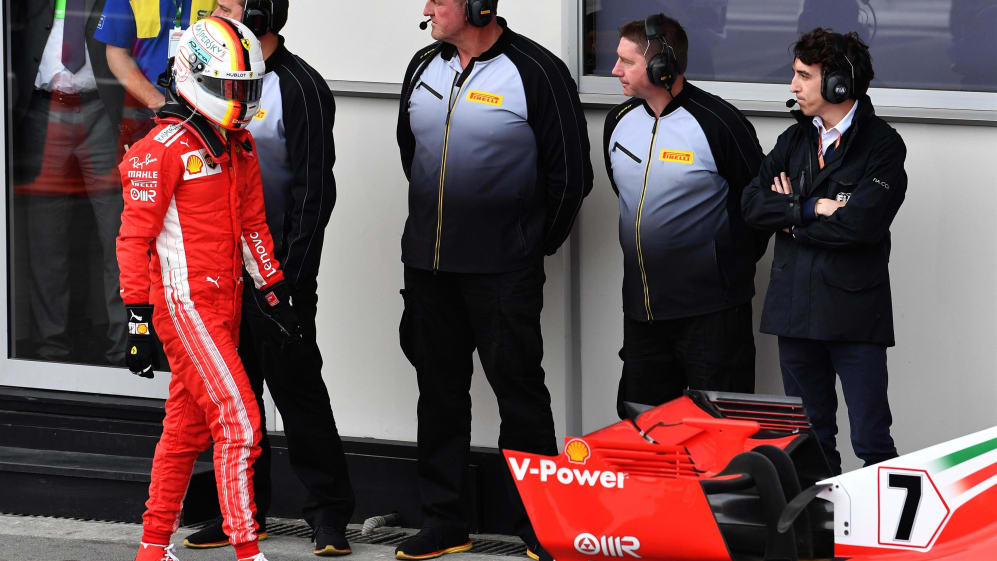 It all looked so rosy for Vettel after the Bahrain GP. Two races, two wins and the lead of the drivers' championship. But in the last two races, the Safety Car has bitten him. Hard.
The victory in Baku looked to be his as he cruised around at the front in the opening stages of the race, but then it emerged Mercedes were attempting to pincer him with Hamilton and Bottas.
Even if Bottas could stretch his stint to take the ultrasoft tyres late on, Vettel looked likely to retain track position, but that became irrelevant when the Safety Car intervened.
Bottas pitted for free and retained the lead from Vettel. The German didn't hang about after the re-start in his bid to get back ahead – but he got it all wrong, locking up and dropping to fourth.
A podium had gone. Perez made it worse, taking advantage of Vettel's flat-spot, to demote him to fifth, which became fourth when Bottas retired.
Vettel left Baku having lost the championship lead for the first time this year, four points shy of Hamilton. You could argue all four victories should have been his, with a tidy lead to boot.
There are positives, though. Ferrari now lead the constructors' championship and have proved they have the best car on the grid. They just need to convert that performance. And kudos too to Vettel for having a go.
Sergey Sirotkin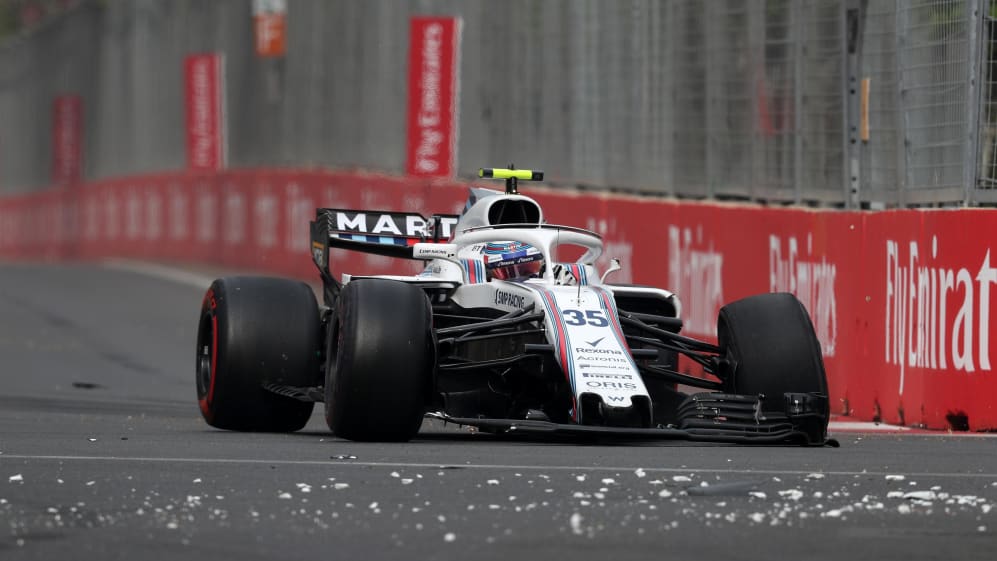 This is going to be a difficult season for Williams. So when they showed the pace to suggest they could snatch a point – perhaps more if they kept their nose clean in the race – they had to take it.
Lance Stroll did just that, following up his shock podium in Baku last year with eighth this time around. Team mate Sergey Sirotkin did the opposite.
After just two corners, he had clattered into the back of Perez after getting his braking all wrong for Turn 2. The stewards took a dim view of such driving and handed him a three-place grid penalty for Spain.
Things got even worse for him a few seconds later in the race when he became the filling in a Hulkenberg and Fernando Alonso sandwich.
They gave him the squeeze, there was nothing more the Russian could do. They touched. The Williams jumped and when he landed, he broke the front suspension and his wing. Race over.
Heart-break for Valtteri Bottas
Valtteri Bottas is one of the genuinely nice guys in the paddock. So there was a great deal of sympathy for the Finn when he had victory cruelly snatched away with a couple of laps to go.
He was largely invisible in the first half of the race, running a lonely third. But when he ran a long first stint and took the lead, a previously unlikely victory seemed possible.
"Valtteri just kept going faster and faster and faster," said his boss Toto Wolff.
When the Safety Car came out, Bottas got a free pit stop and re-joined in the lead.
He then nailed the re-start and smartly opened up the corner when it became clear Vettel had locked up and would go skating past on the inside when attempting to take the lead. That showed true racing intelligence.
This loss will hurt. Mercedes excused him from his print media duties in the circumstances. But he can take some consolation from his form, which should bode well when it comes to contract talks.
Lewis Hamilton was quick to throw praise Bottas' way - and rightly so.
Romain Grosjean's embarrassing exit
Crashes behind the Safety Car are rare but not impossible. You just hope it doesn't happen. Unfortunately for Romain Grosjean in Baku, he wasn't so lucky.
Having driven a brilliant race up until that point, putting him sixth and on course to score points for the first time this season, the Frenchman threw it all away in the most spectacular of fashions.
In attempting to keep his tyres warm, Grosjean was swerving sharply left to right, but suddenly lost the rear of the car, pitching him into the barriers. You had to blink twice. Did that actually happen?
There was initially some suggestion from the pit wall that Marcus Ericsson hit him. Replays show clearly that wasn't the case. Grosjean only had himself to blame.
"This hurts a lot," he said. "I want to apologise to the team." He also suggested the "tricky" conditions played a part, as did accidentally hitting a switch on his steering wheel that adjusted the brake balance.
Whatever the reason, it shouldn't have happened. He is now four races in with no points on the board. The pressure is mounting.