Wolff 'really proud' of striking Mercedes sidepod concept after it debuts in Bahrain
Mercedes turned heads aplenty on the first day of Bahrain's Official Pre-Season Test as they unveiled a radical design for their new W13 machine's sidepods – with Team Principal Toto Wolff saying he was "really proud" of the way the eight-time constructors' champions had continued to innovate going into F1's new era of regulations.
Rumours of Mercedes' slimline sidepods for the Bahrain test were proved correct when Lewis Hamilton took to the track in the new-look W13 on Thursday morning, the seven-time champ taking it steady as he ended the morning session in P5.
ANALYSIS: A first look at Mercedes' astonishing new update for the Official Pre-Season Test
And speaking in the lunchtime press conference on Thursday, Wolff couldn't hide his satisfaction at Mercedes' eye-catching design, which was radically different to the one they used at Barcelona pre-season running in February.
"I think we are really proud of what we have achieved in terms of concept," said Wolff, "but now we need to make it go fast. I think it's a development direction that we like, and it's about tuning the car and so we are experimenting a lot, as we've done during the day, and approaching it with curiosity.
LIVE COVERAGE: Day 1 of Pre-Season Testing in Bahrain
"I think there [are still] issues that are… Bahrain-specific," added Wolff. "It's very hot, you see a lot of cars still bouncing – some on the straights, others through the corners – so it's a tuning question. And we haven't really looked at performance data yet."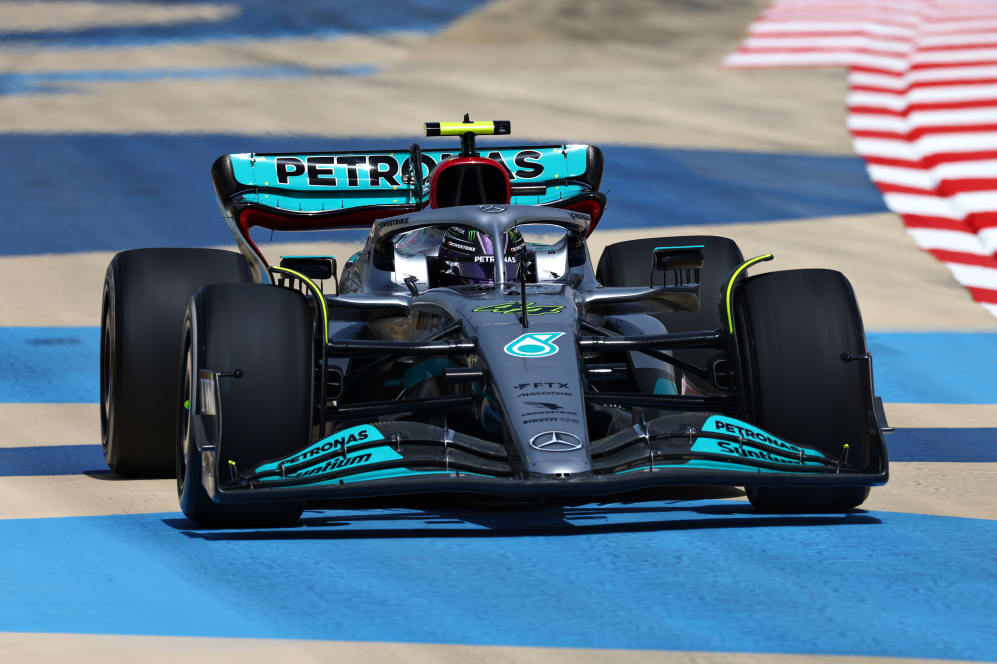 Wolff went on to explain the process of liaising with the FIA – the sport's governing body – on the unique design of the sidepods, telling the media: "The process is very clear: when you go in a specific development direction that you deem as having the FIA a part of scrutinising it, you are exchanging CAD [computer-aided design] data. You're making them part of the process."
GALLERY: Watch as the 2022 cars – including Mercedes' radically updated W13 – hit the track in Bahrain
Striking the design may be – but Mercedes' new recruit George Russell said he was more concerned with how the revamped W13 would go on track, telling the media: "I guess it looks interesting, but it's not about how it looks, it's about how fast it goes – so I don't really have any more thoughts than that.
"It obviously caught quite a few people's eyes this morning," he went on. "And I guess from my side, I'm proud to be part of a team that's pushing innovation and all this hard work, you know, blood, sweat and tears going into it, seeing something pretty spectacular being pulled off is pretty incredible.
"But as I said, it doesn't matter what it looks like; we need to see if it's fast on track."
F1 TV Pro subscribers can watch Bahrain pre-season testing live and on demand, access exclusive live timing, as well as Tech Talk debriefs. Subscribe now and save 20% on your Annual F1 TV Pro subscription. Offer Valid in selected territories on web and apps until March 13. T&Cs apply
Coverage of the Official Pre-Season Test is also available live in selected territories via your F1 broadcaster.