Alonso and Gutierrez's huge crash in the season opener

The season started in the most dramatic fashion imaginable for Fernando Alonso, as a coming together with Esteban Gutierrez's Haas in Australia pitched him into an airborne barrel roll across Albert Park's Turn 3 gravel trap on lap 18. The Spaniard's McLaren ended upside down against the barriers, but Alonso was thankfully able to clamber out without serious injury. 
"We both tried to fight and obviously sometimes we forget we are at 300km/h and every little crash can become much bigger," he said afterward, stressing that "it was a combination of factors that we ended up with a crash. I think it is a racing incident. It's tough, and the same for him [Gutierrez] - but we are both happy and talking here, that's the really important point."
- Alonso 'thought of mum' after crash
- Alonso forced to sit out Bahrain after Australia crash


'Torpedo' or terrific: Kvyat's opening move in China
Daniil Kvyat and Sebastian Vettel ignited debate in China, not least between themselves, after a particularly aggressive opening from the then-Red Bull driver led to Vettel making contact with Ferrari team mate Kimi Raikkonen in Turns 1 and 2. "If I keep going in the same line we crash," an unimpressed Vettel said in the post-race cool-down room. "Don't keep going then," was Kvyat's frank response. So was it 'crazy' - or as Kvyat asserted, was the fact he was on the podium proof that it was worth the risk?
- Vettel moves to defuse Kvyat row
- The best onboards from China


Red Bull replace Kvyat with Verstappen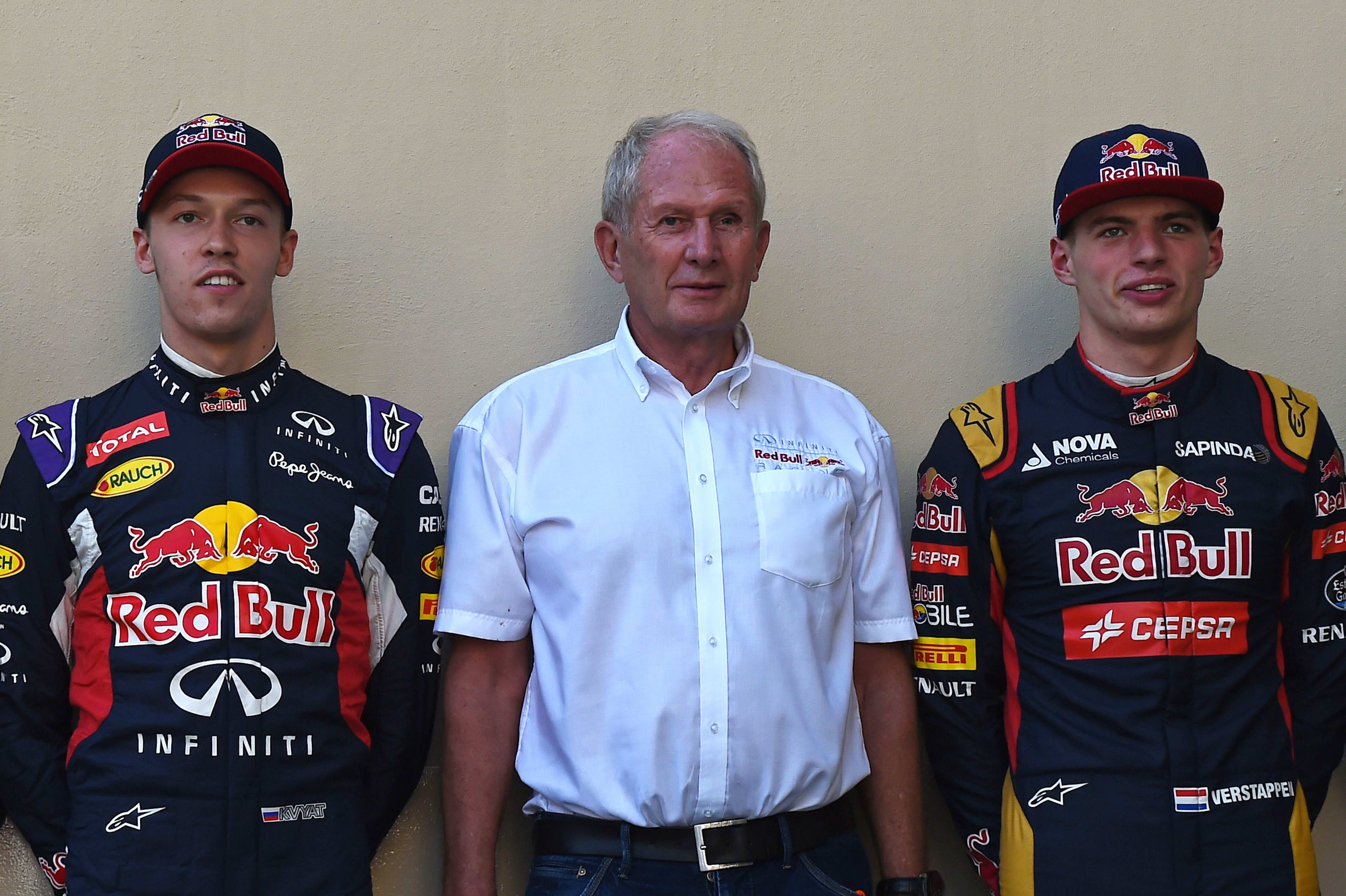 Just two races on from China, Daniil Kvyat was once again dominating F1 headlines - but this time not of his own choosing. After he and Vettel made contact twice at the start in Russia, Red Bull announced that the Russian was moving back to Toro Rosso - and that Max Verstappen would be stepping up to take his place. The Dutchman, dubbed an 'outstanding talent' in the team's official release, made short work of living up to the tag, sensationally winning his first race for the team, in the process becoming the youngest victor in F1 history.
- Verstappen stuns with maiden win in Spain
- Kvyat and Verstappen speak in the pre-race press conference


Mercedes drivers collide in Spain
Red Bull and Max Verstappen weren't the only talking point in Spain, though - in fact the most talked about moment of the year, at least on Formula1.com, came on the opening lap, when Lewis Hamilton and Nico Rosberg collided while contesting the lead of the race. The biggest flashpoint of the pair's four years as team mates and rivals was set up at the start, when polesitter Hamilton made a poor getaway and Rosberg slipped into the lead. The German was in the wrong engine setting though, meaning Hamilton suddenly had the run on him down into Turn 4. The Briton committed to a move on the inside - just as Rosberg moved to cover it. Hamilton was forced onto the grass, his Mercedes then flicking sideways, spearing into his team mate - and eliminating both.
"When you're 17km/h faster and there's a gap, you go for it. That's what racing drivers do," was Hamilton's verdict, although unsurprisingly Rosberg had a slightly different take on the incident.
"I was aware of the situation, I saw Lewis coming closer," he said. "I was making it clear I wasn't leaving any space, so I was very surprised that he went for the gap anyway..."
- Wolff: Neither driver directly to blame
- Analysing Hamilton and Rosberg's clash


Hamilton beats Rosberg after pair collide again in thrilling Austria finish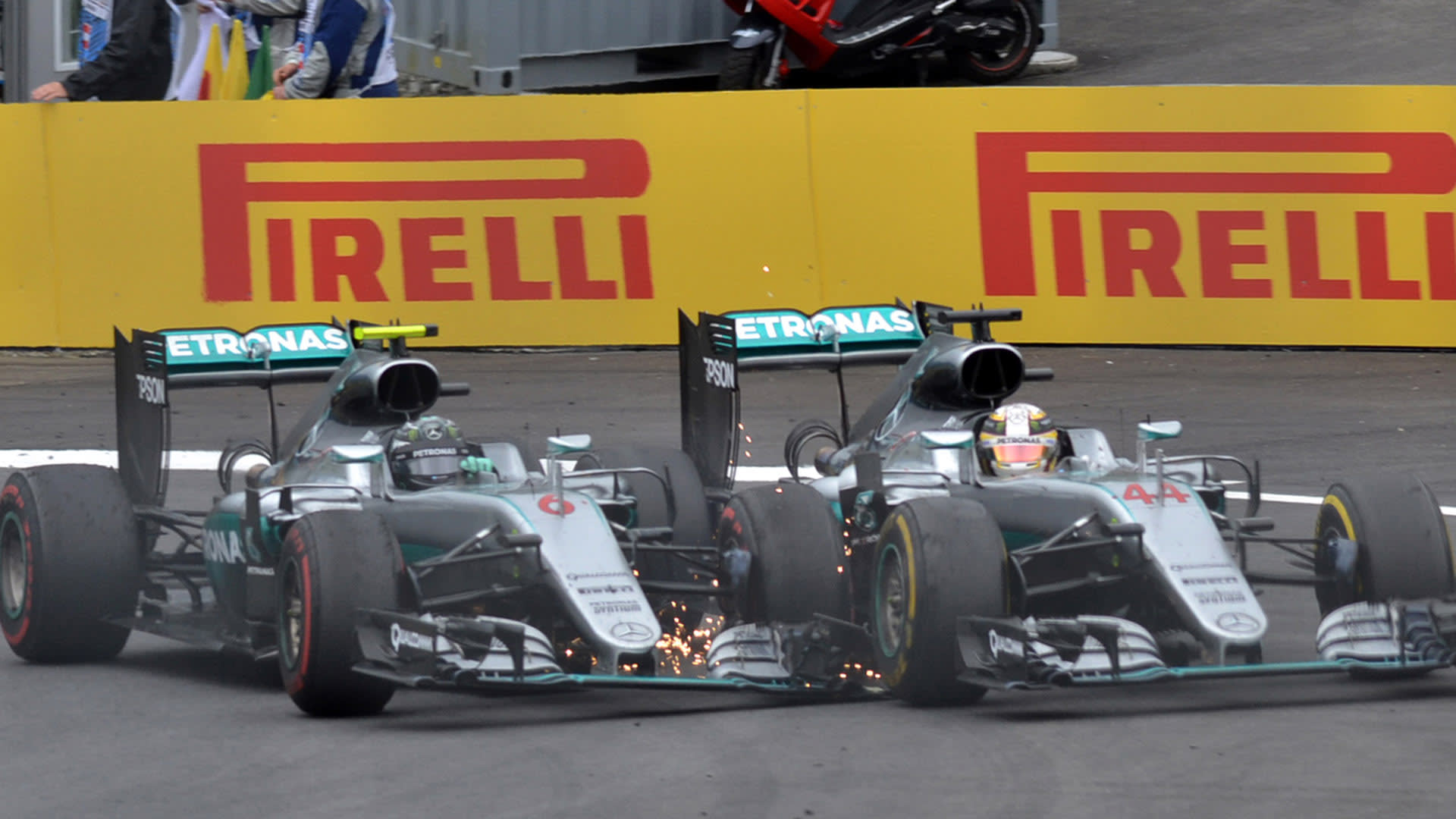 Four races on from Spain, and the Silver Arrows collided again - although with far less disastrous consequences, particularly as far as Lewis Hamilton was concerned. Trailing Rosberg in the championship and on-track, the Briton was flying late on - and raceleader Rosberg was firmly in his sights. The pair began the last lap split by just half a second - and a mistake by Rosberg at Turn 1 opened the door for an attack into Turn 2. Rosberg defended the inside, but didn't trouble the apex - and that carried him into Hamilton on the outside. The Briton survived and went on to triumph; Rosberg was penalised for not giving his team mate 'racing room', but stayed fourth overall.
- VIDEO: Accident or aggression? Hamilton and Rosberg collide in Spielberg
- Hamilton, Rosberg remain free to race under new 'rules of engagement'


Alonso's amazing start at Sepang
Amid the chaos of Sebastian Vettel and Nico Rosberg's collision at Turn 1, several drivers made astonishing progress on the first lap at Sepang - and chief among them was Fernando Alonso. The Spaniard has a well-deserved reputation for opening-lap brilliance, but even by his lofty standards this was something special...
- The best onboards from Malaysia
- Alonso on his charge from the back of the grid to seventh


The 2017 F1 calendar is revealed
Confirmation of a 20-round calendar spanning six continents - and featuring five back-to-back weekends - proved a massive draw when it was ratified by governing body the FIA in late November. Germany was the only round to fall by the wayside from 2016's record 21-round championship.
- FIA publishes F1 2017 entry list
- F1 primed to 'smash' records in 2017


Verstappen, Vettel and Ricciardo swap third in bizarre Mexico podium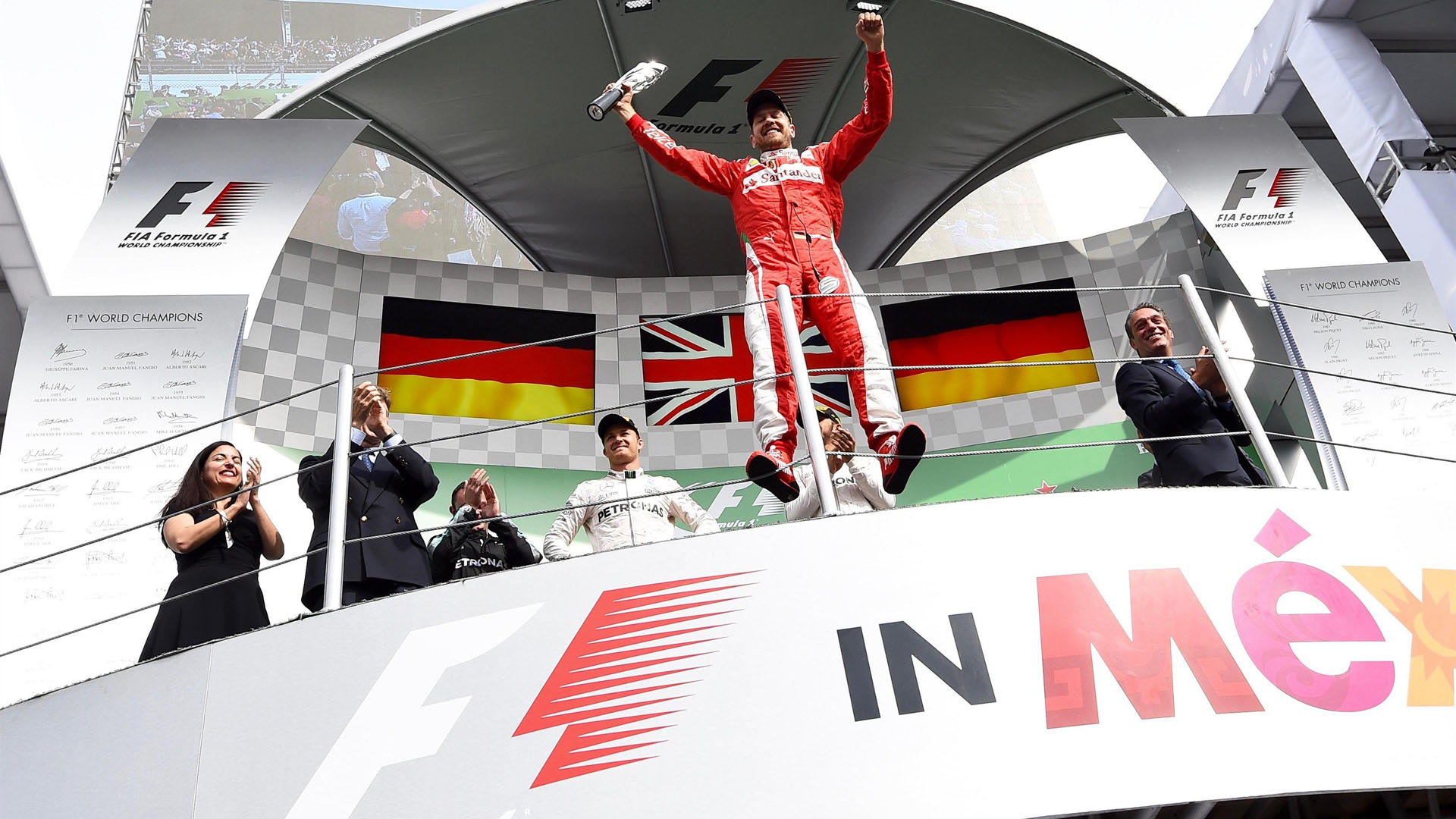 Ferrari's Sebastian Vettel and the Red Bulls of Daniel Ricciardo and Max Verstappen staged a fiery end to the Formula 1 Gran Premio de Mexico 2016 - which led to one of the more bizarre podium ceremonies of recent years. The drama centred around Vettel's attempt to snatch third from Verstappen on the road. The Dutchman was typically feisty in defence, but when he slipped off track and refused to cede position, Vettel's anger boiled over - especially as the German then came under attack from Ricciardo.
If the radio exchanges will go down in the history books, so too will the podium. Verstappen originally went to the cool-down room, only to be told he had been penalised for not ceding position. Step forward the previously irate Vettel, who suddenly had a spring in his step as he jogged to the podium. There was a final twist though: the German was subsequently also penalised by the stewards for the manner of his defence against Ricciardo, meaning that - hours after the chequered flag - the Australian was officially elevated to third.
- Ricciardo: Vettel didn't deserve podium
- VIDEO: Tensions erupt as Vettel battles the Red Bulls


Verstappen's wet-weather masterclass
Max Verstappen earned comparisons to some of the greatest wet-weather drivers in F1 history with a stunning display of talent and skill on a sodden Interlagos circuit. Having flirted with disaster early on - a half spin almost sent him into the barriers - the Dutchman dropped from podium contention to 14th as a result of a late pit stop to switch from inters to full wet tyres. But as the weather worsened, Verstappen was irresistible.
Over 14 breathless laps he picked off 11 drivers, including team mate Daniel Ricciardo and Ferrari's Sebastian Vettel. A final step on the podium was his immediate reward - but in truth the majesty of his drive reached far wider than the overall classification.
"You don't often witness a motor race like that," was team principal Christian Horner's verdict. "What we witnessed was something very special..."
- Your Driver of the Day for Brazil - Max Verstappen
- Verstappen: Third felt like victory after late charge


Rosberg retires from Formula One racing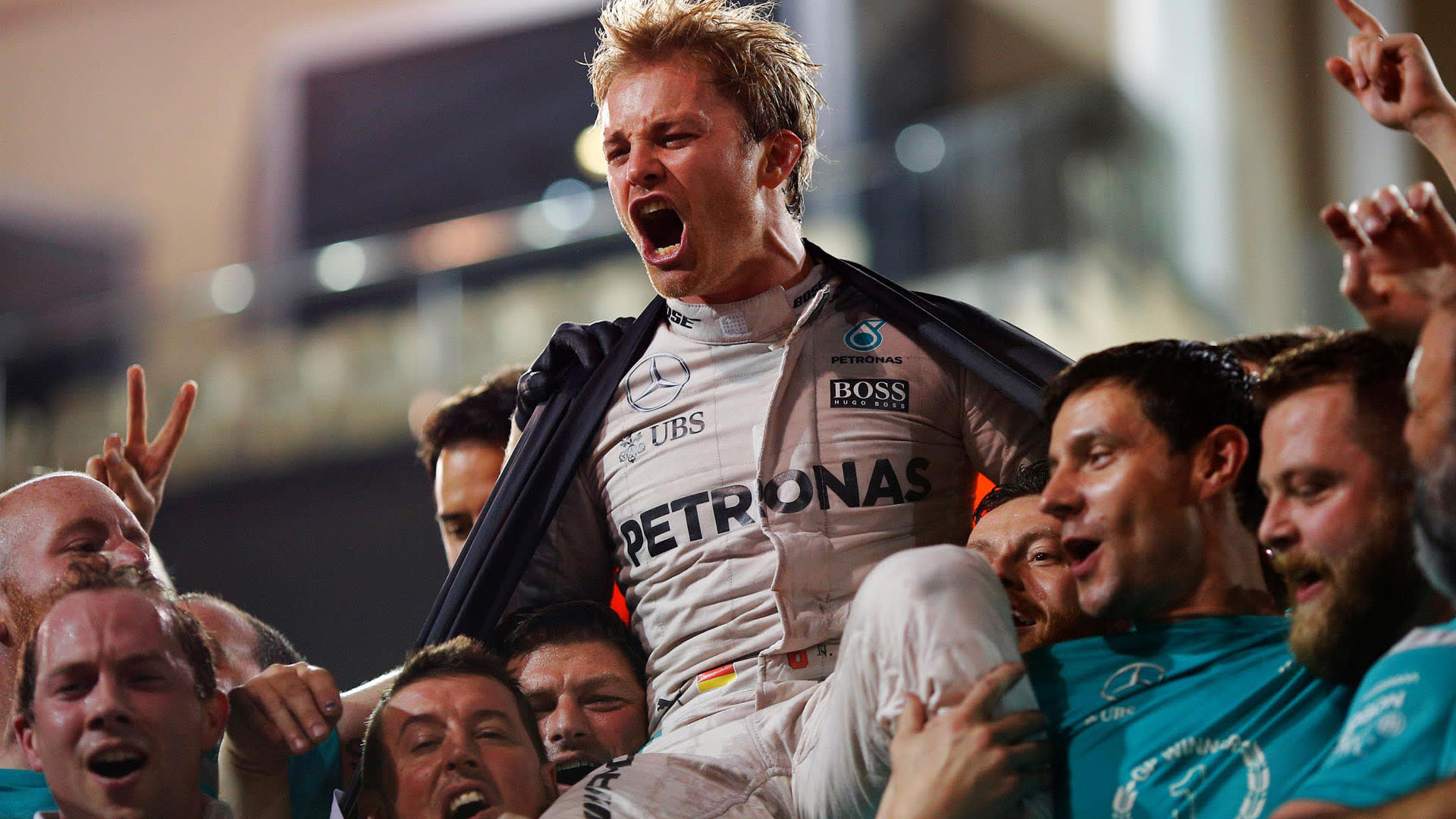 Few sportsmen walk away at the top of their game - but just days after clinching a historic first world championship crown, Nico Rosberg shocked the sporting world by announcing his retirement from Formula One racing.
"I have climbed my mountain, I am on the peak, so this feels right," he explained. "My strongest emotion right now is deep gratitude to everybody who supported me to make that dream happen."
Speculation immediately moved to who would replace him and take perhaps the most coveted seat on the grid for 2017 - a question that is yet to be answered. For Rosberg, meanwhile, the focus was on collecting his winner's trophy at the end-of-year FIA awards, and "enjoying the moment". As a competitor and a champion, he will be missed.
- Like father like son: Nico Rosberg makes F1 history
- Formula 1 reacts to Nico Rosberg's retirement
- What now for Mercedes - who will replace Nico Rosberg?