Mercedes - 415 points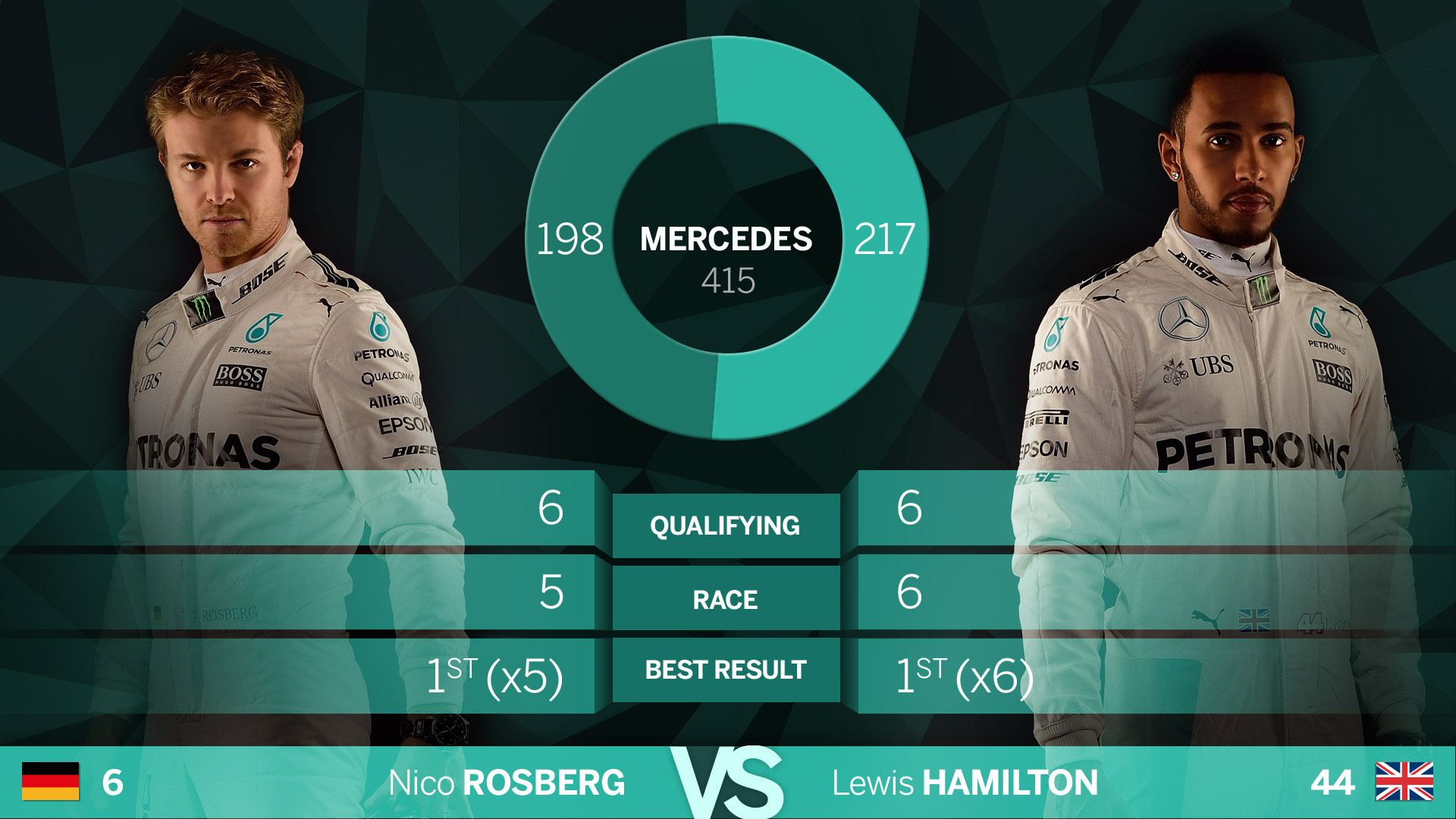 For a season that hasn't been devoid of issues, Mercedes have emerged arguably even more dominant in 2016 than in the past two years. Eleven wins from 12 races represents the team's best ever return, and equals the best in history alongside McLaren in 1988 and Ferrari in 2004. What's more, the only blot was 'self-inflicted' as Nico Rosberg and Lewis Hamilton collided in Spain. As ever, the pair's rivalry has been the undercurrent to everything on track, helped along by the notable shifts in momentum - Rosberg was the dominant force early on, but Hamilton has ratcheted up the pressure by winning six of the last seven Grands Prix, in which time Rosberg has just three podiums and has been penalised twice - once for his collision with the Briton in Austria and once for forcing Max Verstappen off track in Germany. Many are predicting Hamilton to surge ahead - but Rosberg has fought back and proved the doubters wrong before...

Red Bull - 256 points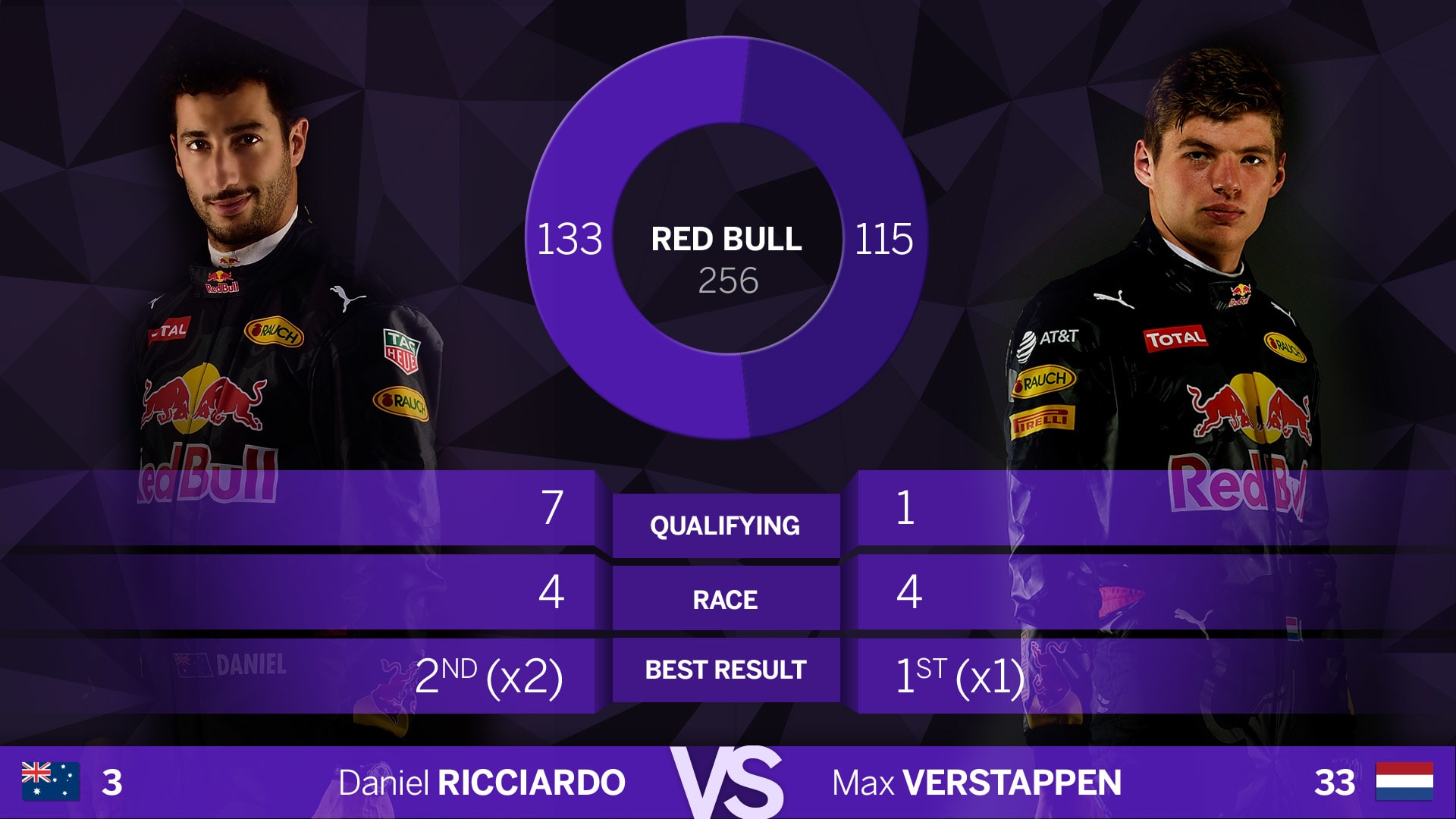 If swapping Daniil Kvyat and Max Verstappen mid-season caused a sensation, it was immediately dwarfed by the sight of the 18-year-old winning in his first race with his new team - and becoming the youngest victor in F1 history in the process. It was no fluke either: since his switch in Spain, Verstappen has scored more points than every other driver bar one - Lewis Hamilton. The Dutchman is not having it all his own way though: Daniel Ricciardo has been at his brilliant best almost throughout. Sensational in qualifying - he has been out-qualified by a team mate just once this season, and is the only non-Mercedes driver to claim pole - the Australian has also upped his game on Sundays in response to Verstappen's pressure, culminating in two podiums in the last two races. He was also mightily unlucky to lose out in Monaco. Red Bull undoubtedly have one of the youngest and most exciting line-ups on the grid - but perhaps more importantly they now sit above Ferrari in the standings for the first time since 2014.

Ferrari - 242 points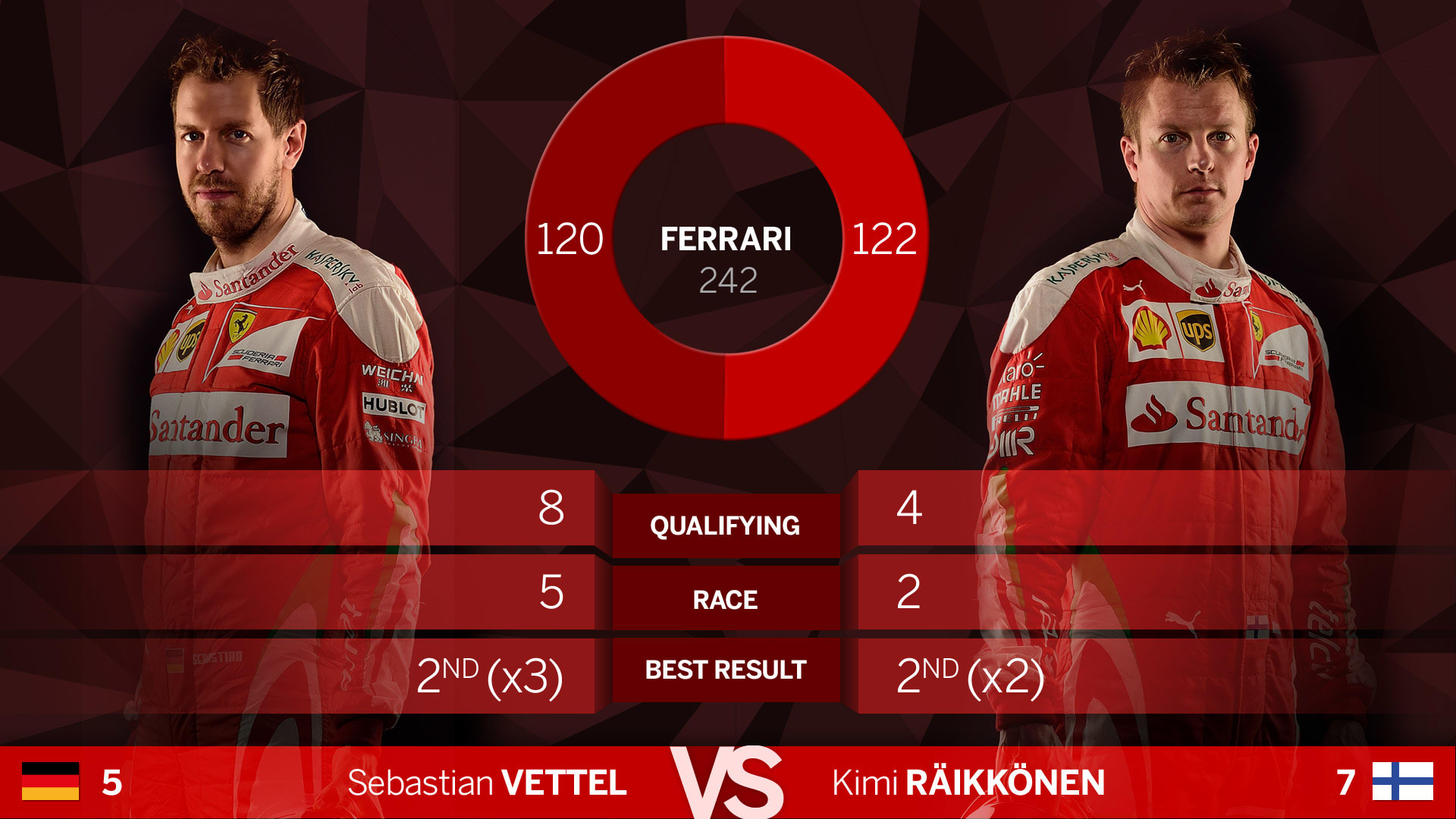 By their own superlative standards, it's hard to argue that 2016 hasn't been a disappointment for the Scuderia. It started reasonably brightly, with early reliability problems offset by podiums in the first five races which hinted at a genuine challenge. But rather than push on the team have instead fallen back, jumped by Red Bull as they have struggled to match the pace of rivals' development. As if to compound the dynamic, when Mercedes' undoing provided the opportunity to spring victory in Spain, it was Red Bull who snatched it, Verstappen holding off Kimi Raikkonen for an historic win. With technical director James Allison having departed suddenly, questions have been asked over who is steering the ship - and what direction it is heading in. Sebastian Vettel and Kimi Raikkonen are at least a superb pairing, and could be invaluable in getting Ferrari back on track.

Williams - 96 points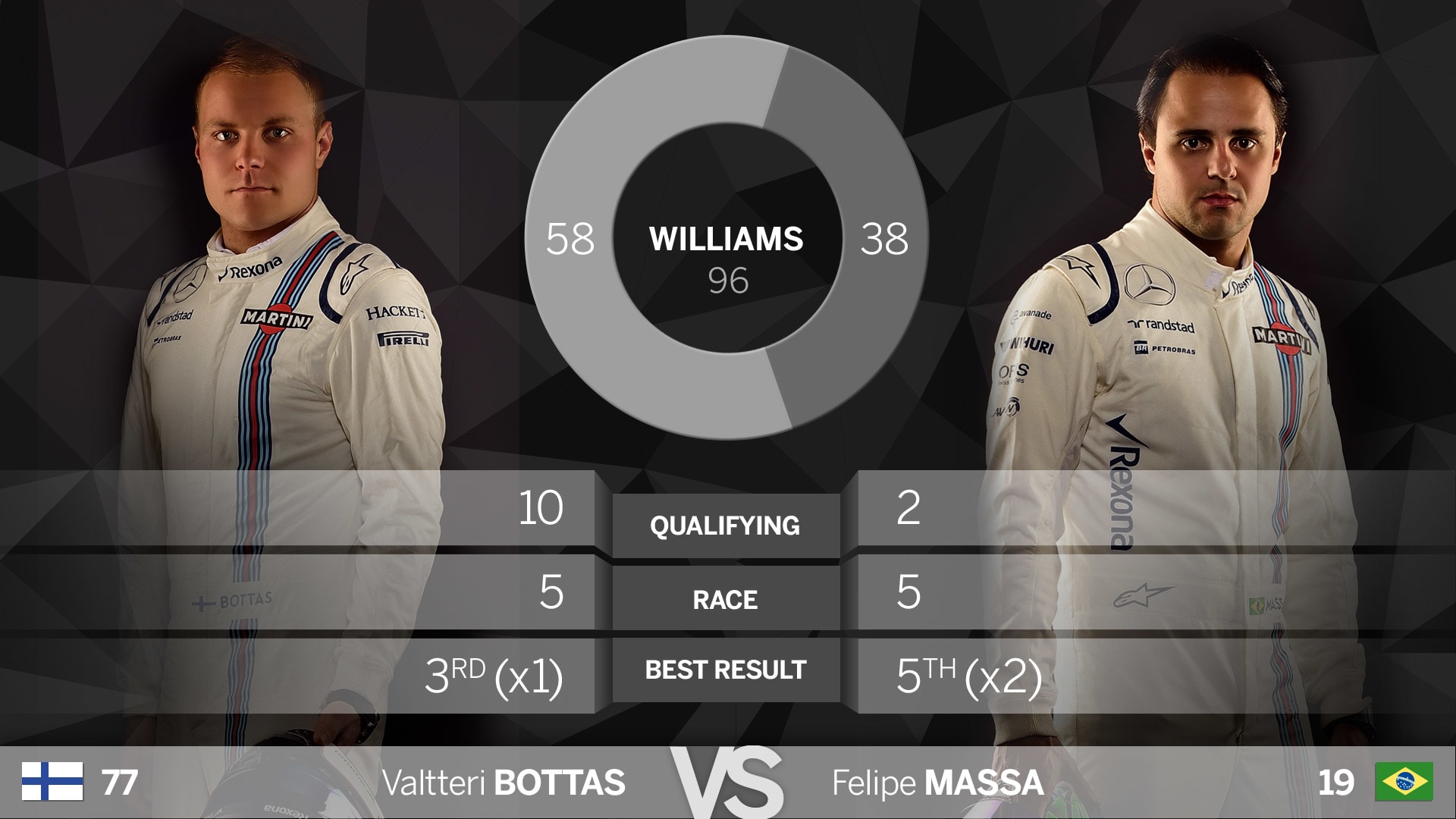 Having taken third in the standings for the last two years, Williams suspected they'd have a fight on their hands to hold onto that position in 2016, and so it has proved. To some extent it's been a double-edged sword - Red Bull have surged forwards while at the same time the Grove-based team have struggled in their own development, despite introducing new parts to the FW38. In the driver stakes, Valtteri Bottas has more often than not led the way - his qualifying head-to-head is the second best on the grid, while his third place in Canada gave the team a welcome first podium. Felipe Massa, meanwhile, scored points in all of the first six races - the only driver to do so - but has failed to register in his last four Grands Prix. Perhaps unsurprisingly, his future at the team for 2017 remains a subject of intense rumour and scrutiny.

Force India - 81 points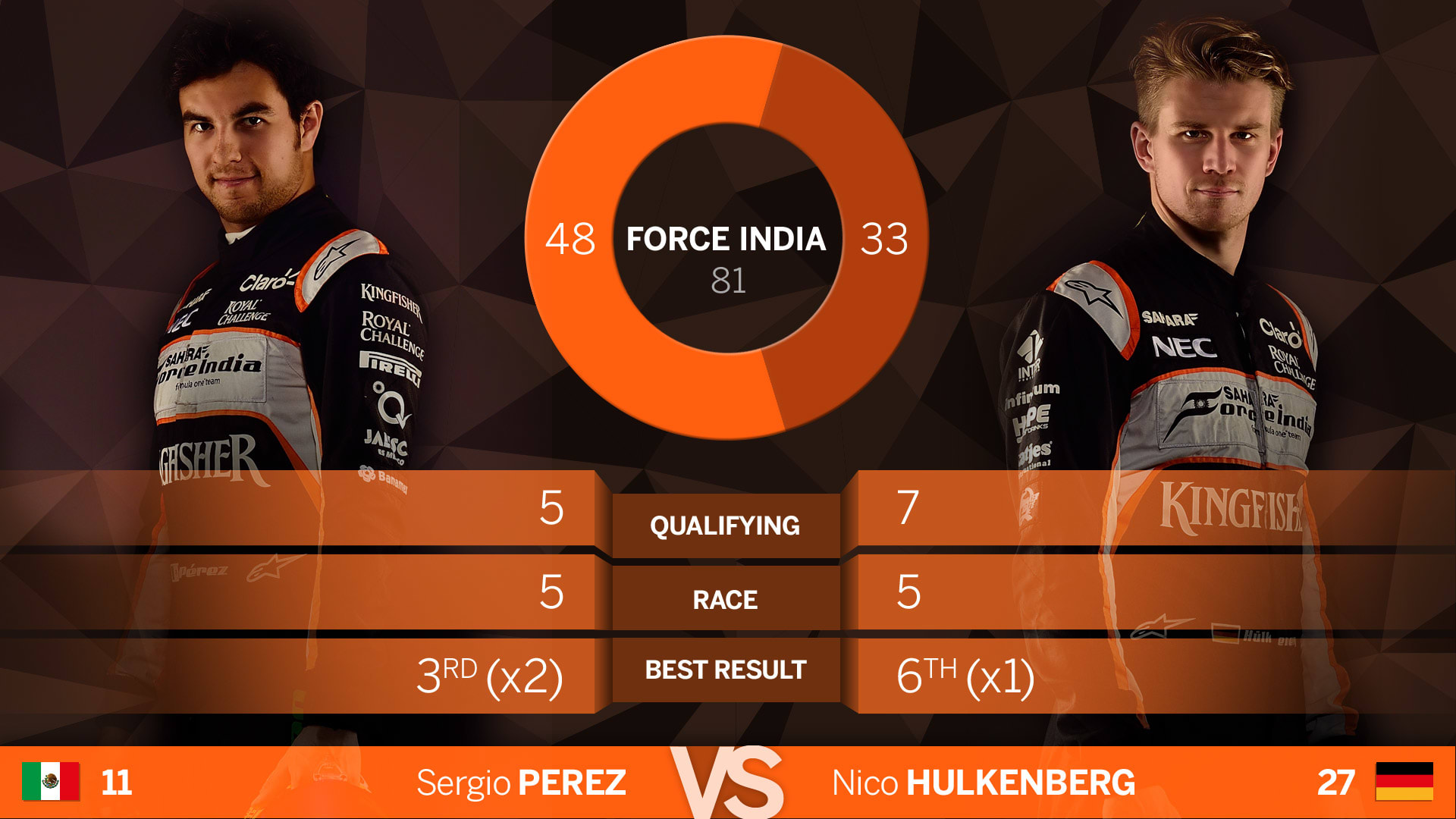 Force India took a while to get up and running in 2016 - scoring just eight points in the first four races - but since Spain, where Sergio Perez was a solid seventh, they haven't looked back, registering 73 further points. The Silverstone-based team now have their sights set on closing the gap to Williams and an historical high of fourth in the constructors' standings. The aforementioned Perez has captured most of the headlines, with superb podiums and Driver of the Day performances in Monaco and Azerbaijan. Team mate Hulkenberg, however, while 5-5 with Perez on race head-to-heads and 7-5 up in qualifying, has not had quite as much to shout about, though he did score a remarkable front-row start in Austria. The team are going all out to keep both men on their books next year, even if Perez is yet to confirm where his future lies.

Toro Rosso - 45 points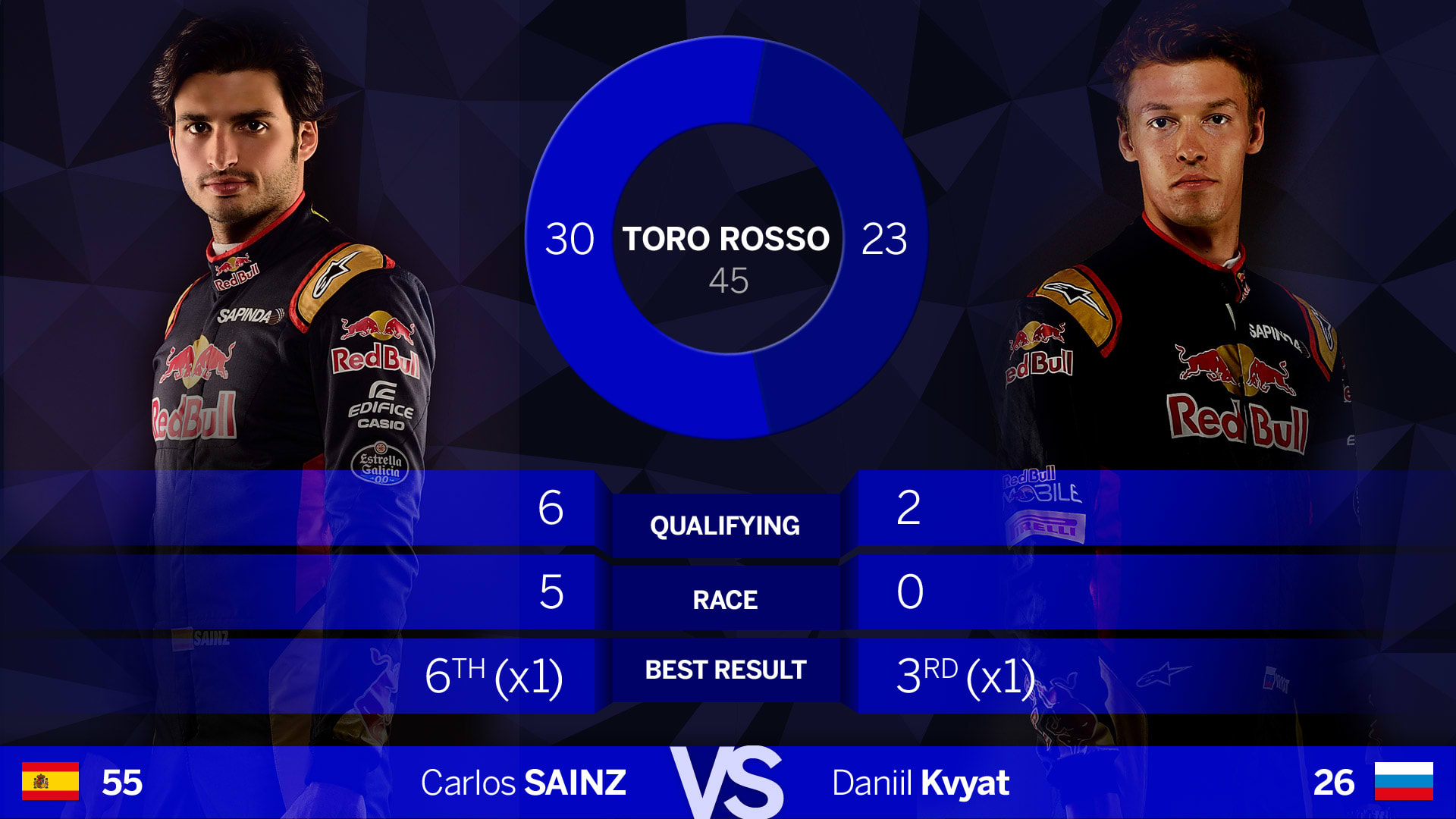 Toro Rosso had no right to start the season in such competitive fashion, having had to contend with a last-minute switch from Renault to year-old Ferrari power units. Under the guidance of technical director James Key, however, the team made superb work of the transition, and began the year with both cars in the top seven in Australian qualifying, and top 10 in the race. Max Verstappen's departure for Red Bull dented momentum slightly, particularly as the returning Daniil Kvyat has struggled to recapture his past swagger behind the wheel, but that was offset by the superb form of Carlos Sainz, who continues to dazzle despite being overlooked for promotion. But - and it's a big but - the drawbacks of using an old engine while rivals develop their own units has begun to tell: the team are still scoring regularly - and still developing the STR11 - but they haven't finished higher than eighth since Canada.

McLaren - 42 points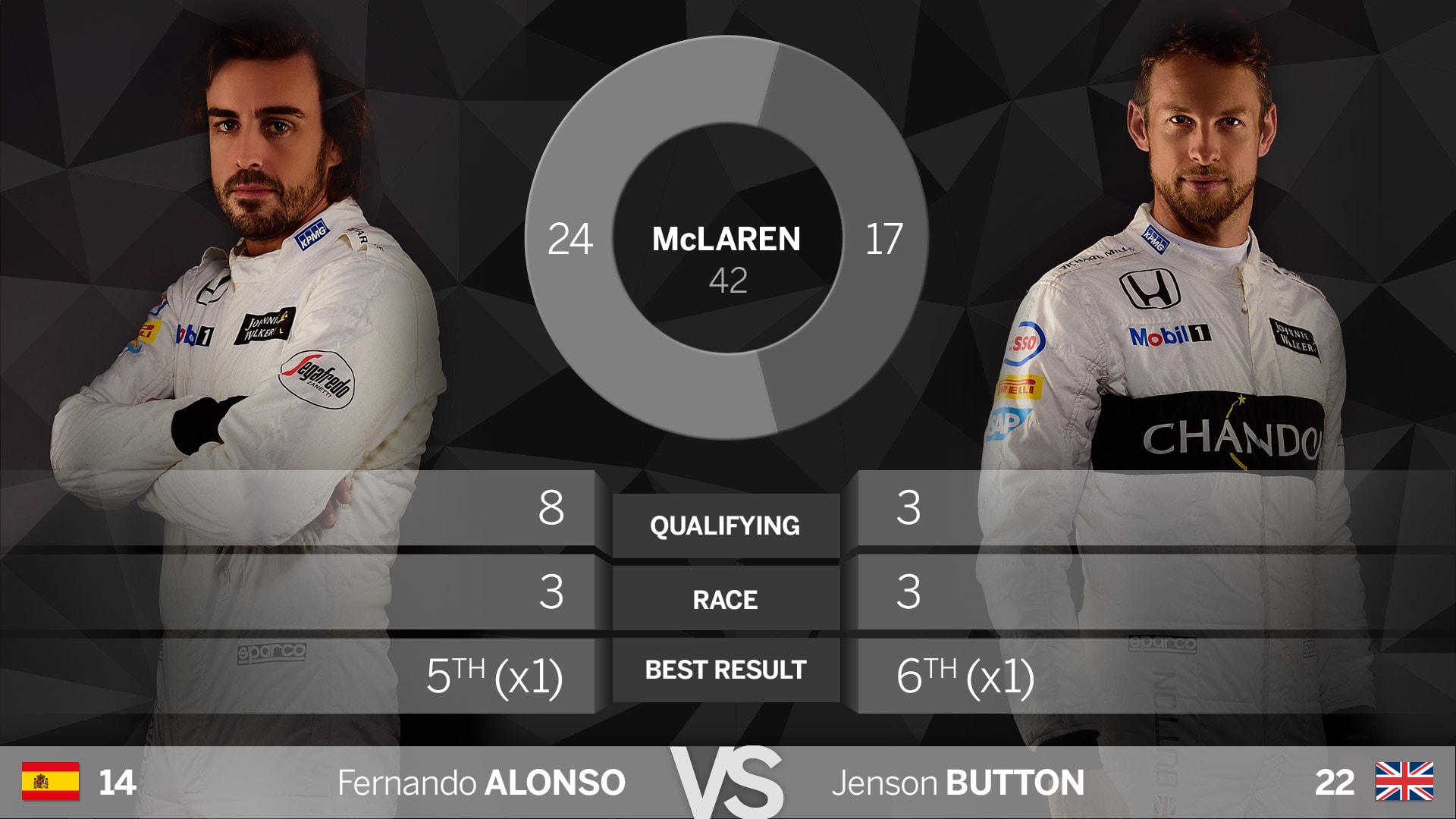 If form is temporary and class permanent, 2016 will perhaps come to be seen as the year McLaren got themselves back on track. The long-awaited improvements have finally started to pay dividends, and while the team are still not permanent fixtures in Q3 and the top ten, they have cracked both on a more regular basis - and in Hungary (a track that masks the MP4-31's power deficiencies) they got both cars into the final part of qualifying for the first time since 2014. But if the chassis is much improved, reliability and outright performance continue to be areas to address for Honda, with Fernando Alonso and Jenson Button both running at the chequered flag on just six occasions (half the races) so far. Of the two, it is the Spaniard who has had a slight edge - which hasn't exactly helped dispel rumours that Button and the team could potentially part ways at the end of the year, especially after Stoffel Vandoorne's point-scoring cameo in Bahrain.

Haas - 28 points

What to make of an opening half of a debut season that yielded a top-six and top-five in the first two races, but just two more points finishes in the next 10 races? In isolation, that sort of negative trend might be cause for disappointment - but in the context of a first year in the sport, Haas had no right to extract such success so quickly. Gene Haas's eponymous outfit have learned quickly and looked competitive at almost every race - a validation of their model, ethos and approach that is impossible not to applaud. Romain Grosjean has been the star turn, even winning the fan-voted Driver of the Day award twice - but Esteban Gutierrez has finished ahead of the Frenchman in each of the last two races. Indeed the Mexican has been unlucky not to have scored points thus far, having finished 11th on four separate occasions.

Renault - 6 points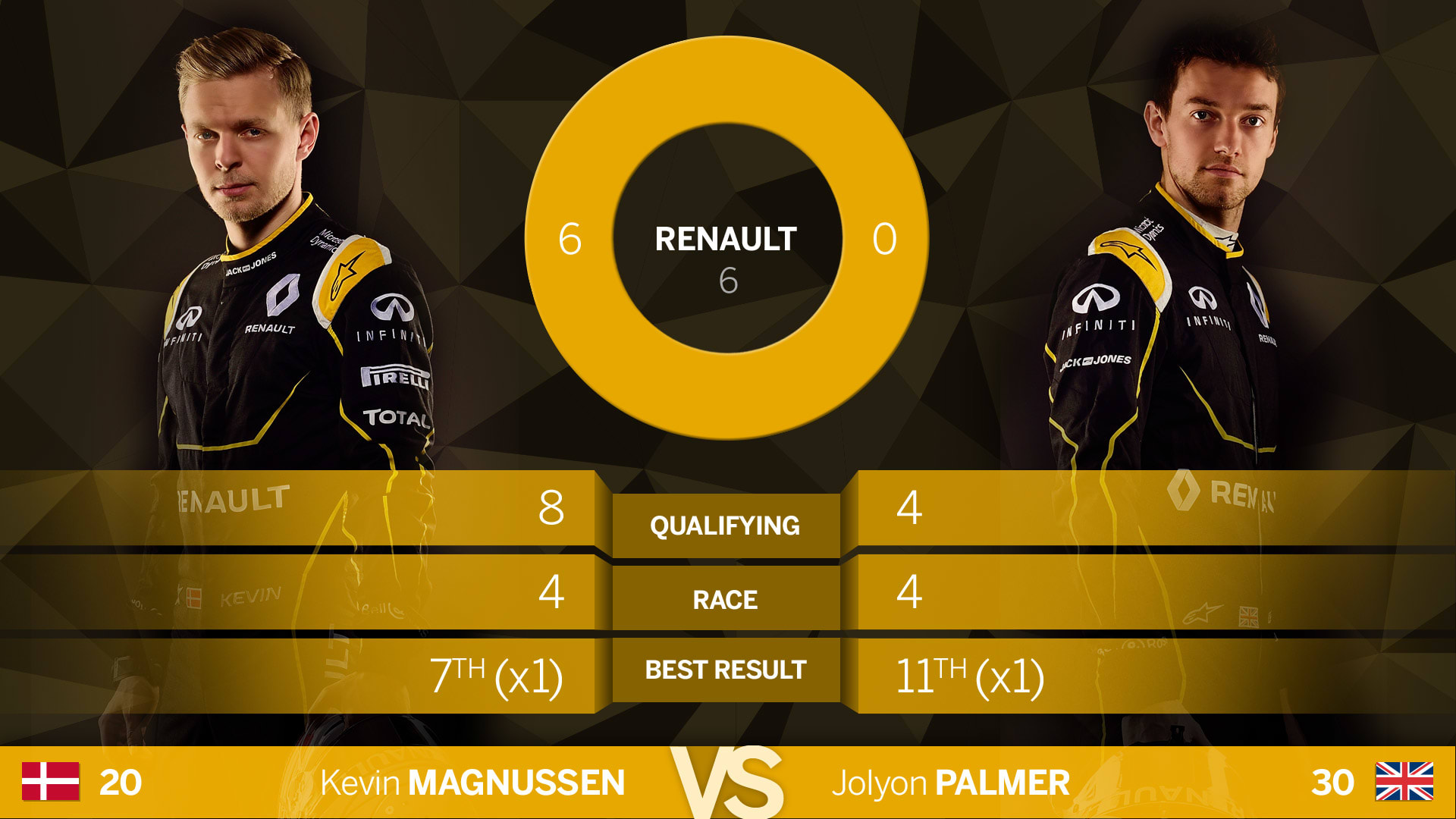 With such history and pedigree in the sport, Renault's return to F1 as a fully-fledged manufacturer was rightly greeted with much fanfare. The reality, though, is that they were always likely to struggle given how little time they had to overhaul the set-up, funding and staffing that had existed under Lotus. Kevin Magnussen and Jolyon Palmer were brought in to lead the charge, and while both challenged for Q3 and points in the opening race, they have struggled to recapture such form since - indeed Palmer's best finish remains his 11th in the curtain-raiser. Magnussen did at least score points in Russia, although the positions of both men are reportedly still up in the air for 2017 - which could make for an interesting second half of the season...

Manor - 1 point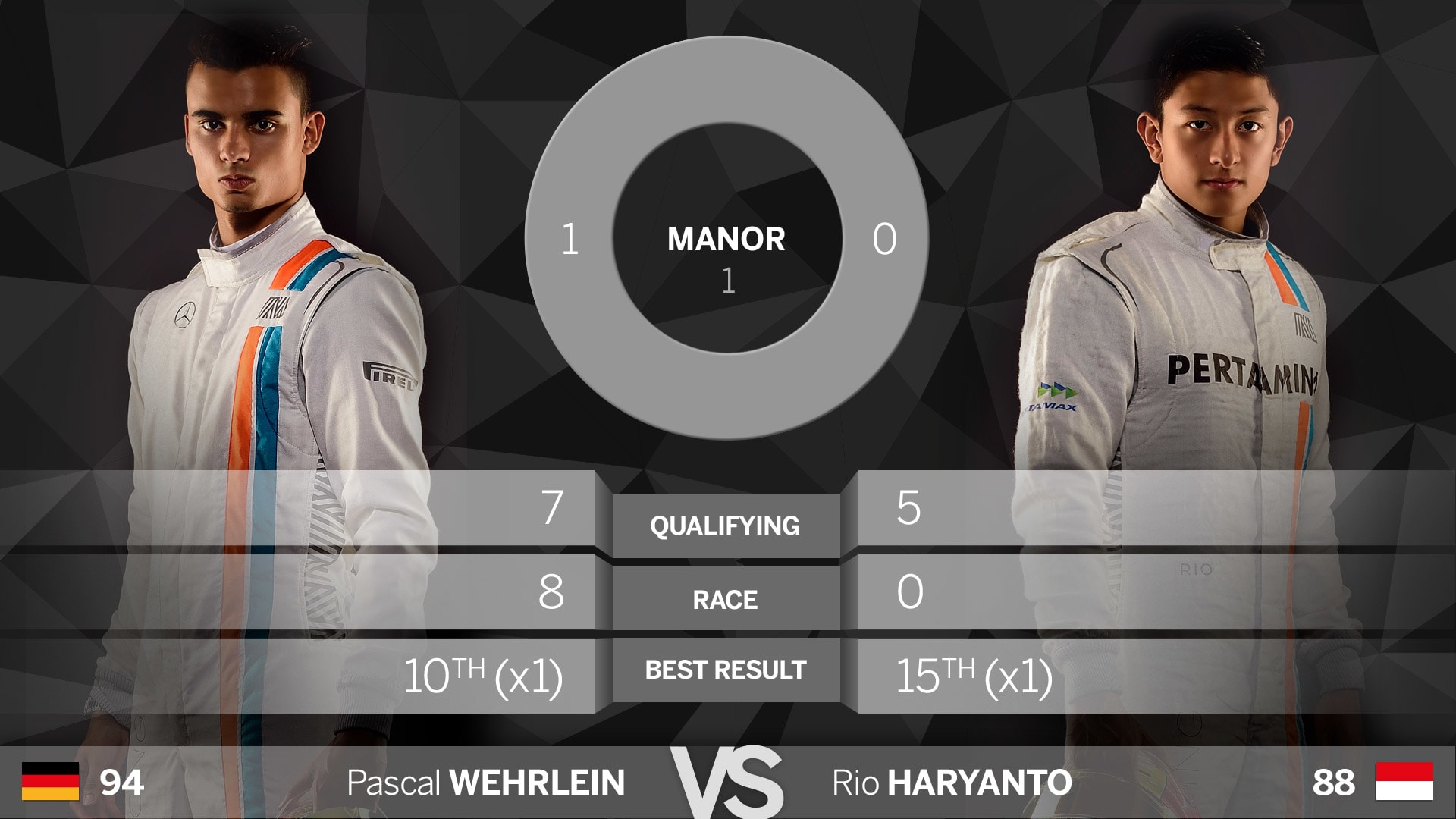 Manor's season has arguably already met the criteria for success given Pascal Wehrlein's emotional points-finish in Austria - only the second time Manor, including their former guises, have managed to break into the top 10. Wehrlein's class has shown with feats like qualifying 12th in Austria, suggesting Mercedes' belief in his long-term future is well-placed - but given that, Rio Haryanto also performed admirably, out-qualifying his oft-lauded team mate five times. The Indonesian never managed to best Wehrlein on a Sunday though - something his replacement Esteban Ocon will look to put right in the second half of the season. 

Sauber - 0 points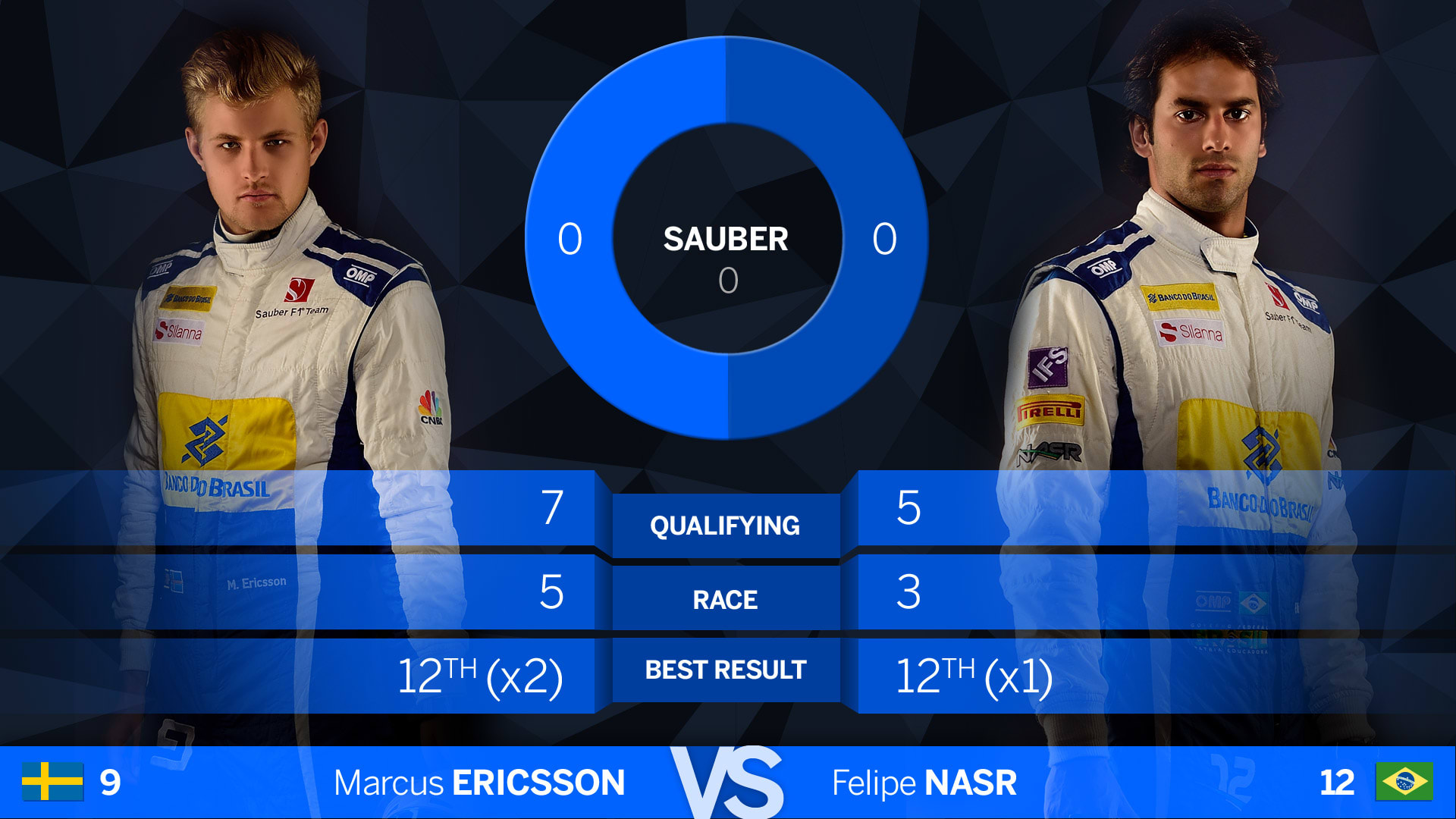 On the face of it, this has been one of the gloomiest starts to a season in Sauber's history: no points, a best finish of 12th, and both cars exiting in Q1 in all but three races so far. What's more, money issues have meant a lack of updates and a lack of testing, meaning Sauber's on-track struggles have been magnified as the season has progressed. Happily, then, the first half of 2016 has also included light at the end of the tunnel: new owners were revealed in July, securing the future of the team and enabling them to expedite new updates - including a front wing that is set to be used from Belgium onward.