'A scary moment!' – Ericsson relieved Leclerc clash wasn't more serious
Only Daniel Ricciardo gained more positions than Marcus Ericsson at Suzuka, but the Swede nearly had two big apologies to make to his Sauber squad after nearly committing the biggest of all F1 sins: taking out his team mate.
A crash during Q1 saw Ericsson start from the back of the grid, while Charles Leclerc lined up ten places further forward. But after just a handful of laps they were running nose-to-tail on track - quite literally.
Running line astern for the Safety Car restart at the end of Lap 7 - with both drivers having pitted - Ericsson was caught out by a slowing pack and ran right into the rear of Leclerc's identical C37 at the chicane, briefly lifting his team mate's car in the air. Fortunately for the Swede, both drivers were able to continue, sparing his blushes somewhat.
"Bit of a scary moment!" Ericsson said of the contact. "A bit weird that everyone just stopped there, so it was like we're almost standing still. I couldn't stop the car with cold tyres. Luckily I tapped him and then we picked up a little bit of damage but was not too bad, not ideal!
"I spoke to Charles afterwards and he said he almost did the same to the car ahead of him and he was caught out ahead of him with everyone stopping."
Such a worrying moment was the only negative on Sunday for Ericsson, who believes he recovered as well as possible from last on the grid after going off in qualifying, but admits his error on Saturday proved crucial to his hopes of scoring points.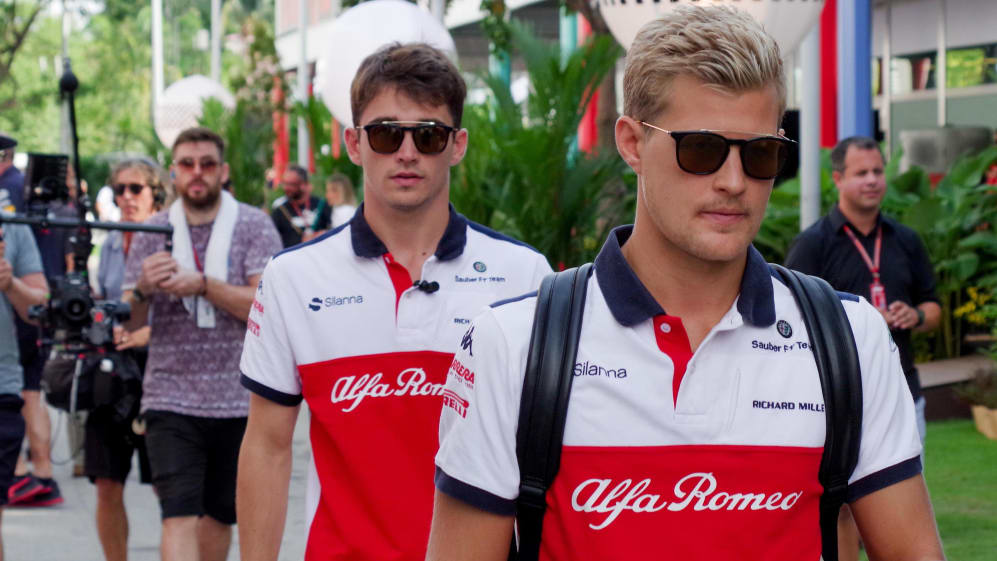 "It's definitely frustrating because I think we should have qualified around P10, like Charles did, because for sure the pace is there. It's very frustrating what happened in qualifying. I think if I would have started a bit higher for sure the points were there. Frustrating, but I want to bring the positives as well and I'll bring that within me.
"It was good afternoon I think. From starting 20th on a track like this, you know it's going to be a difficult afternoon. The pace was very strong, we knew it would be strong on Friday where I think we were best of the rest on the long runs, but I was surprised how easily I could overtake the Williams and the McLarens early in the race.
"We took a gamble under the Safety Car and took on mediums, I knew the aim was going to be going to the end and it would be critical, but it's one of my strengths, the tyre management, and I think I played that really well, I took care of them in a really good way.
"I'm pretty pleased with that performance and if a few more cars, the top cars, had problems then we would have been in the points. It was pretty good result I think."
Sauber have been in a position to fight for points in a number of races this season and Ericsson acknowledges his own form needs to improve, having failed to score since finishing 10th in Belgium back in August.
"We need to be back in the points. We had two really strong performances in Russia and here but I didn't score points in either of them. But we had the pace to really be there fighting. If I can have a clean qualifying I'm sure we can fight and score points in Austin."
Ericsson currently lies 18th in the drivers' standings, having taken just six points this season, 15 less than 15th-placed team mate Leclerc. He has just four races left before taking on third driver duties and an ambassadorial role with the Swiss team.