Ricciardo on race-wrecking start incident: 'It all happened so quickly'
If a large majority of the thousands of fans packed into Albert Park on Sunday had come with high expectations of a starring drive from Daniel Ricciardo, it didn't take long for their hopes to be dashed. Within just five seconds of the start of the race, the Renault driver was effectively ruled out of contention, his front wing ripped from its moorings after he took to the grass approaching Turn 1.
Immediately cut adrift at the back of the pack, Ricciardo pitted for a new nose assembly at the end of the first lap, dropping him even further back, and would ultimately end up being retired 28 laps into his Renault debut having made no real progress up the order.
Speaking about the start incident after the race, the Australian said everything had "happened really quickly"
"I've had a look at the replay and it's pretty much as I saw it from behind the wheel," he explained. "No one to blame other than grass and then a big lump of concrete or something like a gutter. It was harsh, the bump.
"Obviously I didn't want to go on the grass in the first place, but I had a run on [Sergio] Perez and for me the inside was the best place to go. I saw him move a bit so your natural reaction, because he was still in front at that time, was to move a bit more.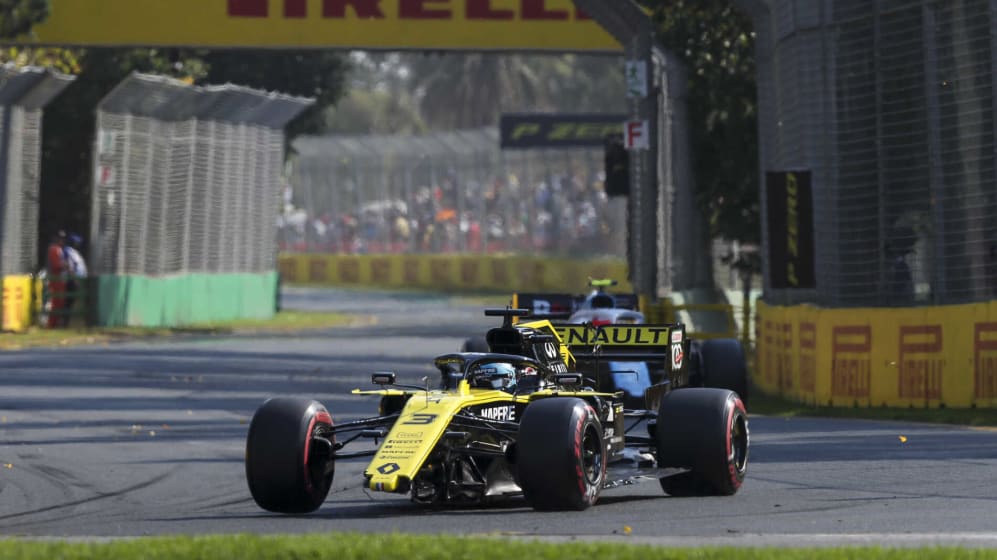 "That last bit of movement put my wheel on the grass, but even then I wasn't concerned if I put two wheels on the grass, as I thought I could still carry the momentum. But pretty much as soon as I went on the grass there was the gutter. It's just a shame it was over so quickly."
The race summed up the bad luck Ricciardo has often experienced on home soil. He has scored a pair of fourth places in Melbourne, but was disqualified from second place for a technical infringement in 2014 and has now failed to see the chequered flag three times.
The seven-time Grand Prix winner said he could take heart from team mate Nico Hulkenberg's strong run to seventh, and admitted that after a busy week leading into his home event, he was looking forward to a quieter weekend in Bahrain.
"I think we should be a top eight car all the first part of the season and then hopefully even better. I think Bahrain will be a bit easier. That's like a holiday week – there's really nothing going on, so I can actually prepare properly.
"For sure I'm frustrated because everyone expects so much, but the reality is I've got to show up on Sunday. And when the race is over in five seconds, whether it's bad luck or not, I feel like the preparation wasn't where it should be. So I feel a bit hard done by, but trying to please everyone."