'You can hear our rapport when we're racing' – Hamilton hails engineer 'Bono'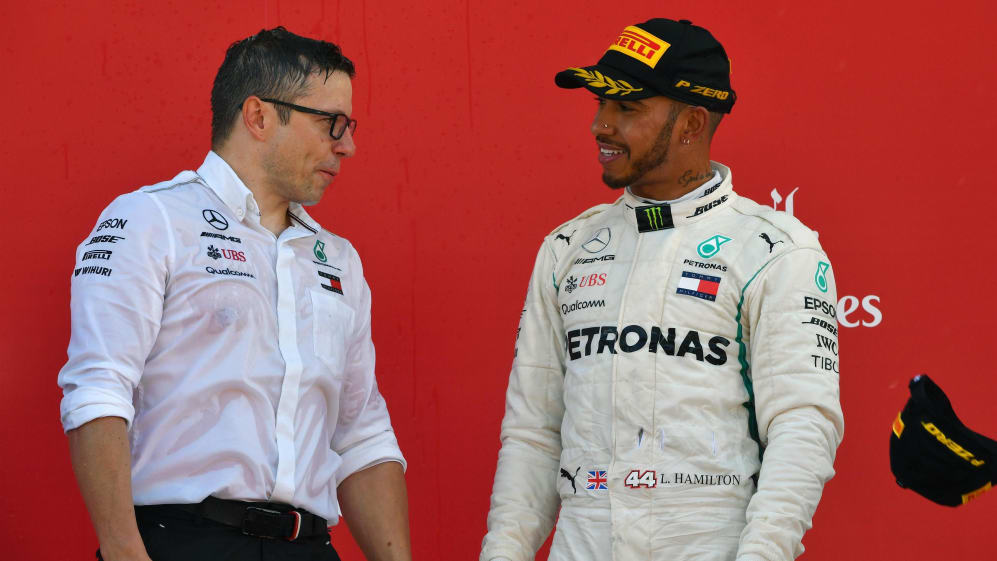 He's the voice in Lewis Hamilton's ear during the Grand Prix weekend, tasked with keeping his driver calm when things are hotting up and delivering crucial information. And the Brit is delighted to have Pete 'Bono' Bonnington in his corner at Mercedes…
Bonnington has been race engineer to Hamilton ever since the latter joined the Silver Arrows from McLaren in 2013, and after an underwhelming debut season together, the driver has romped to three world title triumphs in the last four seasons.
That could well become four at the end of this year, with Hamilton's superb Singapore win last Sunday extending his championship lead over Ferrari's Sebastian Vettel to 40 points with six races to go.
The win tasted even sweeter since Ferrari were touted by many as favourites at the Marina Bay Street Circuit. But if Hamilton is doing the business on track, he's adamant that Bonnington is matching his performances in the engineering department.
"I've had Bono by my side my whole time here at this team and you can hear our rapport when we're in a race," said Hamilton.
"All the guys are working tirelessly to make sure that the car is where I want it to be. They have full trust in me, [and] when I say 'I need this on the car', they do it.
"Honestly the set-up was great [in Singapore] – that's why I was able to do [my pole lap]. And the same in the last race. We've got to keep the same mentality and the same hard work process we've had."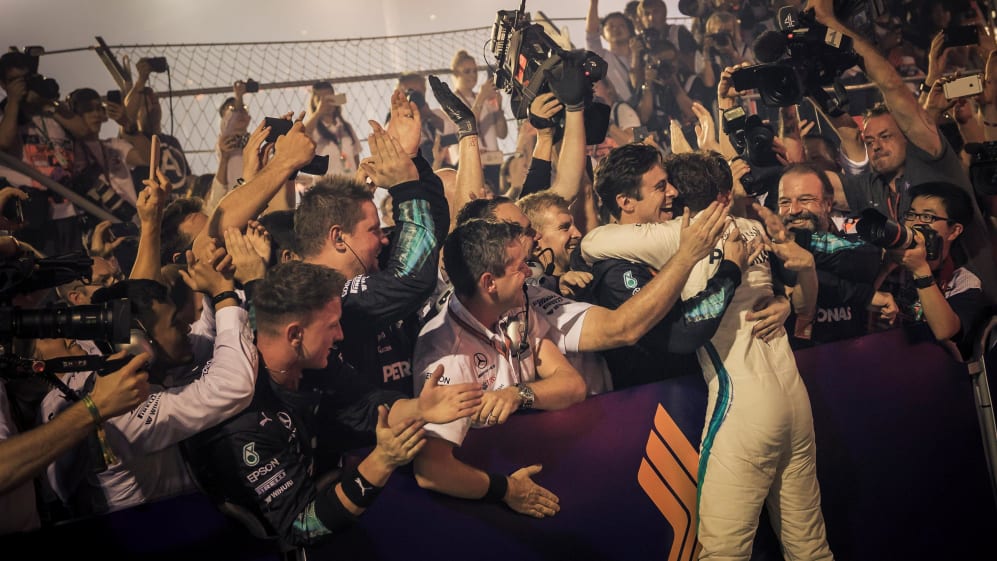 Last Sunday's victory was Hamilton's seventh of the season and, more importantly, his fourth in five races. And although he's has been in imperious form behind the wheel, Mercedes have also been working hard to make improvements to their W09 challenger, as well as their intra-team communication.
According to Hamilton, team debriefs have been critical to the squad's recent dominant patch – and even in this area, he feels he's currently performing at his best.
"If you speak to the guys, I'm pretty sure they will tell you how important the debriefs have been. My communication, I would say with the debriefs, has been greater than it's ever felt for me."
But if Mercedes have been flourishing, how does Hamilton explain Sebastian Vettel and Ferrari's recent struggles to convert their strong package into race wins?
"Even coming to [the Singapore] weekend, we still felt they were [quicker]," Hamilton said. "But I have tremendous belief in this team. I truly believe we are more united and I think I've got the smartest group of guys in my team.
"They're bringing their A-game and I'm bringing my A-game. Unless you're coming up straight with the A-game, the ace… that's what we're bringing every weekend right now..."
WATCH: Hamilton claims superb Singapore pole