Hungarian Grand Prix 'a bit of a mess' – Bottas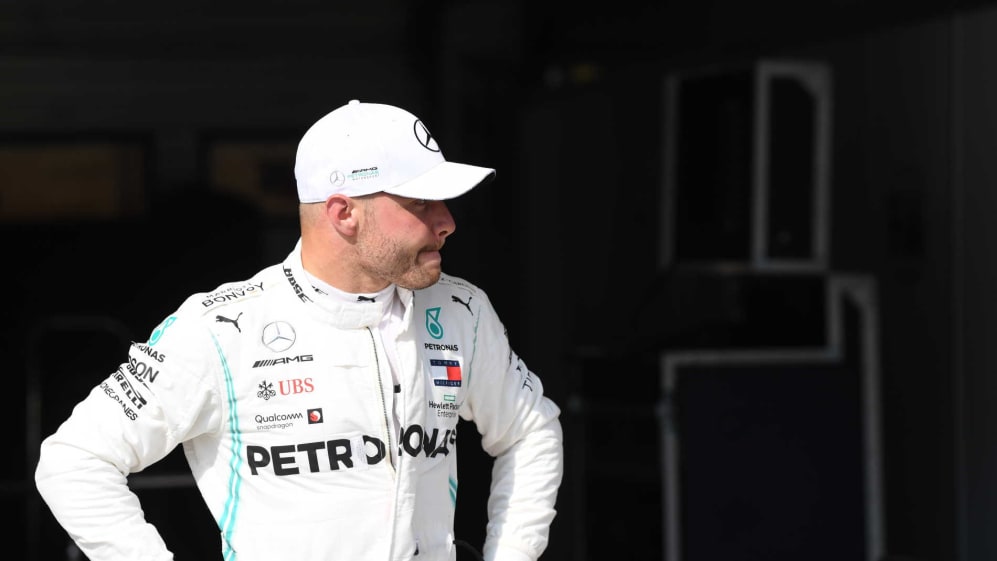 Starting second in Hungary, Valtteri Bottas had the perfect chance to begin his summer break on a high. Instead, the race unfolded in all the wrong ways for the Mercedes driver, who finished a very disappointed eighth.
Having superbly out-qualified team mate Lewis Hamilton to start from the front row alongside pole man Max Verstappen, Bottas locked up into Turn 1 and then made contact with two drivers on the opening lap in Budapest, first tapping his front wing against the rear of Hamilton's car through Turn 3 and then damaging the wing on Charles Leclerc's Ferrari in the run to Turn 4.
"It was tough, not what I expected obviously, far from it," said Bottas. "After the first lap incidents it was a bit of a mess and I knew it was going to be tricky for sure. I tried everything I could, that's how it goes sometimes I guess."
HIGHLIGHTS AND REPORT: 2019 Hungarian Grand Prix
After the early contact, Bottas pitted for a new nose – a 14-second stop that demoted him to last - after which he spent the rest of the afternoon hauling himself gradually back up the order and coming home a lap down on Hamilton.
Of his difficult race start, he explained: "Turn 1, I had a lock-up. That was my mistake, I was trying to brake as late and hard as I could. I was trying to get to the outside of Max but just a bit of a nip there with the front right, then a flat spot, and [I had] a bit of understeer in the left hand corner Turn 2. That made it tricky when Lewis and Charles came, and we had the contacts and we lost a big piece of front wing."
While he didn't blame anyone for the contact (neither did the stewards), saying that he "did struggle to see [Leclerc] from the mirrors", Bottas was not entirely happy about the amount of space left by Hamilton, which led to the Silver Arrows' light coming-together.
"I will have to see it from the video, for sure," he added. "There was not much room left from Lewis, I guess it was hard racing, but I'll have to see."
You know you've just blown it...
Team Principal Toto Wolff said that he was "disappointed" for his driver after he qualified P2 and "could easily have been on pole." Bottas's drive is already seen as being under pressure for 2020 from Mercedes stablemate Esteban Ocon - and Wolff's comments will likely only add to speculation.
"He wanted to do particularly well and that went all wrong, touching with Lewis and touching with Leclerc and from then on I think there's nothing more to expect from anybody because you know you've just blown it," said Wolff in candid fashion.
The summer break is a prime opportunity for Bottas to have a Pierre Gasly-style 'control-alt-delete' reset, the Finn having scored just four points in the last two races, widening the gulf to Hamilton in the standings to 62.