Feature
5 great moments in Dutch Grand Prix history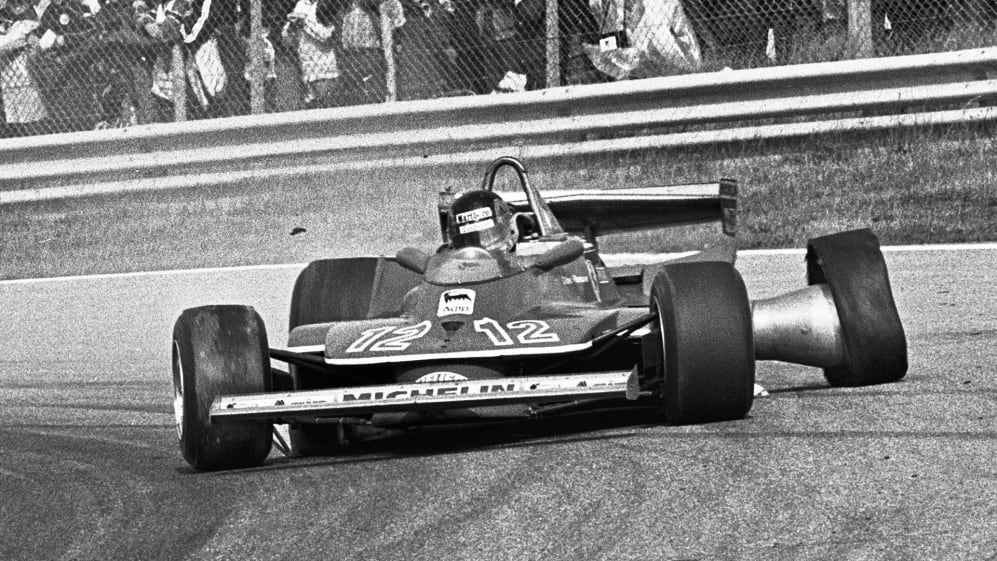 In 2020, Formula 1 will return to the sand dunes of Holland and the legendary Zandvoort track. The Dutch Grand Prix last appeared on the F1 calendar back in 1985, and over the years, it hosted plenty of special moments. Here's our rundown of the five greatest.
1. James Hunt takes first F1 win, as playboys Hesketh beat Ferrari (1975)
"Formula 1," announced Lord Hesketh when his flamboyant, dilettante team entered the sport in 1973, "is a flat bottle of champagne in need of a rather good shake." And the F1 order was certainly shaken up at Zandvoort in 1975 when Hesketh's 308B, in the hands of their erratic shunt-happy driver James Hunt, proved good enough to beat Ferrari on equal terms.
In his years as a commentator, Hunt was renowned for his ability to call a race perfectly, and he used that same strategic nous to great effect that day in Holland, peeling off on Lap 7 from a rapidly drying track to change his wet tyres for slicks before the other runners had quite got a handle on things.
Niki Lauda, going after his fourth straight win, waited till Lap 13, before spending the rest of the race getting after the charging Hunt. They crossed the line on Lap 75 separated by just a second, but Hunt had done enough to claim his maiden Grand Prix victory for the plucky Hesketh upstarts – much to the delight of his lordship…
READ MORE: What you need to know about F1's spectacular new beachside race
2. Gilles Villeneuve goes flat-out on three wheels (1979)
Now, you could question the wisdom of Gilles Villeneuve manhandling a car around almost an entire lap of Zandvoort on three wheels. But you certainly couldn't question the dedication.
Villeneuve had brilliantly fought his way into the lead of the 1979 Dutch Grand Prix after an audacious move on Alan Jones' Williams around the outside of Tarzan. But with a slow puncture on his left-rear Michelin, he spun once in front of the Australian, recovered beautifully, then had to force his 312T4 into a second spin when its tyre exploded.
Undeterred as he sat off the track, Villeneuve found reverse, dragged himself back out of the mud and, with one arm raised to warn the drivers behind him, set about getting back to the Ferrari pits, one-handed and three-wheeled. It was the typical display of grit that made Villeneuve so beloved at Ferrari, and as he lifted himself out of the flogged car, he was clapped on the shoulders by his mechanics as though he'd just brought home victory.
3. Hunt and Andretti clash disputing the lead (1977)
Two years on from his breakthrough win, James Hunt was back at Zandvoort as the reigning world champion, and now driving for the front-running McLaren squad. Having qualified third on the grid, Hunt made a fantastic getaway to run into the first corner side-by-side with Mario Andretti, before politely but firmly shutting the door on the exit to solidify his lead. Five laps later, an almost identical move didn't end quite so happily…
With Andretti hot on the gearbox of Hunt going into the fifth lap, the American used all of his oval racing experience to clamber up the outside of the banked Tarzan corner alongside the McLaren. This time, however, when Hunt shut the door, the Lotus was further alongside him, and as they touched, the Englishman's McLaren skipped into the air before crashing back down as Andretti spun around.
A furious Hunt was forced to park up his car, before storming to the Lotus pit to give Colin Chapman his full and frank assessment of Andretti's driving ability, while Andretti himself came out of the incident seemingly unscathed, but would then retire on Lap 14 when his Cosworth engine blew.
Whose fault it had been? "It really was a simple case of two born racers having a go at each other," reckoned Motor Sport's legendary F1 reporter Denis Jenkinson. "It's nice to know that a bit of spirit and passion has returned to Grand Prix racing, after some of the 'old women's knitting circles' we used to have to sit through…" Indeed.
4. Niki Lauda takes final F1 win after close dice with team mate Prost (1985)
Niki Lauda was blessed with both audacious racing ability and a katana-sharp mind, and he used both to secure the last of his 25 F1 wins at the 1985 Dutch Grand Prix. Starting from a lowly 10th on the grid, Lauda was up to fifth by the end of Lap 1.
By Lap 33, he inherited the lead when team mate Alain Prost ducked into the pits, but a botched tyre change for the Frenchman saw Prost drop to third, 15 seconds behind Lauda. But with half the race left to run, Prost rapidly oozed his way around the 4.2km track. From Lap 62 to the final Lap 70, there was less than a second between the two day-glo cars, but Lauda held on, sticking his MP4-2B in the middle of the tight track through the corners to keep Prost behind him.
They crossed the line with just 0.232s between them, but the Austrian had done enough to take victory, and equal the win record of Jim Clark.
5. Title rivals Prost and Piquet clash (1983)
By the time the drivers arrived in the Dutch dunes for round 12 of the 1983 season, the title fight that year looked set to be between Renault's Alain Prost and Brabham's Nelson Piquet, the latter 14 points behind the former with four races remaining.
So it was with a certain amount of glee when, on Lap 40 of the 72-lap race, the yellow and white car of Prost began to lurk in the background of the TV images of race leader Piquet. And then, on Lap 41, it happened.
Prost, in a fairly un-Prostian move, ducked very late out of Piquet's slipstream going into Tarzan, before slamming on the anchors to try and get his RE40 stopped in time. It was a lot to ask of his brakes – too much in fact, and as they urgently tried to arrest the Frenchman's momentum, the Renault slewed to the right before sharply yawing left and into Piquet's flank, sending the Brazilian spearing into the barriers.
Piquet was out on the spot, while Prost's car was hobbled, limping around for half a lap before pathetically sliding into the Armco and out of the race, leaving third-placed man in the championship Rene Arnoux to take victory for Ferrari. "And that's just about won [Prost] the World Championship," noted BBC commentator James Hunt with a hint of cynicism. Fortunately for Piquet, however, it turned out Hunt was wrong on this occasion, and with Prost finishing just one more race that season, Piquet was left to claim his second title.