Feature
5 other times a race leader and a backmarker have collided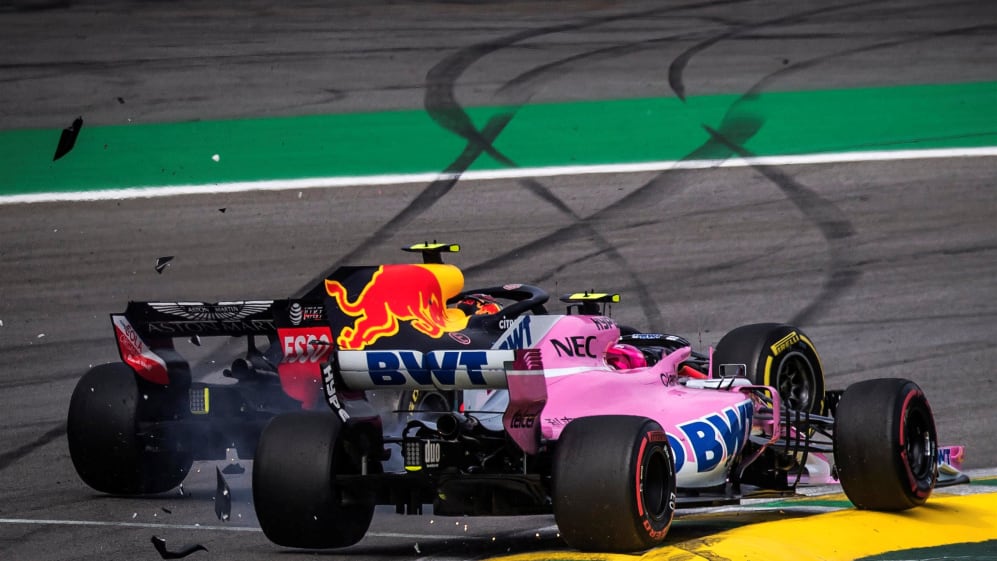 Race leader Max Verstappen's coming together at the Brazilian Grand Prix with backmarker Esteban Ocon certainly set tongues wagging in the F1 paddock. And whoever's fault you think it was – actually, tell us whose fault you think it was here – it's far from the first time that a backmarker has played their part in deciding the outcome of a race. Here are five stand-out moments where a lower-order runner tripped up the leader – and, more often than not, incurred their wrath in the process…
1. Nelson Piquet vs Eliseo Salazar, 1982 German Grand Prix
How did Eliseo Salazar repay his former career mentor Nelson Piquet at Hockenheim in 1982? By wiping him out of the race with some (sorry Eliseo) truly terrible driving.
Brabham driver Piquet was enjoying an easy run at the front of the field in Germany when he came upon the ATS of Salazar, a Chilean driver for whom fellow South American Piquet had pushed open some doors on his way up the racing ladder.
Going into Hockenheim's Ostkurve chicane, Salazar failed to judge his braking correctly, smashing into Piquet's car and taking them both out. There then followed Formula 1's greatest ever fight, as an enraged Piquet went a bit mash-all-the-buttons-on-Street-Fighter to deliver a kick, a push and a punch in the direction of the hapless Salazar in the space of a second. Truly an F1 punch up for the ages.
Did you know? Piquet was especially annoyed with Salazar because the retirement had happened in front of BMW top brass at the Brabham engine supplier's home Grand Prix. However, a few months later, one of Piquet's mechanics reportedly told him that his engine had been about to blow up anyway, leading the Brazilian to phone Salazar to thank him for taking him out and sparing him the embarrassment.
2. Ayrton Senna vs Jean-Louis Schlesser, 1988 Italian Grand Prix
McLaren would have won every race in 1988 had Jean-Louis Schlesser not found himself in the way of the fast-lapping Ayrton Senna at the Italian Grand Prix.
Just two laps from victory, Senna attempted to go around the Williams of the Frenchman in the first chicane at Monza. Unfortunately for the Brazilian, Williams stand-in Schlesser had got his braking all sorts of wrong going into the corner, and having locked up into the left-hander, he then proceeded to skate over the kerb of the ensuing right and bang into Senna – the Brazilian having been desperate to get through as quickly as possible given that he was being steadily hunted down by the Ferrari of Gerhard Berger.
With Senna out, and with the Honda engine of the other McLaren of Alain Prost having given up the ghost on lap 34, Berger led Ferrari team mate Michele Alboreto across the line for a momentous home win in front of the tifosi, exactly four weeks to the day that the team's founder Enzo Ferrari had passed away.
Did you know? Schlesser was replacing Williams driver Nigel Mansell, who'd been side-lined with chicken pox, but the drive had originally been slated for Senna's old Formula 3 sparring partner Martin Brundle – who'd subbed for Mansell at the preceding Belgian Grand Prix – before he'd had to cancel due to sportscar commitments.
3. Ayrton Senna vs Satoru Nakajima, 1990 Brazilian Grand Prix
Little meant more to Ayrton Senna than winning his home race, and having failed to do so at his six previous attempts, it looked as though, at the 1990 Brazilian Grand Prix, he was finally on course to make it happen. This time, it was truly Senna's home race too, with Formula 1 returning that year to Interlagos in his home city of Sao Paulo, following a nine-year stint at Rio's Jacarepagua.
Having led from pole position, on lap 40, Senna came up behind the Tyrrell of his old Lotus team mate Satoru Nakajima. If there'd been any bonhomie between the pair back in the Lotus days, however, that dried up in an instant when the Japanese lapee - clearly having not looked in his mirrors - swung his car in front of Senna's flanks, wiping off the Brazilian's front wing. Senna was forced to pit for a new nose cone, dropping him down to third and, worst of all, leaving his bitter rival Alain Prost to come through and take the victory.
Did you know? To rub a bit of salt into Senna's wounds, Prost's victory at Interlagos was his sixth Brazilian Grand Prix win, a record at the time for the most number of victories for a driver at one Grand Prix. Had to be Senna's home race, didn't it?
4. Michael Schumacher vs David Coulthard, 1998 Belgian Grand Prix
Unless you were a member of the Jordan team, nothing really went right at the 1998 Belgian Grand Prix – and it went especially badly for David Coulthard. Run under miserably wet conditions, the writing was on the wall early doors when Coulthard put a wheel of his McLaren onto a metal drain cover on lap one, clattering into the wall before rebounding across the track and lighting the touch paper on one of the ugliest crashes in F1 history – and, at around $13 million, one of the most expensive too (thankfully no-one was injured, though).
Coulthard wasn't done yet, however. Taking the restart in his team's spare MP4/13, he came together with the Benetton of Alex Wurz, the collision leaving him trailing around at the back of the field and meaning that, by lap 25, he had race leader Michael Schumacher bearing down on him.
As Coulthard hugged the racing line – having been made aware of the fast-approaching Schumacher after Ferrari boss Jean Todt went and had a word with his opposite number at McLaren, Ron Dennis – Schumacher, failing to properly spot the McLaren in the spray, clouted into the back of Coulthard with a sickening violence.
Once the two heavily damaged cars had followed each other back to the pits, a furious Schumacher, his Ferrari crew desperately trying to hold him back, strode to the McLaren garage intent on dishing out a bit of Sturm und Drang on Coulthard, and accusing him of trying to kill him. Manna from heaven for race fans, of course, and manna from heaven for Eddie Jordan too, with his drivers Damon Hill and Ralf Schumacher inheriting P1 and P2 and – after some terse team orders – staying there till the flag to deliver the team's first ever victory.
Did you know? Despite denying that he'd braked in front of Schumacher and the stewards dismissing the crash as a racing incident, Coulthard admitted five years later that he had, in fact, been at fault for the crash. "The reality is that I lifted to let him pass me, but I lifted in heavy spray on the racing line," he told reporters. "You should never do that. I would never do that now. In 1998, I didn't have the experience and the knowledge, and I had never had someone run into the back of me. And because someone pushes you, you react. So you act as though 'I didn't do that'… The minute I knew he was there, and I was told by the team that he was and was trying to allow him to pass me, I should have made a smarter decision."
5. Juan Pablo Montoya vs Jos Verstappen, 2001 Brazilian Grand Prix
It seemed that at the 2018 Brazilian Grand Prix, Max Verstappen may have inherited a bit of familial bad karma from his father Jos.
At the same Grand Prix 17 years earlier, Jos the Boss was running around in 10th place in his Arrows, and was in the process of being lapped by the Williams of Juan Pablo Montoya – the Colombian looking well placed to take his first F1 victory in only his third Grand Prix. Montoya made it past Verstappen okay, but when the Dutchman attempted to tuck in neatly behind the Williams to go through the corner, he misjudged his braking and slammed into the back of Montoya, eliminating both of them from the race in one fell swoop.
Montoya put on a brave face as he waved to the crowd during his long trudge up the hill and back to the pits, while Verstappen Sr appeared contrite when he faced the media afterwards. "He braked very early and that was it, I couldn't avoid him anymore," explained Verstappen. "I'm really sorry to him because I heard he was leading the race."
Nearly two decades on, Jos probably wasn't best pleased to see Esteban Ocon taking his boy out of the lead of the Brazilian Grand Prix – but deep down, he may still have felt a touch of sympathy for the Frenchman nonetheless…
Did you know? That year's Brazilian Grand Prix was one to forget for the home crowd. In a 2001 field that was fairly stuffed to the gills with South American drivers – Brazilians Rubens Barrichello, Luciano Burti, Enrique Bernoldi and Tarso Marques, plus Colombian Montoya and Argentinian Gaston Mazzacane – only Marques made it to the end of the Grand Prix, and out of the points in ninth place to boot.