Sainz hit with three-place grid drop for Stroll clash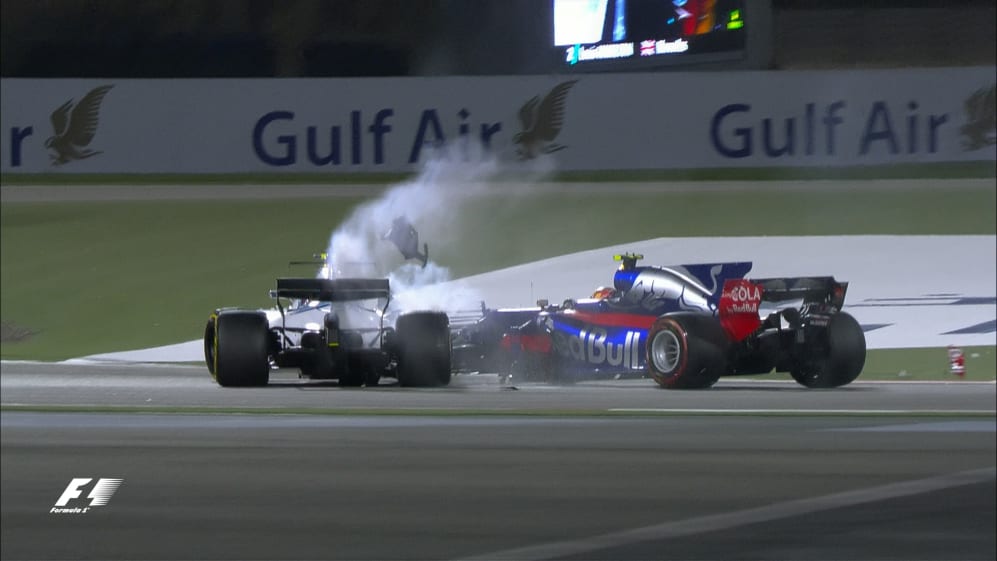 Toro Rosso's Carlos Sainz has been handed a three-place grid penalty for the next round in Russia after race stewards deemed him 'predominantly to blame' for the crash that eliminated him and Williams' Lance Stroll from Sunday's race in Sakhir.
Sainz and Stroll collided at Turn 1 at the start of lap 12, with the Toro Rosso driver, who had just left the pits, spearing into the side of the Williams as it rounded the right hander.
Sainz was quick to point the finger of blame at Stroll for the collision, suggesting the rookie had turned in on him, but the stewards saw things otherwise.
"Video evidence showed that car 18 [Stroll] was on the normal racing line," read a statement from the FIA.
"Car 55 [Sainz] left the pit lane and made a very optimistic attempt to pass car 18 into the corner. The stewards decided that the driver of car 55 was predominantly to blame for causing the collision…"
Stroll described the coming together as 'ridiculous' and said that a change of fortune can't come soon enough.
"I saw Sainz coming out of the pitlane, I was 50 or 60 metres in front of him in the braking zone, and was already turning in and he drove into my side," explained the Canadian, who has now retired from each of his first three Grands Prix.
"There is not much else to say, as I have just seen the video and it was ridiculous. I think the race wasn't going badly. I had a bad start and lost a couple of positions, but boxed early and had a really good beginning to the stint on the soft tyres.
"I am just disappointed and hope my luck turns round sometime soon. I can be frustrated, but it won't get me anywhere. On the bright side there are many races to go."
As well as his three-place grid drop, Sainz was awarded three penalty points on his license, bringing his total for the 12 month period to seven. If a driver accrues 12 penalty points in a 12-month period they will have their Super Licence suspended for one race.