Feature
A history of the French GP in 7 circuits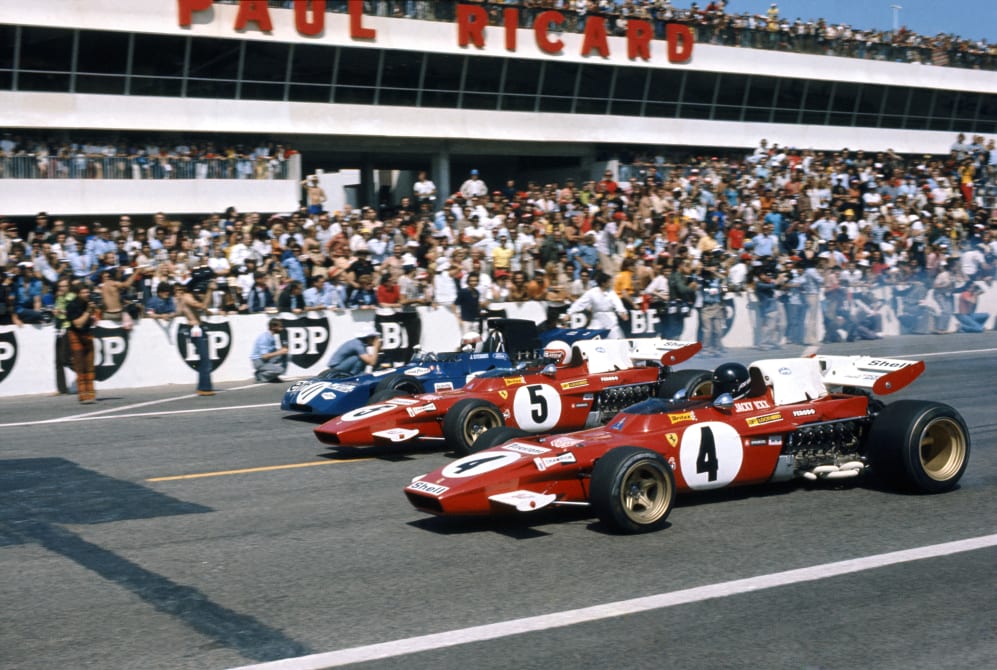 Rouen, Clermont-Ferrand, even Le Mans… the French Grand Prix has certainly got around since the first world championship event in the country in 1950. As the race returns to the calendar for the first time since 2008, at the Circuit Paul Ricard in Le Castellet, find out which French Grand Prix venue rewarded fast-qualifying drivers with 50 bottles of champagne, which one was built on a volcano and which one was designed by a wrestler…
1. Reims
Races hosted: 11 (1950-1951, 1953-1954, 1956, 1958-1961, 1963, 1966)
Located slap-bang in the middle of champagne country, Reims – which, rather confusingly for Anglophones, is pronounced 'Rance' by the locals – hosted the first world championship French Grand Prix in 1950. The road course wends its way through the countryside to the west of Reims, using the D27 as its start/finish line. In fact, you can still see the pit buildings there today…
The roughly triangular track was super-fast, with the layout from 1954 to the track's demise in 1972 featuring two massive straights, as well as some quick, challenging kinks. After his F1 career was over, Stirling Moss admitted to a neat trick he had for setting quick qualifying laps at Reims – important when there were 50 bottles of champagne up for grabs for the driver who took pole position!
Before his hot lap, Moss would deliberately overrun at the final corner as though he'd missed his braking point, and then use the run up back onto the track to make sure his car was going extra quick when he started his lap. Clever, eh?
After clamouring for attention in the 1960s as the French Grand Prix moved between venues, Reims hosted its final Grand Prix in 1966, with Jack Brabham winning en route to his third title.
Notable race: 1961, when Giancarlo Baghetti won his first – and last – Formula 1 race on his debut, the only rookie in history to ever manage the feat.
Home success: Not much, malheureusement. Robert Manzon and Jean Behra's brace of third places at the 1954 and 1956 Grands Prix mark the only times a Frenchman ever made the podium at Reims.
2. Rouen
Races hosted: 5 (1952, 1957, 1962, 1964, 1968)
Carved into the hillside to the south-west of Rouen, the fearsomely fast four-mile Rouen-les-Essarts track is something of a lost classic. The road course near the town of Orival held just five French Grands Prix, yet is considered by many who drove it to be one of France's – and even one of Europe's – greatest tracks.
A tour of the circuit was a lap of two halves, with the first part plunging downhill and ending up at the track's famous, cobbled Noveau Monde hairpin (now sadly tarmacked over). From there, the road climbs almost 100 metres in altitude, cutting through the forest and back around to the start.
Arguably the most iconic single image associated with Rouen is the photo above, showing Juan Manuel Fangio artfully drifting his Maserati 250F through the Virage des Six Freres. Unfortunately, in common with the Nurburgring, Rouen's extreme combination of high speeds and undulation proved a deadly cocktail as Formula 1 cars' downforce-assisted speeds increased throughout the 1960s, with Honda driver Jo Schlesser's death in 1968 signalling the end of the circuit's time as an F1-hosting venue.
Notable race: 1962. Dan Gurney won twice at Rouen, with his 1962 victory standing as the only win for Porsche as a constructor in Formula 1.
Home success: Go fish, we're afraid. Robert Manzon's fourth place stands as the best finish by a French driver at Rouen.
3. Clermont-Ferrand
Races hosted: 4 (1965, 1969-1970, 1972)
'The words of praise that were showered on the circuit were almost embarrassing. "Magnificent, Terrific, Superb, The Best in Europe, Marvellous, Beautiful" were all expressions heard continuously… The circuit of Charade ranks among the best and sorts out those who can drive from those who are just trying to kid us.'
So ran legendary F1 journalist Denis Jenkinson's report in Motorsport Magazine after the 1972 French Grand Prix.
Winding its way around a pair of extinct volcanos in central France, the Clermont-Ferrand track – or the Circuit de Charade, to give it its proper name – was another fast and undulating road course in the mould of Rouen. Part designed by 1950 Le Mans winner Louis Rosier, racing began at the track in 1958 – although sadly Rosier died before getting to see his project reach fruition. Formula 1 arrived at the circuit in 1965, with Jim Clark taking victory that year in his Lotus 25.
The track was a full five miles long and, with its lack of straights and assortment of over 50 corners, resembled a tarmac rally stage more than a Grand Prix circuit. It was so undulating, in fact, that 1967 world champion Denny Hulme reckoned that drivers continued to wear open-face helmets at Clermont-Ferrand so that they could throw up more easily!
Grand Prix racers were smitten, however, with Stirling Moss once remarking: "I don't know a more wonderful track than Charade." Constant problems with rocks falling onto the circuit – which ended up costing current Red Bull motorsport advisor Dr Helmut Marko an eye back in 1972 – and a lack of space to put in run-off areas sadly put paid to Charade's spot on the F1 calendar.
Notable race: 1972. Matra's Chris Amon was romping away to what would have been his maiden F1 win, but a long pit stop cost him victory. However, Amon's recovery drive from eighth to third, during which he broke the lap record three times, was so good that the officials insisted he take a lap of honour along with winner Jackie Stewart.
Home success: Nearly – Jean Pierre Beltoise finished second to his Matra stable mate Jackie Stewart at the 1969 race.
4. Le Mans
Races hosted: 1 (1967)
The George Lazenby of French Grands Prix in that, like Lazenby's James Bond, it only made one ever appearance, the decision to hold the 1967 French Grand Prix at the newly-opened Bugatti Circuit at Le Mans was a controversial one.
Dubbed 'The Grand Prix of the Car Parks' by detractors before the start of the race, there was little enthusiasm for its layout – Graham Hill famously described it as 'a real Mickey Mouse type of circuit' – which used the beginning of the Le Mans 24 Hour course before looping back on itself before the Tertre Rouge corner, with the cars then negotiating a track used by the circuit's racing school and which, yes, had once been a car park.
Because the pit facilities at Le Mans were built to hold 55 cars, when the 15 Formula 1 machines set up shop, they were dwarfed by the enormous venue, while the crowds were thin on the ground too, with only 20,000 turning up to watch the Grand Prix, compared to the 200,000 who'd watched that year's Le Mans 24 Hours three weeks earlier. Then there was the fact that the layout of the track meant that the F1 cars weren't going as fast down the start-finish straight as the Le Mans racers. "Grand Prix cars tended to look slower and rather lost on this large circuit," reckoned Graham Hill.
In the race, Hill led from pole, going on to trade positions with Lotus team mate Jim Clark before both cars packed up, handing both victory and second place to the two Repco Brabhams of Jack Brabham and Denny Hulme.
Notable race: That would be the 1967 one.
Home success: Afraid not. Guy Ligier, the only Frenchman in the 1967 race, and who would later go on to form his own Ligier team, was unclassified.
5. Circuit Paul Ricard
Races hosted: 14 (1971, 1973, 1975-1976, 1978, 1980, 1982-1983, 1985-1990)
Created in 1969 by a French pastis magnate (we'll leave you to guess his name) the Circuit Paul Ricard lies between the cities of Marseille and Toulon in the south of France. The dominant feature of the original track – which French racers Jean-Pierre Beltoise and Henri Pescarolo consulted on the design of – was the mile-plus Mistral back straight, which in 1985 saw Swiss driver Marc Surer register a top speed of 210mph in his 1,000bhp Brabham-BMW. That straight, which has since been broken up with a chicane, ends with the classic Signes corner, a dauntingly fast right-hand sweeper that's still in use today.
Serious accidents for both Ayrton Senna and Nigel Mansell during the 1985 Grand Prix weekend, coupled with the fatal crash of Elio de Angelis during testing in 1986, caused the track to be reworked, with the overall length reduced from 3.6 to 2.4 miles, a move which slashed lap times by around 30 seconds.
In the intervening years between the last French Grand Prix at Paul Ricard in 1990 and its 2018 return to the F1 calendar – during which time the track has grown back to a 3.6-mile layout – the circuit has sprouted its distinctive blue and red run-off areas. This 'Blue Zone' feature is designed to reduce cars' speed without the need for gravel traps, while still punishing drivers who make a mistake in a corner by making them travel over the abrasive surface.
Notable race: 1990. Alain Prost delighted his home fans by winning the race for Ferrari, but there was nearly a huge upset when the underpowered, Adrian Newey-designed Leyton House CG901s of Ivan Capelli and Mauricio Gugelmin ran first and second early on.
Home success: Plenty. Apart from Prost's 1990 win, he also won in 1983, 1988 and 1989 at Paul Ricard, while Rene Arnoux won for Renault in 1982.
6. Dijon-Prenois
Races hosted: 5 French Grands Prix (1974, 1977, 1979, 1981, 1984) and one Swiss Grand Prix (1982)
Almost certainly the only race track in the world conceived by a rugby-playing wrestler, local hero Francois Chambelland opened the Dijon-Prenois circuit in the east of France in 1972, after three years of work and having relied on the consultation expertise of French drivers Francois Cevert and Jean-Pierre Beltoise.
With funds tight and no government money to play with, Chambelland and his team could only afford to build an unusually small track initially, meaning that Ferrari driver Niki Lauda's pole time for the 1974 Grand Prix was just under 59 seconds. Nevertheless, F1 returned to a longer Dijon-Prenois in 1977, with the track now darting out into the forest to the Parabolique hairpin before rejoining the original circuit – while satellite pictures still show the faint outline of an even longer track that Chambelland had wanted to build.
Character-wise, Dijon-Prenois is defined by its sweeping, fast, off-camber corners, as well as its rising and falling topography, with the gradient as steep as 11% in some places. After F1's 1977 return, the track traded Grand Prix hosting duties with Paul Ricard for a number of years – although both tracks were on the calendar in 1982, with Dijon staging the Swiss Grand Prix – before holding its final Formula 1 race in 1984.
Notable race: 1979. Jean-Pierre Jabouille took the first ever win for Renault, and the first ever win for a turbo-powered car… but sadly for Jabouille and Renault, people are more likely to remember the gladiatorial duel for second place between the sister Renault of Rene Arnoux and the Ferrari of Gilles Villeneuve, with the pair passing each other and banging wheels incessantly in the last couple of laps before Villeneuve eventually came out on top in the fight.
Home success: Apart from Jabouille's win, Alain Prost also triumphed at Dijon in 1981.
7. Magny-Cours
Races hosted: 18 (1991-2008)
The French Grand Prix's most decorated track in terms of races held, Magny Cours – aka the Circuit de Nevers – was built in 1960. In its early life, it was most famous as the base for the Winfield Racing School, a proving ground for young talent which saw the likes of Francois Cevert, Alain Prost, Damon Hill, Jacques Laffite and Jean Alesi pass through its doors. After falling into disrepair in the 1980s, the track was bought and refurbished by the Regional Conseil de la Nievre and, in 1991, hosted its first of 18 Formula 1 Grands Prix. Eight of those 18 races were won by Michael Schumacher, who seemed to have an affinity with the super-smooth track in central France.
The circuit's distinguishing feature is its unashamed copy-and-pasting of parts of other tracks. Corners like Estoril, Nurburgring, Imola and Adelaide aren't just hat tips to other famous race circuits – they're corners that have been lifted wholesale from them! That made it an exciting and rewarding track for drivers to attack, with Lewis Hamilton recently saying: "I loved it when we used to have the Grand Prix in Magny-Cours."
Notable race: 1999. After a downpour at the track, some clever strategy from the Jordan pit wall allowed Heinz-Harald Frentzen to one-stop in the wet conditions and take the team's second Grand Prix victory.
Home success: Just the one home win, for Alain Prost in a Williams in 1993.