A potential 7th place goes up in smoke for Grosjean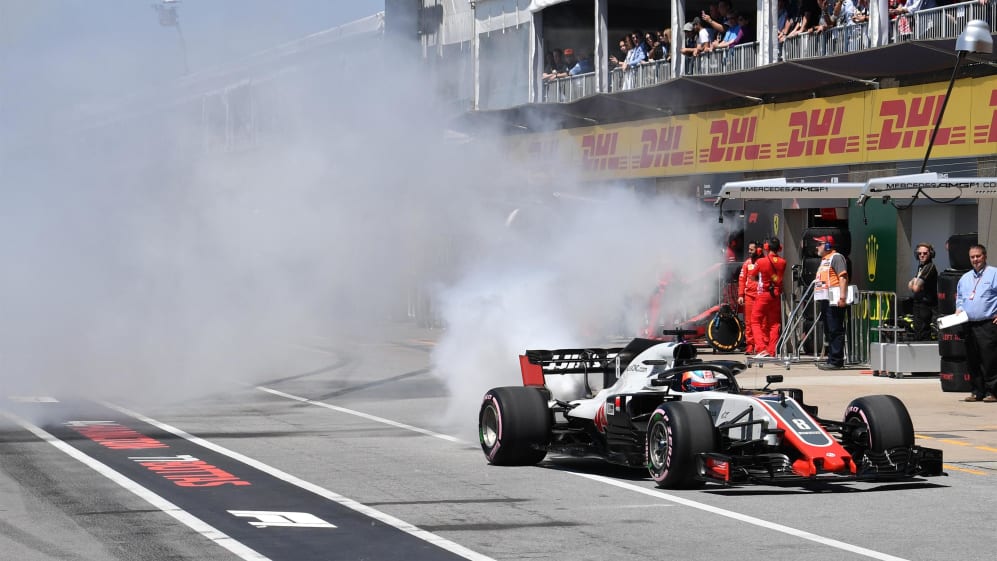 Romain Grosjean's upgraded Haas had been looking rapid throughout practice in Canada. But the French driver's dreams of a decent qualifying session went up in a literal cloud of smoke just seconds after leaving his garage at the start of Q1.
Grosjean was quick-thinking enough to stop his Haas VF-18 before crossing the pit lane exit line, allowing his mechanics to come and push him back to the garage. But with the issue lurking deep within the bowels of the car's power unit, the team were unable to get him back out on track, meaning he'll start Sunday's race 20th and last on the grid.
"We had a bit of warning in FP3 and we tried to change as many parts as we could," said Grosjean. "We changed all the electronic box – the ECU [electrical control unit] – I don't exactly know but [we changed] a lot of parts that we could in the allocated time. We don't know yet what failed.
"Obviously you don't have the time to change an engine between FP3 and qualifying. Then it went in the pit lane – I don't know exactly what went but obviously something smoked and we had to stop the car."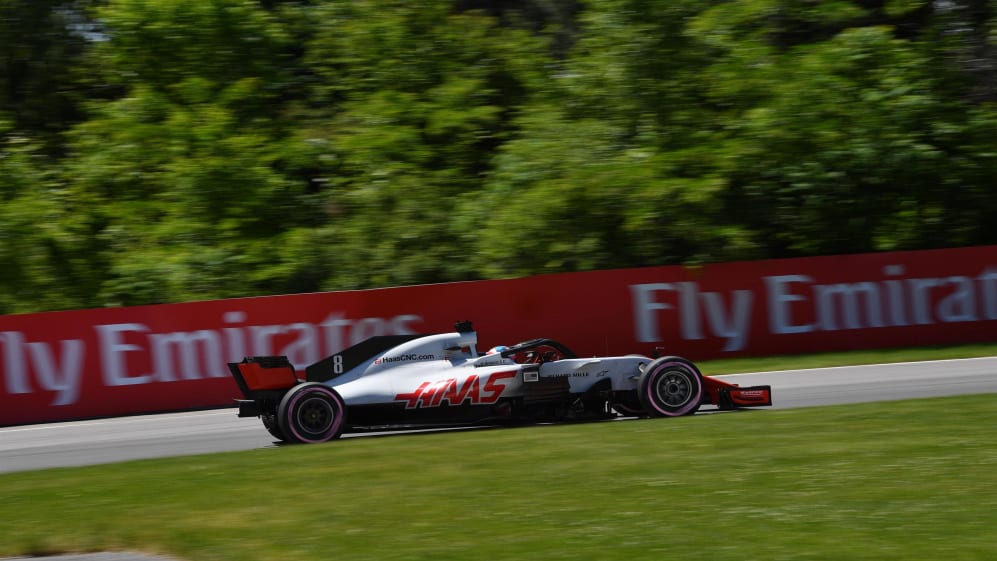 Despite Haas's much-publicised lack of spare parts, the team had brought a significant upgrade to Canada, including changes to the front wing and bargeboard, which Grosjean described as 'a good step in terms of feeling the car'.
He'd been putting those to good use too, ending Free Practice 2 in seventh spot to earn the coveted 'best of the rest' accolade for that session, while he also managed ninth place in FP3 despite posting only one lap on the quickest hypersoft tyre.
"Yes, I think seventh was on the board," said Grosjean when asked if he could have made the top ten. "This morning it was P9, but as I say I only did one lap on the hypers. The feeling is really nice and it's there – and that's the positives of the weekend."
So even after the miserable turn of events in qualifying, which saw team mate Kevin Magnussen finish 11th, Grosjean remains upbeat about his prospects for Sunday's race.
"The car is super-fast and [we're] very happy with the upgrade," he said. "Starting last is never ideal, but it's one of those race tracks where you can overtake, so luckily it's not Monaco.
"I think everyone starting on hypersofts is going to suffer from the degradation, especially if it's warm. We're going to try something different. There are a lot of cars to get around. A good Safety Car, some luck at a good time, and we could be up there."