'A very positive start' – Verstappen shrugs off heavy FP2 shunt after finishing Friday fastest at Spa
You'd have forgiven Max Verstappen for being out of sorts after ending his Friday afternoon at Spa-Francorchamps in the wall, with the Dutchman bringing a premature end to Free Practice 2 after crashing into the Malmedy barriers. But shaking off the incident, Verstappen described Red Bull's Friday at the Belgian Grand Prix as a "very positive start", as he ended the day quickest of all.
Having finished second to Mercedes' Valtteri Bottas in FP1, Verstappen then topped the timesheets midway through Free Practice 2 with the fastest lap of the weekend, a 1m 44.472s set on the soft tyres – Bottas ending up 0.041s adrift, although both he, and team mate Lewis Hamilton in third and a further 0.031s further back, set their fastest laps on the medium tyres.
FP2: Verstappen tops second practice, before triggering red flag with late shunt at Spa
Verstappen then switched onto his own set of medium tyres to complete his long runs. But with just a few minutes of FP2 left, the Dutchman rotated his car at the exit of Malmedy and clouted the barriers, becoming the second driver in FP2 – after Charles Leclerc – to cause a red flag after crashing at the corner.
Asked after the session what had caused the accident, Verstappen replied: "I don't know, I just lost the rear, did a bit too much oversteer to correct and unfortunately hit the wall."
That might have been enough to dampen the mood of Verstappen, whose sizeable fanbase here this weekend looked dejected as their hero trudged away from his stricken RB16B. But he was looking on the bright side heading into Friday evening.
"It was good," he said of the opening two practice sessions of the weekend. "I think the whole day we were quite happy. Of course a few things to fine tune from FP1 to FP2 but overall we've been very happy. I think definitely a very positive start.
MUST-SEE: Helmet camera delivers an incredible onboard lap of Spa through the eyes of Fernando Alonso
"I didn't change anything on my car with the wing [levels]," he added, "so I felt happy with what I had. But of course, a few things to take into consideration with the weather as well."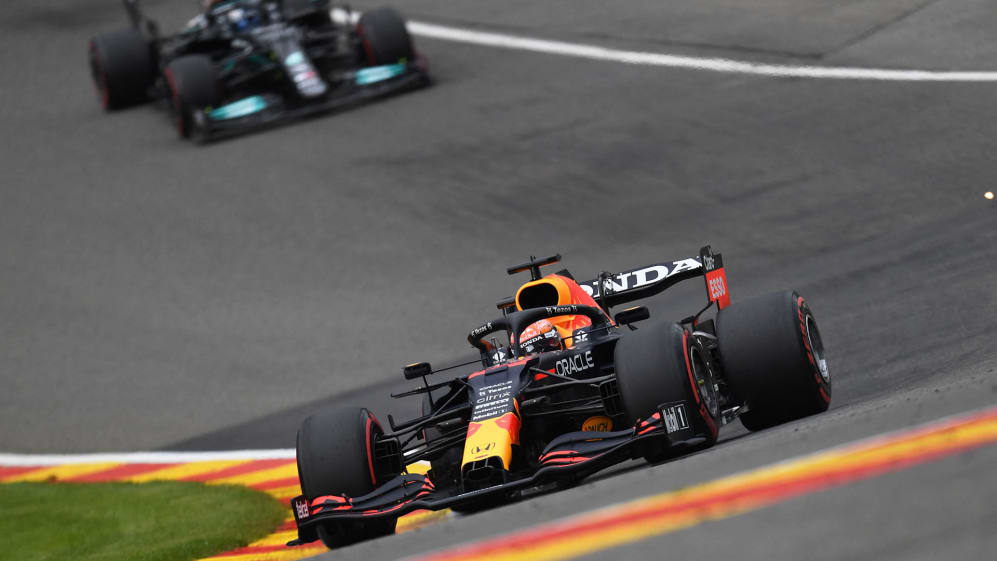 Speaking of weather, with an unsettled forecast for the rest of the weekend – with FP1 having started in damp conditions – Verstappen wouldn't be drawn on how he thought qualifying and the race might pan out if the rains did come.
"It's a bit difficult to say in the wet because so far we haven't really driven in it," said Verstappen, who, it was announced over the lunchtime break period, would continue to be partnered at Red Bull in 2022 by Sergio Perez. "But I think every day will be a bit like it was today. Definitely it will be quite interesting."
ANALYSIS: Why Red Bull kept Perez for 2022 – and what it means for Gasly and Albon
Verstappen is going in search of his first pole position and victory at Spa-Francorchamps this weekend, with the Dutchman having scored just five points in the previous two rounds – the Red Bull driver currently eight points behind Lewis Hamilton in the drivers' standings.