Abu Dhabi GP sums up our season – Vettel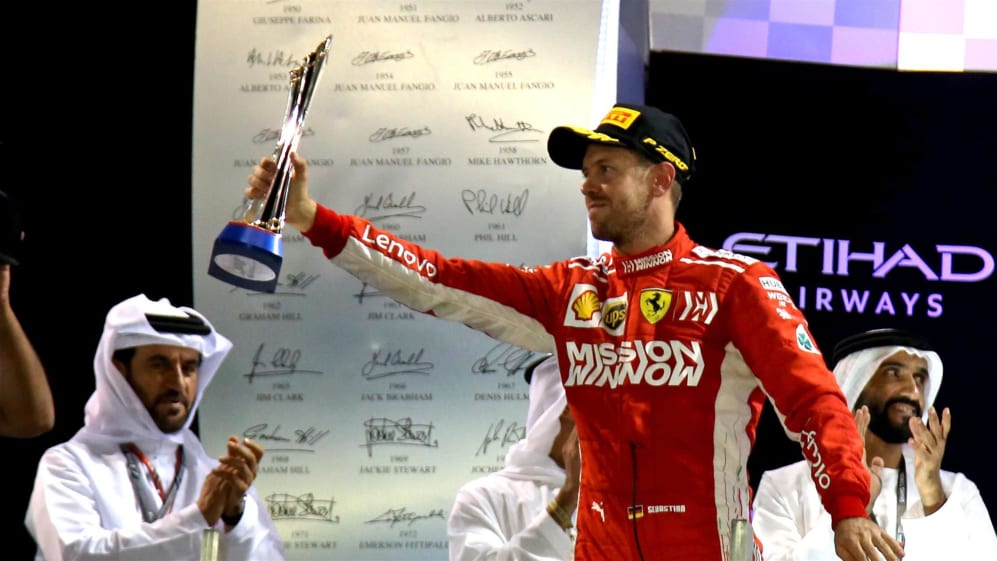 Close, but not close enough. Sebastian Vettel found himself in a familiar situation at the Abu Dhabi Grand Prix, trailing Lewis Hamilton in the season-ending race, and the Ferrari driver, as was the case in the championship tussle this year, was unable to find a way to beat his Mercedes rival…
Ferrari were touted by many as the favourites for both titles this season, and for much of the first part of 2018, Vettel was delivering that potential – that was until a string of mistakes hindered his charge, and allowed Hamilton to take control.
Hamilton wrapped up the title in Mexico with two races to spare, and ended the season on a high by claiming victories in Brazil and Abu Dhabi, ultimately finishing 88 points ahead of Vettel and also becoming the first driver in F1 history to score 400 points in a single season.
That was no doubt tough to take for Vettel on Sunday. The German found the sister Silver Arrow of Valtteri Bottas hard to overtake in the early stages of the Grand Prix, and he admits a second-place result was an all-too-familiar feeling.
"I think today's race sums up the year pretty well: a few ups and downs and in the end just being close, but not close enough," said Vettel.
"Today, I really tried to hang on as long as I could, but it was tough being behind Valtteri. I believe I was a little bit quicker, but it was very difficult to get close, especially in the last sector, until he had some issues and I managed to get past.
"We were strong in the straights and we had speed, but we were struggling in the last sector to keep up, especially in the last two corners. At one point, I had hopes of winning the race, so I was pushing as hard as I could, but in the end it was not enough.
"It has been a very intense year and I think we have to look at ourselves, as there are many things that we can do better and the potential this team has is still huge."
For the past two seasons, Vettel has spearheaded Ferrari's challenge for glory but both times he has come up short behind Hamilton – and the four-time world champion is hoping a winter of hard work will allow the Scuderia to go one better next year.
"Well he's the champion and he deserves to be the champion. Yeah, it's been a tough year. I tried everything until the last lap, also today, I really enjoyed it," added Vettel.
"Catching a little bit, a little bit, but I think he controlled the pace at the front. I would have liked it to be a little more wheel-to-wheel but yeah, a long year, a lot of races.
"Congrats, and as he said I will try, we will try, I think our whole team will try to come back stronger to make sure we give him a harder run into next year."