Abu Dhabi preview quotes - Mercedes, Sauber, Force India, Williams, Toro Rosso & more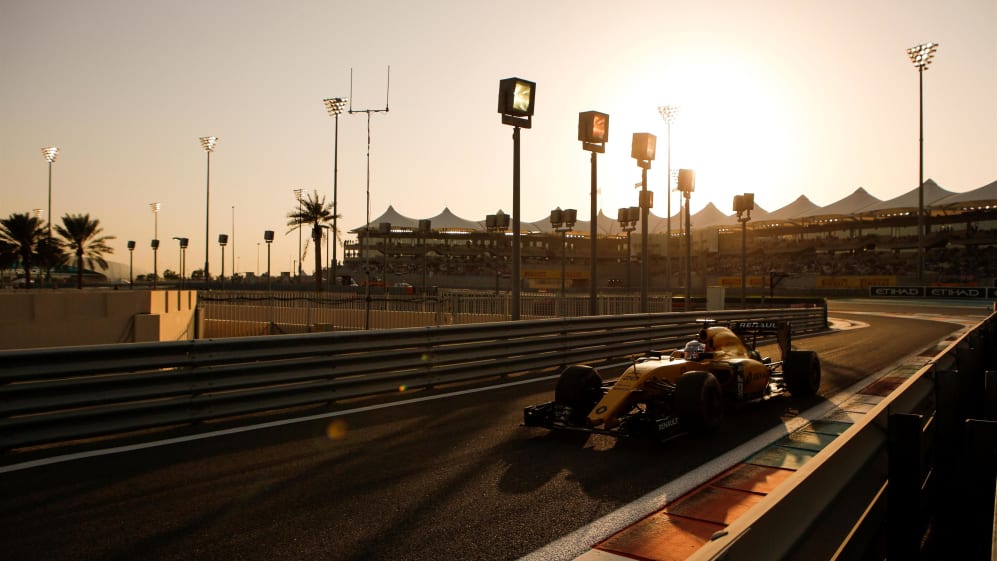 The final round of the season takes the F1 field to the twilight challenge of the spectacular Yas Marina Circuit. Those involved preview next weekend's 2017 Formula 1 Etihad Airways Abu Dhabi Grand Prix...
Mercedes
Toto Wolff, Head of Mercedes-Benz Motorsport
"We head to Abu Dhabi for the final race of the 2017 season with the same hunger and fire in our stomach that we took to Melbourne over seven months ago. During that time, we have pushed ourselves to new limits, bounced back from painful defeats and conquered new and unexpected challenges. Spurred on by strong rivals, we had to dig deeper this year than ever before. And that battle made both titles the most satisfying yet. Our target was to become the first team to win championships across a major regulation change and we are proud to have achieved that.
"But regardless of what stands in the trophy cabinets back at base, our focus is always on the next race and the next championship. Our goal in Abu Dhabi is quite simple: to give the best of ourselves, to extract the maximum from our "diva" in her final race - and to win. We saw promising pace in both Mexico and Brazil, both circuits where we had expected to struggle more than we did, and this is a positive sign of the progress we have made in understanding our difficulties this year. But we have not been on the top step of the podium since Austin and we are determined to change that in Abu Dhabi.
"Yas Marina is a circuit that holds intense memories for the team, with two title showdowns in the past three seasons. We have claimed three consecutive wins and very much intend to make it four this year. The circuit offers a range of slow to medium speed corners that perhaps are not our car's most natural habitat, but our recent steps forward give us confidence that we can perform strongly there. Valtteri is on an upward swing of form, with two podiums in the past two races; and Lewis will be aiming to finish this historic season on a high. This is a goal that we all share."
Sauber
Marcus Ericsson
"We are heading out to Abu Dhabi for the season finale. It is positive to see that we have been making some progress over the last few race weekends, and I will do everything to make sure that we continue to work in the right direction. Abu Dhabi is a great location, and a city rich with culture and tradition. The Yas Marina Circuit is a fun one, and the atmosphere and fans are always great there. It is usually a spectacular end to the season there, so I look forward to this race weekend."
Pascal Wehrlein
"The Grand Prix in Abu Dhabi is a memorable one, especially due to the unique location of the track. The race starts at twilight, making it feel mystical. There is always a great show programme and there are many activities for fans that take place around the track. Although the championship has already been decided, the Abu Dhabi Grand Prix is always an exciting end to the season. For my part, I will invest all of my energy in doing the best possible job."
Force India
Sergio Perez
"I enjoy driving at Yas Marina. It's a track where we've been strong for the last few years and I would love to end the year on a high with a strong result. The final race is always a strange feeling because it's your last opportunity to drive the VJM10 and you don't know what next year will bring. We don't have any pressure because fourth place in the championship is confirmed so I can focus on simply enjoying the experience and getting the best result possible.
"There are some interesting corner combinations at Yas Marina and it's a track that is hard on braking, with a lot of emphasis on traction. There are overtaking opportunities at the end of the long straights so you often find yourself either attacking or defending, especially towards the end of the race.
"As a team we can be satisfied with our season. Finishing fourth is the best we could achieve and, on a personal level, finishing just behind the top six drivers makes me feel proud. We just need to make sure we deliver this weekend and end the season well."
Esteban Ocon
"The Abu Dhabi weekend is always special and racing at night creates such a nice atmosphere. This season went by so quickly – it's unbelievable to think we're already at the final race of the season because it feels like yesterday that we were in Australia. It's been a successful season and I hope we can finish it in style with a big result.
"I have great memories from Yas Marina: this is where I was crowned GP3 champion in 2015 and where I drove my first FP1 session in Formula One. I have done so much testing around there and I like the place. The two long straights are good opportunities to overtake: you can use the first to get really close to the car in front and make the move on the second. There are opportunities to shake the order up so the race can be quite exciting.
"After Abu Dhabi, it's not really holidays. It's back to training, back to the mountains for almost two months. I want to be ready for next season, when the cars are likely to go even faster. It'll be nice to spend some time with family and friends around Christmas and New Year, but other than that, my focus is on getting ready physically and spending time at the factory."
Tom McCullough, Chief Race Engineer
"The final race of the season takes us back to a more standard lap length of 5.554km and to sea level, a change after the high-altitude challenges of Mexico and Brazil. This anti-clockwise track produces one of the slowest lap times of the year, courtesy of the high number of corners – the majority of them being low-speed. The three sectors making up the lap are quite distinct: short sector one tests the medium to high-speed performance of the car, while sector two is dominated by long straights and low-speed corners. At the end of the lap, sector three is an intense series of low-speed corners. The Yas Marina circuit is a challenge for engineers too: it's very hard on the brakes and the practice sessions take place early in the day, with higher track temperatures than those we experience during qualifying and race at twilight, meaning it's important to assess the car requirements accurately. As in Brazil, having secured fourth place in the constructors' championship, we will use Friday not only to prepare for the race, but also to help the development of next year's car."
Vijay Mallya, team principal
"Whatever happens in Abu Dhabi this weekend, 2017 has already been our most successful season to date. I can't stress just how proud I am of our achievements. Claiming fourth place in the World Championship for two consecutive years doesn't happen by accident and I have to pay tribute to each and every one of the 400 staff who played their part in making it possible.
"With fourth place secure, it's nice to end the season free from pressure. Of course, the focus is firmly on 2018 and we will continue experimenting with different things on the car this weekend. We will also continue running George Russell in Friday practice. We have usually been competitive in Abu Dhabi and it's important to end the season well before the start of a busy winter finalising a new car for 2018."
Williams
Felipe Massa
"Abu Dhabi is always a nice race and a place I always like to visit. The people go crazy for Formula One as well, so I hope to see the track completely full! There are so many parties and boats around the track, and so many people enjoying themselves and getting excited for the race. The track infrastructure is one of the best in the world too. For me, it will be quite an emotional weekend as it will be my final race with Williams as well as my final race in Formula One. I am looking forward to it and plan to enjoy every moment, to finish my Formula One career on a high note!" Lance Stroll
"I went there last year just after I was confirmed as a Williams Martini Racing driver, and it was a great event. In my view, it is a wonderful place to finish off the season. It is in the desert and they really put on a show, so this will certainly be a fitting end to the season. The circuit itself wouldn't be my favourite as it is very stop and go and doesn't have a great flow to it but, despite that, the show is great and so good for the fans. One very interesting thing is the pit lane exit which is in a tunnel under the track, which is pretty different."
Paddy Lowe, Chief Technical Officer
"Abu Dhabi is the final race to end a long season for all the teams and drivers. It is a fantastic destination for a Formula One race with a certain glamour and party atmosphere for the spectators and fans to enjoy. The Yas Marina itself is spectacular with both qualifying and the race happening at twilight which gives it an extra magical feel as we take to the track. The circuit rewards all-round car performance with a full range of cornering speeds and two long straights. This is Felipe's final race with us, and his final in Formula One, so part of our focus will be on making sure he ends his Formula One career on a good note. It is also the final race of Lance's rookie season so we want to support him in his ambition to end on a high before heading into the winter break."
Toro Rosso
Brendon Hartley
"Wow, what a way to end a year... Abu Dhabi will mark the end of a very busy and surreal few months for me! This will be my fourth Formula 1 Grand Prix of my career and I have to say that I've been feeling more and more comfortable in the Toro Rosso F1 car if I compare it to the first time I drove it. I now feel right at home within the team too, which is always a nice feeling to have. Abu Dhabi is a track I have raced and tested on in other categories and I remain optimistic that I can score my first F1 point!"
Pierre Gasly
"I'm really excited and looking forward to the last race of the season in Abu Dhabi! It's a track I really like, especially because I have some really good memories from racing there last year, where I won the GP2 Series title. It's a place that therefore means a lot to me, also because I was on pole position there for the last two GP2 seasons! It's also a race that starts in day light but ends at night time under the floodlights, so it's a bit different to usual and makes it even more special. The fireworks at the end of the race are also quite spectacular and I like it because they always try to create an amazing atmosphere… and they really manage!! I will give my very best; we need to really push and keep our sixth position in the constructors' championship – it's really important for the team and us drivers, as we want to make sure the team can develop the car as much as we'd like for next year. I will do my best and hopefully finish the season on a high in order to start with a strong baseline for 2018."
McLaren
Fernando Alonso
"As another season comes to a close, Abu Dhabi is a fantastic circuit to visit to round off another year of racing. There's a really unique atmosphere – the year feels like it has gone quickly, but equally there's a feeling of finality and everybody in the team who has worked so hard all year is looking forward to the winter break. It means there's huge anticipation from everyone to perform well in the final race of the season, and it usually gives us great racing and we see everyone giving everything they have to finish on a positive note.
"Yas Marina Circuit is a trickier one for us than Brazil. We had an unexpectedly good result at Interlagos, but we're anticipating a tougher challenge in Abu Dhabi. Of course, the whole team wants to finish the season on a high, so we're working hard to extract every last bit of performance out of the MCL32. Qualifying is crucial on this track because overtaking is tricky, so it's important we get the set-up right as early as we can in the weekend.
"Racing on this circuit is a really special way to end the season – racing in twilight and then the dark, and in ever-evolving conditions makes it interesting for the drivers, and I'm sure this year's cars will be super fun to drive around this track. I'm looking forward to it and I hope we can end the season with a strong result as a reward for all the efforts of the whole team this year."
Stoffel Vandoorne
"It's good to finish the season at a circuit I know well after a couple of new ones in the past few races. I've driven at Yas Marina Circuit a number of times – in testing and also in GP2, and I've won here twice, which are really special memories. I'm looking forward to tackling it again in a Formula 1 car – it's a tricky, technical circuit, but rewarding, and because of its configuration it's pretty difficult to overtake.
"Racing from day to night isn't something I've experienced much of in Abu Dhabi because of the timings of the GP2 races, but driving as the sun goes down is really cool. I like racing on this circuit and there's definitely a special feeling at this grand prix. It's a strange mix between that 'end-of-term' feeling and a lot of anticipation about the weekend ahead, before everyone goes home for a break and then starts working on next year's car.
"This year has been full of ups and downs for us. For me, I had a difficult start to the year, but as the season has progressed I've worked really hard with the team and feel that I've come into my own. I'm more comfortable in the cockpit now than ever before, and my rate of progression over the second half of the season has been very satisfying. It's been a challenging year, but ultimately a rewarding one because I've learned a lot, and I can't wait to see what next year will bring. We'll be pushing hard this weekend to finish the year on a high."
Eric Boullier, Racing Director
"As we look ahead to the sun setting on the Abu Dhabi Grand Prix and the 2017 season, I'm proud of the battles we've fought and the achievements we've made as team this year, despite the lack of results and their respective influence on the championship table. Every member of our team has worked tirelessly to improve our package, race by race, and this weekend will be no exception, as we strive to make the most of every session before the close of the season for the winter shutdown.
"We use every single opportunity on track to evaluate and improve our package and learn valuable lessons for next year, and this weekend will be just as important as ever. With the relative stability in the regulations between 2017 and '18, it means a lot of the data we've gathered, especially over the last few races, will still stand us in good stead over the winter and help inform the all-important decisions we make on next year's package.
"I know I can speak for the whole team when I say that each and every one of us embarks on our final grand prix weekend as McLaren Honda in Abu Dhabi with both optimism and respect. Every single person has worked incredibly hard over the past three years and remained committed through the highs and lows we've experienced together until the very last race. All of us will go into the weekend with exactly the same aim – to work hard and do everything we can to finish the season positively."
Yusuke Hasegawa, Honda R&D Co. Ltd Head of F1 Project & Executive Chief Engineer
"With the Abu Dhabi Grand Prix, we mark the end of a long and challenging 2017 Formula 1 season. The weekend is also significant as it is our final race as McLaren Honda. Despite this, everyone will be fully focussed on extracting the full potential from our package and continuing the momentum we have built over the last few races.
"Yas Marina is a unique track with a traditional racetrack and street-like circuit combined into one. This makes it challenging for the engineers to find the perfect set-up as each sector is very different, from low-speed 90-degree corners to full-throttle straights. Unlocking power and managing fuel will also be key.
"Finally, I am incredibly proud of how hard everyone in the team has worked this this season. I hope that we can end the year on a high, not just for them, but also for the McLaren Honda fans around the world that have supported us during the last three seasons."
Pirelli
Mario Isola, Head of Car Racing
"The Abu Dhabi Grand Prix tends to be a reasonably straightforward race held in consistent conditions, although with an unusual race format, as the start takes place in the afternoon and the finish is in the evening. This race is also important for next year as well: on Thursday, we will present the full range of 2018 Formula 1 tyres on the paddock, which the teams will then get the chance to test for the first time on Tuesday and Wednesday after the Grand Prix. The only exception is the intermediate and wet tyre: Abu Dhabi has never yet produced a wet race, so we're going to have to wait until next year to see those in action."
Haas
Romain Grosjean
"The most difficult thing in Abu Dhabi are the conditions between FP1 and FP2. You only actually have one session that is representative of the race and qualifying, and that's FP2. FP1 and FP3 are warm, therefore you have an hour-and-a-half to determine the best set-up.
"It's always about compromise and finding the best set-up to go faster. You just have to find where you can find the lap time. That's the key. You're never going to be perfect in every corner, but you can try to be as good as you can over the lap.
"I won there in GT1 (in 2010 with Matech Competition). That was my first-ever GT World Championship start, and the first race with that team, and we won. It was a pretty good moment taking the win and leading the championship."
Kevin Magnussen
"It's a very glamorous race to go to as a spectator. It's obviously a race that goes into the night, which makes it more spectacular. It's the finale of the season, so it's always a special race no matter where that is, but I think Abu Dhabi does a good job hosting it. "In terms of the race, it's not too bad. Setting up your car, working on the setup over the weekend, it's difficult because all the sessions are in different temperatures. What you get in FP1 is never what you get in FP2. It's never comparable, and it's the same with FP3 in relation to qualifying. It's a challenging event in terms of building up your weekend.
"I've only ever raced at Abu Dhabi in Formula 1. I had my first test in a Formula 1 car there back in 2012. That's obviously a good memory."
Renault
Nico Hulkenberg
"The circuit itself is quite amazing and the facilities are really impressive. It's a long lap with a weird rhythm so it's key to get comfortable with the change of flow. The corners are a lot different to each other so it's vital to find a good balance, get accustomed to the conditions and master it. Abu Dhabi is a really fun place for a season finale. I've finished in the top seven three times in the last three years so I'm looking forward to it and ready to fight for some points.
"The constructors' championship will go down to the wire for sixth in Abu Dhabi and I'm really relishing the challenge. The track should suit us better than Interlagos. It's the season finale, there's plenty at stake and that makes me very excited.
"I head to Abu Dhabi hoping to score well. I want to kick back on Sunday night at Yas Marina with the team and celebrate a job well done."
Carlos Sainz
"I enjoy that this race is at night, I've done well under the lights this year so it would be nice to repeat that form. The atmosphere is always good in Abu Dhabi as it's the last race of the year which makes it quite a special event. The facilities are incredible there and it's pretty cool to start the race in sunlight and finish at night time, I like that!
"I left Brazil with a positive mindset as I'm starting to feel at home in the car and we head to Abu Dhabi with confidence and an aim for points. It's going to be a tight fight in the championship for sixth, but we are ready for the challenge.
"There's been a lot to learn but I think we've been able to face the challenge in a positive manner. It's been an education for me to come to a manufacturer team, and there's been a lot to do because of joining mid-season. I'm still on a steep learning curve with the car so I hope for another step forward in Abu Dhabi.
"Of course, I want to qualify and finish in the top ten. We've definitely had strong positives from every Grand Prix so far and I want to continue that to finish the year with a smile on my face."   Bob Bell, Chief Technical Officer
"We will look at the balance of risk and reward with the aim of maximising our chances of overhauling Toro Rosso for sixth in the Championship. We'll fight for every point.
"I get a great sense that the momentum in this team is building for the longer term and that's what we're interested in. Clinching sixth in the Constructors' is important as this team wants to show progress en route to being successful and winning championships. It's important to feel and build on this momentum."
Cyril Abiteboul, Renault Sport Racing Managing Director
"We go to Abu Dhabi aiming to finish this rollercoaster season on a high. "This race is almost a championship in itself as we are in a tight battle with Toro Rosso and Haas, and everything is still to play for. Either one of us could finish between sixth and eighth position so we are being very careful with our preparations. We will have to combine an approach that is at the same time attacking, as we need five points more than Toro Rosso to get sixth, but also conservative as we are just two points ahead of Haas.
"We can be positive about our prospects. Abu Dhabi will be the fourth race Nico and Carlos have worked together and we have had two double Q3 performances. They work well together and push each other in the right direction, allowing us to point our development accurately and accelerate elements that add performance to the car. Whatever the result this weekend, we already have the confidence of a strong driver line-up next season.
"Despite the importance of the weekend, we are also looking towards 2018 and notably the French GP. Given the high standard of the track and hospitality we will have a lot of VIPs from Renault and our partners at this event."
Red Bull
Max Verstappen
"We will of course try and end the season with a strong result in Abu Dhabi. Last year was actually quite a good race after skipping a pit stop following a spin at Turn 1, it was hard to manage the tyres to the end of the race but we did it and finished fourth.
"I would say that my favourite part of the track is at Turns 2 and 3, the fast left, right. It's also very cool driving underneath the hotel and racing in the darkness with all the lights. The final sector at Yas Marina is actually quite technical so you have to be really precise there, but it should also be our strongest part of the track. There are quite a few overtaking opportunities to make the race interesting, before the long straight at the hairpin and then at the end of the straight under braking for the next chicane section.
"Abu Dhabi is the last race on the calendar, but I don't actually want the season to end. I'm really fired up at the moment and I just want to keep going. The nice thing will be to spend some time with friends and family over the winter break and then I will look ahead to January and get back in to training before it all starts again."
Daniel Ricciardo
"Yas Marina has actually been one of my favourite tracks over the years. It's been a bit like Suzuka for me though, a track that I've always enjoyed and gone well on but not quite reached the podium at. I broke that trend in Suzuka this year so hopefully I can do the same in Abu Dhabi.
"It's a fun track to drive, I like the twilight thing and I guess because it's the end of the season it's even more enjoyable. We practice in the daylight but race at twilight which makes things more challenging. You generally don't look too much into the sunlight sessions because in the evenings, when it counts, the track cools down and the car changes so much. I wouldn't say they are wasted sessions but you do have to take them with a pinch of salt.
"When you have so much time away from the car in the off season it helps to sign off with a strong result as it makes you feel like you really deserve a break. I think we should have a strong car in Abu Dhabi. I said I want another win before the season is out and I think we have a decent chance of achieving that."
More to follow.