Albon at a loss to explain spin as Sainz relieved to escape 'close call' with Red Bull driver
Formula 1 often comes down to the smallest of margins and at Imola that was clear, when Red Bull driver Alex Albon spun late on and wrecked his points chances while McLaren's Carlos Sainz just managed to avoid him – and what would have been a costly crash – by a whisker to snatch seventh.
Albon was running fifth when the Safety Car came out a lap after team mate Max Verstappen's Lap 51 retirement. The Thai driver decided to stay out on used hard tyres while most of those around him pitted for softs, and was almost immediately passed by Racing Point's Sergio Perez. Sainz was next on his tail, passing Albon at the Tamburello chicane before the Red Bull driver lost control trying to fight back.
READ MORE: Hamilton wins wild race in Imola as Mercedes clinch seventh-straight constructors' title
"I don't know [what happened], to be honest," he said. "I don't know if it was [contact] or just cold tyres at the same time as losing downforce. It just went so quickly. Obviously we were the first car for, let's say, the soft[-tyred cars] to come across, so it was always going to be difficult to stop them.
"In hindsight we could have done something a bit different there and boxed, but it's one of them things. I think we could have easily got a podium today…[but we finished in] last position. Not what we wanted."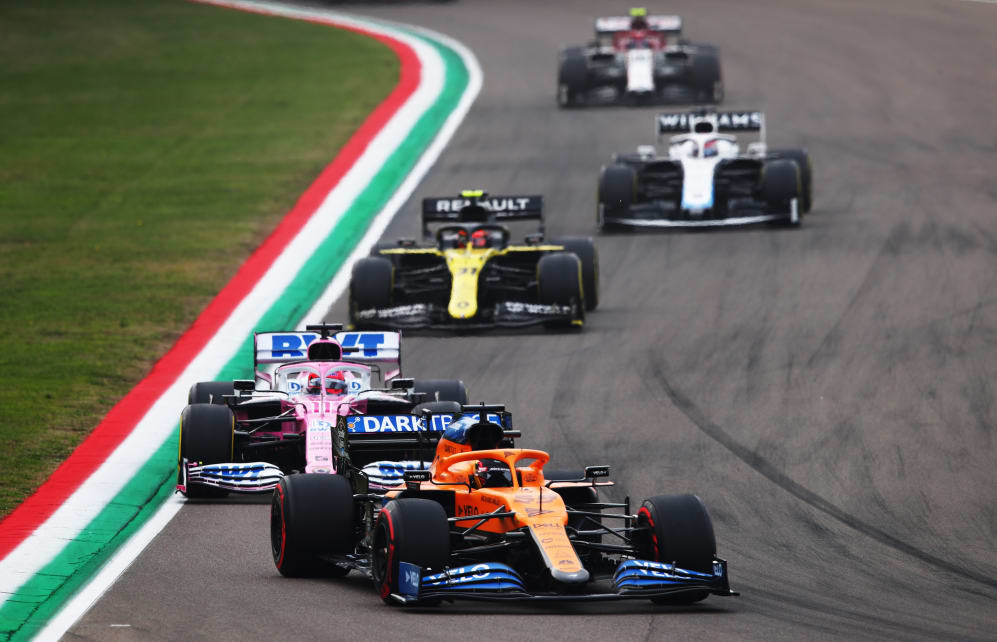 Albon ended the race 15th as he made it three consecutive point-less races and Red Bull left Imola empty handed too. Sainz, who nearly hit Albon's spinning car, reflected on a near miss that saw him "smash" his brakes.
"Yeah, very close call," began Sainz. "We had done quite a bit of the tough work up until then, and suddenly it was Alex spinning in front of me – I had to react really quickly on the brakes, smash the brakes – and I just missed him by the tiniest of margins.
READ MORE: Verstappen says he had no warning of tyre issue before sudden spin, as Horner suggests debris possibly to blame
"So, happy to salvage that after a race which we had managed to overtake Lando [Norris, team mate] in the first few laps and I always felt like I had more pace than the guys in front but it was just difficult to overtake, I guess," he concluded.
Sainz finished seventh at Imola, making it a third-consecutive points-scoring race for the Ferrari-bound Spaniard, while McLaren are just one point off Renault in the hunt for third position. Albon, on the other hand, is waiting for confirmation that he will remain at Red Bull in 2021.