Report
Hamilton wins wild race in Imola as Mercedes clinch seventh-straight constructors' title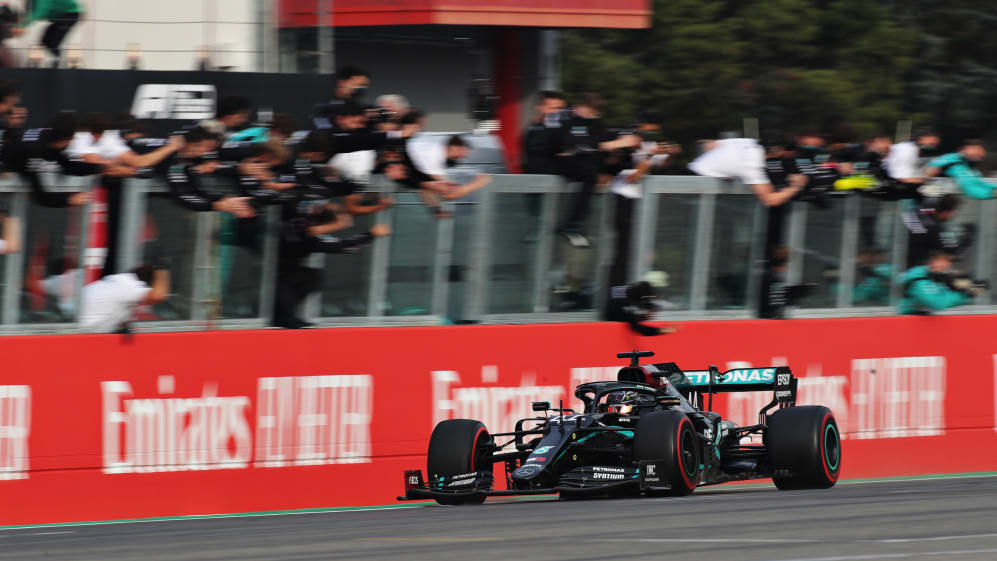 Lewis Hamilton spearheaded Mercedes claiming their record seventh consecutive constructors' title at the Emilia Romagna Grand Prix, leading home team mate Valtteri Bottas and a delighted Daniel Ricciardo – but there was late race drama as Red Bull's Max Verstappen retired from P2 after appearing to suffer a tyre issue, bringing out a Safety Car that led to a climactic race ending.
Bottas had enjoyed a strong start to the Imola race from pole position, leading into Turn 2 as Hamilton lost out to Verstappen on the run down to Tamburello on Lap 1 and moved to third.
But Mercedes' decision to give Hamilton a long first stint paid dividends when Renault's Esteban Ocon retired at the side of the track on Lap 29, the resultant Virtual Safety Car allowing Hamilton to pit from the lead – Bottas and Verstappen having boxed earlier in the race – and retain P1.
But with 12 laps to go, Verstappen's retirement at Villeneuve led to a full Safety Car, setting up a breathless final few laps of the race, which ultimately saw Hamilton hold on to win out from Bottas, while Ricciardo secured his second podium of the season for Renault after holding off a late charge from AlphaTauri's Daniil Kvyat, who finished a brilliant fourth as he fights for his F1 future.
FORMULA 1 EMIRATES GRAN PREMIO DELL'EMILIA ROMAGNA 2020
Italy
2020
Race results
POSITION
TIME
POINTS

1

Lewis

Hamilton HAM

Mercedes

1:28:32.430

26

2

Valtteri

Bottas BOT

Mercedes

+5.783s

18

3

Daniel

Ricciardo RIC

Renault

+14.320s

15

4

Daniil

Kvyat KVY

AlphaTauri

+15.141s

12

5

Charles

Leclerc LEC

Ferrari

+19.111s

10
Ferrari's Charles Leclerc came home fifth, holding off the Racing Point of Sergio Perez, who'd gambled with a late stop under the Safety Car. The McLaren duo of Carlos Sainz and Lando Norris claimed P7 and P8, while it was a fantastic day for Alfa Romeo, who took their first double points finish of the year, Kimi Raikkonen leading Antonio Giovinazzi in P9 and P10, the Finn having made a 49-lap stint work to his advantage.
Meanwhile, after a brilliant effort to qualify P4, AlphaTauri's Pierre Gasly suffered a coolant leak that forced him to retire from the race on Lap 8 – while in a bizarre incident, Williams' George Russell spun into retirement under the Safety Car on Lap 53.
For Mercedes, though, there were scenes of jubilation, as they continued to re-write the F1 history books with an amazing seventh consecutive constructors' title.
AS IT HAPPENED
Beneath crisp autumnal skies, Valtteri Bottas lined up on pole position, the view in front of him the long dog-legged run down to Turn 2, and the infamous Tamburello. Could he hold off the attack of his team mate Lewis Hamilton, lurking with intent back and to the right of him?
Both Mercedes got away in step when the lights went out, but Hamilton appeared to get bogged down in the second phase of his launch and was swamped on the left by the Red Bull of Max Verstappen, and on the right by the fast-starting AlphaTauri of Pierre Gasly – the only driver to start in the top four on soft tyres.
AS IT HAPPENED - Formula 1 Emirates Gran Premio dell'Emilia Romagna 2020
Hamilton had to defend from someone and chose to go right, allowing Verstappen through to take P2 behind Bottas into Tamburello, as Hamilton squeezed Gasly. The Frenchman briefly lost ground to the Ferrari of Charles Leclerc, before toughing it around the outside of Turn 2 and taking P5.
It was P5 because Renault's Daniel Ricciardo had opportunistically nipped through when Gasly had been outmuscled by Hamilton, Ricciardo thus taking fourth, ahead of Gasly, Leclerc and Albon, who'd dropped a place at the start. Behind them, Lance Stroll tagged the Renault of Esteban Ocon at Turn 2 costing himself a front wing that was replaced at the end of the first lap, while down at Tosa, Sebastian Vettel nerfed Haas' Kevin Magnussen into a spin – the stewards investigating but deciding not to take any action.
It was a dream scenario early doors for Bottas then, who'd not only beaten Hamilton to Turn 2, but now had Verstappen as a buffer between him and his team mate around the narrow, hard-to-follow-at Imola. By Lap 10, Bottas' advantage over Verstappen was only 1.5s, the Dutchman with the same advantage to Hamilton behind – but the Finn looked comfortable out front.
There was a collective groan on Lap 8 as Gasly, who'd driven brilliantly all weekend, was ordered to retire his AlphaTauri AT01, with the team having been spotted working on the car before the race start, while a coolant leak was ultimately cited as the reason. It was a cruel fate for the Frenchman, who resignedly climbed out of the boxed AT01 and removed his Ayrton Senna tribute helmet.
WATCH: Power unit issue forces Gasly to retire
The teams had only had 90 minutes of practice at Imola to try out all three tyre compounds – and it seemed in the early stages of the race that tyre degradation had been higher than anticipated. Leclerc was one of the first of the frontrunners to pit on Lap 13, the Monegasque triggering the pit stops of the cars around him, as Ricciardo, Alex Albon and Daniil Kvyat pitted on the following lap.
All those drivers took on hards, with the order remaining constant, Ricciardo heading Leclerc, with the Monegasque nearly outbraking himself into the Tosa gravel as he desperately tried to get past, while behind Albon was forced to fend off an attack from Kvyat, the pair making light contact at Tamburello on Lap 17.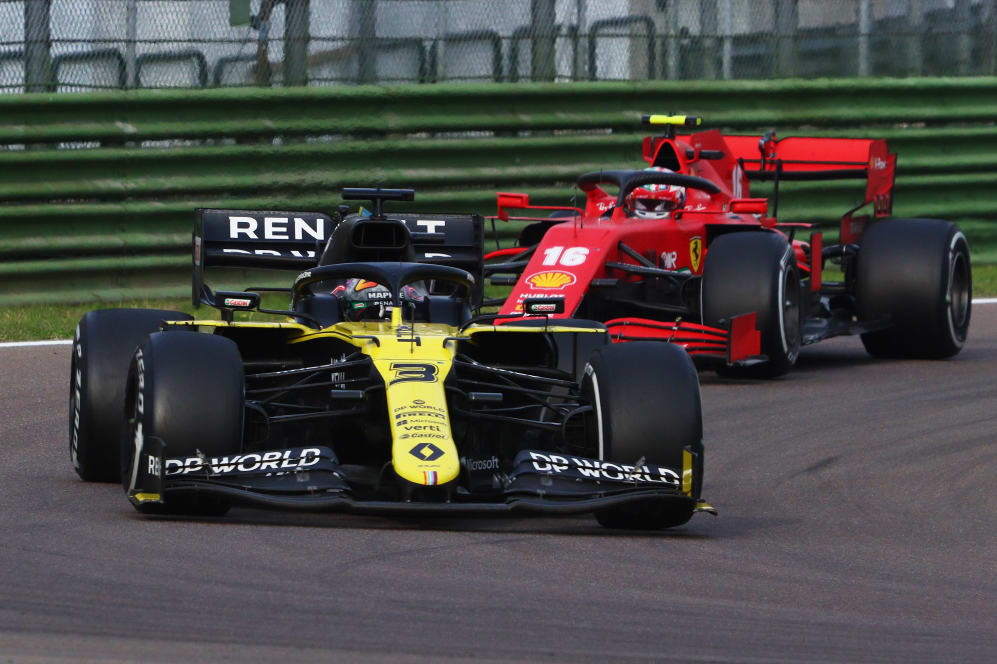 Verstappen pitted on Lap 18, with Bottas brought in at the end of the following lap. Prior to the Finn's pit stop, Hamilton was pushing hard in a bid to overcut his way back into contention. "I'm going to pick up the pace," he told engineer Pete Bonnington. "Don't stop me." Bonnington appeared to agree with his driver, though, as he radioed to tell Hamilton to extend his stint, with Hamilton duly getting his head down and pumping in quick laps.
Bonnington was on the radio again on Lap 26 asking whether Hamilton, who was approaching a long line of backmarkers, could extend by a further 10 laps. "I can definitely go longer," his driver replied breathlessly.
WATCH: Ocon retires with clutch problem
Slower cars were concerning the group behind the Hamilton-Bottas-Verstappen fight too, with Kevin Magnussen having climbed up to P8 thanks to a long first stint. But the Dane – who would eventually retire from the race on Lap 49, suffering headaches caused by violent upshifts on his Haas – was quickly passed on Lap 27 by Ricciardo and Leclerc.
Magnussen holding up that group, though, appeared to have played perfectly into the hands of Sergio Perez, who'd maximised the opportunity of starting with a free tyre choice in P11 to climb to P4, before pitting and taking up P7 ahead of Ricciardo.
Lap 29 saw Esteban Ocon retire with a suspected gearbox issue – a minor occurrence that had a major effect on the outcome race. With the Virtual Safety Car activated by the parked Ocon, Hamilton was perfectly positioned to nip into the pits and take on the hard tyres. As Bottas was forced to trundle around, Hamilton had enough time in hand to emerge from the pits with his lead intact, 4s up the road from Bottas – who must have been wondering what more the racing gods wanted from him…
There was more bad news for Bottas, too, who had Verstappen in close company as Hamilton quickly opened his lead out at the front, with Mercedes then radioing Bottas to tell him that he had significant damage to the floor of his car, as well as debris lodged in the bodywork that he'd run over on Lap 2.
Ferrari's Sebastian Vettel, meanwhile, had stealthily stayed out until Lap 39 on his medium tyres before taking his pit stop, climbing as high as P4 before diving into the pits. A catastrophic stop, though, saw him stationary for 13.1s as his mechanics struggled to affix both his right-front and left-rear tyres, leaving him P14 when he eventually emerged from the pits.
With 20 laps to go, things again appeared to take a turn for the worse for Bottas, who outbraked himself into Rivazza, allowing Verstappen to close up and pass the Finn for P2 around the outside of Tamburello. "Senddddd it!" screamed a jubilant Verstappen into his radio, as he quickly opened up a gap over Bottas, who was clearly struggling for pace with his hobbled Mercedes. Verstappen's joy, however, would be shortlived…
WATCH: Verstappen overtakes Bottas with stunning move
Verstappen's pass on Bottas had left the order as Hamilton leading, 12s up the road from Verstappen, Bottas, Kimi Raikkonen – who had yet to pit – then the wily Perez, Ricciardo, Leclerc, Albon, Kvyat and Carlos Sainz in the final points paying position, ahead of his team mate Lando Norris. Imola has provided some stellar action over the years, though – and it had a trick up its sleeve before this race was done.
Verstappen was looking well-placed for a clear run to P2 when on Lap 51 of 63, he appeared to suffer a tyre issue, spinning off into the gravel at Villeneuve corner and into retirement, while also bringing out the Safety Car. Bottas, at last having some luck as he moved back to P2, pitted immediately, with Hamilton following his team mate in on the following lap for soft tyres and retaining the lead.
George Russell, meanwhile, booted the throttle of his Williams behind the Safety Car and smeared his car down the wall going into Acque Minerale. "I don't know what to say," said Russell, before scrambling to safety and sitting dismayed on the Imola grass.
WATCH: Russell crashes behind Safety Car
Crucially, Perez and Kvyat had also opted to pit under the Safety Car, giving them fresh soft rubber for the final few laps to attack the likes of Ricciardo, Leclerc and Albon. It was Kvyat who used that new rubber to the best effect when the race restarted on Lap 58, quickly passing both Albon and Perez before putting a beautiful move on Leclerc around the outside of Piratella to claim P4 and get after Ricciardo, who'd found himself back in the podium positions once again.
Behind, Perez made it past Albon at Villeneuve, but Albon then made what looked to be an unforced error, spinning his Red Bull around and dropping himself to the back of the pack – something that won't have impressed his Red Bull paymasters currently evaluating whether or not to give the Thai driver another go-around in 2021.
Up at the front, though, Hamilton had the situation in hand, as he duly headed home what had briefly looked like an unlikely Mercedes 1-2, and bag a record-breaking seventh constructors' title – a huge moment for the team, and one that a euphoric Hamilton said he would delight in telling his grandchildren about one day.
With the fastest lap bonus point too, the now-85 point lead over Bottas also means that Hamilton's own seventh title looks a practical certainty.
If the Mercedes had starred, though, so too had Ricciardo, whose brilliant start had put him in a position to claim an incredible second podium of the season with the Renault team that he'll leave in four races' time. A shoey with race winner Hamilton duly followed – but Team Principal Cyril Abiteboul insisted there would be no second tattoo coming.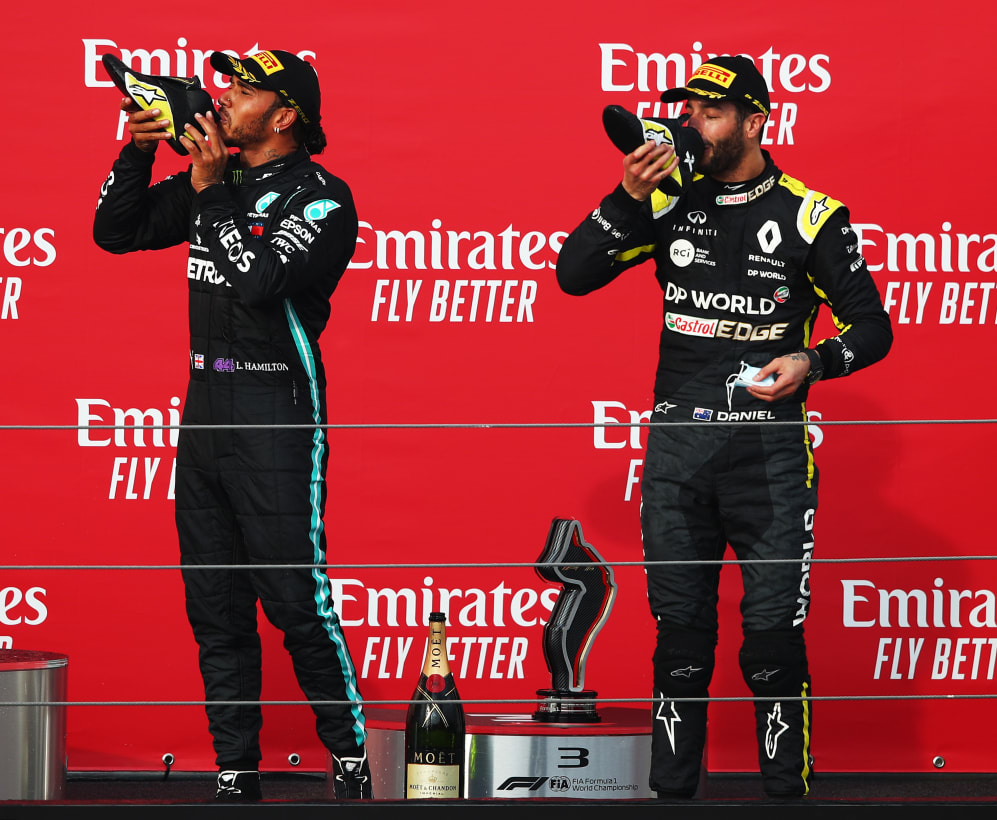 Kvyat had done exceptionally well to work his way up to P4 at the flag, choosing the perfect time to remind the Red Bull bosses that he could still do a job in F1, while Leclerc took his second-straight top-five finish for Ferrari – as team mate Vettel could only take P13 after his slow stop.
Perez's late pit stop ultimately left him an angry sixth – the Mexican feeling that his first podium of the season had been well within reach – while he finished ahead of the McLaren duo of Sainz and Norris, who'd once again appeared to lack the ultimate pace of their upper midfield rivals on race day.
The top 10 was closed out by the Alfa Romeos, who enjoyed the team's best race of the year to claim ninth and 10th, Raikkonen's epic first stint meaning he headed home boy Antonio Giovinazzi, who'd started the race last.
On a day when Red Bull needed to score at least 33 points to stand a chance of preventing Mercedes taking the constructors' title, though, the Milton Keynes team left Imola with nothing, as Albon eventually came home P15. In a way it summed up how 2020 has gone so far, with Red Bull coming close – but never quite able to properly arrest – the momentum of the mighty, and now seven-time constructors' champions, Mercedes.
The key quote
"It was an exhausting race, the speed we were having to go. I had a poor start and it's just very overwhelming right now because I look at my crew, this team here, and I know the guys and girls, men and women back at the factory back in Brackley and Brixworth, they're the unsung heroes.
"It's unbelievable, and to come back year on year... I tell you, while we have great performance, it's not easy to continue to deliver weekend in and weekend out for everyone.
"Woo! Seven-time champs. That's something I'll be able to tell my grandchildren one day" – Lewis Hamilton, Mercedes
What's next?
We now go from one F1 returnee to another, as we leave Imola and head to the Istanbul Park circuit for the 2020 Turkish Grand Prix on November 12-15. Who can get on top of the track last raced at in F1 in 2011?