Albon blames lack of soft-tyre running in final practice for Q2 exit in Sakhir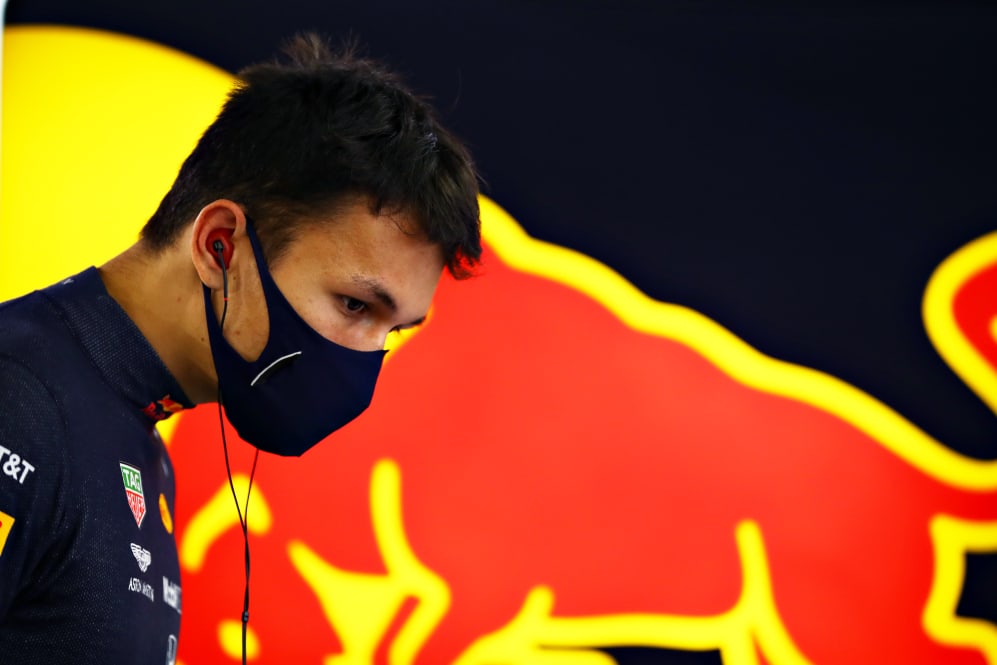 Small issues can have a big impact when the lap time is around 55 seconds and that's exactly what Alex Albon found to his cost in qualifying in Bahrain.
Albon was one of the only drivers not to use the soft tyre at some point in the final practice session on Saturday, instead saving a set for qualifying to increase his chances of a good grid position. But the move backfired as he wasn't comfortable with the car on softs once qualifying got underway and he dropped out in Q2 after missing out on the top 10 by less than 0.1s.
READ MORE: Russell misses out on maiden Mercedes pole by 0.02s as Bottas stamps his authority in Sakhir
"I'd say mostly we had a balance in FP3 and really we made some balance changes to fix the car going into qualifying," Albon explained. "Lacking some soft-tyre running in FP3 could have hurt us, because we got what we were intending to do but with the soft tyre you gain a lot of front grip at apex basically and it was just tricky to balance because we were missing some front in some places and having too much front in other places on the soft tyre.
"So it wasn't as simple as just fine-tuning it with front wing which is normally the case. So that was it really, it felt like I was pretty happy with my Q2 run one lap…
"It's very clear where [the deficit] is. I could tell you where I was slow without looking at the data. It's just honestly a little bit of a lack of FP3 running on the soft tyre I think hurt us because it is so different. The medium and the hard is actually quite similar in terms of a feeling but the soft is quite different.
"It's a tricky one and obviously it's a lesson learned and it's more experience for my side, but it just meant that really when it came to qualifying it was tricky to get the low speed and the high speed – Turn 7 and 8, that was really the main area where I lost out – feeling well-balanced.
Qualifying facts and stats: Russell's remarkable run comes to an end in Sakhir
"We kind of agreed if we could have a good balance on the hard tyre in the beginning of FP3 we could afford to save a tyre just so we had more tyres available to us for qualifying. It worked, the hard run in FP3 wasn't great but it wasn't terrible and on theoretical pace it was actually very strong so we decided to use mediums in the second half of it which maybe hurt a bit more."
Albon admits the disappointment is made all the bigger by the fact things looked encouraging earlier in the race weekend, but he thinks Red Bull have given him a car in race trim that should be able to move him forward.
"I mean I've had better ones! Just frustrating really because it was looking good on Friday and truthfully even Saturday in the beginning was OK. It was just one of those things where you drive your first lap in qualifying and it's like 'Ooh, OK, this is very different to what we've been getting the whole weekend'.
"The first laps are kind of quite hectic, and I don't know if any of you watched the F2 race but it seemed like it was quite lively out there. This kind of new circuit tends to lend itself to that kind of side-by-side for a few corners because it's that left-right-left-right kind of stuff, which is nice.
READ MORE: 'Best lap of the year' takes Kvyat to P6 and best grid slot in 33 races
"On terms of our side. we'll see. Friday was actually good for us race-pace wise, and we are definitely a bit higher downforce than the cars around us. It depends, because high downforce tends to be a little bit harder to race with just because you're a bit down on the straights to the other cars but at the same time hopefully we can make it up in the corners and slide a bit less which is the goal, and then we can progress our way up the field."