Albon rues lack of 'track time and confidence' after tough British GP qualifying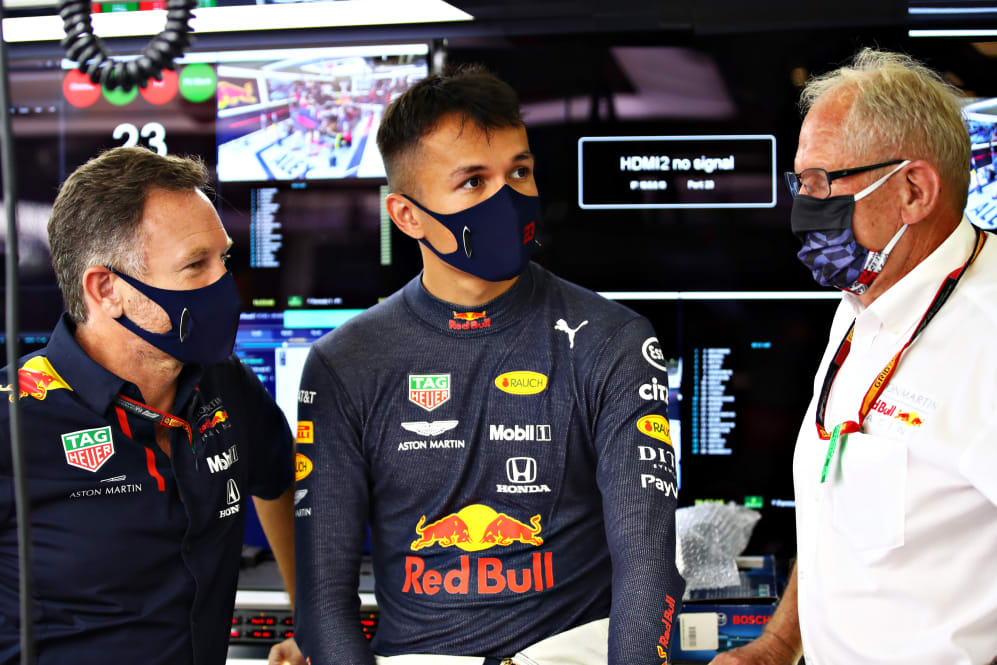 At one point on Friday, Alex Albon was looking in great shape at Silverstone, the Thai driver second fastest overall in practice. But then he crashed at Stowe, losing a bunch of track time, and then spent much of FP3 in the garage, too. Starved of momentum and unhappy with the balance, he was knocked out of British Grand Prix qualifying in Q2…
As a result, he'll start Sunday's race 13th on the grid, 10 places adrift of his more decorated team mate Max Verstappen. But how much did Friday's crash contribute to his struggles in qualifying? "It definitely didn't help," he admitted as he spoke to media via video conference after Saturday's session.
READ MORE: Hamilton recovers from spin to take record seventh Silverstone pole
"It's a bit notorious Silverstone for the wind, but I don't want to make any excuses. It's tricky out there. We missed a bit of track time coming into qualifying, which would have been useful. Friday went pretty well, obviously we had the crash, but the pace was pretty strong. Today [we] just struggled with the change of balance and extracting the most out of it."
Red Bull have struggled to get the most out of the RB16 this year, the car two tenths slower than the RB15 was in qualifying at the same track last year. But having piled on plenty of new parts since the opening race in Austria, Albon felt they are starting to make progress with their understanding – it was just the lack of track time which hampered him on Saturday.
"[The car] is getting better, it's definitely getting better," he said. "From Friday, on my side, I felt a lot more comfortable. Today, I wouldn't be able to say, most probably yes, but I lacked the track time and confidence to gather pace."
Albon says RB16 feeling 'more balanced'... despite heavy FP2-ending crash at Silverstone
Earlier in the weekend, Red Bull boss Christian Horner moved to defend Albon after what he described as "unwarranted and unfair" criticism of the 24-year-old. Albon, too, was positive about his results so far, particularly considering his season has been far from smooth.
"I don't see it as struggling," said Albon. "I feel like race one we had a very strong race, race two we finished fourth and three we finished fifth. If that's struggling, I'd be worrying about other things. I'm happy with the first three races, things haven't gone our way.
"I'm not worried in the sense that it's been tough, it's just a tough qualifying on my side and I'm just focused on trying to get more comfortable with the car."