Albon says Williams 'made a step forward' with upgraded car in Austria, as Latifi endures 'race to forget'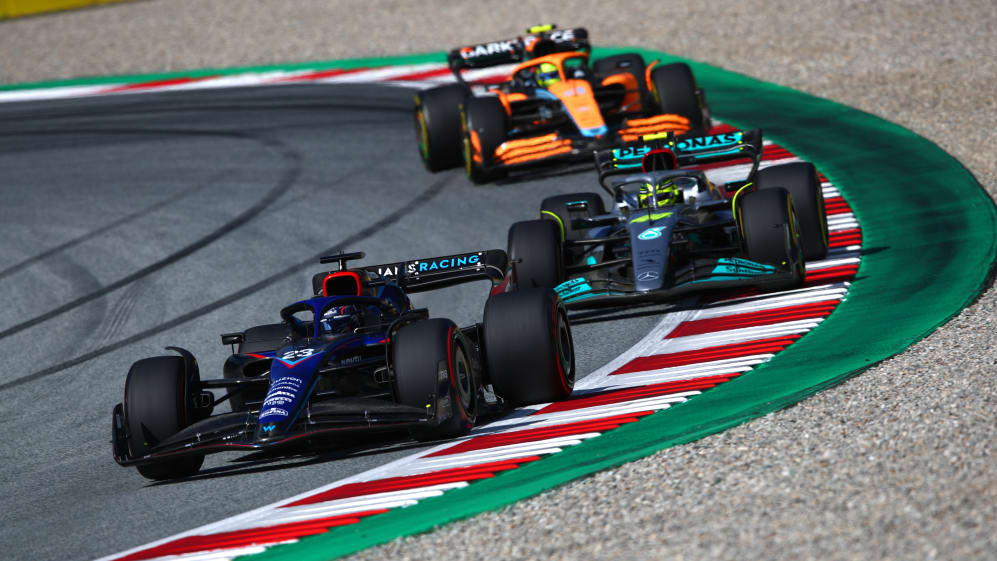 It was a sixth consecutive race weekend without points for Williams at the Austrian Grand Prix, as Alex Albon narrowly lost out on a P10 finish, while Nicholas Latifi was forced to retire with damage. But it wasn't all doom and gloom, with Albon able to find the positives after his "first proper race" with the team's new upgrade package, introduced at Silverstone.
Albon started the race in 15th and made steady progress throughout, climbing into the points by Lap 59. However, Albon's hopes of a third top-10 finish of the season were quickly dashed, as he struggled to hold off the competition of Valtteri Bottas in the Alfa Romeo and the Alpine of Fernando Alonso. Despite finishing 12th, the Thai driver was able to find the positives from the result.
"Frustrating obviously – we want to score points, that's the game!" said Albon. "But considering where we were yesterday it's a good race, so I was happy with it. We had our elbows out and I felt like when I was driving, I knew what I was doing wasn't kind to the tyres! But I had to push to keep Valtteri behind.
POWER RANKINGS: Who earned the highest score after the Sprint and Austrian Grand Prix
"In the end, we got the deg, but you know, it's our first proper race with the new package; we will learn a lot from today and we'll look at the data and come back stronger in France… You risk and you push to fight for points and today it didn't quite work out for us, but I still feel it was a good race."
When asked whether it was a positive that he could fight closer to the points-paying positions in the upgraded Williams FW44, Albon said: "It is. We were really the whole race matching more or less the McLarens. We got a little bit of traffic here and there, but I was really happy with our pace this weekend, it felt like this weekend we really made a step forward. So, yeah, positive."
Team mate Nicholas Latifi endured a shortened race on Sunday as he was forced to retire on Lap 48 after sustaining damage to the floor of his car. And the Canadian, who had a lonely run at the back of the field for most of the Grand Prix, described his Sunday as a "race to forget".
TECH TUESDAY: Understanding the Technical Directive on floors that will come into effect at the Belgian GP
"We had some floor damage. How? That's something we will have to find out," said Latifi. "At the start there was a lot of debris, I did run over some I know. I think went over one, wide over a curve once, but again it didn't really feel that bad, but it was quite early on towards the end of the first stint, beginning of the second stint, and it was quite big.
"I think we were missing, like, 40, 50 points of downforce at some points. So, there was just not really a point to continue. Save the engine mileage and go again in France… and with the extra damage, it's just a race to forget but luckily, I should be getting the upgrades in France."