Alfa Romeo reveal cause of pitstop disaster that cost Giovinazzi chance of points in Spain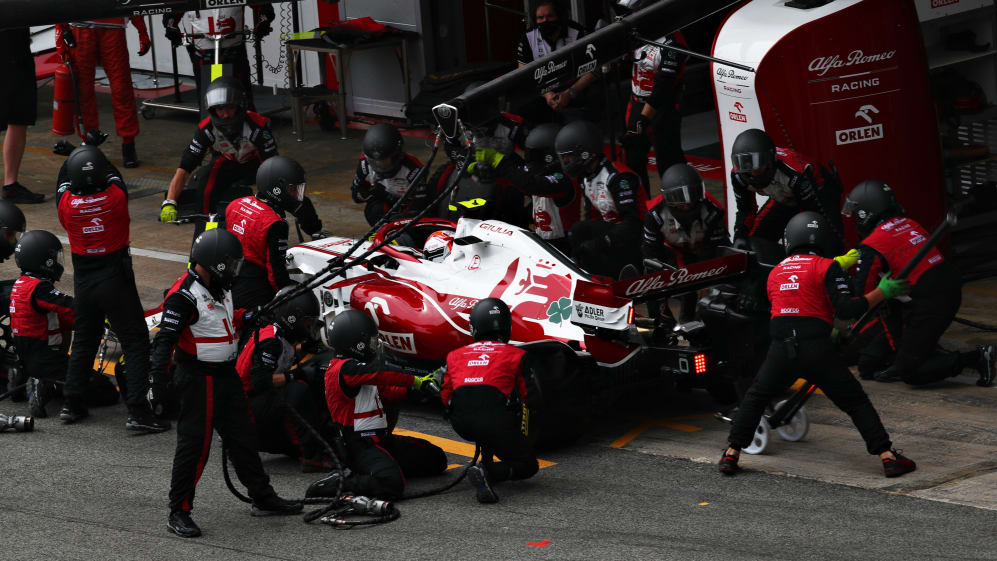 Alfa Romeo were left rueing their luck after nailing their strategy didn't yield any points due to two bizarre problems for Antonio Giovinazzi.
While Kimi Raikkonen was the only driver starting on medium tyres in Spain, Giovinazzi was the first - and at time only - car to come into the pits during an early Safety Car, but the new set of medium tyres that were originally brought out for him were found to be unusable as one tyre was flat. After a delayed stop finding an alternate set, Giovinazzi was then jumped by the Williams drivers who had responded by pitting a lap later to take advantage.
READ MORE: 6 Winners and 5 Losers from the Spanish GP – Who had a great day out in Barcelona?
Giovinazzi's pace was strong enough to get him back in the midfield mix despite having to use a set of softs for his final stint instead of a second set of mediums, but after losing track position he was limited to 15th at the finish.
"Yeah, I think after that moment [the pit stop] my race was just compromised," Giovinazzi said. "Nothing happened at the front as well. That set, we didn't have the possibility to use it again so we lost one set of mediums. Just a s**t race.
"If you are not there you cannot know what will happen. The pace I don't think was too bad but we lost the race really early."
Alfa Romeo's head of track engineering Xevi Pujolar says the deflated tyre was due to a damaged valve in the garage, but it's not yet clear when or how the damage happened.
HIGHLIGHTS: Watch all the action from the Spanish Grand Prix as Hamilton beats Verstappen to victory
"It was an operational problem, just picking up the set at one point getting everything ready in the garage just damaged the valve," Pujolar said. "We have got a monitoring system and they just saw that it was okay when the race started but at some point in the garage then it went wrong, I think a couple of laps before the pit stop."
The pace I don't think was too bad but we lost the race really early.
And that wasn't the only strange issue Giovinazzi suffered, as an error with the information being sent to his dash meant he was getting incorrect warning messages when trying to catch up behind the Safety Car.
"We are speaking to the FIA to try and understand why we had this problem," Pujolar added. "It's a shame because we lost one set of tyres and then he lost time that cost him because he was following traffic, which cost him a lot in the race."
Raikkonen's race was more straightforward and he ran as high as fifth after starting on the medium tyre, but the Finn lost out in a late-race battle with Pierre Gasly, Lance Stroll and Fernando Alonso for the final point, ending up 12th.
READ MORE: Why Red Bull were always likely to lose to Mercedes in Spain, however the strategy battle played out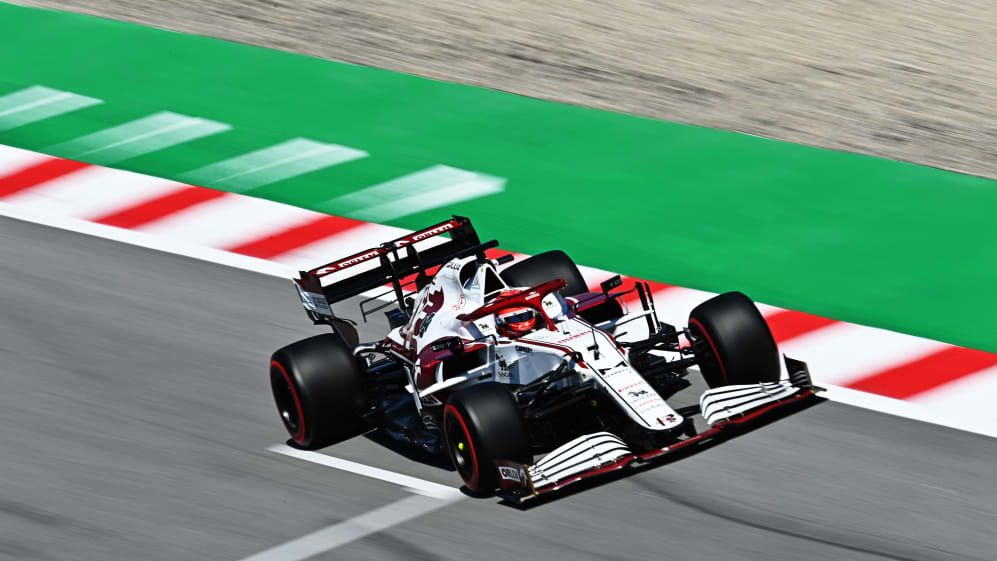 "I think we did the best that we could with what we had," Raikkonen said. "I did a pretty decent first lap and did a long stint and one-stopped. It's a shame that we lost the place to Gasly, but yeah.
"For sure for us it was the fastest [strategy] from my side, but I honestly have no idea what the others did.
"Unfortunately, we went really close to the points once again but didn't get anything out of the race. Only one retirement didn't help us, but we need to keep working to find the little bit that is still missing."