Alonso aiming to lead Lap 1 in Canada after taking first front row start in 10 years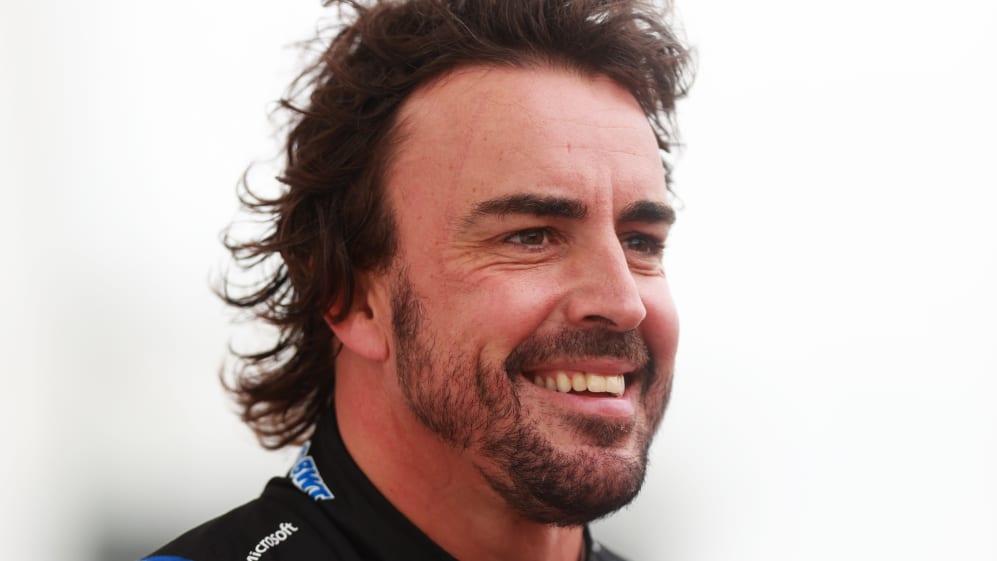 Fernando Alonso showed the importance of experience in tough, rainy conditions in qualifying for the 2022 Canadian Grand Prix, taking a stunning P2 on the grid for his first front-row start since the 2012 German Grand Prix – with the Spaniard now targeting a top-five finish, and a glory run at the race start...
In the wet qualifying at the Circuit Gilles Villeneuve, Alonso – who led Free Practice 3 going into the session – was in sensational form, finishing P2 in Q1 and Q2 before staying there for Q3, as he ended up 0.645s adrift of pole-sitter Max Verstappen.
READ MORE: Verstappen braves wet conditions to claim Canadian GP pole ahead of sensational Alonso
"It's a surprise for sure," said Alonso, who ran in the top five across Friday as well. "Yesterday was fast, but we've found sometimes we have a very fast car on Fridays and not on Saturdays, so we were not really excited about the performance yesterday. But today after being, in FP3, P1, we were like, okay, so if it keeps raining for qualifying it could be a good Saturday and it was, so happy for this."
Asked whether he could match the Red Bulls and Ferraris on Sunday, meanwhile, Alonso replied: "They're in a different league for sure. It was not in our wildest dreams to be on pole position so we take the first row for sure, and that's maybe better than any expectations."
Starting ahead of his compatriot Carlos Sainz in the Ferrari, Alonso revealed his goals for the race, saying: "The goal is to lead the race in Lap 1. Turn 1, maximum attack, and then after that they can go and they can fight, but it would be nice, sweet, to lead the race.
"I'm not sure what the possibilities are for tomorrow, realistically," he added. "I would say top five is what we should fight for. We have a very good starting position, but we know our limitations and we saw in many races already that Ferrari or Red Bull are starting last or having a puncture in Lap 1 or whatever, they still finish with a good margin in front of us. So I think the top four places are locked. So fifth is like a win for us and that's probably the spot would should aim for."
AS IT HAPPENED: Follow all the action from qualifying for the Canadian Grand Prix
Esteban Ocon made it two Alpines in the top 10 in qualifying in Canada – Mercedes and Haas the only other two teams to get both cars into Q3. But Ocon was a frustrated P7 at the end of qualifying, saying: "No, not very pleased. I'm extremely pleased for the team, delighted for Fernando.
"It's beautiful to see him up there, he's been driving brilliantly since the beginning of the weekend, that paid off in qualifying, so that's fantastic. And it means that the performance is there with the car, and we are progressing.
"On our side, we've been lacking a lot of performance since the beginning of the weekend. We were on the backfoot yesterday, between six-tenths to a second or more at times slower, so yeah, it's the same in qualifying. I felt comfortable in the rain, you know, in the rain I was up there, but as soon as there was some loading, or a little bit more harsh driving when it gets too dry, the performance wasn't there.
FACTS AND STATS: Alonso grabs his first front row start in a decade
"That's how it is, we will work hard to find the problem but, in the meantime, we are starting seventh, so we hope to convert that into good points tomorrow."