Alonso labels Stroll 'impossible to race with' after first-lap smash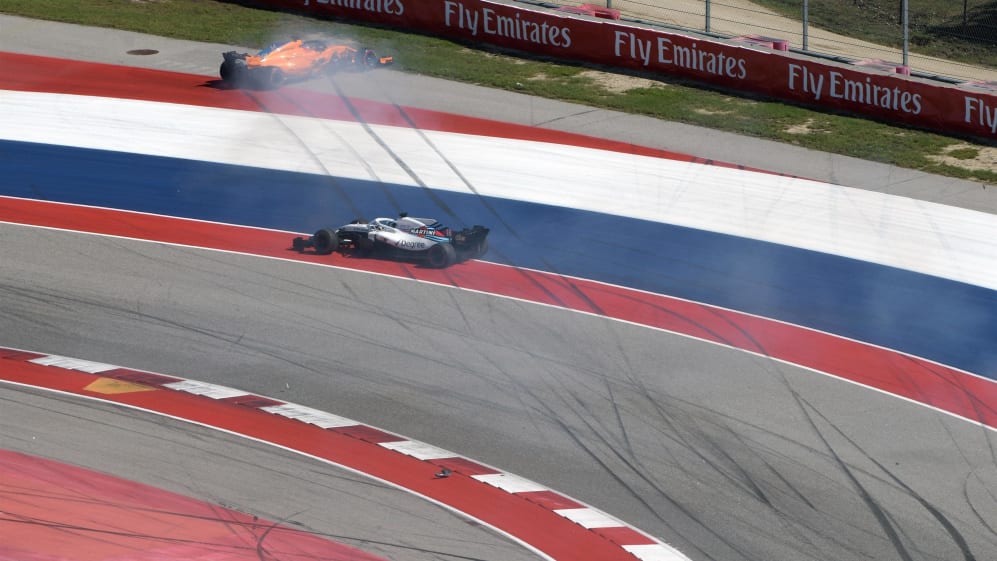 Fernando Alonso's 2018 United States Grand Prix lasted all of four corners, after a coming-together with the Williams of Lance Stroll on lap one left his McLaren looking decidedly second-hand – and its F1-departing driver less than impressed…
Starting from 13th on the grid, Alonso was threading his way through the Circuit of The Americas' 'Esses' section when he was clattered into by Stroll's Williams, as the Canadian attempted to follow the Haas of Kevin Magnussen past him.
Following the crash, which caused terminal damage to Alonso's MCL33, the irate Spaniard immediately took to his preferred medium, team radio, to voice his displeasure at Stroll's driving.
"These guys are impossible to race with. Impossible," he said. "They cannot do the starts like this. You cannot go into the corners crashing with other cars."
Later on, it was a calmer Alonso that faced the media – but he maintained his dim view of how his 25-second race had played out.
"[There] was a lot of action into Turn 4, which is normally a corner where there should not be too much action," he said. "Three cars, I think, went into the corner together and the result was well-known – one of the guys will end up in the wall, and it was me.
"It's a misjudging of distances and speed which is quite strange to see," he added. "It's always the same story, it just keeps happening. At the start, people are trying to bump everyone else, the same as when you have a rental car. No-one does it on purpose, but today they played bowling with my car again, like they did in Spa."
For his part in the incident, Stroll received two penalty points on his Super Licence – taking his current 12-month tally to seven, five away from an automatic race ban – as well as a drive-through penalty that left him finishing the Grand Prix 16th and last. But speaking in defence of himself after the race, the Canadian maintained his belief that it had simply been 'a racing incident'.
I haven't seen the footage, but I think it was a racing incident. I am just disappointed about the result
"I saw a gap and went for it, but I don't think he really saw me and turned in," said Stroll. "After that, my race was finished as I got the drive-through and that was that. I haven't seen the footage, but I think it was a racing incident. I am just disappointed about the result."
Alonso now has potentially three races left in his F1 career, assuming he doesn't come back for more races and seasons later down the line. And after a crushing finish to his United States Grand Prix, the McLaren driver will be especially desperate to recapture the early-season form which saw him net points in the year's opening five races, and stay out of any more first-lap trouble before he faces his final Formula 1 curtain.